Washington Capitals: With Ovechkin in Decline, These 5 Players Must Step Up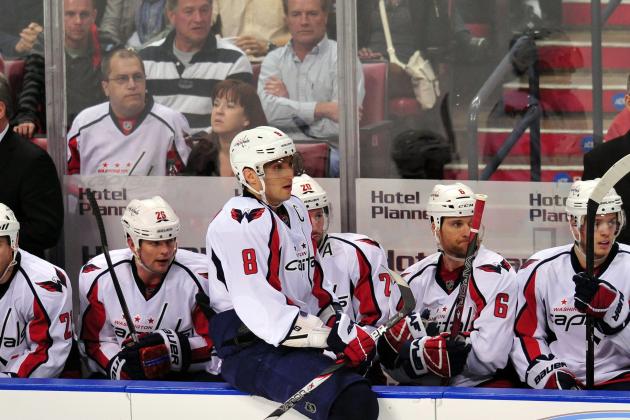 Steve Mitchell-US PRESSWIRE

The past few weeks have seen a spirited debate here in the Washington Capitals section of Bleacher Report with respect to Alexander Ovechkin.
Should he be traded?
Or is he on the verge of a huge comeback season?
Does he still have it or are his best years behind him?
Much of the debate stems from the undeniable fact that the Great Eight's numbers are not what they used to be.
Since his monster season in 2007-08, where Ovie netted 65 goals and assisted on 47 others, there has been a slow, albeit steady, decline in Ovechkin's production.
The drop was hardly noticeable in 2008-09 when Ovie still had 56 goals and 54 assists.
The drop-off was again hardly noticeable for the 2009-10 season when Ovechkin still had 50 goals to go with 59 assists.
But the 2010-11 season was a different story entirely. Ovechkin's goal production practically flat-lined as he only found the back of the net 32 times.
Now for most NHL players, 32 goals would be a really solid season—but not for the man many considered, at that time, to be the best player in the world.
True, his assists were still very strong as he had 53. Nevertheless, his 85 points for the 2010-11 season represented a 24-point drop from the previous season.
But so what. Everyone is entitled to one average season. Surely, Ovechkin would rebound during the 2011-12 season...right?
Last season, however, was Ovechkin's worst season as far as production was concerned. His goals went up slightly as he netted 38. But his assists completely vanished as he only had 27. Ovechkin only had 65 points last season.
For those keeping score at home, that was a 20-point reduction from the previous season and an astonishing 44-point decrease in just two seasons.
Whether this decline continues for the 2012-13 season remains to be seen. But with Ovechkin's production being undeniably down the past couple of seasons, Caps fans have to face the possibility that, as implausible as it may sound, Ovechkin's best years are behind him.
If this decline does continue, then if the Caps hope to succeed in the upcoming season, several other players will need to step up and fill the void left not just by Ovechkin's lessened production, but also by the loss of Alexander Semin.
Who then needs to step up their game?
Here are five players who come to mind.
Begin Slideshow

»
While virtually anyone who follows or roots for the Caps would likely say that Alex Ovechkin is the most important player on the Caps, there are a select few who would say that title, in actuality, should belong to Nicklas Backstrom.
And to be honest, those select few might be correct.
During the 2011-12 season, once Backstrom went down, a victim of a concussion, the Caps struggled mightily. Backstrom was able to play in only 42 games a season ago, and the Caps offense could not seem to get in sync without him.
Once he came back, however, just prior to the playoffs, the Caps offense regained much of its prior swagger—and just in the nick of time as a late season push enabled the Caps to qualify for the tournament at the 11th hour.
As the top line center, Backstrom is usually one of the players most responsible for getting the puck to the Great Eight and giving him the best chance possible to light the lamp.
But if Ovechkin continues to struggle, then Backstrom might have to take a more active role in taking the lead instead of, in essence, being Ovechkin's wing-man.
The truth is that Backstrom is one of the best in the league, when he is healthy, and he only seems to be getting better.
In his five years with the Caps, Backstrom has 101 goals, 266 assists and 367 points, and yet, as noted at the end of the video, he has never been selected to the All-Star game.
Unlike Alexander Semin, Backstrom does not vanish once the playoffs start. He has 14 goals, 26 assists and 40 points—in just 50 games. Those are not bad numbers at all.
Backstrom has all the skills and tools necessary to be one of the best centers in the NHL.
If Ovechkin continues to slip, then Nicklas Backstrom will not only have to step up—he might very well have to become the main man in DC.
Probably the biggest move the Capitals made this offseason was their draft-day trade that brought Mike Ribeiro to Washington (Washington Times).
While the stated purpose of this trade was to give the Caps a true second line center for the first time since Sergei Federov took his talents back to Russia, if Alexander Ovechkin continues to decline then the addition of Ribeiro might be more vital than anyone originally anticipated.
Ribeiro certainly has the stats to suggest that he can pick up the slack if Ovechkin does not bounce back to form.
A veteran of the NHL wars, Ribeiro has played in over 700 games, has scored 173 goals, notched 387 assists and amassed 560 points.
From the 2006-07 season through last year, during which time Ribeiro was a member of the Dallas Stars, he averaged 20 goals per season.
That is not too shabby—but more will be needed if Ovechkin's decline continues.
With the Caps having more offensive weapons than the Stars have had the past few seasons, the chances of Ribeiro having a career season would seem to be quite good.
If the Great Eight's numbers continue to slide, a career year is exactly what the Caps will need out of their new second line center.
One of the players expected to benefit the most from the arrival of Mike Ribeiro is Brooks Laich.
Last season, Laich spent large chunks of time playing second-line center for the Caps. With Ribeiro assuming that role this season, Laich should not have to assume that position too much this year.
Of course, last season, the Caps had pretty much adopted a second-line center by committee approach, so Laich was not alone in this assignment.
But most observers would agree that Laich is better suited out on the wing, his natural position and the position from which he can be the most effective.
It is, however, very true that Laich is one of the most versatile players on the Caps and that is an asset that should not be overlooked.
The Caps' alternate captain can play almost any position effectively. That does not, however, change the fact that he seems best when he is a winger as opposed to being forced into the role of second-line center.
Since coming to the Caps, Laich has put up solid numbers. He has been one of the most durable players on the team as he has played in at least 73 games each season he has been in DC.
He is one of the best competitors on the Caps, and no one can question his heart or intensity.
But Laich will have to step up his game in the event Ovechkin's game continues to decline.
After scoring at least 20 goals during the 2007-08, 2008-09 and 2009-10 campaigns, Laich has only scored 16 goals the past two seasons in Washington.
If Ovechkin continues to slide, the Caps will need Laich to once again be, at a minimum, a 20-goal scorer if the Caps hope to succeed.
With the Russian connection having failed to bear the fruit of a Stanley Cup in Washington, it is time to look to Sweden for success.
Having already discussed Nicklas Backstrom, there is another Swedish superstar on the Caps who has an enormous amount of upside—Marcus Johannson.
MoJo caught the attention of many Caps fans when he turned in a solid performance against the New York Rangers during the 2011 playoffs.
In reality, Johannson had caught the eyes of Caps management long before that. He was the Caps' first round pick in the 2009 NHL entry draft, and expectations were high.
In Sweden, Johannson was an integral part of the Färjestads BK team that won the Swedish championship in 2009 (Wikipedia).
After being drafted by the Caps, Johannson played in only two games for Hershey before being called up to the big leagues.

Thus far, MoJo has been a good player for the Caps, but it is time for him to take his game to the next level.
He scored 13 goals in 2010-11 and then improved on that last season with 14 goals.
His overall production saw improvement as his overall point production nearly doubled, as he scored 27 points in 2010-11 and increased his output to 46 last season.
Thus, while progress can be visibly seen, if Alexander Ovechkin continues to decline, a big step in improvement from MoJo could only help.
Johannson has all the tools necessary to be a 20-to-25 goal scorer. At a minimum, he needs to score 20 goals this season to satisfy the lofty expectations placed on him when he was drafted.
If Ovechkin is truly in decline, a player of Johannson's caliber stepping up and producing might be the only thing that can avert a disastrous season for the Caps.
Joel Ward had one of the most memorable playoff runs of any player in Washington Capitals history in 2012.
First he scored what has now become one of the most iconic goals in Caps playoff history with his rebound past Tim Thomas in Game 7 of the Caps' opening-round series against the defending champion Boston Bruins.
In that moment, Ward became a hero to Caps fans and was held in the same light as Dale Hunter and Joe Juneau.
But, just to demonstrate how fleeting success can be, Ward may have committed the worst penalty in Caps playoff history as he drew a double minor cross-checking penalty in the waning moments of Game 5 against the Rangers.
With the Caps clinging to a one-goal lead, it was a devastating penalty. The Rangers would tie the game with 6.6 seconds remaining on the first of the two penalties and would then win the game—and essentially the series—by scoring in the opening moments of overtime as the Caps tried to kill off the second penalty.
All that aside though, Ward was not brought to Washington with the thought that he was going to be a playoff hero or goat—well not exactly anyway.
True, it was Ward's stellar performance for Nashville in the 2011 playoffs that convinced the Caps to acquire him via free agency. But the Caps had to be expecting more of a consistent performance from Ward than they got last season.
Ward only scored six goals for the Caps last season, his lowest total since he came to the NHL on a full-time basis in the 2008-09 season.
Even if Ovechkin bounces back with an MVP-caliber season, Ward's numbers must improve. Six goals and 18 points is just unacceptable for a player with Ward's skill.
If Ovechkin continues to falter, however, then the need for Ward to step up and justify the Caps' investment in him would no longer be a luxury—it would be a necessity.