Kansas City Chiefs: 6 Questions Seattle Seahawks Game Will and Won't Answer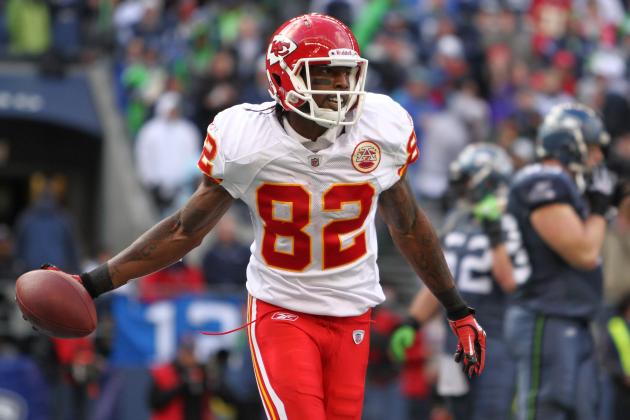 Otto Greule Jr/Getty Images

When the Kansas City Chiefs and Seattle Seahawks take the field at Arrowhead Stadium on Friday night, fans will ask six questions. Three will be answered as the final second vanishes from the clock, while three others will remain up in the Kansas City air.
Traditionally, starters see the most preseason action during the third exhibition. Friday night will be no exception.
Injuries, holdouts and upcoming dates put a unique twist on tonight's game—not to mention the newsworthy start of rookie quarterback Russell Wilson.
After the dust settles between the Chiefs and Seahawks, three puzzling questions will be solved for the Arrowhead faithful. However, the remaining three are still works in progress—if you jump the gun and make assumptions after tonight, they may backfire.
Begin Slideshow

»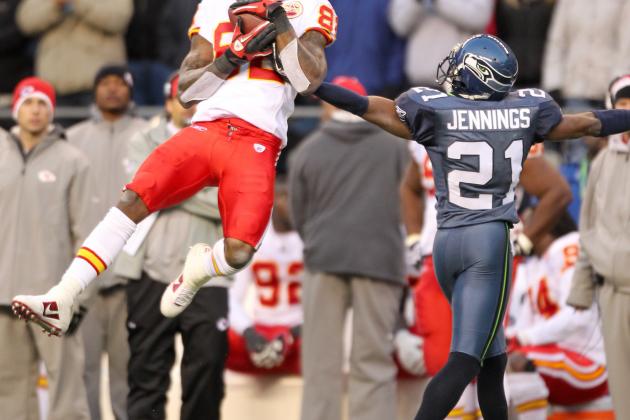 Otto Greule Jr/Getty Images

If you miss tonight's exhibition and see that Dwayne Bowe had zero receptions while browsing through the box score, don't fret—he's not a washed-up has-been.
Romeo Crennel will utilize him sparingly, and when he is lined up, any nuances of Brian Daboll's offense will be few and far between.
Bowe will be playing against a top-10 defense just three days after his first official practice of the season. He is coming off a lengthy holdout and was just introduced to a fresh batch of terminology this week.
Give it time.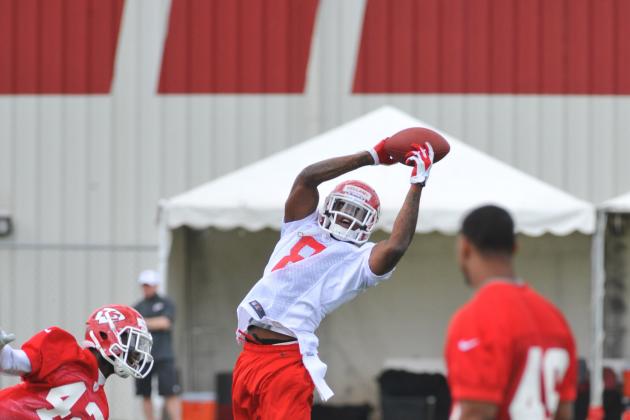 Denny Medley-US PRESSWIRE

See the man (pictured) hanging in midair and contorting his body like he's paying tribute to Missouri's favorite landmark? That's Josh Bellamy—an undrafted rookie who has already sprinted through the Arrowhead Stadium tunnel this year, but not on a Sunday.
He is one of many.
Bellamy's stock has climbed and dipped like a brakeless roller coaster. As KCChiefs.com's Josh Looney details, his name was frequently found at the tail end of curiosity during OTAs.
The trend continued throughout this year's training camp but hit a screeching halt in each of Kansas City's preseason games. His first mention against the Arizona Cardinals was attached to receivers' least-favorite words: "dropped pass." Although he has been targeted five times, Bellamy has only accounted for one total reception this preseason.
From other undrafted rookies like Dexter Heyman to familiar faces like Jake O'Connell, Kansas City's roster doesn't discriminate. That is, until Aug. 28, when the Chiefs depth chart will only list 80 names following roster cuts.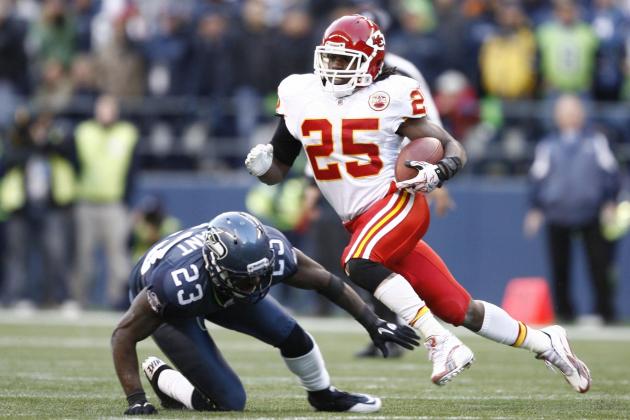 Joe Nicholson-US PRESSWIRE

The third preseason matchup isn't the last practice or exhibition before the regular season. But for all intents and purposes, it's the dress rehearsal for the season opener. Starters will play well into the second half.
However, any tricks will remain hidden up coordinators' sleeves.
Brian Daboll's shift- and motion-centric offense (NFL.com) will be anything but. The only noteworthy difference that will be on full display Friday is the integration of zone blocking.
The preseason is an evaluation period. Daboll knows that exposing the bells and whistles of his offensive machine would be counterproductive. In other words, the risk is in a much heavier weight class than the reward.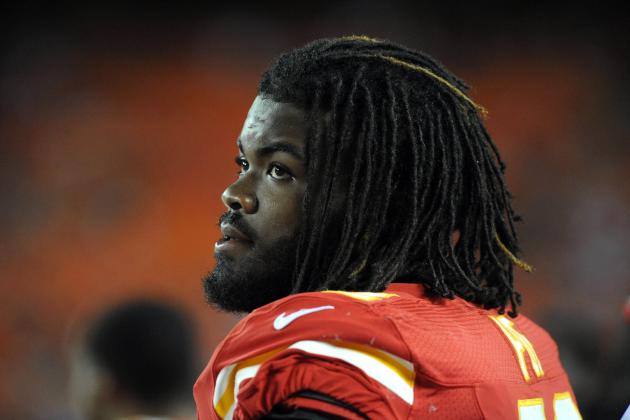 John Rieger-US PRESSWIRE

As expected, first-rounder Dontari Poe has looked sluggish out of the gates. But, he is making progress.
In Kansas City's first preseason game against the Arizona Cardinals, Poe was often manhandled by second-stringers.
He provided a ray of hope against the St. Louis Rams, though. On a third down, Poe temporarily broke free and got a hand on Sam Bradford's non-throwing arm as the quarterback released the ball. It wasn't a sack, and the play surprisingly resulted in a 3rd-and-long conversion. But one quarterback hit is progress from the zero he posted the previous week.
But, he's only one piece to a much larger puzzle. The starting defensive line consists of Tyson Jackson, Anthony Toribio and Glenn Dorsey. Last Saturday, Stephen Jackson ran through their defensive wall like the Kool-Aid Man and left a bitter taste in the mouth of Romeo Crennel. Jackson chewed up 49 yards on just seven carries.
If the Seahawks gash the three-man front as well, expect there to be increased competition at all three positions.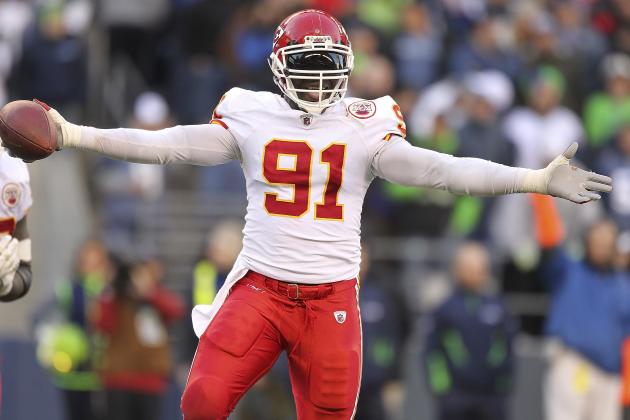 Otto Greule Jr/Getty Images

Tamba Hali is suspended for Kansas City's season opener against the Atlanta Falcons.
Last week, Kendrick Lewis injured the same injury-prone shoulder that nagged him throughout 2011. Although it won't require surgery (ESPN), the Chiefs safety will be sidelined indefinitely.
Brandon Flowers has been diagnosed with a heel "bruise," according to head coach Romeo Crennel (CBS Sports). It's a bruise. Flowers is a football player—an aggressive, hard-nosed one at that. Nothing to sweat, right? Wrong. The cornerback has not returned to the lineup since being carted off of the practice field on July 31.
The pair of secondary starters, Lewis and Flowers, will not suit up Friday night. But, Flowers will likely return sooner than later, and Lewis should infiltrate the rotation again at some point this season.
Even though Hali will jog out onto the playing field against the Seahawks, fans can expect to see a healthy dose of his backup Andy Studebaker. With the regular season just weeks away, Crennel will look to groom Studebaker for the role he will attempt to tackle in Week 1.
And, that's not all.
Rookie quarterback Russell Wilson will also make his starting debut tonight.
If he picks Chiefs defenders apart, it could be attributed to a diminished pass rush (assuming Hali's role is limited) and a crippled secondary. Likewise, if Kansas City's defense imposes its will on the youngster, don't be "that guy" who comments that Justin Houston is the second coming of Derrick Thomas.
Not all opposing quarterbacks will be first-time starters operating through screams loud enough to put a librarian on suicide watch—a.k.a. Arrowhead Stadium.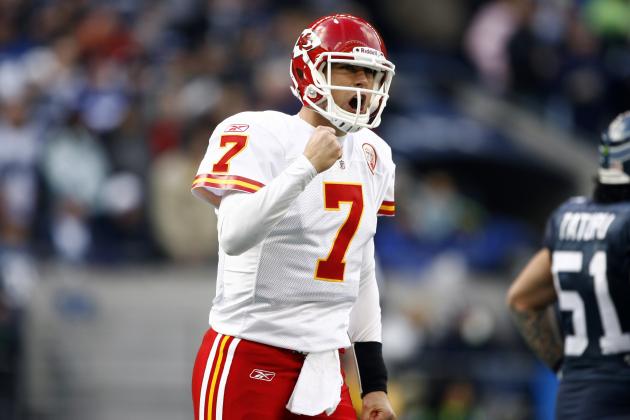 Joe Nicholson-US PRESSWIRE

Throughout the team's first two preseason contests, Matt Cassel has looked like an upgraded version of the Pro Bowl quarterback from two years ago. He seems to have complete control of the offense, and his passes have whizzed by defenders with pinpoint accuracy.
This preseason, Cassel has completed 18 of his 24 pass attempts for 209 yards. A number of his incompletions also stemmed from drops or were batted down at the line of scrimmage.
No. 7 will likely take the majority of snaps on Friday. If he engineers another successful performance, doubts will start to dwindle in a hurry, and this offseason's boo-birds will be eating crow for the next week.