Grades for Every Baltimore Ravens Rookie Through Preseason Week 3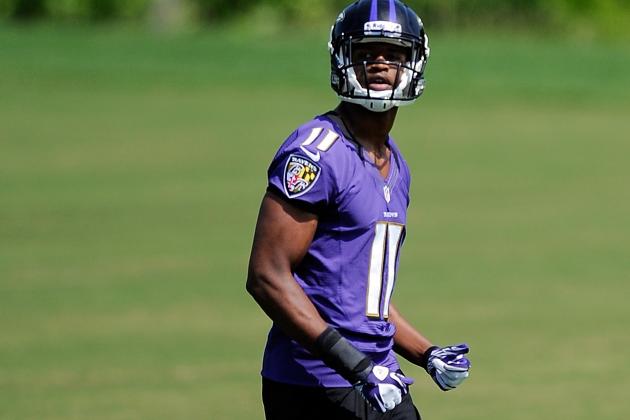 Patrick McDermott/Getty Images

John Harbaugh has gone on record as saying that he thinks this rookie class is the best he's coached in his five years with the Baltimore Ravens. It's a bold statement considering all the great classes of players that the Ravens have had in the five years that Harbaugh has been coaching in Baltimore.
Yet this statement does hold some weight as Harbaugh seems to genuinely believe in this talented bunch of players. Even with none of them being drafted in the first round, several are in line to become important contributors. There are even a few undrafted rookies who could make the roster or even become eventual starters.
With the third and most important preseason game over, now's as good a time as any to look at how the Ravens rookies have done so far.
Here's the report card for the drafted rookies with one week remaining in training camp.
Begin Slideshow

»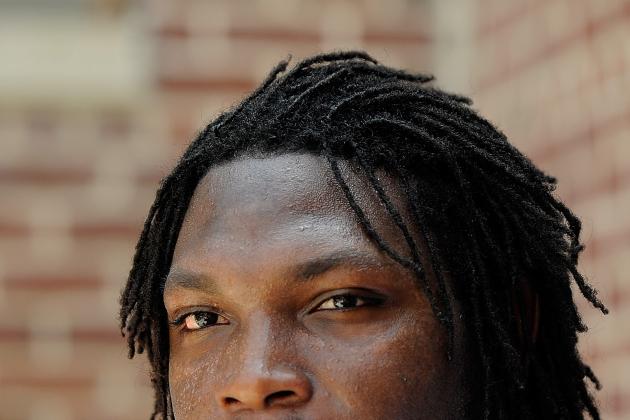 Patrick McDermott/Getty Images

As the Ravens' first draft pick, Courtney Upshaw was already facing hefty expectations. Those only skyrocketed five days later when it became known that Terrell Suggs had suffered a serious Achilles injury.
Even with veterans like Paul Kruger and Sergio Kindle on the Ravens' roster, Upshaw was now expected to become the Ravens' primary pass-rusher in place of Suggs.
Those expectations are tough for anyone to meet, but so far Upshaw has done all right. He's looked comfortable throughout training camp and avoided any glaring mistakes.
Unfortunately Upshaw's also had issues such as being several pounds above his target weight of 270 pounds. He also sprained his right shoulder, which forced him to miss more than a week of training camp and the preseason opener. He's also lost ground to an unlikely challenger in second-year player Albert McClellan, who looks as though he could be the starter instead.
Obviously, that would be disappointing for Upshaw. He needs to make up ground to win the starting job, although he figures to get plenty of reps at outside linebacker even if he doesn't start.
Grade: C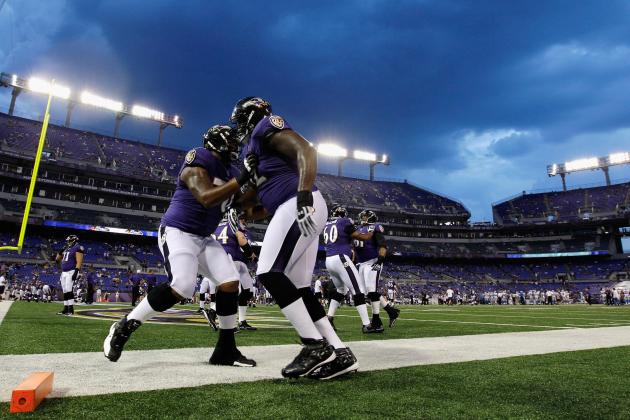 Rob Carr/Getty Images

Kelechi Osemele, the other second-round pick besides Courtney Upshaw, has greatly impressed the coaching staff. He was drafted to replace Ben Grubbs at left guard.
Osemele will not be given a starting job without working for it, though. And as he is prone to doing, Ozzie Newsome brought in a veteran offensive lineman, Bobbie Williams, on the cheap to compete with Osemele.
Now it remains to be seen if the Ravens want the experience of Williams or the upside and youth of Osemele to start. That's not even considering other possibilities like Bryant McKinnie not starting because of his weight injuries or Michael Oher deciding to move to guard.
There's clearly a lot of flux and uncertainty on the Ravens' offensive line that has yet to be worked out.
To Osemele's credit, though, he's been great during camp. He's shown a willingness to move around and learn from the veterans. He's also shown the physical talent that pre-draft experts raved about.
He'll be a starter at some point and could even be ready as soon as this season if that's what the coaches decide.
Grade: A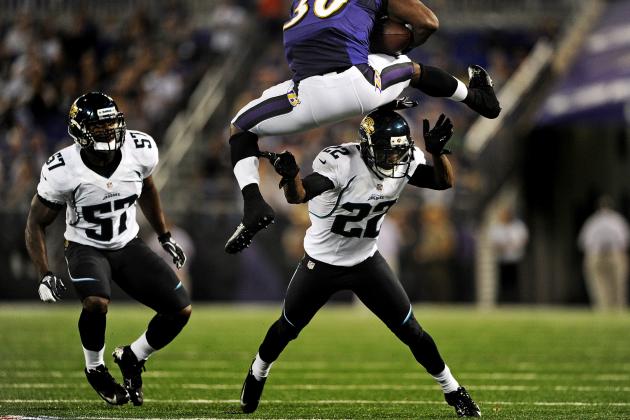 Patrick Smith/Getty Images

Back in April, this pick was viewed as a bit of a surprise. Though Ricky Williams had announced his retirement months ago, many experts had thought the Ravens would look for a veteran to back up Ray Rice.
Instead, they chose Bernard Pierce, who had emerged as a star during his junior season at Temple and looked like he could become a starting running back in the NFL.
This year Pierce will be a clear second fiddle to Rice. However it does look as though he has that job almost guaranteed thanks to his running style and size. Pierce and Anthony Allen are the only bigger, power backs on the Ravens' roster, and for now Pierce has clearly outperformed Allen.
It's worked well the past several years to have a power back who complements Rice. Pierce has what it takes to handle goal-line carries or to become a closer in the fourth quarter. He runs with a special swagger, as shown by his hurdle in the preseason game against the Jacksonville Jaguars.
So far, Ravens fans have only seen a glimpse of what Pierce can do. But it looks as though that has been enough to earn him the backup job. Now let's hope he can avoid the hamstring injury that caused him to miss some practice and preseason reps early on.
Grade: C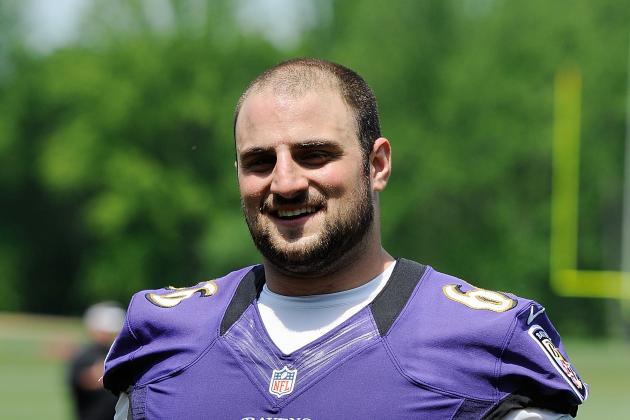 Patrick McDermott/Getty Images

Gino Gradkowski is another versatile offensive linemen who can play multiple positions. He mostly stuck it out as a guard at Delaware, although he did play a few games at center.
That experience has helped him since most likely place for him to contribute for the Ravens is at center.
Matt Birk is getting old and is injury prone, so it's imperative that the Ravens have someone to replace him if he gets hurt again. Gradkowski is probably the front-runner for that job. He received some reps with the first-team offense earlier this month when Birk was injured.
That's likely the extent of what we can expect from Gradkowski. There are too many other offensive linemen ahead of him at guard.
Only time will tell whether Gradkowski is the eventual replacement for Birk at center.
Grade: B+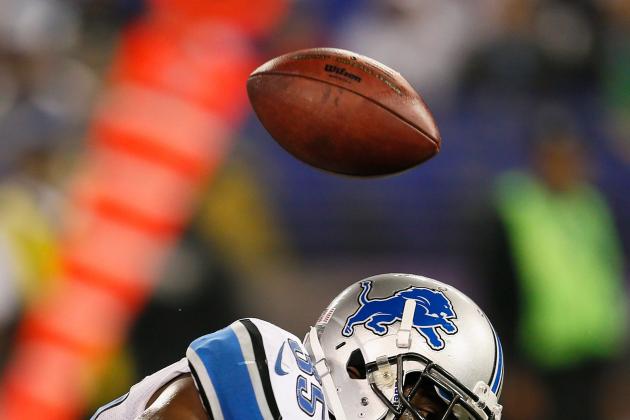 Rob Carr/Getty Images

As a backup safety who likely won't get much playing time, Christian Thompson has gone under the radar a bit. Still, he's had impressive practices and put up some good stat lines in the preseason games.
For now, Thompson needs to be content learning from two great safeties in Ed Reed and Bernard Pollard. He's clearly picked up a few things in camp, where he's disrupted plays and picked off some passes.
Let's hope that next week he'll show something in the preseason finale. He only has seven tackles in three games.
Grade: B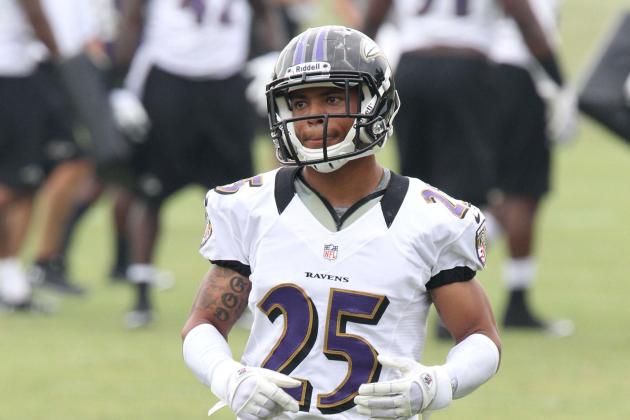 Mitch Stringer-US PRESSWIRE

Cornerback is a crowded position on the Ravens' roster, so fifth-round pick Asa Jackson has had his work cut out for him from Day 1.
Even with impressive play in training camp and the preseason, Jackson has been unable to crack the Lardarius Webb-Jimmy Smith-Cary Williams trio that is at the top of the depth chart. Corey Graham has also been impressive, which leaves likely two roster spots for three players.
What helps Jackson is his return ability. He had a punt return for a touchdown against the Detroit Lions last week that was called back because of a holding penalty.
That was a very disappointing result for Jackson, but still his speed was refreshing to see for a Ravens team that has lacked a good returner over the last couple seasons.
Jackson should make the team, but will not likely see the field as a cornerback. Instead, expect him to contribute on special teams, both returning and covering kicks.
Grade: C
Mitch Stringer-US PRESSWIRE

The Ravens have six players competing for only a few open spots at wide receiver. That's not good news for Tommy Streeter, who has struggled to distinguish himself.
After disappointing showings in training camp and the first two preseason camps, Streeter seems like he's more a developmental player right now. That could end up costing him a roster spot.
Undrafted rookie Deonte Thompson has adjusted to the game faster and has value as a kick returner. As a result, Streeter could find himself the odd man out. He could be the only rookie from his class to not make the team.
But I'm not sold on that happening. Even if he doesn't make the active roster, he could still be a practice squad member.
Streeter did help his cause against the Jacksonville Jaguars this week, scoring on a 33-yard touchdown reception late in the fourth quarter. That play demonstrated his potential as a large red-zone threat.
Let's hope that Streeter can make the Ravens' roster and spend some time learning before he sees the field.
Grade: D+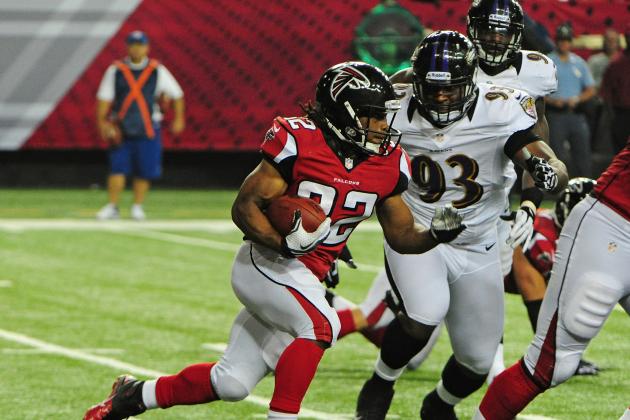 Scott Cunningham/Getty Images

DeAngelo Tyson, the Ravens' final draft pick has seen few reps at his position. The defensive line has recently become a key part of Super Bowl-winning teams, and it's doubtful the Ravens would throw a seventh-round rookie into the fire unless they had no other choice.
But will Tyson make the team? Right now, his four tackles and one sack through three preseason games have earned him a fairly secure spot on the second-team defense.
The Ryan McBean injury may have actually given him some breathing room. McBean had been expected to be a major contributor on the defensive line.
Still, Tyson will probably stay on the bench this season, or maybe the practice squad. He should make the team, though he likely won't see the field in 2012.
Grade: C+