Cedric Benson Makes an Immediate Impact in Packers' Win over Cincinnati Bengals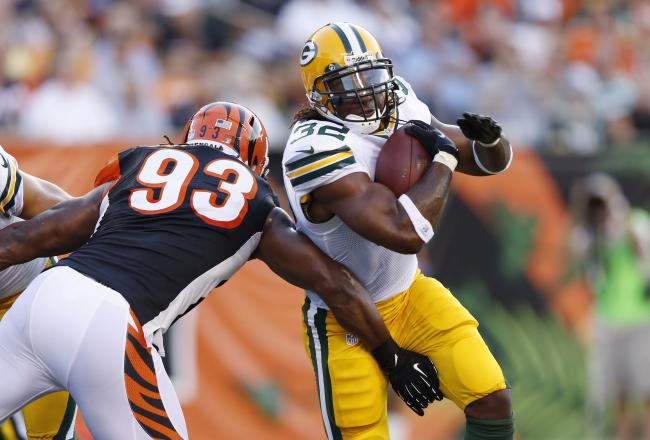 Joe Robbins/Getty Images
"The Packers don't run the ball."
You hear it on the radio, see it on television and read it in print. They don't run, and the run game doesn't matter because they don't have to run.
Don't for a second believe they don't care. Sure they will throw the ball—when you have Aaron Rodgers and those receivers, of course you do—but with a decent running back who is healthy?
They'd run.
We weren't sure what Cedric Benson would bring to the table Thursday night. After all, he'd been a free agent for months with nary a bite.
If 32 teams passed on him for that long, it usually doesn't bode well for a player's production or impact.
Benson put that nonsense to rest very quickly against his old team.
While Rodgers was the Pack's leading rusher (we don't want that to happen often), Benson was the most effective running back in a Packers jersey in a long time.
Accounting for the fact that this is the preseason and you can only get marginally excited for its games, Benson still looked good. The Bengals defense is solid, and while his 6.3 yards per carry may be a little "preseason inflated," he looked good running the ball.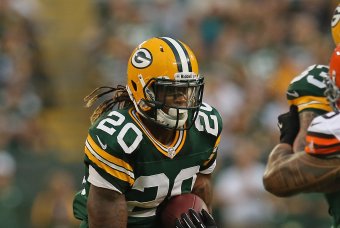 Jonathan Daniel/Getty Images
Alex Green had a few nice carries, but he still didn't seem totally confident and comfortable and, of course, James Starks is hurt.
The Packers haven't had a reliable running back since Ryan Grant in 2009. Benson isn't a special back—nobody will mistake him for Adrian Peterson or Maurice Jones-Drew (and no, the Packers won't be trading for MJD)—but he stays healthy, pass-blocks well and is a productive runner.
As fellow B/R writer and former podcasting partner Aaron Nagler would say: "Solid, but unspectacular."
Which is both fine for the Packers and an upgrade over what they have had the last few years.
When Grant was healthy and productive, he had two seasons of over 1,000 yards and more than 280 carries. One of the reasons the Packers don't run the ball is because, quite simply, they are rarely equipped with healthy backs.
This isn't going to turn into a throwback ground-and-pound team by any means. However, having a runner who is not in the training room during games will allow the Packers to run the ball more effectively and, in turn, more frequently, simply because they can.
While Benson isn't really a long-term answer for the Packers' issues in the backfield, he is a short-term answer for this year. Chalk it up to being in Cincy, being back on the field for a team that believed in him when 31 others (and again, until recently all 32) didn't or being well rested because he wasn't in a camp, but Benson ran the ball hard and with authority.
He's going to give this offense a dimension it hasn't had in a very long time, along with some options that teams won't be expecting.
After all, the Packers don't run the ball, right?
Check out the B/R NFC North Facebook page—like us and keep up with everything NFC North on Bleacher Report! Follow me on Twitter at @andrew_garda.
This article is
What is the duplicate article?
Why is this article offensive?
Where is this article plagiarized from?
Why is this article poorly edited?