Predicting the Colorado Rockies' Starting Lineup in 2013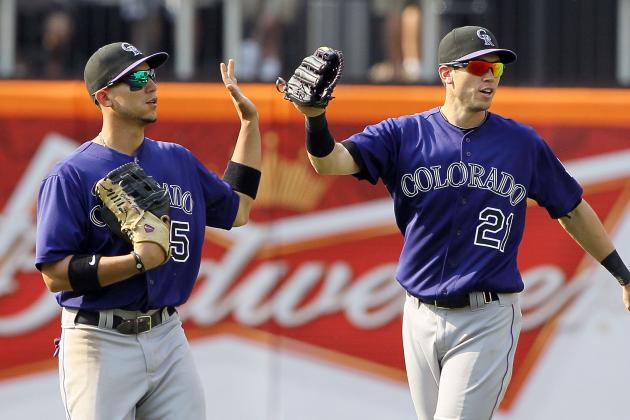 Jim McIsaac/Getty Images

It's here.
The snow from the winter has melted in the metro area, yet clearly visible on the Western slope of the Rocky Mountains. Denver is still buzzing about Peyton Manning's first season as a Bronco, and the Nuggets and Avalanche are gearing up for the postseason. Despite all the hype surrounding the other local squads, the Rockies' Opening Day always grabs the headlines. As much as Colorado loves its winters, everybody is smiling in anticipation for the first pitch in April.
More so than in years past, Rockies fans are anxious for 2013 as a way to put 2012 to rest. Despite the recent surge by the Rox, a postseason appearance is realistically impossible.
2012 will be remembered as a year full of growing pains, questionable coaching tactics and an overwhelming abundance of patience. On the plus side, 2013 will certainly be better than 2012. So who can we expect to see in the starting lineup on Opening Day?
Begin Slideshow

»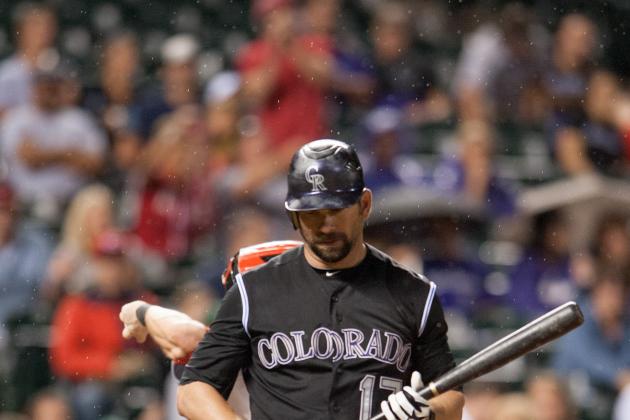 Dustin Bradford/Getty Images

First and foremost, this prediction is only tentative. Todd Helton's illustrious career is nearing an end, and 2013 may be his last on the diamond. The Rockies would never let Helton near the bench for possibly his last Opening Day contest, and the ovation Todd will receive at his first at-bat will ring throughout the bricks of Coors Field until perhaps his final at-bat in the fall.
Michael Cuddyer will likely be the go-to utility guy for the Rockies, and will alternate between first base and outfield. Due to Colorado's outfield depth, "Cuddy" will likely see the majority of starts at first sooner rather than later.
The transition will be tough for Rox fans to watch, but considering how classy Todd Helton is, he will probably side with Jim Tracy in his decision.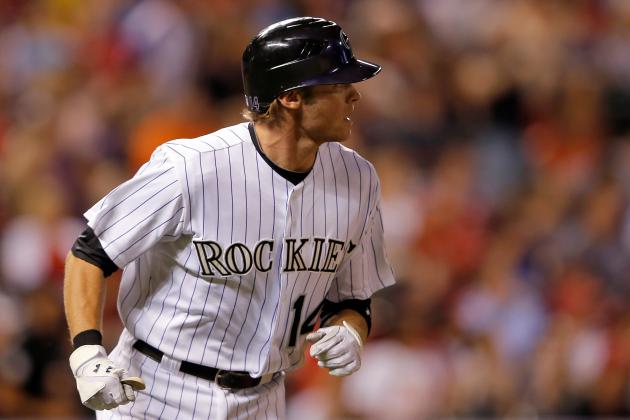 Doug Pensinger/Getty Images

One of the pleasant surprises last season, Josh Rutledge progressed from opportunistic prospect to franchise young-gun in a matter of months. If he were to play all of the 2012 season, he was on pace for blasting 30 homers and 110 RBIs, all while providing a solid glove in the infield. His presence made the absence of Troy Tulowitzki slightly more bearable.
It's unforeseen it Rutledge's big rookie season was a flash in the pan or a sign of things to come, but the youngster was remarkably consistent and definitely one of the top bats in the lineup. Some scouts argued the Alabama native's ceiling is low due to his limited athletic ability, but Rutledge proved a lot of critics wrong in his freshman campaign.
There's a very real possibility Rutledge will continue to excel in 2013, and the return of No. 2 will only assist his improvement.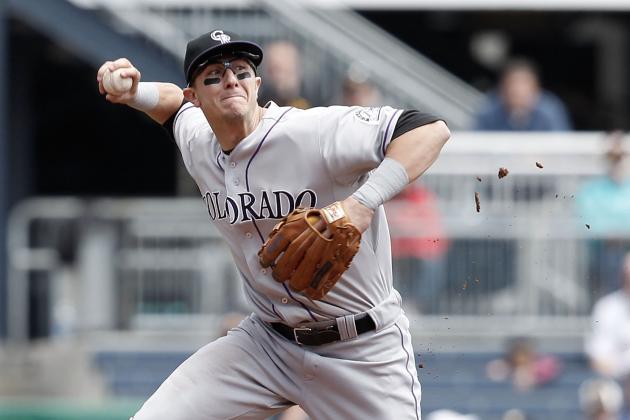 Jared Wickerham/Getty Images

For some reason, you always got the indication you were watching the Rox at half strength in 2012. Most of this probably stems from Troy Tulowtizki's absence. As excruciating as his walk-up songs are, Rox fans would gladly cringe to Justin Bieber's "Baby" a few times a night in exchange to see the franchise star dig back into the box.
Injuries dotted Tulo's past up until 2012, but this season they came in full force. Tulo will likely complete 2012 with roughly 60 games under his belt. Now that his troublesome groin is finally resolved (knock on wood), we'll finally get to watch the electric shortstop grace the lineup once again.
We haven't seen Tulo and Rutledge in action together just yet, but the Rox' strength up the middle of the infield will have the league taking notice. Colorado's offense was formidable without the two-time Silver Slugger, but his addition will catapult the Rox bats into the top echelon of the league.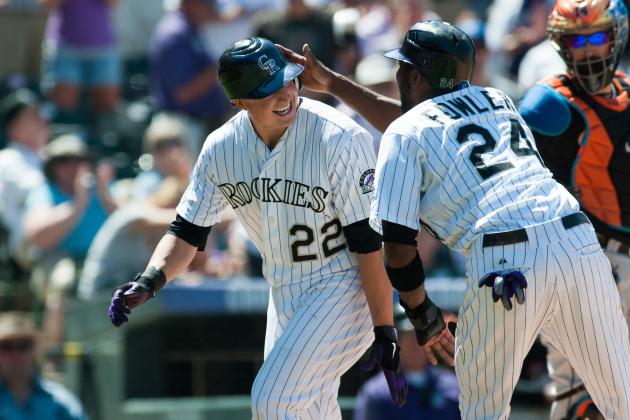 Dustin Bradford/Getty Images

Jordan Pacheco has been put in somewhat of an unfair position. He has quietly strung together a very respectable rookie season, but has been overshadowed by the emergence of Josh Rutledge. Pacheco's average currently sits comfortably over .300, but his power is severely limited. He has only two homers, which reflect a rather meager 33 RBIs.
Pacheco's ability may remind some of the recently-traded Marco Scutaro: a reliable depth guy who can hit for average and fill holes in the infield. Such players are always needed on postseason contenders, but Pacheco's contributions will be scrutinized thanks to a player who has yet to reach the big leagues.
Nolan Arenado, Colorado's top prospect, is a remarkably gifted hitter capable of hitting for power and average, and Rox fans have been pleading with management to let the 21-year-old see some big league action. Arenado suffered through an absolutely brutal month of July, but has recently found his niche and is playing the best ball of his young career.
Pacheco may very well start next season at third, but Nolan Arenado will always be knocking on the door.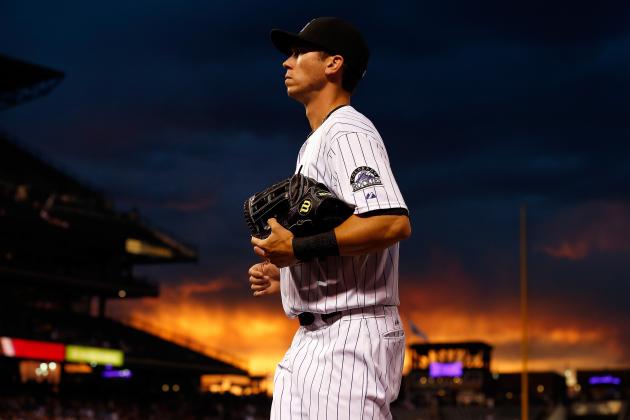 Doug Pensinger/Getty Images

The offseason trade for Tyler Colvin in 2011 went relatively unnoticed. After one year in a Rockies uniform, Colvin has played his way into a starting role. The ex-Chicago Cub exchanged Wrigley Field's intimate settings for the spacious grounds of Coors Field, and his career took off.
Colvin played in less than half of the Cubs' games last season and hit just .150 in the process. As a Rockie, he's close to .290 and will likely eclipse the 20-HR mark. His play has forced Jim Tracy's hand, and may ultimately play into Todd Helton's fate.
He's still only 26 and the best years of his career are likely still ahead of him. His average at Coors is .315, and his above-average defense fits well in his new home.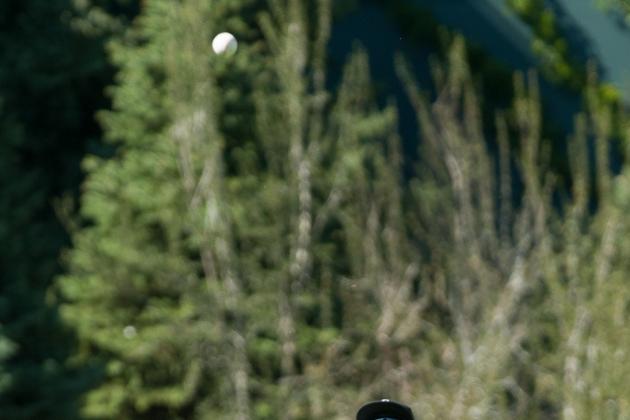 Dustin Bradford/Getty Images

Dexter Fowler's 2012 was tumultuous yet rewarding. Fowler, a returning three-year starter, was a magnificent fielder but a liability at the plate. From 2009-2011, the lanky outfielder hit .264 while striking out in more than one-quarter of his at-bats. Whispers about his position being in jeopardy grew louder after a slow start to 2012.
But Fowler showed a newly found toughness and responded with the finest season of his young career. Dex is well-known for his smooth, effortless defense in cavernous center field, and may gain some notoriety around the NL for his batting power.
He's already doubled his previous home-run high and his average is nearly forty points higher than ever before. The speedster also just recently became Colorado's all-time triples leader. Keep in mind, he's only been in the big leagues for five seasons.
Fowler's breakthrough offensive season was a major contributor to Colorado's dangerous offense. The Rox have often followed a batting order blueprint based on power, but Fowler's ability to get on base has paid big dividends. In fact, he's on pace to score 90 runs this season, which would be another career high. If Fowler can continue this level of play with Tulowitzki in the lineup, the scoreboard operators are going to be even busier than usual in 2013.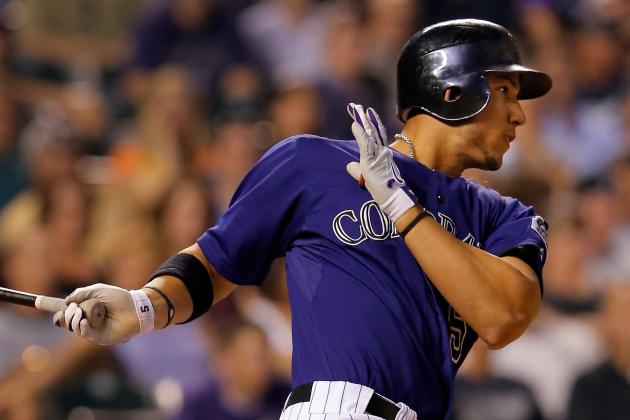 Doug Pensinger/Getty Images

Even through the most tumultuous of times, the Rockies can count on one thing: Carlos Gonzalez in left field. The 2012 All-Star is a fixture in the position, and will likely hold the spot for at least the better half of the next decade.
The slugger leads his team in nearly every major offensive category and is extremely talented defensively. His flair for the dramatic has become so common, some Rockies fans merely shrug as if it were expected.
Even though the Rox trudged through a forgettable 2012, they are fortunate to have building blocks like CarGo in the fold. As long as he is aboard, the rebuilding process will pass by much more quickly.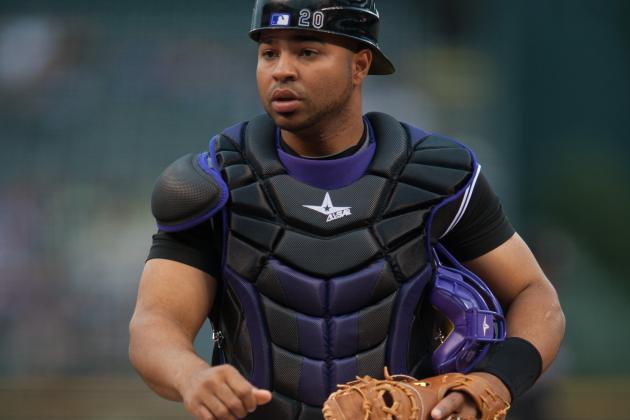 Dustin Bradford/Getty Images

The Rockies have endured a grim past with catcher prospects, and many experiments have proved to be failures. Wilin Rosario, however, may be the man Colorado has longed for. The Rox knew he had talent, but not many expected the 23-year-old to reach the 20-home run mark by mid-August. In fact, he's averaged more homers per game than any rookie in the league.
Rosario is still very raw, and while he has plenty of power, he is still refining his all-around ability at the plate. Defensively, he is an adventure to say the least. Rosario leads the league in passed balls, a stat he will surely want to cut back on next season. Consistent contact at the plate also needs to be improved, but more experience should polish up such flaws. All things considered, the man called "Baby Bull" has a bright future in the Mile High City.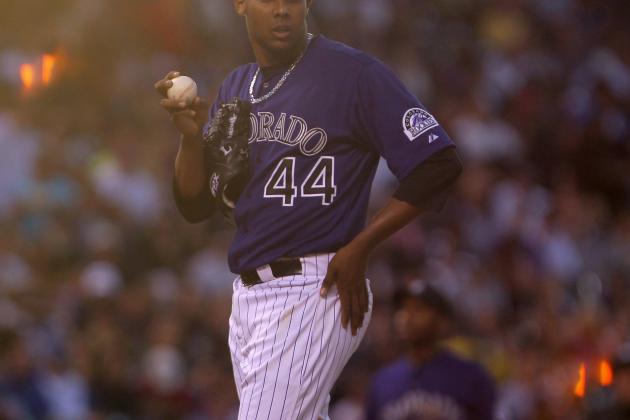 Doug Pensinger/Getty Images

If you think you're down on your luck, take a look at Juan Nicasio. The talented Dominican hurler broke his neck during a game in 2011 and lasted just 11 games in 2012 before being shelved to fix a troublesome knee. Nicasio has great stuff, his only problem is being able to stay healthy.
2013 is Nicasio's year. He's due for an injury-free campaign, and is certainly capable of winning 12-15 games if the cards fall in order. He may be too talented to limit by means of the "piggyback" pitching system adopted by the organizaton. He's not an ace by any means, but is an improvement over the current suspects on the roster.
In any case, Nicasio is tough as nails and a gritty competitor, somebody who would be a perfect poster-child for Colorado's comeback year in 2013.