10 Biggest Homer Announcers in Baseball History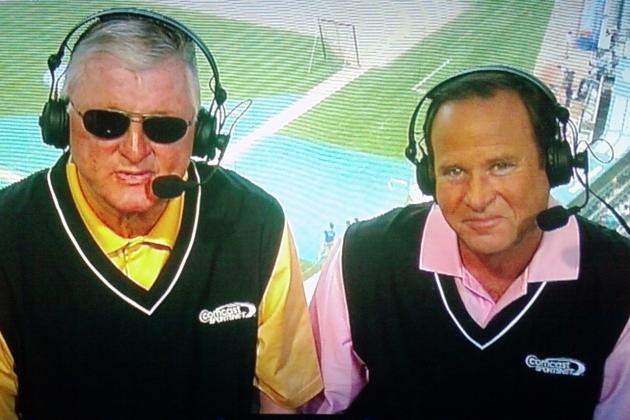 Whether it's a record-breaking hit, a walk-off home run or a World Series victory, baseball is full of memorable moments.
It also seems that behind every great play, there's a great play-by-play call, as these iconic broadcasters can take a game from ordinary to extraordinary with the way they convey the heat of the moment.
In doing so, they understandably take sides, cheering harder for their team as they sway away from impartiality.
Here are the 10 biggest homers in baseball announcing history.
Begin Slideshow

»
Having the distinction of once being traded for a player, Ernie Harwell spent 42 years as the voice of the Detroit Tigers, and though he has since passed on, Tigers fans will always remember him for everything he brought to the airwaves.
Harwell was a recipient of the Ford C. Frick award in 1991. It is given annually to a broadcaster who has made major contributions to baseball.
Vin Scully is unquestionably one of the most famous broadcasters in baseball history. His longevity has afforded us the opportunity to hear him describe multiple generations of Dodgers greats as they made their mark on history, including Sandy Koufax's perfect game on Sept. 9, 1965.
Having spent more than 60 seasons with the Dodgers, it'd be hard not to be a bit of a homer.
Sixty years later, Russ Hodges' "Shot Heard 'Round The World" call is still one of the most memorable moments in baseball history and certainly one of the most recognizable moments in sports broadcast history.
Bob Uecker is one of the most well-known announcers in baseball. He brings a highly animated demeanor to his Brewers broadcasts on a nightly basis.
It's quite possible, however, that most fans outside of Milwaukee know him best for his role in Major League as the Cleveland Indians' play-by-play voice.
"Juuuust a bit outside!"
Starting off his career in 1934 in Cincinnati, Mississippi native Red Barber was quickly thrown into the spotlight when he took the airwaves for the Brooklyn Dodgers in 1938.
A 1978 recipient of the Ford C. Frick award, Barber helped coin a number of popular catch phrases that we hear all the time. He's also played a part in the career of legendary Dodgers broadcaster Vin Scully.
Spending nearly two generations at the microphone for Yankees games, Phil Rizzuto saw some of the game's best players take the field while he worked as a broadcaster once his playing days were over.
His trademark "Holy Cow" is an unmistakable remark that will always be associated with his name. Having called games alongside some of the best names in the business, Rizzuto will always be in good company.
It's hard to think of a more animated announcer than Cubs great Ron Santo. Having spent a number of years playing for the team prior to becoming a broadcaster, it was common to hear his vocal chords get a workout during the good plays, but especially when things weren't going well for his Cubbies.
Watching Minnesota Twins broadcasts certainly has taken on a different tone since Bert Blyleven was inducted into the Hall of Fame in 2011. Prior to that time, he often used the airwaves as his pulpit to preach openly about his credentials.
Always a jokester during his playing days, Blyleven is one of the more animated broadcasters in the game today, though as we see here, it has gotten him into trouble before.
*WARNING: Explicit Content
It's hard to set foot in Wrigley Field without thinking of legendary Cubs broadcaster Harry Caray. His unique personality and fun-loving demeanor were enough to win over almost any fan.
He won the Ford C. Frick award from the Hall of Fame in 1989, and though he passed away in 1998, his memories live all throughout Cubs Nation.
There's no denying that Hawk Harrelson is one of the most recognizable broadcasters in the game today. His trademark—"You can put it on the board! Yes! Yes!"—will get Chicago White Sox fans amped up every bit as much as it will annoy anyone else in baseball.
Harrelson has seen his share of criticism for being so outspoken and at times has come under fire for his rants after he sees a call going the other direction.
At any rate, it's hard to think of a bigger homer than the Hawk, for better or worse.