6 NBA Starting Lineups That Will Change Midseason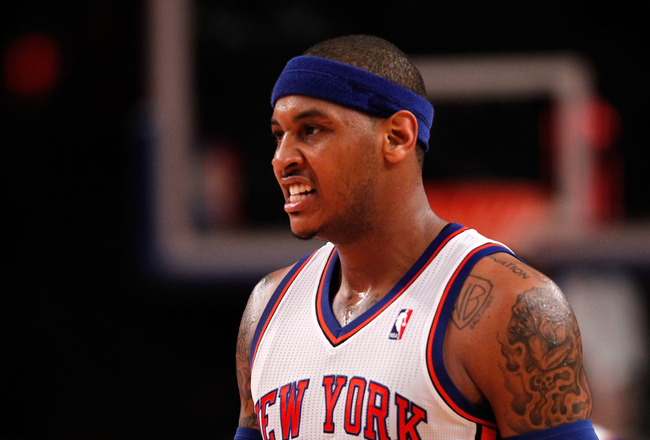 Jeff Zelevansky/Getty Images
Come mid-season in the 82-game NBA grind, some teams realize that a shakeup to their lineup is downright necessary.
This happens every year.
Squads seeking to break into contention decide to alter their lineup as they prepare for the stretch run. Other already formidable teams simply make adjustments based on chemistry.
Whatever the case, some starting lineups are more destined than others to encounter some shuffling come January, February or March.
You won't see the Los Angeles Lakers, Miami Heat or Oklahoma City Thunder on this list. Those starting lineups are pretty solidified.
Here you will see a bevy of teams hoping to make noise come playoff time, and their only hope may rest on some mid-season tinkering with the starting five.
*The Chicago Bulls were intentionally left off this list. While Derrick Rose will return to the lineup mid-season, they aren't likely to make any other changes that should situate them in this slideshow.
Houston Rockets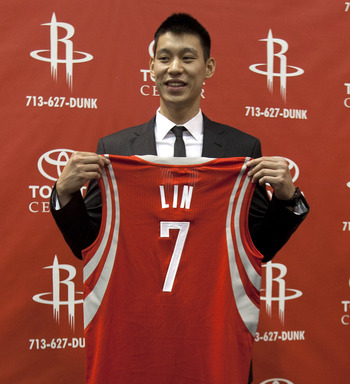 Bob Levey/Getty Images
The Houston Rockets have a slew of young players, which spells chemistry problems and, sooner or later, lineup changes.
The only two players who seem to have a strong hold on their starting position are the two signings from the offseason: Jeremy Lin and Omer Asik.
After those two, there are a host of questions.
1. Who on earth will emerge as the starting power forward: Patrick Patterson, Marcus Morris, a rookie such as Royce White or Terrence Jones, or Lithuanian Donatas Motiejunas?
Patterson will likely get the nod at the season's outset, but White is a good bet to hold down the four-spot come season's end.
Or perhaps the 21-year old Lithuanian Motiejunas will join Asik, and they'll start two 7-footers in their frontcourt. Motiejunas impressed in the Summer League and is capable of shooting from the perimeter. He could actually complement Asik, who only plays close to the basket.
All that to say, there could be numerous changes to the Rockets' frontcourt, and Coach Kevin McHale will most likely get creative.
2. When will we see rookie Jeremy Lamb in the starting lineup?
Lamb has loads of potential and should see playing time from the start. However, veteran Kevin Martin still figures to start at shooting guard, but don't be surprised if he's traded midway through the season.
In fact, you can expect this to happen. Martin has an expiring contract and a contending team will surely desire to add his long-range shooting abilities.
Therefore, Lamb should be inserted into the starting lineup at some point. It's just a matter of when.
3. Which youngster will prove to be for real?
White, Jones and Lamb were all mid-first round picks this summer and each has undeniable upside. None figure to start at the beginning of the season, but they could all end up in the lineup late in the year.
Whatever the case, the Rockets will probably encounter the most lineup changes of any team this season. When a team is this young, it's inevitable that changes are going to take place. They can only hope that a couple wise maneuvers keep them in the playoff hunt for the No. 7 or 8 seed.
But that might be a long shot.
New York Knicks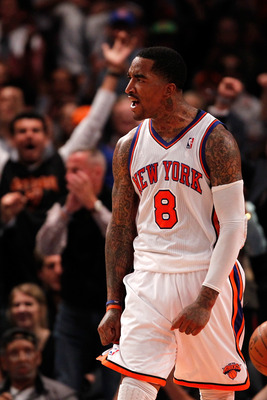 Jeff Zelevansky/Getty Images
The fact that the New York Knicks are in this slideshow is not a knock on them. They should be in the thick of things in the Eastern Conference, but it will likely take some mid-season adjustments if they hope to reach the "elite" category.
The backcourt is the most likely area for there to be changes.
J.R. Smith should be the starting shooting guard at the season's tip off, but this may not last long.
Why? Because Smith is too trigger-happy, and in a lineup that already features Carmelo Anthony and Amare Stoudemire, Smith can quickly become more of a liability.
Smith would be better-suited coming off the bench, playing a "James Harden-type" role, while the defensive minded Ronnie Brewer slides into the starting five.
Brewer revealed his defensive tenacity the past couple seasons with the Chicago Bulls, and he could fit into the Knicks' starting five similar to how Thabo Sefolosha fits into the Oklahoma City Thunder's.
Or, Iman Shumpert, who is targeting a January return from a torn ACL, could sneak into the rotation come February or March, as he's a proven gritty defender.
Whatever the case, there will likely be shuffling in the backcourt. Newcomer Jason Kidd could even find himself in the starting five if Raymond Felton appears inept.
New York's frontcourt is set with Anthony, Stoudemire and Tyson Chandler. But finding the right mesh in the backcourt could take time. However, if the right bunch is found, this team could challenge the Miami Heat come playoff time.
Philadelphia 76ers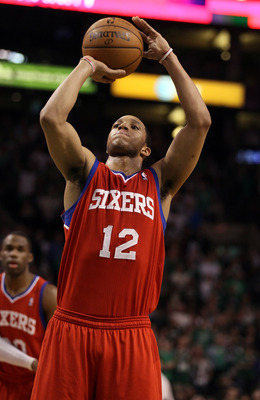 Elsa/Getty Images
Here's another team that should not consider it a "slap in the face" because they're on this list. With the addition of Andrew Bynum, the 76ers are definitely going to be much better than last year.
In fact, they could potentially win a series or two come the playoffs.
How far they go depends on who jumps to the forefront in their rotation. With Andre Iguodala gone, youngsters Evan Turner and Jrue Holiday should have plenty of opportunities to create in the backcourt.
You can expect these two to develop a healthy chemistry with one another.
The positions up in the air are the other wing spot and power forward. Newcomers Jason Richardson and Nick Young as well as Thaddeus Young will battle for time on the wing, while Spencer Hawes and Lavoy Allen should compete for tick in the low post.
My prediction is this: Thaddeus Young and Hawes are in the starting five to begin the year, but Richardson and Allen finish the year with the first team.
This reasoning is centered upon Richardson's ability to shoot the three (something Thaddeus Young doesn't do) and Allen's surging potential on the boards and ability to best complement Bynum.
Thaddeus Young, Hawes and Nick Young will give Philly a plethora of weapons off the bench, but these players will be better-suited as "spark plugs," rather than core players who must learn how to function with the starting five.
If you're a 76ers fan, there's much reason to be excited. They now have a quality nucleus and a top-notch big man in Bynum. Plus, Coach Doug Collins should work out all the details in regards to the rotation. Just don't be surprised if some adjustments are made come the midway point.
Toronto Raptors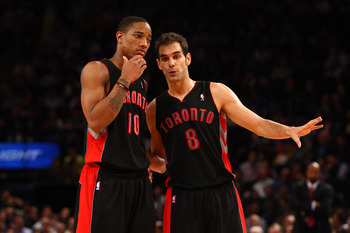 Chris Chambers/Getty Images
The Toronto Raptors will be improved, but similar to Houston, they have a host of young players, and it will take numerous lineup changes before they find their groove.
The frontcourt is centered around Andrea Bargnani, who, when healthy, is one of the better offensive big men in the game.
Twenty-year old Jonas Valanciunas enters the picture this season, and he could start immediately. If not, expect him to hit the starting five not too far into the season.
The majority of Toronto's changes should take place in their backcourt. On their roster, they possess returnees Jose Calderon and DeMar Derozan, additions Kyle Lowry, Landry Fields and John Lucas, and rookie Terrence Ross.
The only one in this bunch who would seemingly be content without a starting spot is Lucas. Therefore, this means the other five players will be scrapping for three positions.
My predictions include Calderon, Fields and Derozan beginning the season in the starting five, and Lowry, Ross and Derozan concluding the season with the first bunch.
With Lowry in the fold, Calderon (who possesses an expiring contract) could very likely get traded come midseason, and as the season progresses, look for Ross to see more and more playing time.
If the Raps make the appropriate tweaks to their lineup, they could find themselves in a battle for a playoff spot out East.
They have an assortment of weapons to use, and it will become a matter of making timely adjustments to help them reach their ceiling.
Utah Jazz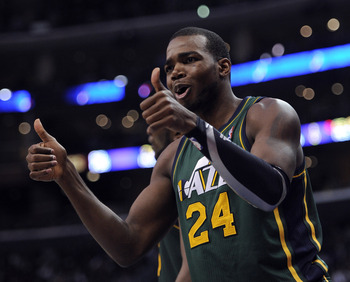 Harry How/Getty Images
The Utah Jazz will find themselves shuffling their lineup namely because they have four quality big men and will likely bid farewell to either Paul Millsap or Al Jefferson.
Both have expiring contracts, and with youngsters Derrick Favors and Enes Kanter in the mix, it's unlikely that they'll re-sign both after the season.
Therefore, expect the Jazz to bid farewell to one of them, most likely Millsap, and in turn insert Favors into the starting lineup.
Favors has shown flashes of potential and could make some major statements come the season's second half.
Further, there could also be some shifting of players on the wing. Marvin Williams and Gordon Hayward are the probable starters entering the season, but neither player should have a stranglehold on their position.
DeMarre Carroll, Alec Burks and Randy Foye could all get their chances to step onto the floor with the first team.
The bottom line is that the Jazz are a fringe playoff team, and it will take some lineup changes for them to play more than 82 games. If a wise trade is made involving Millsap, if Favors reveals major progression, and if a wing player leaps to the forefront in the backcourt, then this team could find themselves as high as the No. 5 or 6 seed.
But those are some big "ifs."
Atlanta Hawks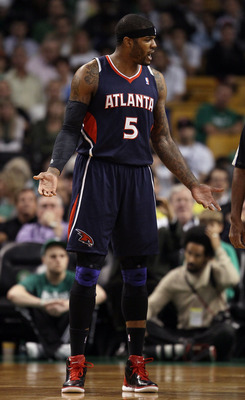 Elsa/Getty Images
The Hawks lost All-Star guard Joe Johnson, but did make a handful of backcourt additions, including Lou Williams, Kyle Korver, Anthony Morrow, DeShawn Stevenson and Devin Harris.
The point guard battle in Atlanta should be interesting, as the veteran Harris will fight with youngster Jeff Teague for the starting nod.
Teague has been serviceable the past couple seasons. He's looked like a budding star at times, but he now has to play with another proven point guard on the roster. Harris will definitely take away some of his minutes, if not his starting gig.
Further, the starting positions on the wing should remain up in the air for awhile. Williams and Morrow will contend for the starting shoot guard slot, while Korver and Stevenson will have a bout for the small forward position.
In the end, none of these players figure to overwhelmingly outplay the other, and it will thus lead to change after change in the lineup. My best guess is that Williams and Korver will see the majority of the minutes at the 2 and 3 spot, but one substantial trade could alter that.
With Al Horford and Josh Smith holding down the frontcourt, the Hawks should still find themselves in the playoffs. But they will likely tinker with their starting five as much as anyone, seeking to find the ideal backcourt mesh to lead the charge come playoff time.
Keep Reading