NFL: 10 Fantasy Players to Avoid in 2012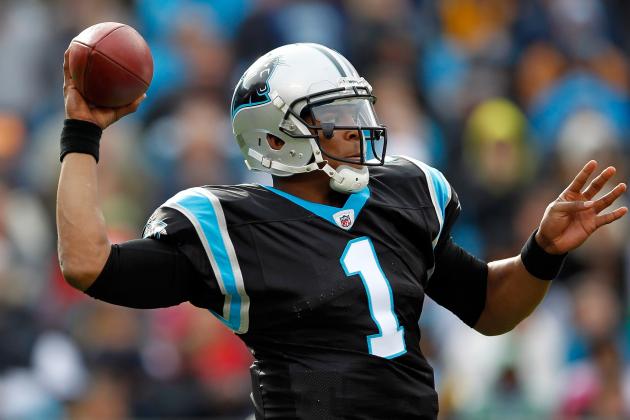 Streeter Lecka/Getty Images

There are fewer than two weeks until the start of the 2012 NFL season, which means it's time to start setting up your fantasy draft dates. Don't be that guy who doesn't study up for fantasy football and ends up picking the players who aren't in the same situation they were in last year.
The following 10 names are players you'll see going high in many fantasy football drafts, but for reasons that may be injuries, change of environment or a lack of supporting case on their team, they're just not safe selections.
Begin Slideshow

»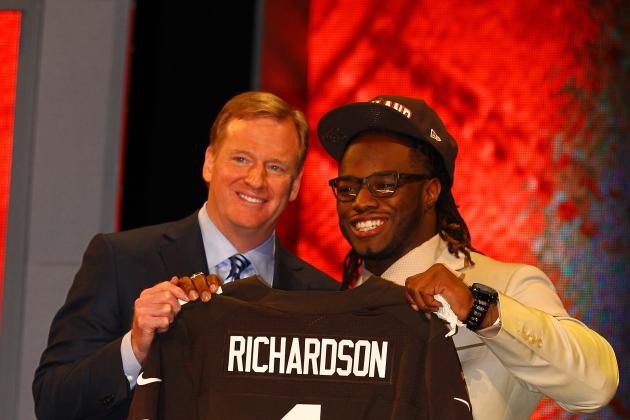 Al Bello/Getty Images

Heading into the NFL draft, Trent Richardson was compared to top running backs like Adrian Peterson or Chris Johnson, each of whom electrified the league upon making their debuts as rookies.
During the preseason, though, Richardson has his knee examined by the legendary Dr. James Andrews, which is not good news at all for fans looking to add Richardson to their fantasy teams. He's playing on a young team without a lot of talent, and one that will be starting the rookie Brandon Weeden at quarterback no less.
Richardson plays in a tough division with the Baltimore Ravens, Pittsburgh Steelers and Cincinnati Bengals, all of which ranked in the top 10 overall last year in scoring defense and rushing defense.
Richardson will be facing eight and nine-men boxes for much of the season. He will probably get 300 carries (assuming he stays healthy) and will probably put up at least 1,200 yards, but then again, the key is for Richardson to stay healthy. If you're thinking he can put up numbers like AP or CJ did in their rookie campaigns, look elsewhere.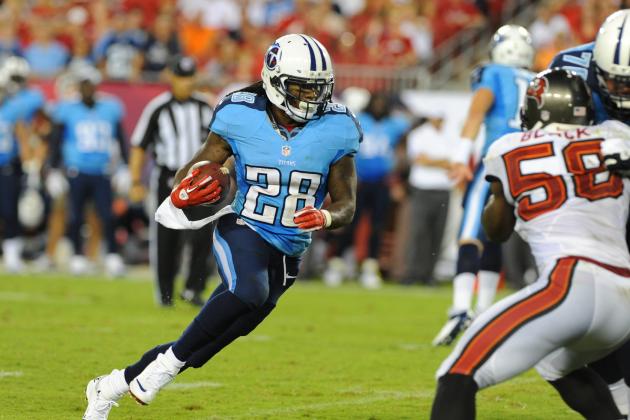 Al Messerschmidt/Getty Images

For the first three seasons of his NFL career, Chris Johnson looked like he was on track to be one of the league's all-time greats. He had made three Pro Bowls, put together a 2,000-yard season and his yearly average totals were astounding: 1,533 rushing yards, 5.0 yards per carry, 12 total touchdowns.
What happened to Johnson, though, was that he got paid. After receiving a four-year, $53 million contract that included $30 million in guaranteed money, Johnson lost the will to play football in 2011. His final numbers (1,047 yards, 4.0 YPC, 4 touchdowns) weren't awful, but they were nowhere near the numbers that made him arguably the league's best overall running back from 2009 and 2010.
Seven times, Johnson was held to less than 2.7 yards per carry, and he topped 100 rushing yards just four times while failing to find the end zone in any of his final four games. Much has been said about his resurgence down the stretch, but the reality is that he averaged just 49 rushing yards per game from Week 13 on.
Don't be that guy that takes the risk and picks Johnson in your 2012 fantasy draft. It's highly unlikely you'll get the player that rushed for 2,000 yards, or even a player that can shoot for 1,500. The fact that he is playing with a first-year starter at quarterback and a top receiver in Kenny Britt who can't keep his head on straight doesn't help his case either.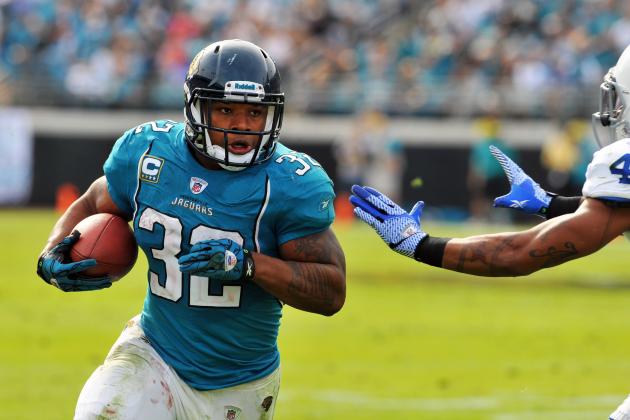 Al Messerschmidt/Getty Images

Maurice Jones-Drew has held out all of training camp, and he's reportedly requesting a trade. He also plays with Blaine Gabbert as his quarterback, which means lots of eight and nine-man boxes, and he is coming off a season in which he led the NFL in carries, and he has almost 1,500 for his career.
Does that sound like a guy you want to spend a top-five or 10 overall pick to get? Jones-Drew had a ridiculously successful season in 2011, leading the league in rushing yards (1,606) by a wide margin, and he averaged 4.7 yards per carry while reaching the end zone 11 total times. He also caught 43 passes out of the backfield for 374 yards, giving him nearly 400 total touches for almost 2,000 total yards.
Jones-Drew would be hard-pressed to duplicate the success he had in 2011 this coming season, and the fact that he has held out all of camp means he could very well have the kind of year Chris Johnson had for the Tennessee Titans in 2011.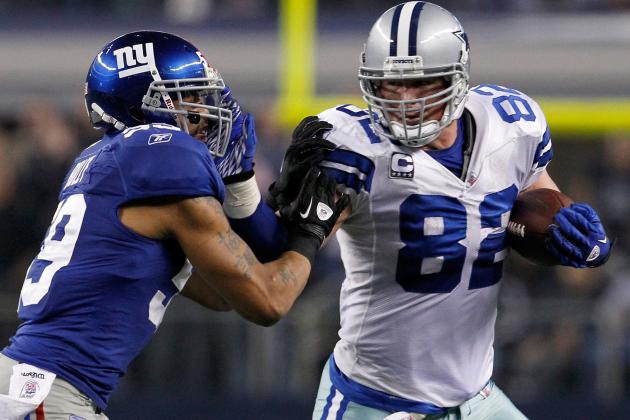 Tom Pennington/Getty Images

For the last eight years, Jason Witten has been one of the most underrated players in the NFL. You could make a legitimate case that he's been the league's best tight end. Witten has averaged 83 catches for 945 yards and five touchdowns, earning seven Pro Bowl invitations during that span.
Witten has several key factors going against him though as he heads into 2012—most important of which is that he has a spleen injury which may keep him out of action for several weeks.
Witten's role will diminish in the Dallas Cowboys offense as Dez Bryant becomes the dominant force he was destined to be when the team drafted him, and tight end is becoming a position in which more and more players are joining the very good to elite group.
While Witten has one of the top names in the business, he's just not good enough to separate himself from players like Jermaine Gresham, Dustin Keller, Brandon Pettigrew or Jared Cook—all of whom will put up numbers nearly as good and can be obtained in the later rounds.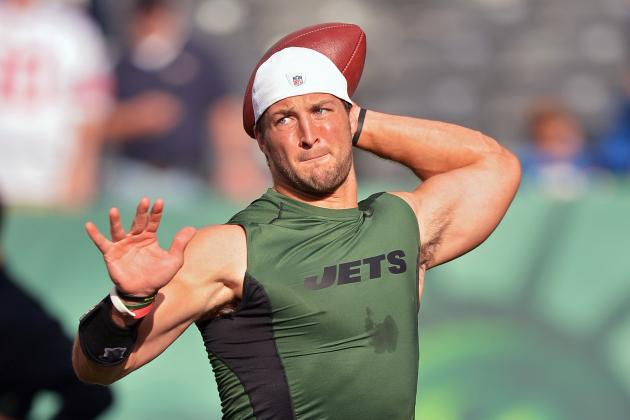 Drew Hallowell/Getty Images

Don't be that guy that picks Tim Tebow counting on him to take Mark Sanchez's job in Week 3 and lead the New York Jets to a playoff berth while passing for 2,500 yards and 20 touchdowns and rushing for 800 yards and 10 touchdowns.
Tebow may play frequently this year and he may not, but he likely won't be worth the draft pick you'll have to spend on him. This is a guy with a 47.3 (!) career completion percentage, a paltry 6.8 yards per attempt and a 75.1 passer rating that puts him in the class of Colt McCoy or Tim Couch.
Tebow's best receiver, Santonio Holmes, has been a head case recently, and his running back, Shonn Greene, isn't talented enough to keep the chains moving consistently.
I have a sneaking suspicion Mark Sanchez and Tebow will co-exist, which means Tebow won't be starting any games this year. And even if he does start, I highly doubt Tebow can duplicate the magic he had last year. He will get you some goal-line touchdowns, but his passing statistics leave much to be desired.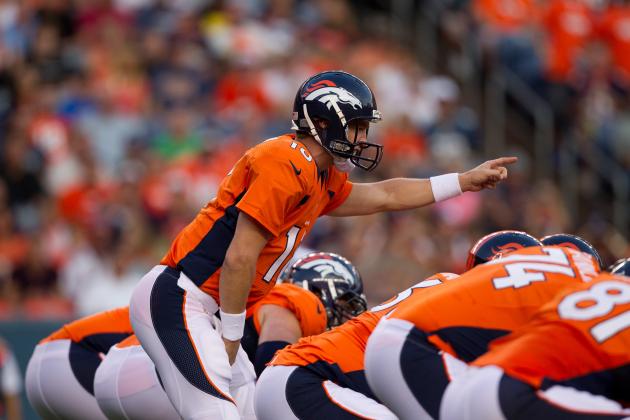 Justin Edmonds/Getty Images

Reading some of the comments of people hyping up the Denver Broncos' season makes me wonder if it is still 2004 and Peyton Manning is surrounded by Marvin Harrison, a young Reggie Wayne, Edgerrin James, Dallas Clark and a great offensive line in the Indianapolis Colts' dome stadium.
In reality, Manning is a 36-year-old quarterback coming off four neck procedures, including one recently in which doctors fixed a bulging disc in his neck. He's also moving to a new team in a new outdoor stadium with sub-par receivers, a mediocre running game and an offensive line that rated ninth-worst in the league in pass blocking and dead-last in run blocking, per Pro Football Focus.
And this offensive line will be without guard Chris Kuper for quite some time, as last year's starter on the right side just broke his arm and will miss several months.
Manning's top receiver will be former first-round pick Demaryius Thomas, a player who has a lot of talent but hasn't quite put it together yet (although the fact that Tim Tebow was his quarterback didn't help). He also has Eric Decker and former teammates in Brandon Stokley and Jacob Tamme. That's not bad, but it's nowhere near the weapons Manning had in Indianapolis, and don't forget he will be learning a new offense outdoors and he's expected to win now.
The fact that the Broncos really aren't that good doesn't help Manning's case either. The defense gave up 390 points last year, the 24th-rated total in the league. They finished 20th in total defense and 22nd in rushing defense. They're really just a mediocre team, and they're asking an awful lot from a player whose best years are clearly behind him.
Because they somehow managed to win the AFC West last year, they have to play the rest of the division winners in the AFC, which gives them the NFL's second-toughest schedule in terms of opponents' winning percentage. The first three games in particular are killers, as the Broncos host the Pittsburgh Steelers in a wild card playoff rematch, travel to Atlanta to play its secondary of Brent Grimes, Asante Samuel and Dunta Robinson and then host the Houston Texans, a team that led the NFL in total defense last year.
All things considered, it could be a tough year for No. 18. Don't pick Manning and expect the normal 4,500 passing yards and 30 touchdowns.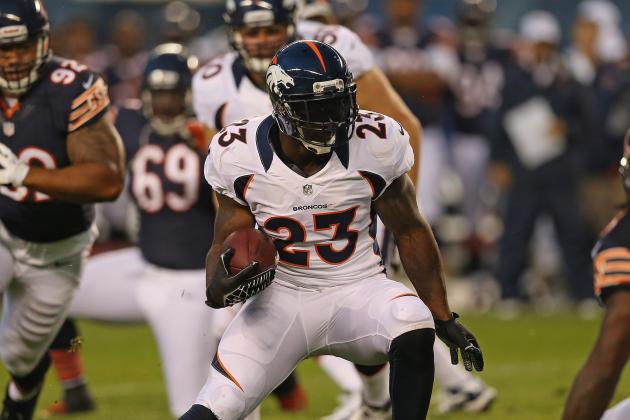 Jonathan Daniel/Getty Images

Last year, Willis McGahee rejuvenated his career with the Denver Broncos, rushing for 1,199 yards and four touchdowns on 4.8 yards per carry, earning his first Pro Bowl invitation since 2007. McGahee played a key role in the Broncos' playoff run down the stretch, topping 100 yards seven times for the season.
That was an almost unprecedented season from a player who seemed to be on his last legs, and if you're expecting a repeat of 2011 from the soon-to-be 31-year-old McGahee, keep dreaming. He now has Peyton Manning as his quarterback instead of Tim Tebow, which means the Broncos will be running a much more conventional NFL offense that won't give McGahee the same number of opportunities to pad his rushing stats.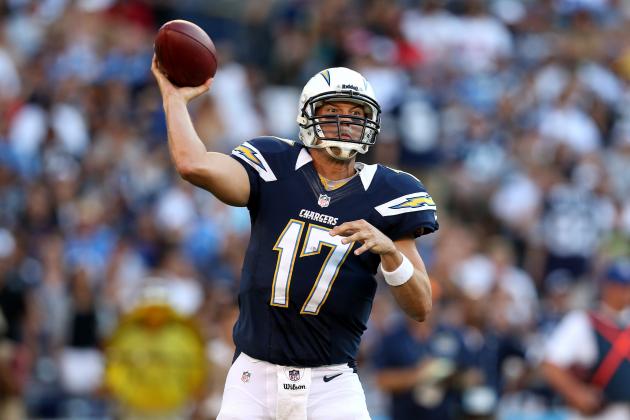 Stephen Dunn/Getty Images

I've always been a big fan of Philip Rivers. He's been overshadowed because the San Diego Chargers haven't reached a Super Bowl during Rivers' six years under center, but Rivers has been one of the game's best during that span.
He's reached four Pro Bowls and averaged 4,023 passing yards, 27 touchdowns and just 13 interceptions per season since 2006. Rivers has a 63.6 completion percentage, a 95.8 passer rating and he's led the NFL in yards per attempt—arguably the single most significant passing statistic other than passer rating—three years in a row.
Despite Rivers throwing for 4,624 yards and 27 touchdowns last year, his 62.9 completion percentage was his lowest in four years and his 20 interceptions and 3.4 interception percentage were each career-worsts.
Analyst Evan Silva detailed the struggles Rivera had last season, saying he may have peaked and that he frequently lacked the velocity he would normally display on deep throws.
Rivers also lost his best receiver, Vincent Jackson, to the Tampa Bay Buccaneers, and up-and-coming receiver Vincent Brown recently broke his ankle and will likely miss a minimum of three months. Ryan Mathews is dealing with a broken clavicle that may cause him to miss time, and the offensive line is in shambles.
Longtime left tackle Marcus McNeill retired during the offseason after suffering a neck injury during 2011. The team signed Jared Gaither to an extension, and while this would seem like a terrific move to protect Rivers' blindside, Gaither has had chronic back issues over his career and remains out indefinitely.
That means the left tackle job may belong to undrafted rookie Mike Harris, which certainly wouldn't be the ideal situation for Rivers, although at least it's better than Brandyn Dombrowski, who may be the worst lineman to ever wear an NFL uniform.
Left guard Kris Dielman, who went to four straight Pro Bowls from 2007 through 2010, has retired as well after suffering a seizure on a flight home last year. Center Nick Hardwick, a former Pro Bowler himself, is coming back, but he has struggled to stay healthy as well. The right side of the line consists of Louis Vasquez and Jeromey Clary, players that ranked 32nd-best and 74th-best at their positions last year, per Pro Football Focus.
That's not good news for Rivers, who is going to be 31 years old during the season and not getting any younger. In addition, the division gets tougher with the return of Pro Bowl safety Eric Berry to the Kansas City Chiefs, and the fact that the Chargers have the sixth-hardest schedule in the league this season doesn't help matters. And the team has been historically slow starters under head coach Norv Turner, so slow in fact, that they haven't rebounded to make the playoffs the last two seasons.
Rivers is still a good quarterback who could probably throw for 4,000 yards in his sleep—assuming his offensive line is able to keep him standing upright. But in terms of being mentioned with the elite fantasy quarterbacks—Tom Brady, Aaron Rodgers, Drew Brees, Matthew Stafford—go with one of them.
I would even go with good to great players like Jay Cutler, Matt Schaub, Matt Ryan and Joe Flacco before I risk picking a player in the situation Rivers faces on the Chargers.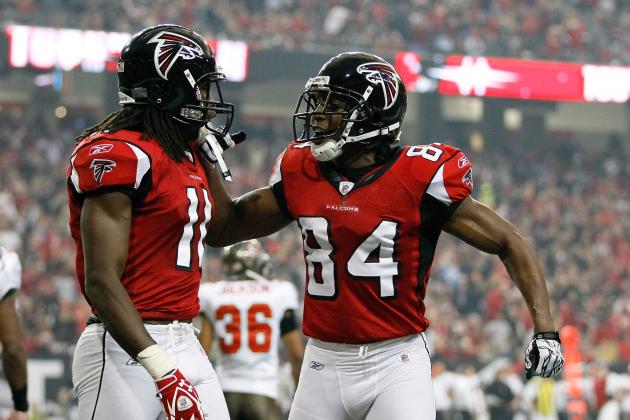 Kevin C. Cox/Getty Images

When the Atlanta Falcons paid a king's ransom to trade up to the No. 6 overall spot in the 2011 draft to select wide receiver Julio Jones, they certainly knew what they were doing.
Jones was everything and more the team hoped he would be as a rookie, as he caught 54 passes for 959 yards and eight touchdowns, averaging an incredible 17.8 yards per reception. Jones topped 100 receiving yards five times last year and caught multiple touchdowns on three occasions. He has the athletic ability to be a top-five receiver in the draft, and that means Roddy White's days of being the go-to guy in Atlanta are over.
White is going to be 31 during the season, and while his 2011 numbers were still phenomenal (100 catches for 1,296 yards and eight touchdowns), it's highly unlikely he will repeat those numbers again.
He is still a terrific receiver, but Jones should take the torch as the team's best in 2012, which means White might drop to something along the lines of 80 catches for 1,000 yards and six touchdowns—still good numbers but nowhere near his '11 numbers.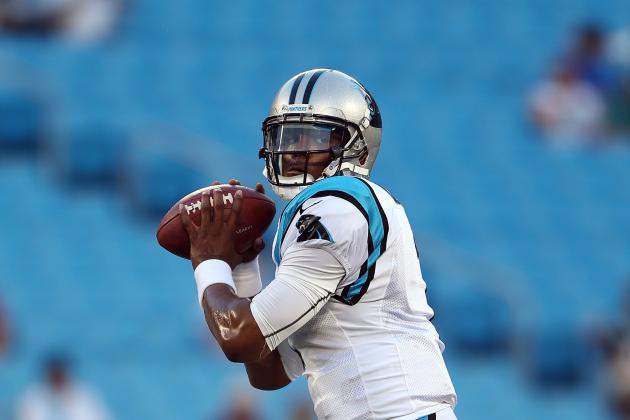 Streeter Lecka/Getty Images

Few rookies in the history of the National Football League have electrified and dominated the game as much as Cam Newton did. He passed for over 4,000 yards and 21 touchdowns and rushed for 706 yards and 14 more touchdowns, giving him nearly 4,800 total yards and 35 scores.
Newton did that in a strike-shortened offseason without organized OTAs and less time than normal to learn the Carolina Panthers offense. What he did do, though, was benefit greatly from the strike, as defenses weren't up to par and Newton's two 400-yard passing games came in Weeks 1 and Weeks 2 against a mediocre Arizona Cardinals defense and a Green Bay Packers secondary that gave up the second-most yards through the air in a season in the history of the NFL.
Newton really faded down the stretch, averaging just 207 passing yards and 1.4 touchdown passes per game in the final seven weeks. He also had the luxury of playing 11 defenses last year that ranked in the top 10 worst in the game (he played divisional opponents twice), and that really helped to pad his numbers. And what's shocking is that many people think Newton will even surpass his numbers in 2012.
There's almost no way he surpasses the 14 rushing touchdowns—no quarterback is meant to carry the ball 126 times in a season and not get injured. Newton was fortunate not to get hurt last year, and I would be cautious when selecting him this year given that running quarterbacks do get injured much more than those that don't.
Newton also may have benefited from being an unknown for much of last year, which means teams didn't really know how to stop him the first time they faced him. He won't be that lucky in year two.