Packers vs. Bengals: 10 Things We Learned from Cincinnati's 27-13 Loss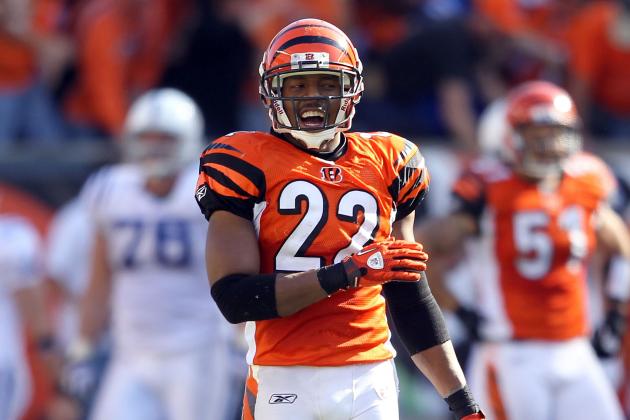 Andy Lyons/Getty Images

It seems an obvious point to pick out, but the lack of speed in the Bengals cornerback ranks was made painfully apparent on Thursday night.
On two occasions, Aaron Rodgers outpaced the Bengals corners to waltz into the end zone for a touchdown.
Rodgers is athletic, but he's no Mike Vick. The fact that the Packers' QB can outpace Nate Clements without breaking a sweat is certainly a concern.
The Bengals front office have placed a larger emphasis on veteran consistency than they have on speed, and this was the first time we saw the dangers of that strategy.
Adam Jones is perhaps the purest athlete among the Bengals corners, but lacks consistency in technique.
The slower, older players may not have the speed desired, but they have the smarts.
Given the personnel on offer, the Bengals have their hands tied.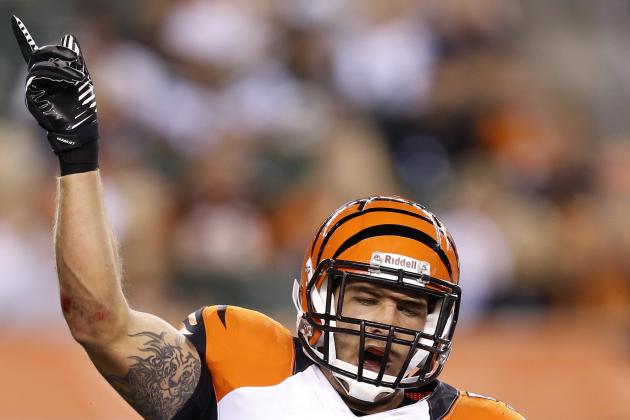 Joe Robbins/Getty Images

'Polamalu-esque' was the phrase Bengals play-by-play announcer Brad Johansen used to describe Dan Skuta on Thursday night.
Skuta has shown himself to be willing to go the extra mile this preseason. He seemingly has one speed, and that is (as Charlie Sheen would put it) 'GO.'
He has been pushing for playing time behind Manny Lawson, and now with Lawson suffering a groin injury, this could be Skuta's moment to snatch the starting job.
Skuta had one tackle and three assists on Thursday night but provided a much greater service than the numbers suggest.
The comparison to Troy Polamalu came because Skuta appeared to be all over the field, hustling his butt off.
Tipping balls and getting behind just about every dogpile that came his way, Skuta showed just how much of an asset he is.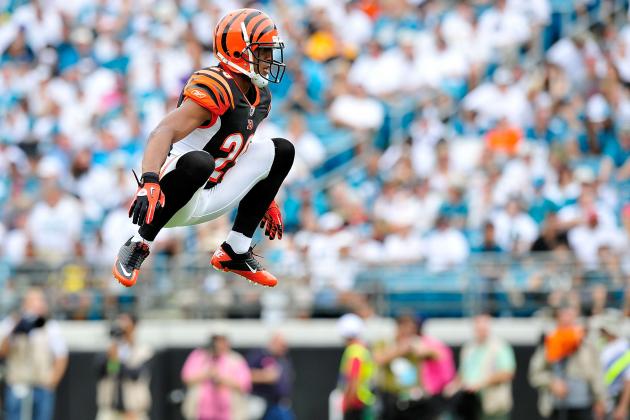 Grant Halverson/Getty Images

It had to be expected.
Returning from a torn Achilles tendon is no easy feat.
Leon Hall has shown that, despite his impressive recovery, it's going to take time for him to get back to where he was a year ago.
Hall struggled covering Julio Jones in Atlanta last week, and it was much the same story in Paul Brown Stadium on Thursday.
Early on, Hall should have been called for pass interference on more than one occasion, and in other instances found himself beaten, outpaced and left lying on the turf.
He started to find his rhythm towards the end of the second quarter with a couple of pass breakups that forced Green Bay to punt.
The situation is not yet a true cause for concern. Hall is coming off a significant injury, and when you consider that, his performance has been impressive.
Expect to see a totally different animal in the regular season.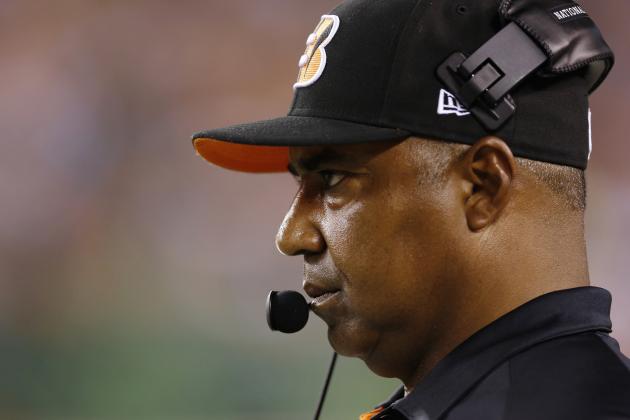 Joe Robbins/Getty Images

During Andy Dalton and the first team's outing in Thursday's game, the Bengals converted on third down only once in eight attempts.
Dalton struggled to get anything consistent going with the offense, and the stress showed.
The protection was poor, and the heavy fire from Green Bay proved too much for Dalton, who was sacked twice during Thursday's game.
The Bengals and third downs are notoriously uneasy bedfellows.
Before Thursday's encounter, the Bengals were converting 48 percent of third downs. It doesn't take a genius to work out that that figure is likely to plummet after the display in this one.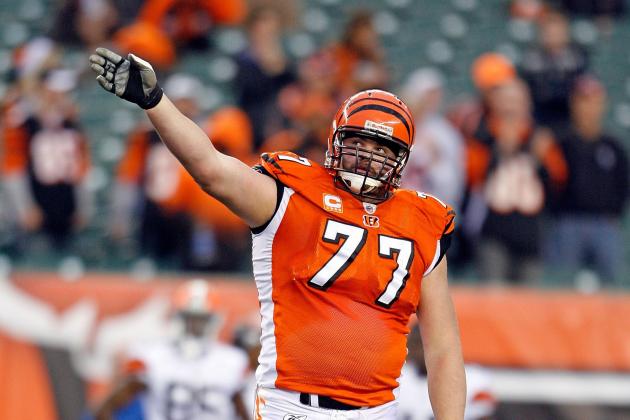 Andy Lyons/Getty Images

The Bengals' offensive line looks solid on paper.
Travelle Wharton may have been lost to a season-ending knee injury, but the line remains strong.
With Clint Boling thought to be pushing for playing time anyway, the injury to Wharton did not seem as much of a concern.
However, both Kevin Zeitler and Boling have been thrown in, and both will take time to get used to the speed of the first team.
Andrew Whitworth is trying to rebound from a slightly disappointing 2011 season and has seen his fair share of struggles this preseason also.
Andre Smith faces the challenge of staying healthy for an entire season and becoming someone the Bengals can count on. A tall order considering his tumultuous path to today.
The tackles struggled in Atlanta while the younger guards excelled. This week, nobody put together a particularly strong showing. Andy Dalton had very little time to make throws and saw consistent pressure throughout the night.
The offensive line certainly has potential, they just need more time to get accustomed to one another.
As for Kyle Cook, well, we could see him replaced via the 2013 draft. Fingers crossed.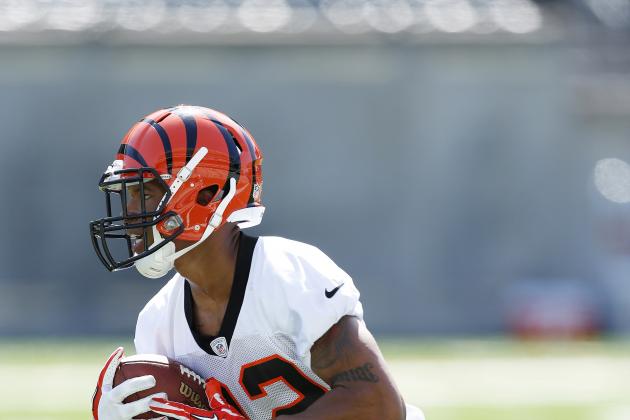 Joe Robbins/Getty Images

The Bruce Gradkowski-Marvin Jones connection continued on Thursday night in a performance that has the young wideout pushing for first-team attention.
Jones had two receptions for 21 yards and scored the Bengals' only TD on a 15-yard grab.
It builds upon a solid outing last week that saw Jones notch a 42-yard reception and a 16-yard sprint out of the backfield.
He is quickly establishing himself as a playmaker on this offense and is deserving of some first-team snaps.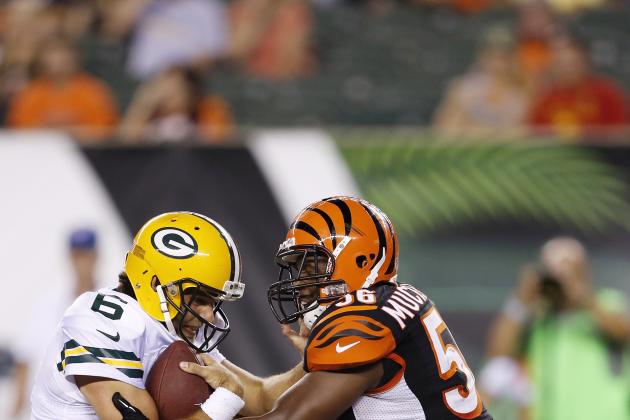 Joe Robbins/Getty Images

Vontaze Burfict may be the man the media wants to see backing up Rey Maualuga on opening day, but Roddrick Muckelroy continues to clock performances that keep the former undrafted free agent at arms length.
Muckelroy lead the team on Thursday with five tackles, one assist and a sack. It continues an impressive preseason for the MLB, who had five tackles and two assists last week in Atlanta.
With Rey Maualuga unlikely to return before opening day, Muckelroy and Burfict will continue to share significant playing time as they duke it out for the backup job. Both figure to make the final 53.
Burfict's real contribution didn't show up in the postgame stats, with only an assist to his name.
The rookie showed the athleticism and smarts that got him recruited, diving and almost picking off a pass in much the same fashion as he did against the New York Jets.
The fact that Rey Maualuga enters a contract year and is once again banged up has to be motivating for these two backups.
If they continue to log the impressive performances they have this preseason, it could be curtains for Rey Maualuga in 2013.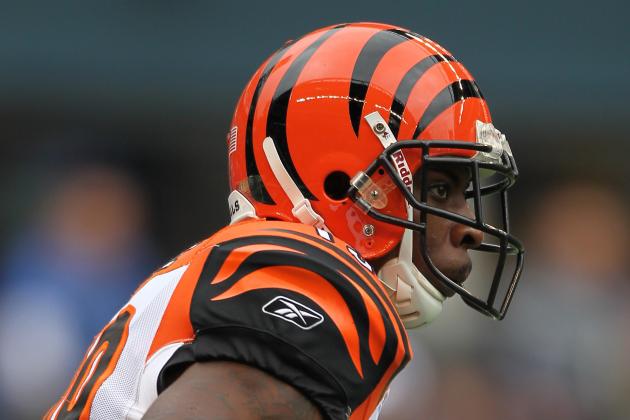 Otto Greule Jr/Getty Images

Andy Dalton didn't get to do much of anything on Thursday night, but he did look to Brandon Tate repeatedly.
Tate only managed to haul in two of the balls thrown his way for 19 yards, but went up to grab one on the sideline with some sticky hands in an impressive effort.
Armon Binns had only one reception, but it was certainly a good one. Binns made a diving catch on a zipper from Dalton in traffic that fell just shy of a TD.
Cincy seems set on alternating the pair, and both did enough to justify that system.
However, due to Dalton's struggles in this one, neither had much of an opportunity to contribute fully or give a fair demonstration of their ability.
As it stands, Tate seems to be featuring more often than his younger counterpart, but he has yet to create any significant space between them.
Joe Robbins/Getty Images

Dontay Moch has proved a frustrating prospect.
He brings an uncanny amount of speed to the strong safety position, but with it inconsistency.
The rapid linebacker ran a 4.44 40-yard dash at the draft, the fastest among all defensive lineman and linebackers.
However, since his arrival he has struggled to remain healthy and sat out most of 2011 with a broken foot.
He faces a tough battle for a roster spot behind starter Manny Lawson and impressive backup Dan Skuta.
There is also the matter of his impending suspension for substance abuse that will see him sidelined for the first four games of the 2012 season.
Moch had one tackle and one assist against the Packers, but his one tackle came in the form of a sack.
The sack proved to be an attention-grabber. Moch is still likely to get the axe, but the sheer athleticism displayed in this one moment was enough to turn heads and point to his potential.
Its impact was also somewhat heightened given that Manny Lawson left the game with a groin injury.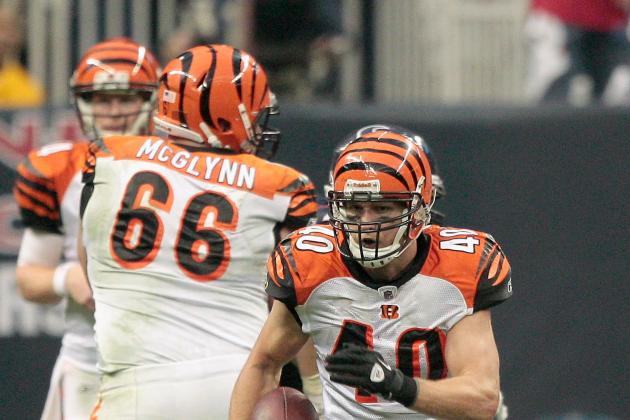 Bob Levey/Getty Images

The Bengals have a fair amount of talent in the backfield but are struggling to use it.
Brian Leonard and Cedric Peerman collectively gained 28 yards off of eight carries behind the first-team offensive line on Thursday night.
Both Travelle Wharton and Kevin Zeitler were brought in for their prowess in helping the run game.
However, with Wharton done for the year and Zeitler still very much acclimating to the rigours of the NFL, the run game is suffering considerably.
Bernard Scott will not be ready to return for opening day, and BenJarvus Green-Ellis will likely sit out the final preseason game.
This will leave the offensive line little time to work with BenJarvus Green-Ellis prior to the regular season and could stop the run game from getting off to a good start.
Cedric Peerman and Brian Leonard have certainly shown that they can play their specialist roles, but with the regular season drawing ever closer, Cincy are in desperate need of a dry run with their starting duo.