NY Knicks: Step-by-Step Guide to Fixing Their Offense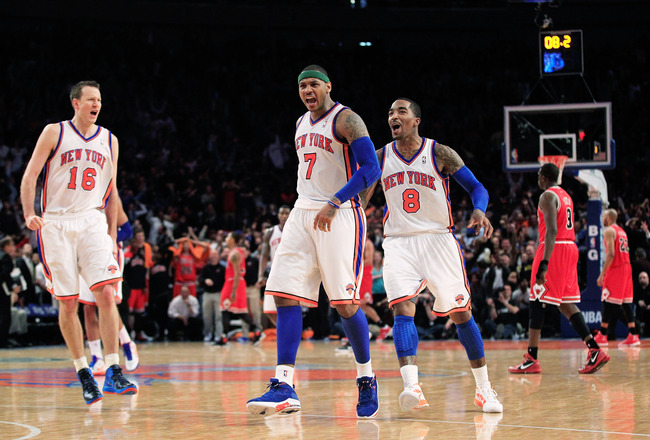 Chris Trotman/Getty Images
The 2012 NBA season was one that revitalized New York City basketball yet deflated the New York Knicks franchise. The source of this negativity could be found in one cold, hard fact that very few are willing to admit within the Knicks' organization.
This offensive dream team was planned out without direction or a true plan in place.
With the firing of a head coach and loss of the most marketable face within the franchise, the New York Knicks are scrambling for answers as to why their experiment has failed. With reminiscence as just a tool for regret, it's time to stop wondering what went wrong and begin acting upon how to make it right.
If they haven't already, Mike D'Antoni and Jeremy Lin must become distant memories. The New York Knicks have far too much work to do to get caught up in what could have been.
Instead, this franchise must follow specific guidelines to build the juggernaut they had hoped for. Fortunately for owner James Dolan and head coach Mike Woodson, the following slides will outline just how to make that happen.
Step by step.
Step 1: Find Chemistry Between STAT & 'Melo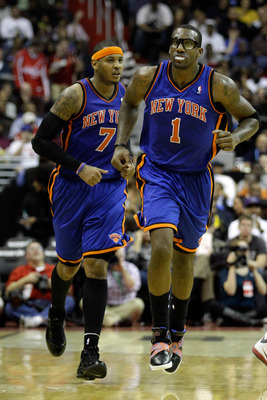 Rob Carr/Getty Images
Before the New York Knicks can go anywhere, they must address the elephant in the room. Amar'e Stoudemire and Carmelo Anthony haven't the slightest idea as to how to coexist.
In order for the Knicks to have any chance during the 2013 NBA season, STAT and 'Melo must be on the same page. If they fail to discover how to work off of each other, the succeeding slides might as well be thrown out as irrelevant.
Fortunately, the New York Knicks will take part in their first full training camp since Anthony and Stoudemire were brought together in early 2011. This gives the two a chance to develop a feel for each other's game and figure out who needs the ball in what situations.
It also offers Mike Woodson and company an opportunity to develop an elite low-post game with two of the best back-to-the-basket scorers in basketball. If they're foolish enough to watch this opportunity pass by, their season will blow away with it.
Step 2: Who Is the Starting Point Guard?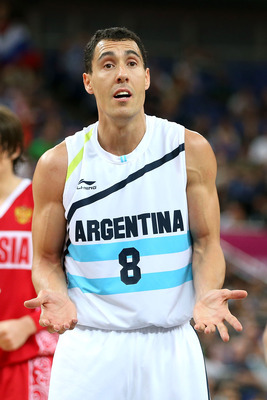 Christian Petersen/Getty Images
Raymond Felton is the favorite, but Argentinian Pablo Prigioni and veteran Jason Kidd have great cases as well. This creates what we like to refer to as a positional battle. A battle that must be won before the New York Knicks can move any further.
Fortunately, we're here to help them decide.
Despite the value of his name, the odd man out here is, and should be, Jason Kidd. The veteran is on aging legs and should have retired after winning the NBA Championship in 2011. While he may be able to contribute, both Felton and Prigioni have more to offer from a production standpoint at this point in their respective careers.
And that leaves two.
Although Pablo Prigioni has had significant success against Team USA as a member of the Argentina national basketball team, he's yet to play in the NBA. Even though Prigioni should have no trouble adjusting, there will be a grace period and the Knicks must acknowledge that.
This leaves Raymond Felton, who averaged 17.1 points and 9.0 assists in 54 games for the New York Knicks in 2011. The end to his elite-level play came when the Knicks traded him to the Denver Nuggets for none other than Carmelo Anthony.
The question is, can Felton return to form or has he been broken mentally?
Step 3: Define J.R. Smith's Role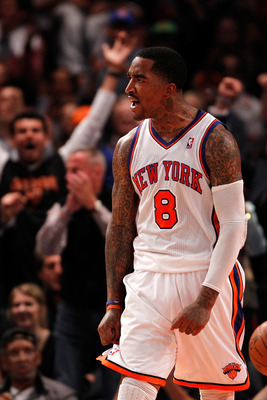 Jeff Zelevansky/Getty Images
One of the most talented players in the NBA is, and long has been, shooting guard J.R. Smith. When on his game, Smith can shoot the lights out, attack the basket with ferocity and even facilitate when need be.
Unfortunately, he's a player without direction.
Smith's consistent lack of a defined role, as well as his growing anger when his shots aren't falling, has left him as yet another superstar talent with the mentality of a coach's worst nightmare. Fragile but gifted, the Knicks must discover where to draw the line with this young man.
Upon doing so, head coach Mike Woodson will bring the best out of J.R. Smith and enable the NBA to see what's been hiding within Smith's often frustrated body.
All-NBA caliber ability.
Step 4: Get Steve Novak His Minutes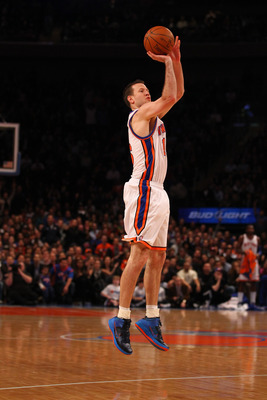 Al Bello/Getty Images
Jeremy Lin may have been the man behind the madness of Linsanity, but Steve Novak brought Madison Square Garden to life like nobody else.
Novak's timely threes were the ultimate momentum-shifter in 2012 and he proved to be the best three-point shooter in the NBA. He shot a league-best 47.2 percent from distance and was the only player to make at least 130 three-point field goals and shoot greater than 40 percent.
Novak was also just one of two players to make at least 120 and hit the 40 percent mark, with sharpshooter Kyle Korver as the only other.
The reason this is significant to the New York Knicks is that they are quite inconsistent in terms of shooting the basketball. Both Carmelo Anthony and J.R. Smith can be defined as streaky, while Jason Kidd's solid number of three-pointers made trumps his weak three-point shooting percentage.
Steve Novak, meanwhile, is as consistent as they come. With him on the floor, the threes will fall, the Garden will come alive and the team will remain within striking distance against elite teams until STAT or 'Melo turn it on.
The formula for success has taken a major step forward.
Step 5: Go Small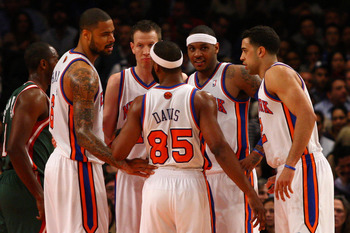 Replace Baron Davis and Landry Fields with a point guard and either J.R. Smith or Iman Shumpert. We're good to go.
Chris Chambers/Getty Images
When the New York Knicks ran their undersized lineup, there was really no debate as to which rotation was more efficient. While some will accredit this to the lack of chemistry between Carmelo Anthony and Amar'e Stoudemire, there is more to it than just that.
There's also more to be said about the fact that Stoudemire was often not on the floor in these sets.
The truth of the matter is, the New York Knicks flow with an undersized lineup. Each player on the floor knows what their role is and plays it to perfection. In the standard positional rotation, however, many appeared to be out of place or uncertain with what they're supposed to do.
With 'Melo at the four, however, everything changed.
The New York Knicks are at their best with defensive-minded guards and scoring forwards. With a point guard or J.R. Smith playing alongside Iman Shumpert on the perimeter, that can be done.
Steve Novak, Carmelo Anthony and either Tyson Chandler or Amar'e Stoudemire simply need to perform at their expected level.
If you don't believe me, check the game tape.
Step 6: Slow It Down and Post Up 'Melo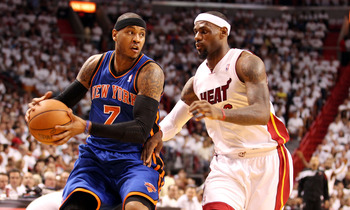 Marc Serota/Getty Images
The New York Knicks found themselves with a tendency to break out in transition during the 2012 season, even once Mike D'Antoni had departed. The fact of the matter is, this team is much more efficient when running a half-court set.
Specifically when Carmelo Anthony does not take the ball in his hands until posting up his defender.
While 'Melo deserves the rock when the game is on the line or the pressure is mounting, every possession does not have to start with him controlling the ball. Anthony has actually proven to be more efficient when working without the orange in his hands, as evident from his time with Team USA.
Bringing that style of individual play to the New York Knicks could be the difference between a title and a mere postseason appearance.
Step 7: Commit to Defense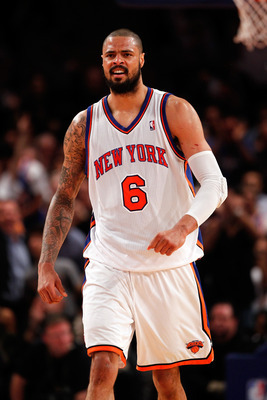 Jeff Zelevansky/Getty Images
The greatest source of offense is good defense.
With reigning Defensive Player of the Year Tyson Chandler standing in the paint and defensive-minded coach Mike Woodson on the sidelines, expect that motto to ring throughout the New York Knicks' locker room. Right after it could be Chuck Daly's old saying of, "Defense wins championships."
Regardless of which they choose to use, anything they do on offense will start on the opposite end of the floor. Defense will create offense.
Although Carmelo Anthony and Amar'e Stoudemire may be elite scorers, no team truly thrives when playing catch up. Unless we're speaking of the rival Boston Celtics, of course, but that's more a product of pace and patience.
Something the New York Knicks have yet to discover.
Due to this fact, the Knicks must go all out on defense from start to finish. When they do, opponents find it difficult to simply work the ball around the perimeter. That's a result of elite athleticism and a newfound joy in shutting an opponent down.
As long as J.R. Smith, Carmelo Anthony and company follow in Chandler and Iman Shumpert's footsteps, the Knicks will find all the offense they need from stellar defense. From transition buckets to less pressurized halfcourt sets, life will be easier with every bucket they prevent.
Save a few points and create roughly a dozen. Sounds like a positive outcome to me.
Step 8: Return to the Pick-and-Roll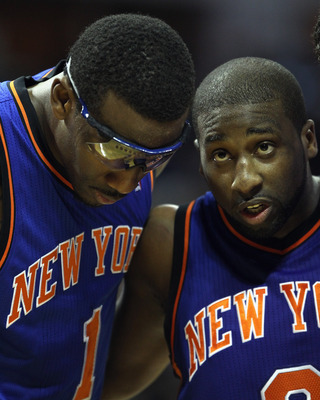 Streeter Lecka/Getty Images
Regardless of who emerges as the starting point guard, the focal point of this offense must be the pick-and-roll. With Raymond Felton as the projected victor, that ball goes right up his alley.
Amar'e Stoudemire is one of the best players we've ever seen run the play, as he and Steve Nash perfected it in Phoenix. Stoudemire and Felton just so happen to have honed and polished that play while together in 2010-11.
Not only would Stoudemire return to his top-tier form, but Tyson Chandler would get more involved with the offense. This bodes well for the Knicks considering Chandler led the NBA in field goal percentage by shooting 67.9 percent from the floor.
Carmelo Anthony, meanwhile, would have yet another form of scoring. After all, we've seen Anthony run the pick-and-roll, as well as the pick-and-pop, in the past.
Why not again?
What this truly does for the offense, however, is far more important than how it benefits the individuals listed. Running the pick-and-roll as the primary form of offense creates a direction that the 2012 team often lacked.
This was evident as a variety of ball stoppers attempted to do it on their own in 2012.
Should Mike Woodson preach this play in 2013, the talent will be maximized and the offense will be in rhythm. After these eight steps, who truly believes this team can be stopped?
Keep Reading

New York Knicks: Like this team?