Philadelphia Eagles vs. Cleveland Browns: Preseason Week 3 Live Blog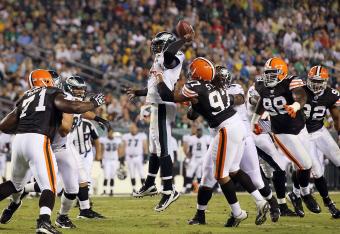 Jim McIsaac/Getty Images
We're 60 minutes away from kickoff and seeing two teams who will meet again in the regular season opener. The Cleveland Browns host the Philadelphia Eagles in a game where the real playbooks are probably left at home. Look for both teams to run more conservative offenses and fewer blitz packages.
The Eagles will most likely keep their starters out for the first quarter or so, with Nick Foles at quarterback while starter Michael Vick continues to recover from the shot he took Monday against New England. It's another great opportunity for Foles to gain experience with some of the first-team offense. Right now he is the favorite to back up Michael Vick in the regular season.
The results on the scoreboard from this game will have no influence in their Week 1 matchup. What will matter is how some of the younger players on both sides perform tonight. The third week of preseason is critical for everyone who is right on the border of making the roster or getting cut.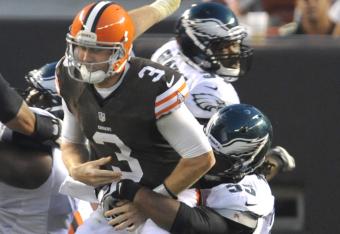 Browns fans have to be as concerned as you can possibly be after a preseason game. The offense just looked dreadful and sloppy all night long. Hopefully Trent Richardson can open things up a little bit. If not, this team will struggle to score 20 points against even the worse defenses in the NFL.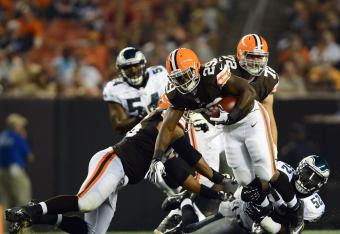 The Eagles run defense was one of the major concerns heading into the 2012 season, but they held their own tonight. The Browns ran the ball 22 times for just 65 yards. The Eagles defense did a great job at not allowing the big play. Cleveland isn't exactly the best test for a defense, but the important thing is that they got the job done.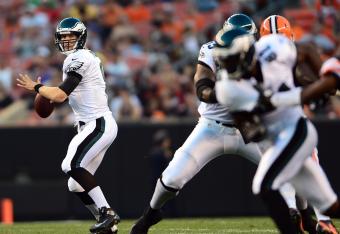 Final score: Eagles 27 Browns 10. Quarterback play decided this one as Nick Foles and Trent Edwards outplayed first round pick Brandon Weeden and last year's starter Colt McCoy. Credit Andy Reid for really coaching up both of his guys. Edwards was horrid early on this summer, but really gained some confidence at training camp. Foles has been outstanding once he got into some live action games.
Weeden struggled to find anyone other than Josh Gordon early on. A better runnin game should help Weeden down the road. This offense will really depend on Trent Richardson this season.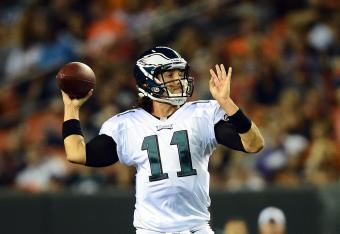 Two minute warning in the fourth quarter. Edwards is leading the Eagles down the field again, though the Eagles will probably look to kill the clock and escape Cleveland without any major injuries.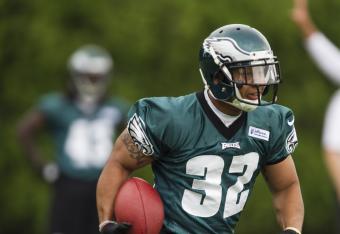 Trent Edwards and Chris Polk are both having moderate success, but it is important to note that they are doing it against the Cleveland Browns third string defense. Most of these players won't be in the NFL this fall.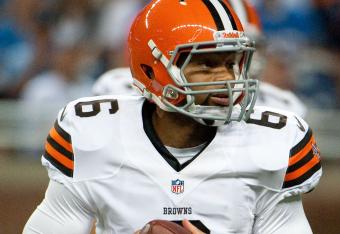 The Browns struggle to move the football on their last drive as Wallace completes just one of his last three passes for seven yards. Eagles tackover at their own nine.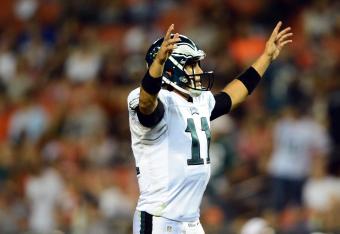 Seneca Wallace's first pass is tipped and intercepted by Eagles corner Cliff Harris. The Eagles take over at the 21 yard line but fail to punch it in. Henery finishes drive off with w 28 yard field goal.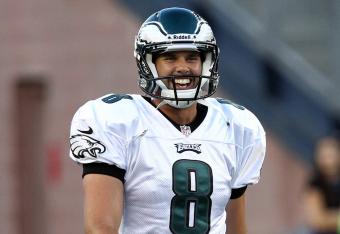 Trent Edwards misfires on a second and two and a third and two. Eagles punt from Cleveland 46 yard line. Chas Henry boots it in the end zone. No sure if there is a clear cut winner at punter so far. McBriar might have the lead, but it still could go to either player. Remember, Henry is much younger and has no history of injuries.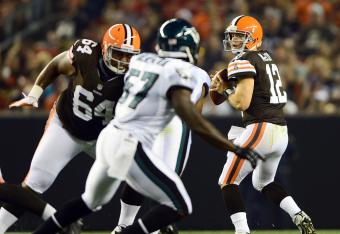 Colt McCoy caps off a very long drive with a three yard touchdown pass to Evan Moore. Browns now down just 10-24. McCoy putting up better numbers tonight, but against a lot lesser compeitiion.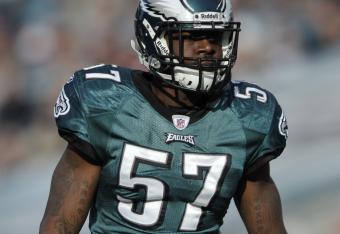 Really bad tackle by Keenan Clayton on a third and 12. Had Adonis Thomas stopped for a six yard gain, but Clayton tried to tackle with his shoulders. Efforts like that could cost Clayton a spot on this team. He can't afford to let the coaches down from here on out. Too much talent on this roster to have an okay summer and still make this team.
Trent Edwards leads the Eagles down the field and caps off a long drive. Brett Brackett catches a four yard touchdown pass on a third and goal. Brackett barely crosses the plane, but does get in after further review. It will be a big second half for a lot of players on both teams. We will see a lot of players trying to make plays that are right on the cusp of making their rosters.
I rewatched some of the first half to get a second look at Dennis Kelly's first half at right tackle. He played with the first and second team on offense. He finished his blocks well in the running game but got pushed back quite a bit in pass protection. He wasn't awful, but wasn't great either. He is still a project at tackle, but he should make the 53 man roster. He can contribute this season if it comes to that. He should be Todd Herremans backup at right tackle and could also serve as an emergency backup guard.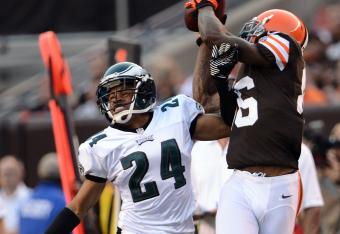 Josh Gordon the only bright spot for the Browns offense in the first half. Three catches for 50 yards in the first half. Had a really nice leaping catch over Nnamdi Asomugha in man coverage on the first play of the game.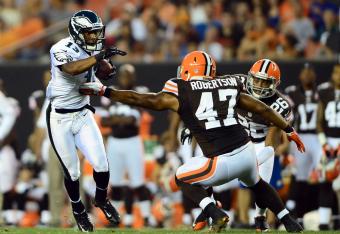 Johnson takes it back 10 yards as the half expires. Eagles 17, Browns 3. Foles has completed 12 out of 19 passes for 146 yards with two touchdowns and one interception. Weeden is 9 for 20, 117 yards. Zero touchdowns or picks. Browns running backs 15 carries for 49 yards, no runs over nine yards. The Eagles pass-rush has been dominant. Three sacks doesn't even begin to tell the whole story.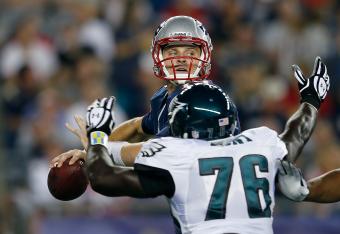 Colt McCoy sacked by Brandon Graham and Phillip Hunt with six second left in the first half. The Eagles call timeout as they hope to setup big return from Damaris Johnson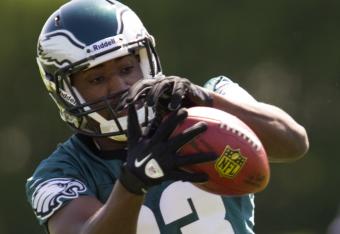 Nick Foles drives the Eagles down the field again with the help of Dion Lewis, Chad Hall and the first Marvin McNutt reception of preseason. The Eagles stall at the Browns 24 yard line, but Henery misses his 41 yard field goal wide left.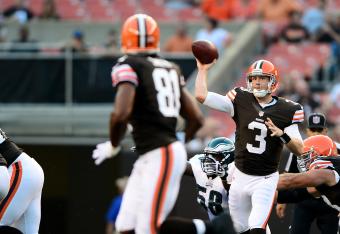 Browns did a nice job of getting out of their own two yard line, but their wide receivers are struggling to beat man coverage downt he field. Brandon Boykin, Trevard Lindley, Brandon Hughes and Phillip Thomas playing well with the number two defense against Cleveland's starters.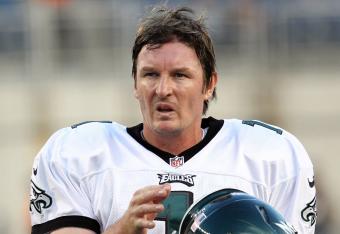 The Eagles get to the Browns 40 before their drive stalls. Great punt by Mat McBriar downed at the Browns 2 yard line. He is starting to run away with the punter job.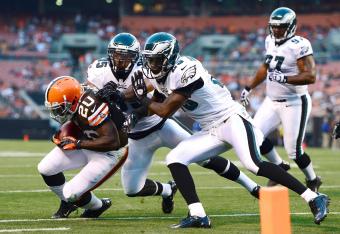 Eagles backups hold the Browns starters to a field goal. Phillip Thomas did a lot to help himself on that last drive. Get extra time tonight with O.J. Atogwe out.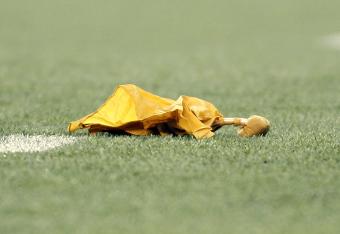 Personal foul, illegal substitution and offsides already called against the Eagles on this current Browns drive. Penalties a huge issue right now.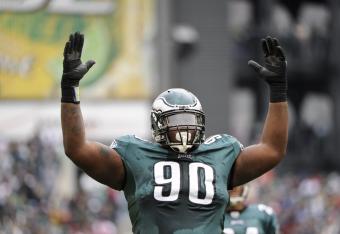 Antonio Dixon picks up a 15 yard penalty. Now 20 yards of penalties from Dixon in this game. You think Andy Reid was mad at Cullen Jenkins on Monday, wait until he gets in Dixon's face. Dixon having an awful summer.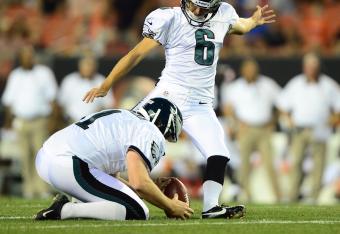 The touchdown is over turned and Alex Henery kicks a 41 yard field goal through the uprights. Eagles 17-0.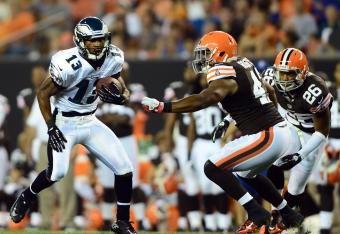 I spoke to soon. Didn't look like both of his feet were in and he didn't maintain the catch. Still a great effort from Foles to Johnson with Sheldon Brown on the coverage in the corner of the end zone.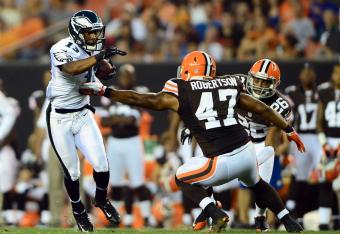 Johnson cut inside on his 13 yard reception. That is great to see as he is clearly not afraid of contact. He doesn't look for the sidelines after he makes the catch, he just looks for extra yards.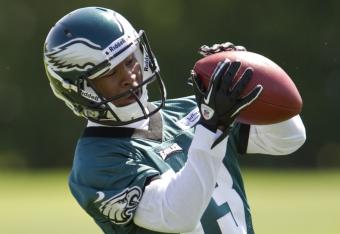 Damaris Johnson just took over that last drive. 30 yard punt return followed by a 13 yard reception. Three plays later he scores on a 23 yard touchdown. He will sleep like a baby tonight knowing he made the Eagles 53 man roster.
This article is
What is the duplicate article?
Why is this article offensive?
Where is this article plagiarized from?
Why is this article poorly edited?

Philadelphia Eagles: Like this team?