Chicago Bulls: 10 Realistic Expectations for the 2012-13 NBA Season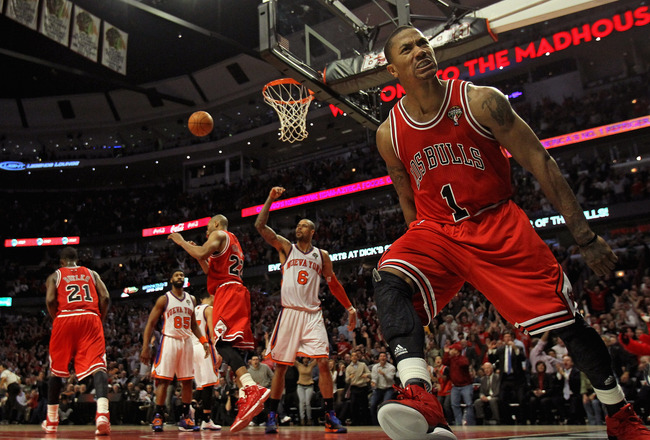 Jonathan Daniel/Getty Images
The Bulls are now effectively complete, as they stand with a roster of 13 on the brink of the luxury tax. Their injury situation also seems to be readily available, as we know that Joakim Noah, Derrick Rose and Luol Deng are in fact injured at this point with injuries from last season.
On top of all of this, the offseason is in a lull until training camp and the regular season starts. Because of this, now is the perfect time to make early predictions for the upcoming season.
Kirk Hinrich Will Start at Point Guard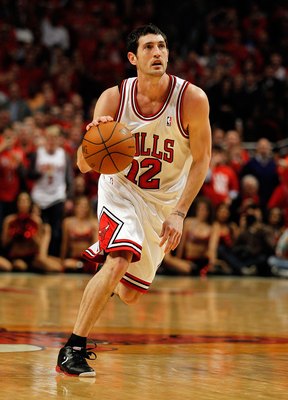 Jonathan Daniel/Getty Images
The Bulls drafted Kentucky point guard Marquis Teague with their first-round pick in the NBA Draft this year. However, Teague did not impress anyone in Summer League and did not really impress anyone in his college career either, at least not up to expectations.
If I had to guess, I would say that Teague does not get the opportunity to play a significant role this year.
Conversely, the Bulls also picked up point guard Kirk Hinrich through free agency with a portion of their mid-level exception this offseason.
Hinrich's play has diminished the last two seasons since leaving Chicago, but I predict that being back in Chicago with a defined role will be the right thing for him and he will start at point guard, at least until Rose comes back.
The New Bench Mob Will Be Better Than the Old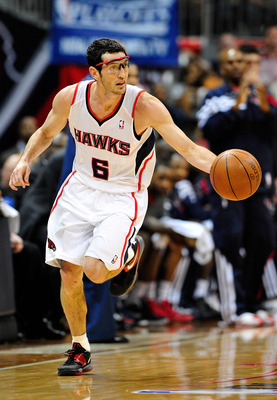 Grant Halverson/Getty Images
Bulls fans were outraged with the fact that the "Bench Mob" was dissembled this offseason in the name of savings. Kyle Korver, Omer Asik, C.J Watson and Ronnie Brewer were all let go after a great two-year run together where they became one of the league's most popular bench units.
While it's true, the Bulls lost some great pieces, that does not mean that the new Bench Mob won't be elite as well. This bench is interesting because its strengths are the weaknesses of the former bench and vice versa.
This bench has a knack for scoring, with the additions of Marco Belinelli, Marquis Teague, Vladimir Radmanovic and Kirk Hinrich amongst others. That is a stark contrast to last year when the bench was a rotation that could shut down any rotation, and could get shut down by any rotation if their shots weren't falling.
I believe that Tom Thibodeau can teach defense to an extent, so I think the new acquisitions should be able to improve the team.
Rip Hamilton Will Be Traded for Cap Reasons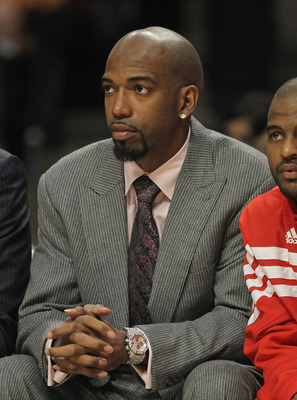 Jonathan Daniel/Getty Images
If we have learned one thing from this offseason, it's that Chicago will do a lot in the name of saving money. The Bulls already let Kyle Korver, Ronnie Brewer, Omer Asik and C.J Watson go for nothing in return. Why wouldn't Hamilton be next?
The Bulls could wait until the trade deadline and then trade Hamilton, along with a first-round pick, to another team and then send them the money to cover the rest of Hamilton's salary for the year.
What that does for the Bulls is it keeps them out of the luxury tax for this season and makes sure they won't have to pay the repeater tax in a few years. This trade would be a free first-round pick for another team, as Chicago could give the team $3 million to cover the rest of Rip's contract.
A move like this would be a discouraging move to see as a Chicago Bulls fan, as it just reiterates that the Bulls are all about profits at this point.
Joakim Noah and Luol Deng Will Be Injury Plagued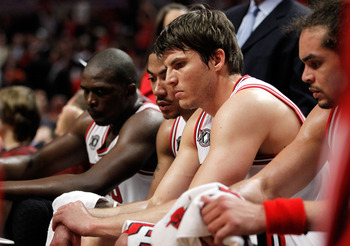 Gregory Shamus/Getty Images
Joakim Noah was relatively healthy last season compared to the other years of his career, playing 64 of a possible 66 games. However, in the playoffs, Noah rolled his ankle. It was one of the worst rolled ankles I have seen; his ankle turned all the way sideways.
Now this shouldn't be an issue. However, the injury was still a factor in July and August, as he was forced to miss the Olympics. Noah has always had fairly weak ankles, so I am very worried about his injury history this season.
Luol Deng tore a ligament in his left wrist in January of last season. He opted to play through the pain and not get surgery until the offseason. However, the offseason is here and he opted to push back the surgery even more, perhaps until next offseason or not at all.
Because of this, I project Deng to have a painful and injury-plagued season, and perhaps just shut it down at some point.
Carlos Boozer Will Remain Healthy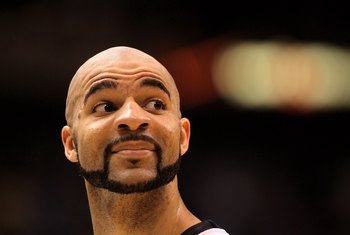 Ezra Shaw/Getty Images
Carlos Boozer has been an injury-plagued player throughout his career. However, last season, Boozer played in every game for the first time in his career.
Boozer played rather reduced minutes last season, and that seemed to be enough to keep him healthy. He also is not putting as much stress on his body in the same way that he has when he had more athleticism. However, since he is now more of a jump shooter, he will stay healthy.
Derrick Rose Will Return Post All-Star Break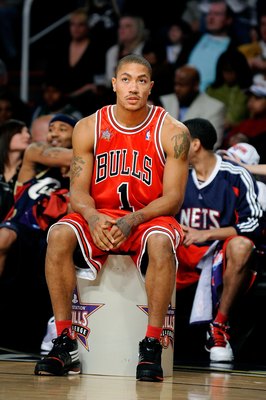 Kevork Djansezian/Getty Images
Early timetables for Derrick Rose by Bulls' doctor Brian Cole had him returning to the court in 8-12 months, which projects him coming back between December and May. However, all we have heard throughout Rose's rehab is that he is ahead of schedule.
Eight to 12 months is a VERY conservative timetable in terms of ACL injuries. There are players who have torn their ACLs about the same time as Rose and came back for the season, but Rose will definitely be a specific case due to the caution surrounding his long-term prognosis.
However, being two to three weeks ahead is a BIG step, so I think he will definitely come back on the earlier end of that spectrum, especially since a lot of coming back from an ACL injury is trusting your knees again.
After the All-Star break is a pretty typical time to bring players back from extended injuries. The whole team is coming off of an extended bye, so the team has time to adjust for the return of a player. It is also just a natural secondary point of the season, even though it's not halfway through.
The Bulls Will Be the Six Seed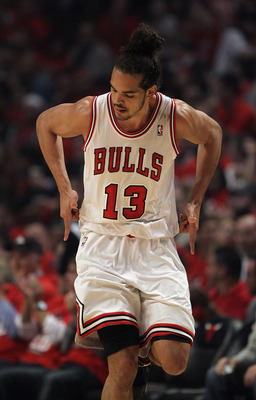 Jonathan Daniel/Getty Images
The Bulls have had the top record in the league the last two years. However, is that really something that could continue for three straight seasons? Especially in a season lacking Derrick Rose? Of course not.
However, this team is without a doubt still a playoff team.
The Bulls bring back a core that contains Joakim Noah, Carlos Boozer, Luol Deng and eventually Derrick Rose as well. This is a core that finished with the best record in the league last season. This core also has some new pieces to work with off the bench, and another year of development for their young players.
Tentatively, I would project Miami, Boston, Indiana, New York and New Jersey to finish with better records than Chicago. I would also project a first-round series between three seed Indiana and six seed Chicago. And I think that's a matchup Chicago could take advantage of.
Tom Thibodeau Will Get an Extension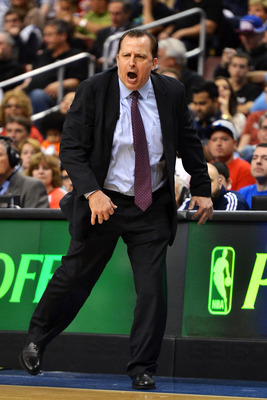 Drew Hallowell/Getty Images
There has been much frustration from Bulls' fans after Chicago did not extend head coach Tom Thibodeau this summer. They pointed to the fact that Thibs won a Coach of the Year award, tied the record for most wins in a first season and had the best record in the league for two years in a row.
However, what fans don't realize is that the Bulls really have no incentive to act right now! Chicago has Thibs under contract for this upcoming season, so what do they have to lose? Thibs' value is at a high after leading the Bulls to a second straight first overall seed. Especially since the Bulls will assuredly perform less than that this season.
So in the end, Thibs will not get a contract right now. But he will before the year ends, when Chicago really starts to worry about resolving his situation.
Derrick Rose Will Be Up to 90 Percent by the Playoffs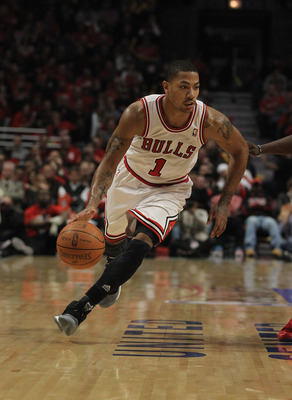 Jonathan Daniel/Getty Images
Like I said earlier, I project Rose to come back after the All-Star break. Coming back at the All-Star break would give him a good two months of playing and preparation before the playoffs come around.
From the minimal research I have done on ACL surgery, the ACL itself is relatively stable and secure after about four months, which is about where Rose is right now. After that, it is just rehabilitation and getting over the mental hurdles.
Like I said, everything we have heard points to the fact that Derrick Rose is well ahead of schedule. There's no reason that Derrick can't come back and be ready to go in two months. Dr. Brian Cole said that Rose could easily be up to 125 percent of where he was because of strength and balance training, so I definitely see Rose coming back and being near normal by playing time.
Chicago Will Make It to the Eastern Conference Finals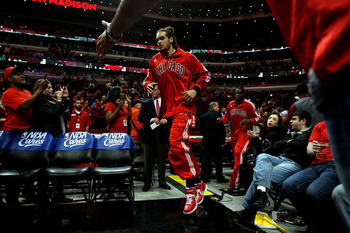 Mike Ehrmann/Getty Images
This may seem like a huge stretch at a surface level, but is it?
Like I said, I see the Bulls finishing with the six seed and playing the Pacers in the first round. I also expect Rose to be at least near where he was before the injury, which would be a HUGE improvement for this team.
So let's project the first-round series. Do you think a fairly healthy Chicago can defeat Indiana? There's no reason to think otherwise. This is a great team. Then next round you likely have to play Boston. Is Boston a team that you're really worried about next year? I'm really not.
Now Miami? I'm worried about them. Chicago can't beat them most likely at full strength! But making it to the Eastern Conference Finals is ALWAYS huge and that's what I expect them to do this season.
Keep Reading

Chicago Bulls: Like this team?