Carolina Panthers: 5 Newcomers Who Will Make Immediate Impacts in 2012-13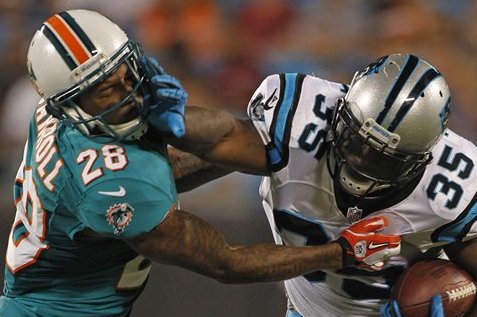 Mike Tolbert joins an already robust stable of running backs in Carolina.
As excitement builds for the Carolina Panthers 2012-13 season, so does the excitement to see the new pieces the team has added during the offseason.
Last season's 6-10 finish was a vast improvement from the team's dismal 2-14 campaign in 2010, and rookie quarterback Cam Newton emerged as one of the most talented young players in the league, capturing Offensive Rookie of the Year awards.
Were it not for a plethora of injuries to key members of the defense and a few untimely special teams errors, there may well have been more than six wins, which is what has Panthers fans chomping at the bit for this season to get underway.
While the Panthers were relatively quiet during free agency, as is usually the norm for the franchise, the team had a solid draft that has produced a few players who are slated to start or compete for starting jobs leading up to the beginning of the season.
Let's take a look at some of those rookies and the impact they will have on the Panthers roster this year.
(Note: Players are not in any specific order)
Begin Slideshow

»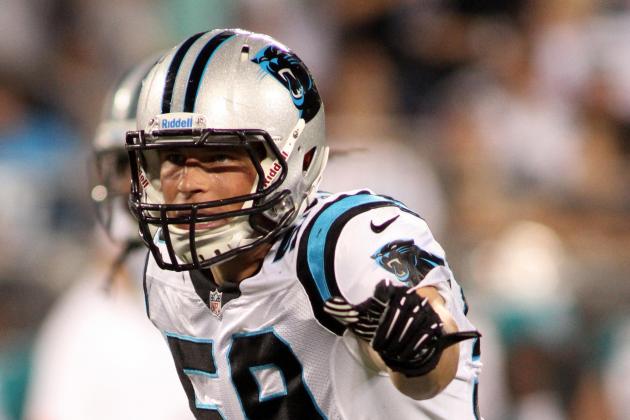 Jeremy Brevard-US PRESSWIRE
First-round pick Luke Kuechly figures to have an immediate impact at linebacker.
Although most believed the Panthers were in more desperate need of a defensive lineman with the ninth pick in the 2012 NFL draft, Ron Rivera and Marty Hurney selected Luke Kuechly, an All-American linebacker from Boston College, with their first-round selection.
Kuechly led the nation in tackles during his last two seasons at Boston College and adds to what is, when healthy, one of the best linebacker corps in the NFL.
With Jon Beason coming back from a season-ending Achilles injury and Thomas Davis coming back from a third knee surgery in as many years, Kuechly figures to have an immediate impact on the field and will see plenty of playing time.
Kuechly has already been a disruptive force in the Panthers' first two preseason games, and coaches and teammates alike have nothing but praise for his learning ability, so it will be exciting to see him perform once the stakes are raised in the regular season.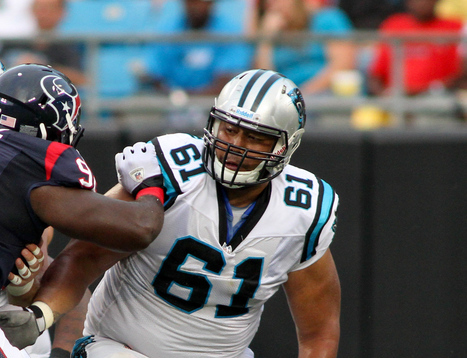 Silatolu has impressed many skeptics who thought he would have trouble with the transition from Division II college football to the NFL.
When the Carolina Panthers selected Amini Silatolu in the second round, many were upset that a Division II offensive lineman had been taken so high.
That was before they watched the young man play.
Silatolu will fill the hole at left guard left by Travelle Wharton, who is now in Cincinnati, and will fill it well. His blocking numbers at Midwestern State were amazing, and his transition from a small school to the biggest stage in the game has been relatively seamless so far.
With weapons like Cam Newton, DeAngelo Williams and Jonathan Stewart behind him, Silatolu's impact will be seen under a microscope, as the key to getting top-notch production out of that trio starts with solid blocking by the offensive line.
If what we've seen so far is any indication, Silatolu will fill the left-guard role just as well, if not better, than Wharton did during his days as a starter in Carolina.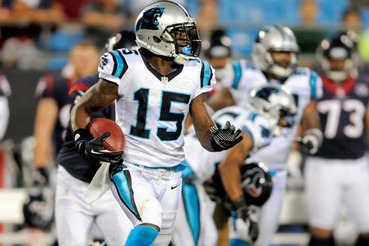 Joe Adams will boost the Panthers' return game right away
Joe Adams, a fourth-round selection in April's NFL draft, will bring a much-needed boost to the Panthers' punt return game immediately.
Through two preseason games, Adams has five punt-return attempts at an average of 16 yards per return. In fact, in his first career punt return, he gained 34 yards while reversing fields on the Texans' coverage team.
He already looks light-years ahead of Armanti Edwards, the team's punt returner last season, who averaged just 5.5 yards per return last year on 32 attempts. Adams' 34-yard effort doubled Edwards' long from last season.
While Adams has a long way to go in terms of contributing as a wide receiver, he should start immediately on special teams.
One can't help but draw comparisons to another undersized Panthers receiver who got his start fielding kicks, Steve Smith, who has become one of the most iconic players in franchise history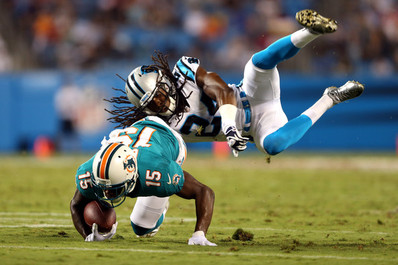 Josh Norman has gone from late-round pick to potential starter since April.
Josh Norman made an immediate impact on the Panthers' coaching staff during OTAs this off-season and has made an impact on the fans during training camp.
Four-interception scrimmages and voluntary shadowing of Steve Smith are not quickly dismissed, even by the most casual of observers.
These types of things are exactly what has Norman in the thick of a heated battle for the second cornerback spot on the Panthers roster behind Chris Gamble.
Norman is in a dead heat with fellow corners Captain Munnerlyn, who started last year, and Brandon Hogan, who missed most of last season due to injury.
If he is to begin the regular season as a starter, Norman will have to get one of his famous camp practices to come to life on the field during the preseason. So far through two games, Norman has yet to make much of an impact while on the field.
While it remains to be seen if Norman will start or not, he will see plenty of playing time at the nickel and in various other defensive packages in Sean McDermott's scheme. If the athleticism and knack for finding and getting to the ball that he displays in practice translates to Sundays, Norman will be a lot of fun to watch.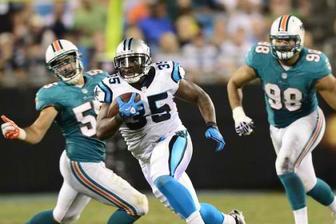 Mike Tolbert will be the jack of all trades in the Panthers offense this season.
The first non-rookie on the list is running back Mike Tolbert, whom the Panthers picked up as an unrestricted free agent this summer.
Tolbert may be the most impactful newcomer to the Panthers roster this year, as he will be involved in several different aspects of the team's high-powered offense.
During his time in San Diego, Tolbert held a role as a bruising short-yardage back and a viable threat coming out of the backfield as a receiver. While Jonathan Stewart figures to get the bulk of the short-yardage carries for the Panthers, Tolbert has lined up in packages with both Stewart and DeAngelo Williams behind quarterback Cam Newton.
With Rob Chudzinksi's genius play-calling skills and his uncanny ability to include multiple playmakers in any given game plan, Tolbert will likely find himself as an key cog in the machine that is the Panthers offense.
The Carolina coaching staff will be looking for Tolbert to replace Jeremy Shockey's offensive production from last year, and he should be able to do just that, while adding an extra dimension as both a blocker and a ball-carrier.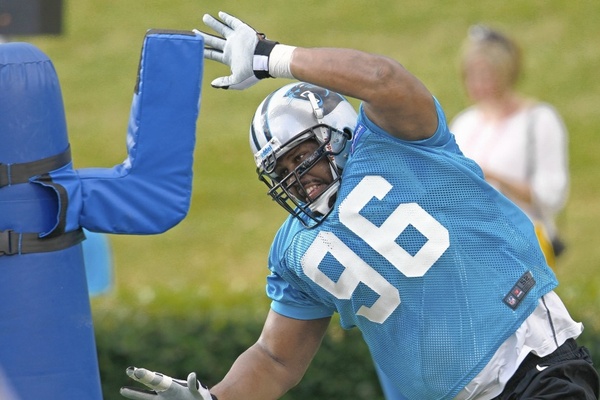 Ron Edwards will look to make an impact on a defensive line that was among the worst in the league last year.
Technically, Ron Edwards is entering his second year as a member of the Carolina Panthers, but for all intents and purposes, this will be his debut with the team.
Edwards was signed last offseason, but suffered a torn triceps in training camp that kept him out the entire year. "The Legend of Ron Edwards" has grown substantially since then, with the coaching staff and fans alike beginning many a sentence with "If Ron Edwards was healthy..." before attempting to explain the problems with last year's defensive line.
Edwards' huge 6'3", 325-pound frame coupled with his 11 years of experience will go a long way toward shoring up what may have been the Panthers' biggest deficiency in a lackluster defensive unit last season.
More pressure from the interior of the defensive line would free up ends Charles Johnson and Greg Hardy to wreak havoc in the opponent's backfield, thus decreasing the amount of time the Panthers' shaky secondary will have to cover receivers downfield.