UFC 151: Dana White Special Announcement Live Blog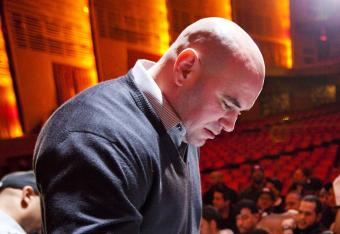 Michael Nagle/Getty Images
UFC® PRESIDENT DANA WHITE TO MAKE ANNOUNCEMENT REGARDING UFC® 151
Thursday, August 23, 2012—2 p.m. ET/11 a.m. PT
Las Vegas, Nevada—The Ultimate Fighting Championship® organization will host a media conference call today, Thursday, August 23, 2012 at 2 p.m. ET/11 a.m. PT for a special announcement by UFC® President Dana White regarding the upcoming UFC® 151: JONES vs. HENDERSON event scheduled for Saturday, Sept. 1.
Follow Bleacher Report for live updates from the call.
That's it. So there you have it. Jon Jones was offered a fight with Chael Sonnen. Chael accepted it and Jon was advised by Greg Jackson that it would be a mistake. Dana believes that Jackson is killing the sport and shouldn't be interviewed by anyone.
He's not sure how this will affect Jon's popularity but there are a lot of fighters on the undercard that now won't be getting paid. The UFC spent a ton of money on advertising and marketing and there's just so much money lost.
The good news for fans with UFC 152 (now 151?) tickets is that you'll get Machida vs Jones. Probably. If Jon turns that fight down we'll have another conference call today.
Dana White: This is one of the selfish disgusting decisions. It doesn't just affect Jon Jones. I don't think this is going to be a decision that makes people like Jon Jones. I don't care what Greg Jackson thinks. Saying that turning down a fight with Chael Sonnen is the biggest mistake of his career? Greg should only be interviewed by a psychiatrist.
Dana White: I can tell you this right now that he's not turning down the Machida fight. If I get a call today saying he's not taking the Machida fight we'll have another conference call. We should have the bout agreement. He didn't ask for money to fight Chael Sonnen. Who else would I bring in to fight Chael Sonnen? People wanted to see the light heavyweight title fight. There would be people who would like it and people who wouldn't. What I do know is that Chael Sonnen would have fought his ass off to try and be the world champion. Those are the guys I like. Those are the guys I respect. And those are the guys that built this sport.
Dana White: Being a fight promoter, you can't make someone fight. I can't say "you have to fight this Saturday." You're either a fighter or you're not. This is what we all do for a living. I have a building where 250 people have been busting their ass to promote this card. Good for you Jon Jones that you don't need this fight. There's a bunch of guys on the undercard who need this fight to feed their families. I can't make him take the fight but he should.
Dana White: We spent a lot of money. Billboards in Times Square. The media. Everything. It's a massive massive hit.
Dana White: Me and Lorenzo are both disgusted. Jon hasn't been a popular fighter and I doubt this helps his popularity. We had no problem doing Chael. Did it make sense? No. But these guys have been talking smack and Chael was the guy who accepted it. Chael was pumped. Chael was excited for this fight. He told me to tell Jon Jones there wouldn't be any spinning back fists.
Dana White: We're losing a ton of money on this. PPV, marketing. Everything. I learned we're not doing the fight an hour ago. It was a refusal to fight anyone on that day. This card had to get cancelled. Where we're at right now it had to be cancelled. We've never had a champion refuse to fight a guy. I say it all the time that there's always crazy stuff I have to deal with. We built this industry. We know exactly what we're doing. There's going to be things that pop up like injuries. And apparently now, guys that don't want to fight anybody. It's got nothing to do with how we do things.
Dana White: We'll figure out what's going on with the other fights. I have no idea what the fallout will be for the undercard but we'll figure it out. This really changes the relationship with Jon Jones.
Dana White: I was never crazy about UFC sponsorships. I'm the wrong guy to ask. I hate it.
Dana White: Jon didn't take the fight because of the advice from Greg Jackson. I always laugh when fighters say "I'm a businessman"...no you aren't. You're a fighter. We're 7 days out from the fight and we don't have time to find a new main event. Jon Jones acting like this? Just can't do it.
Dana White: The first fight cancelled in UFC history and the first champion to ever turn down a match. That's how Jones will be viewed.
Dana White: Dan has a partial tear. We can't wait around for him. It's not like Dan needs surgery but he has a tear in his MCL and has problems with lateral movement. Jones is in shape and he's ready to go. In the history of the UFC, Tito was the worst and he never picked fights.
Dana White: Jon Jones was given the options and told the consequences. He knows what happened. Machida was in the air when we were trying to make the fight. I can accept why Machida didn't take the fight. I understand that. Greg Jackson told Jones there's no way you take the Chael Sonnen fight on eight days notice. Said it would be the biggest mistake of his career. Greg Jackson is a f***ing sport killer. I've never heard anything like this in my entire life.
Dana is heated talking right now. He's going off on Greg Jackson and Jon Jones.
Dana White: So this is probably one of my all time lows. For the first time in 11 years, we're going to cancel an event. Dan Henderson has a partial tear in his MCL. There's nothing we could do to save the fight. One of the thing is we always say we could find a replacement. One guy said he would take the fight. That was Chael Sonnen. Chael accepted the fight. We started working. Created commercials and PR stuff. The one thing that happened that I didn't would happen happened. Jon Jones turned down the fight. So right now, the fight is cancelled. Jon Jones vs Lyoto Machida, Saturday September 22nd in Toronto, Canada on UFC 152.
This article is
What is the duplicate article?
Why is this article offensive?
Where is this article plagiarized from?
Why is this article poorly edited?