2012 NFL Preseason: One Thing to Watch for in Every Week 3 Game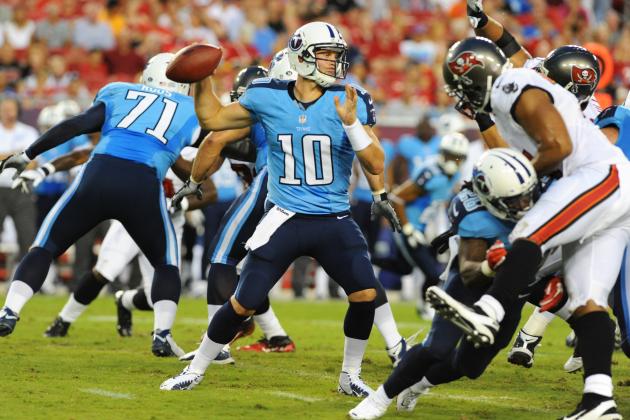 Al Messerschmidt/Getty Images
Tennessee Titans quarterback Jake Locker, named the team's opening day starter on Wednesday, will be eyed closely against the Cardinals.
With two weeks of the NFL preseason already in the books, all 32 teams will take another test run this weekend. Be it bona-fide stars or those struggling to stay on a roster, players will hit the field and tune up as football's opening night rears closer.
There's no dearth of storylines in Week 3, as Cedric Benson makes a return to Cincinnati, Jake Locker takes the reins under center for the Titans and touted rookies Robert Griffin III and Andrew Luck continue to ready for the regular season.
Check out one thing to watch for in all 16 preseason games this weekend.
Note: All displayed game times are EST.
Begin Slideshow

»
Jonathan Daniel/Getty Images

How will running back Cedric Benson fare against his old team?
Seven-year veteran Cedric Benson will continue to vie for starting responsibilities in the Green Bay backfield, this time going against his former team, the Cincinnati Bengals.
Benson suited up for the Bengals for four seasons, failing to re-sign with them this spring. Now, he'll return to Paul Brown Stadium as a member of the Green and Gold.
Does Benson have anything left in the tank after a lowly 2011? What impact does he make on an already-lethal Packers offense? Check out how Benson performs on Thursday night.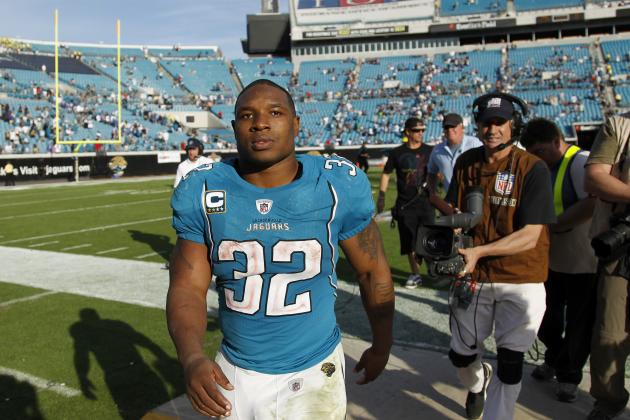 Joe Robbins/Getty Images

What does the Jags offense look like without running back Maurice Jones-Drew?
Disgruntled star 'back Maurice Jones-Drew continues to hold out of Jaguars training camp, and now, trade rumors involving the league's leading rusher are running rampant. It will be important to see how Blaine Gabbert and the Jaguars hold up without him.
While Jones-Drew certainly may wind up sticking it out in Jacksonville, a good brunt of the expectations for 2012 fall on Gabbert and the passing game, which compiled a league-worst 136.2 yards per game last year.
Against a stout Ravens defense, it will be interesting to see how many points the Jags can put up. Gabbert looked marvelous against the Saints last week, posting two touchdowns on 13-of-16 passing.
First-round rookie Justin Blackmon caught four passes for 48 yards as well.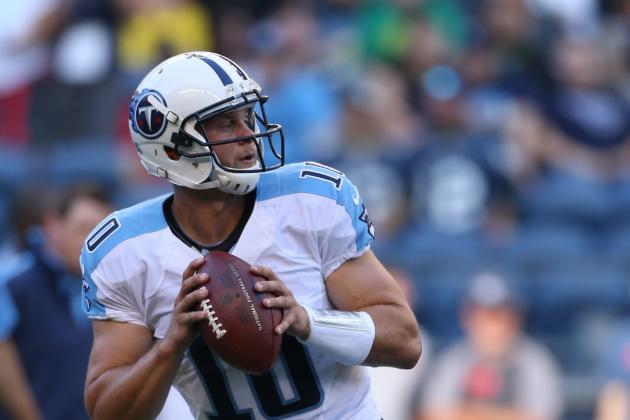 Otto Greule Jr/Getty Images

Jake Locker's got the job...now what?
Jake Locker has emerged from Tennessee's quarterback competition as the Week 1 starter. Now, fans will keenly eye him and the Titans offense against Arizona.
With starters seeing the most reps in Week 3 action, it will be important for Locker and the first-team offense to establish a rapport and work out any kinks.
Locker compiled a 99.4 QB rating in 2011, his rookie season.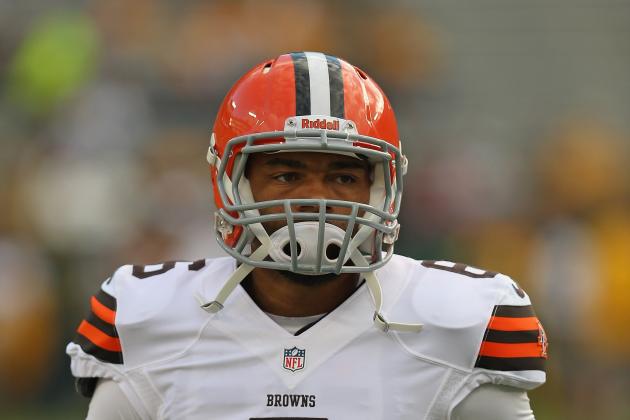 Jonathan Daniel/Getty Images

Who will step up as Cleveland's back-up quarterback?
Rookie Brandon Weeden will lead the Browns into the regular season, but Cleveland's second-string gunslinger is yet to be determined. Against the Eagles, the Browns will look to find a clear-cut back-up.
Seneca Wallace vies for the job against Colt McCoy, the team's starter in 2011. The inexperienced Weeden may falter early on, and it will be important for the Browns to have a serviceable signal-caller waiting in the wings.
For the Eagles, the thing to watch for will be sitting on the sidelines, as quarterback Michael Vick will sit Friday's game out and continue to nurse sore ribs sustained against New England.
Streeter Lecka/Getty Images

How does the Miami offense look under quarterback Ryan Tannehill?
2012 first-rounder Ryan Tannehill has won the starting job in Miami, and in the penultimate tune-up game, watch out for how the Dolphins offense runs with a rookie at the helm.
The 'Phins were sluggish through the air last season, ranking 23rd in total passing yardage. Tannehill will look to take the franchise in a new direction, albeit without receiver Chad Johnson, who was cut from the team last week.
The Falcons boast a strong secondary and a formidable pass-rush. Check out how Tannehill performs this week.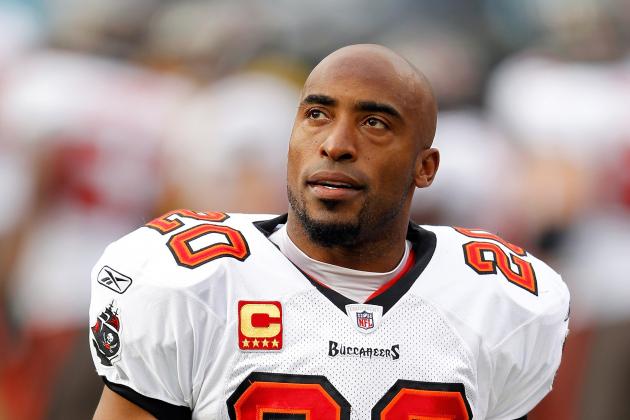 Streeter Lecka/Getty Images

How ready is each secondary for a bounce-back 2012?
The Pats and the Bucs both struggled to defend the pass last year, and both teams face lofty expectations as Week 1 comes around. It will be interesting to see how each secondary fares on Friday night.
Both teams allotted over 230 yards per game to opposing quarterbacks.
Tampa inked ex-Lion Eric Wright this offseason as an upgrade on the outside, while New England strong safety Patrick Chung labors through a shoulder injury sustained against the Eagles last week.
Both secondaries line up against premier pass-catchers: The Pats boast tight ends Rob Gronkowski and Aaron Hernandez, while the Buccaneers continue to try out newly-signed receiver Vincent Jackson.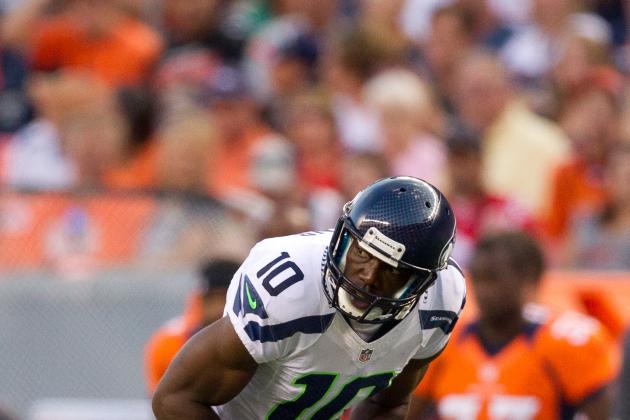 Justin Edmonds/Getty Images

Will receiver Terrell Owens improve on his shoddy Week 2?
T.O. is no stranger to the spotlight, and he'll be in it once again as he continues to ready his 2012 comeback effort.
Owens struggled against the Bears last week, most notably when dropping a sure-fire touchdown pass from quarterback Matt Flynn in the first half.
Now, Owens will fight to vindicate Seattle's signing. Check out how the future Hall-of-Famer does against the Chiefs.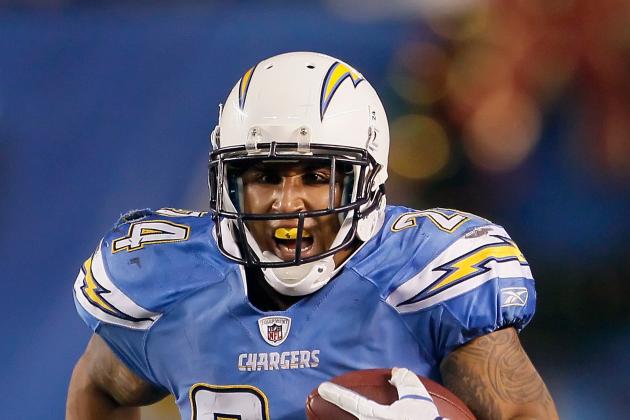 Jeff Gross/Getty Images

How does the Chargers offense run without halfback Ryan Mathews?
2011 starter Ryan Mathews' Week 1 is shrouded in doubt after sustaining a fractured collarbone against the Packers on August 9. Should he be unable to go on opening day, the Chargers will have to find an alternate way to run their offense and stay in games.
For perhaps a half-decade now, the Chargers have been hampered by slow starts and sloppy Septembers. San Diego will see how its offense looks with Mathews shelved on Friday.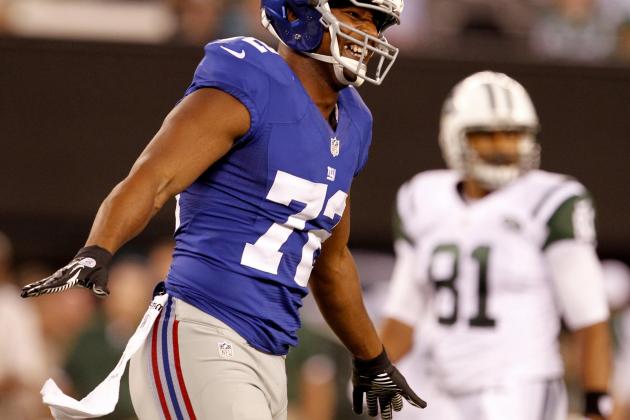 The Star-Ledger-US PRESSWIRE

Can both defenses build off of strong Week 2s?
Last week, the Bears and the Giants each churned out respectable performances on the defensive side of the ball. Both first-team units will continue to find a rhythm and prepare for the regular season on Friday night.
The Giants ranked 29th against the pass in 2011; the Bears 28th. Both defenses struggled with inconsistency, and both New York and Chicago will be billed as top competitors in the NFC this year.
Big Blue boasts one of the league's premier pass-rushes, while the Brian Urlacher-less Bears still enjoy a sturdy front seven.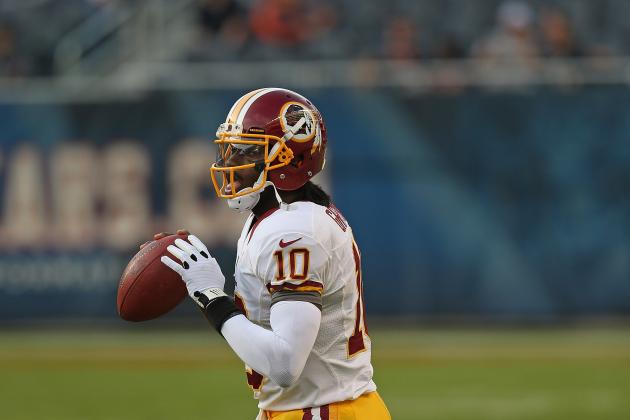 Jonathan Daniel/Getty Images

Which top-pick quarterback is more prepared for the regular season?
Two of the league's budding young stars, quarterbacks Andrew Luck and Robert Griffin III, will clash in the nation's capital this weekend when the Colts play the Redskins.
Luck was the first overall selection in April's draft, while Griffin III was picked second. Both have put out scintillant preseasons thus far, and both have sky-high potential.
The liaisons of the game's future, both Luck and Griffin III will be closely watched on Saturday. Take a look and see which rookie seems more pro-ready after Week 3.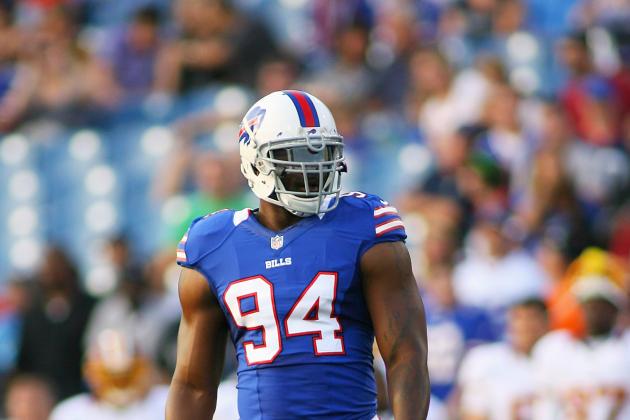 Rick Stewart/Getty Images

How will the Steelers o-line hold up against end Mario Williams?
Title Town gears up for another hyped season amidst skepticism over an aging offensive line. The Steelers ranked 24th in sacks allowed in 2011.
Meanwhile, decorated pass-rusher Mario Williams joins an upswing Bills squad. Pittsburgh's front line will be tested early and often against Buffalo.
Saturday's contest should be an interesting reticle into what to expect from both teams. The Steelers' season will be shaped by their offensive line production.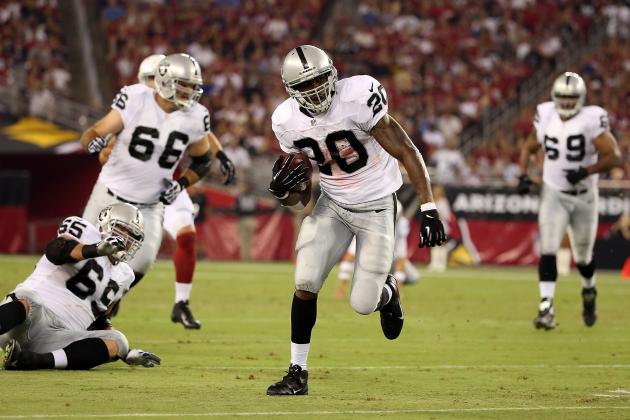 Christian Petersen/Getty Images

Where is running back Darren McFadden's game at?
Oakland 'back Darren McFadden continues to ready a return to the gridiron after being sidelined for most of 2011 with a foot problem.
Despite the litany of injuries he's sustained, McFadden remains one of the league's most enticing talents. If he can stay on the field all year, the Raiders should stay competitive in the bustling AFC West.
Watch where McFadden is at on Saturday, when starters will see minutes into the third quarter.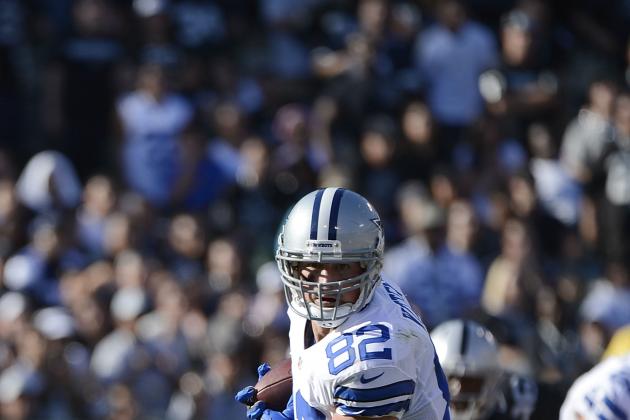 Thearon W. Henderson/Getty Images

How will quarterback Tony Romo perform without his top targets?
Tony Romo enjoyed a phenomenal 2011 campaign, tallying 31 touchdowns while tossing just 10 picks. With the Cowboys inundated with injuries, however, Romo might be a little short handed come opening day.
It's important to see where Dallas is without tight end Jason Witten, who is suffering from a lacerated spleen, and wideout Miles Austin, who sits out with a hamstring issue.
The Cowboys' high-flying offense is predicated on Romo's ability to air it out. See how he fares this weekend, and keep an eye on Dez Bryant, who will be expected to step up as a No. 1 option for now.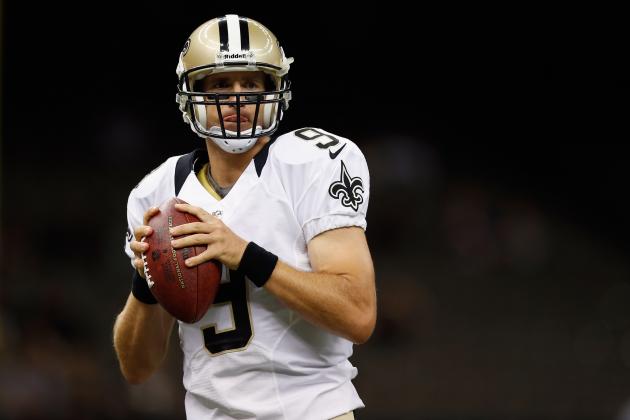 Chris Graythen/Getty Images

Will Aaron Kromer work for quarterback Drew Brees and the Saints?
Offensive line coach Aaron Kromer was recently named the Saints' interim head coach while Joe Vitt serves a league-imposed six-game suspension. Both are filling in for suspended coach Sean Payton.
While it's tough to really pull anything from a preseason game, watch out for how New Orleans performs under Kromer's system.
Drew Brees and the first-team offense turned in a strong outing last week against Jacksonville.
The Saints defense, however, allotted 27 points and will look to fare better this time around.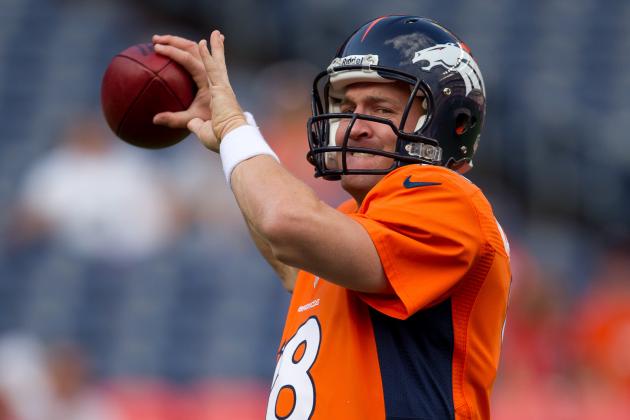 Justin Edmonds/Getty Images

What will quarterback Peyton Manning look like against the formidable Niners' D?
San Francisco touts a stringent secondary and an aggressive pass-rush, ranking second in the NFL with 14.3 points allowed per contest last year.
It's without a doubt the most arduous test faced by rehabbing Broncos quarterback Peyton Manning. The four-time MVP has already dished out three interceptions in two halves of preseason football.
Starters will see more reps this week, and while playbooks won't be completely revealed, this is an excellent glimpse into what fans can expect from Manning and Denver early on.
Check out how the Broncos offensive line performs as well. The Niners notched 42 sacks last season.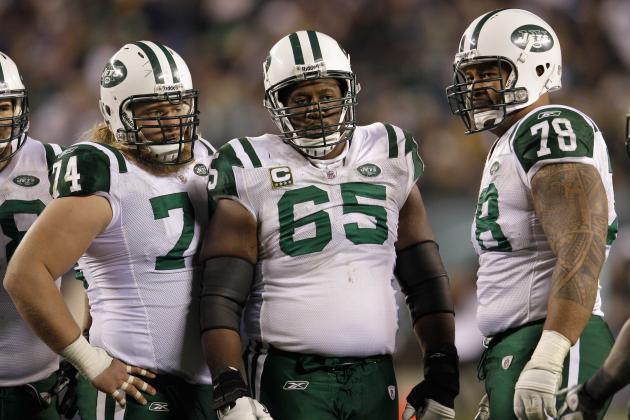 Rob Carr/Getty Images

Can the Jets make sense of their tackle troubles?
It's been a tough summer for the New York Jets, who have fostered a media frenzy around quarterbacks Mark Sanchez and Tim Tebow.
Of course, it doesn't matter who's under center if there's no time to make a throw.
The Jets offensive line was beaten up by the Giants last week and will look to improve on the edge this week. The Panthers recorded 25 sacks in 2011, good for just 25th in the league. If Gang Green can make sense of their line problems, the offense should notch its first scoring touchdown of the preseason.
Austin Howard will replace Wayne Hunter on the right side this week. See what kind of a difference the Jets can make with a new tackle in place.