Tampa Bay Lightning: Predicting the Top 10 Scorers in 2012-13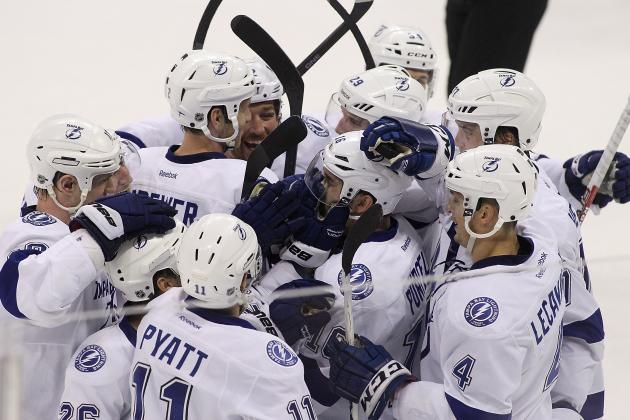 Marianne Helm/Getty Images
Tampa has had one of the top 10 offenses in the league the last two seasons, 2012-13 should continue that trend.
The Tampa Bay Lightning have been a top-10 offense for the last two seasons. With the returning stars up front, 2012-13 shouldn't be any different.
The Lightning have high-profile forwards Steven Stamkos, Vincent Lecavalier and Martin St. Louis.
Additions of solid offensive defensemen, Sami Salo and Matt Carle, should help the Bolts' special teams production.
Last season, the Bolts scored 232 goals, 2.83 goals per game. They were fourth in the league in five-on-five scoring with 173 goals.
Tampa's strong five-on-five play hit a wall when they went on the power play.
In five-on-four situations, the Bolts had just 36 goals, 25th in the NHL. Tampa's power-play unit converted just 15.2 percent of its chances, again 25th in the league.
Improvements on the blue line this offseason will help Tampa's even-strength production, and more importantly, their special teams production.
With all the firepower in the TBL lineup, here is how all the production will stack up in 2012-13.
Begin Slideshow

»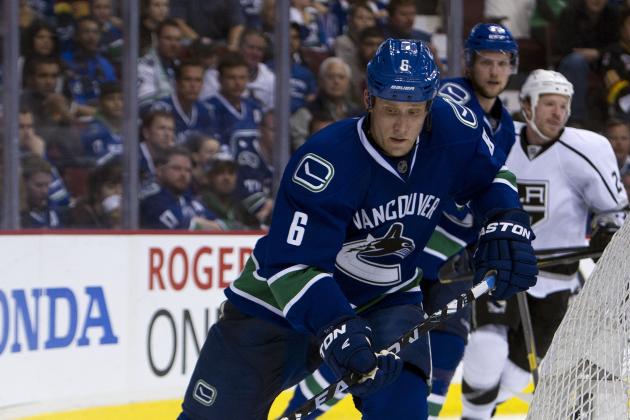 Rich Lam/Getty Images
A healthy Sami Salo could be a strong producer for the Bolts on the second pair.
This spot depends entirely on health.
Salo hasn't played in 70 games in a season since 2003-04. He has been a consistent producer in Vancouver, recording 25 points or more in eight of his last nine seasons. This will be his first season in Tampa.
As a second-pair defenseman, Salo should see similar minutes to his time in Vancouver. In head coach Guy Boucher's system, Salo could get earn even more ice time, if he gets hot.
One grit guy that could earn some solid production is Benoit Pouliot.
Paired on a line with Lecavalier and Teddy Purcell, Pouliot should get a lot of rebound opportunities to cash in on.
Pouliot's production has improved his last three seasons. With Boston last season, Pouliot recorded a career-high 32 points.
He should have plenty of opportunities to set a new career-high this season, even if he isn't known for his scoring.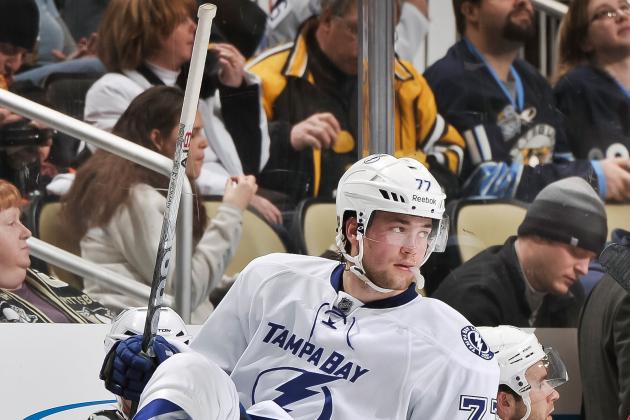 Jamie Sabau/Getty Images
Now a second-pair defenseman, Hedman's numbers could be down, but he should still be consistent for Tampa.
Victor Hedman missed 21 games last season and still nearly broke his career high in points (26).
Hedman finished last season with 23 points and a career-high five goals.
As a second-pair defenseman, Hedman will have plenty of opportunities to skate with the biggest guns in the Bolts' lineup.
At 22 years old, Hedman is just beginning to scratch the surface of his potential. This could be a breakout year for the young D-man, who is now surrounded by other quality defensemen.
With less pressure, Hedman should improve his production. He scored on 6.1 percent of his shots in 2011-12, also a career high, but had just 80 shots.
If he continues to improve on his shooting percentage, this could be a big year for the Swede.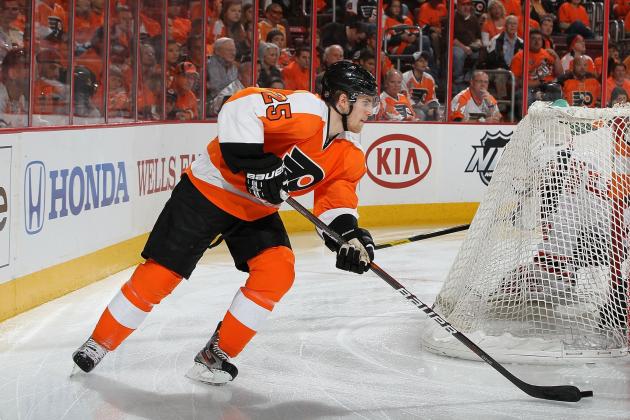 Jim McIsaac/Getty Images
Another newcomer to the Lightning could produce some quality numbers.
Carle's addition to the Tampa blue line is huge. He will improve the Bolts' power-play unit and defense immensely.
Offensively, he provides another weapon that opponents will have to worry about.
He will see a significant amount of time on ice with Stamkos, St. Louis and Malone. A scoring defenseman like Carle should benefit from that high-powered group.
The issue comes in the change to Boucher's free-flowing substitution system and adjusting to new teammates, surroundings and a new defensive partner.
This year could be a slower year for Carle, who netted 38 points last season in Philadelphia, while he adjusts to the new game. Expect some significant power-play time to give Carle added chances at point production, however.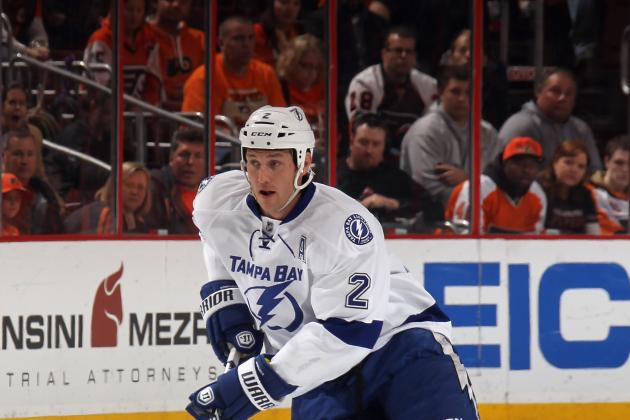 Bruce Bennett/Getty Images
Eric Brewer could be Tampa's highest-scoring defenseman in 2012-13.
Eric Brewer will be the top-producing defenseman for the Bolts next season, and not just because he has a sweet first name.
Brewer got back on the production train last season with 21 points, his highest total since the 2007-08 season (22).
Brewer played in all 82 games last year and, at 33 years old, is a crafty veteran. He will be a great compliment on the first pair to young gun Matt Carle.
With Carle adjusting to the new system, but still a great talent, Brewer should reap the benefits.
Entering his third season with Tampa, Brewer has been in Carle's shoes. In his first season in the Bay, he had just two points in 22 games.
Last season, with some adjusting to the system and better health, Brewer got back to his normal self.
Bolts fans, be prepared for a career year from Brewer this season.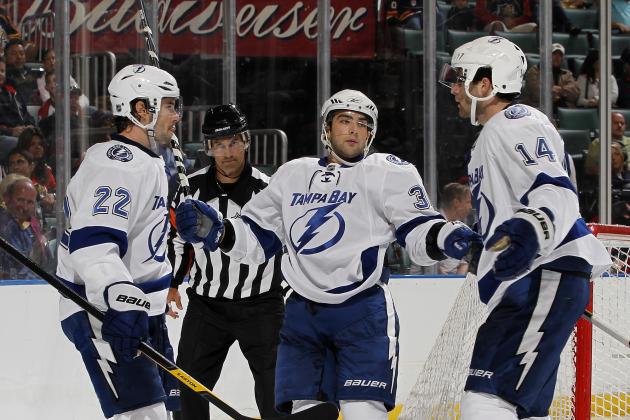 Joel Auerbach/Getty Images
Cory Conacher starts his Lightning career on the second line with Vincent Lecavalier. He could thrive in that situation.
Cory Conacher is the reigning American Hockey League most valuable player and is one player fans can't wait to see play.
TSN's Bob McKenzie likes Conacher to be in the running for the Calder Trophy (Rookie of the Year).
I know most rookie focus is justifiably on Justin Schultz, Mikael Granlund, Nail Yakupov etc but I'm curious to see impact others make...

— Bob McKenzie (@TSNBobMcKenzie) January 17, 2013

...Such as Cory Conacher in TB, Marcus Foligno in BUF and STL tandem of Vlad Tarasenko and Jaden Schwartz. Really interesting rookie race.

— Bob McKenzie (@TSNBobMcKenzie) January 17, 2013
With a Martin St. Louis-like approach, Conacher could be one of the more consistent scorers for Tampa Bay in years to come.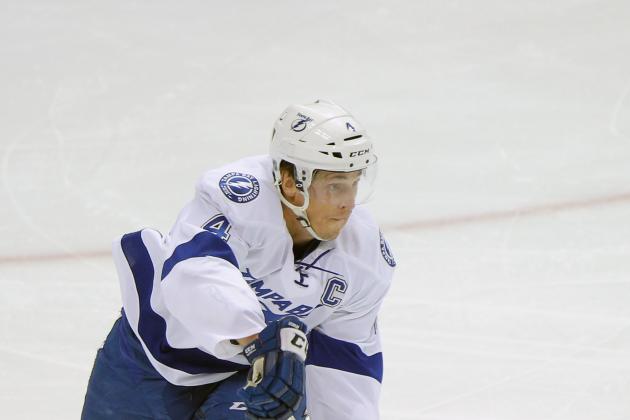 Doug Pensinger/Getty Images
The captain will notch another 50-point season in 2012-13.
Any time a guy who has over 800 career points is at No. 5 on a list, there's a lot of offense at the top.
Lecavalier had a down season last season, partially due to missing 18 games. His 49 points was his lowest total since 2001-02.
Once a 100-point scorer, the captain has slowed down a bit over the last few seasons. But he is still a fierce competitor and a great leader.
His competitive nature and leadership are what will compel No. 4 to get his production back up to a high level. Another 100-point season isn't in the cards, but increased numbers are.
Centering a line with Teddy Purcell and Cory Conacher should help Lecavalier.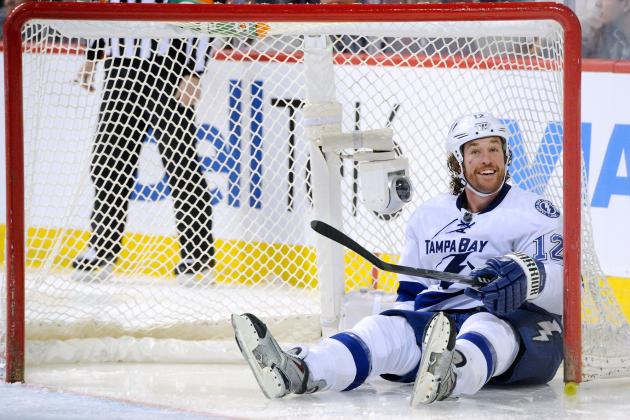 Richard Wolowicz/Getty Images
Ryan Malone could find the net with more than his body in 2012-13.
Ryan Malone finished fifth in scoring last season for Tampa with 48 points. He played in just 68 games.
With an added physical presence in the Tampa lineup, their star scorers should be better protected.
Malone has the skills to break the 50-point mark in a full season—he did it once in 2007-08 with Pittsburgh. With a 48-game campaign this year, expect Malone to go all out.
Entering his ninth season in the NHL (fifth with TB), Malone hopes his 16 percent shooting will continue from last season.
He should also benefit from the shots of Carle and Brewer. Malone could be the garbage man of the Malone-Stamkos-St. Louis line and see increased production because of it.
Bruce Bennett/Getty Images
Thirty seven years old and still going strong, St. Louis will be at the top of Tampa's scoring.
The ageless wonder that is Martin St. Louis also had a down year last season. His 74 points was a 25-point drop from 2010-11.
The guy is 37 years old and has produced 70-plus points in each of his last six seasons. If there is evidence that this season will be any different, go tell that to St. Louis in the weight room.
St. Louis is one of the best playmakers in the game. He benefits from having the best goal scorer in the league, Steven Stamkos, on his line.
The guy simply outworks everyone else on the ice and will find a way to be productive year again. Expect nearly a point per game from the talented winger.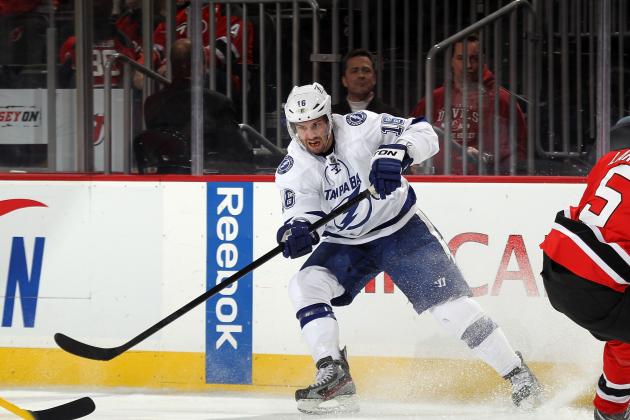 Bruce Bennett/Getty Images
Teddy Purcell will break out on the second line and become the No. 2 scorer for the Bolts.
Teddy Purcell continues his climb up the Lighting leaderboard.
Last season, he finished third on the team with 65 points. This year, he will be No. 2. Entering his seventh NHL season, the 26-year-old winger is at the top of his game.
In his first season with Tampa in 2010-11, Purcell notched 51 points. Last year, he added 14 to that total.
The trend should continue in 2012-13. To expect a 14-point increase might be a bit outlandish, but even a seven-point bump will get Purcell to a new level.
A career-high 24 goals last season has Purcell flying high. A career 9.9 percent shooter, Purcell shot nearly 16 percent last in 2011-12.
He should see an increased role in special teams. As a top-six forward, he should get plenty of opportunity in the shortened season.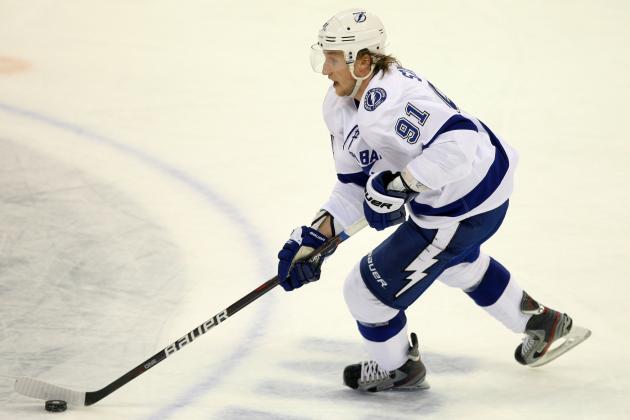 Tom Szczerbowski/Getty Images
Steven Stamkos is the league's best goal scorer. He will lead Tampa in scoring again in 2012-13.
Was there supposed to be someone else at the top of the Tampa scoring leaderboard? The reigning Maurice "Rocket" Richard Trophy winner, Stamkos is coming off his historic 60-goal season.
The most prolific goal scorer in the game doesn't show any signs of relinquishing that title in the near future.
Stamkos is the best scorer for the Lightning—and arguably in the entire league. He scored 35 more goals than anyone else on the team last season.
St. Louis and Malone should produce more this season, which could take away from Stamkos' goal numbers but increase his points.
One of the best power-play scorers in the league, Stamkos will also benefit from the addition of Carle on special teams.The Bolts have a more balanced attack and a better defense. That should take some pressure off Stamkos to score.
Expect a stellar clip from Stamkos, who could notch well over a point per game and make a case for the MVP trophy.