USC Football: 5 Problems Standing in Trojans Way of Being No. 1 at Season's End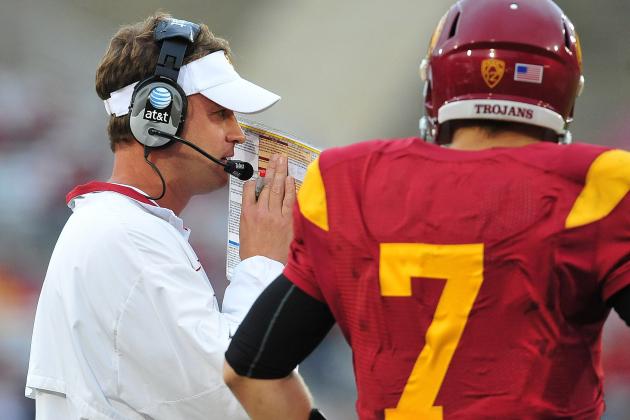 Gary A. Vasquez-US PRESSWIRE

The offseason is a time for us to breakdown the strengths of each football team and try and decide who is really built for a national championship run. But with the season ready to kick off a week from today, it is time to move past that and point out some of the weaknesses of those teams that we have put on a pedestal the last few months.
USC is certainly one of those teams that can win it all this year, but outside of the explosive offense, there are some glaring problems this team must overcome.
The Trojans are considered the top team in the country by the AP Poll; however, here are a few weaknesses that could hold this team back from finishing the year No. 1 in the country.
Begin Slideshow

»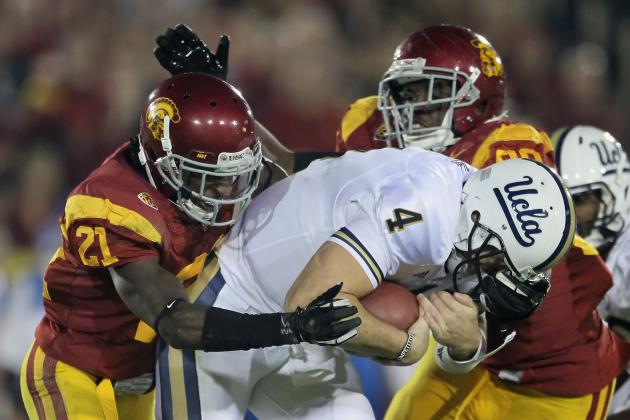 Jeff Gross/Getty Images

If you want to be considered a top team in the country, you must be able to generate relentless pressure on the opposing quarterback. Did you know that 15 of the 25 teams ranked in the preseason AP Poll finished in the top 30 in the country in total sacks last year? (Four teams were tied 29th in the country with 30 sacks overall)
USC was one of those teams that had 30 sacks on the year in 2011, but much of that production is gone, including Nick Perry, who led the Trojans with 8.5 sacks. Then to make matters worse, Devon Kennard suffered a season-ending injury.
Really the only experienced lineman the Trojans have is Wes Horton, who has 22 career starts under his belt. Players such as J.R. Tavai, George Uko, Greg Townsend and Antwaun Woods all have potential, but experience is something you can't make up for.
The last five national champions have finished the season with at least 30 sacks. For USC to repeat last season's efforts, some of these young guys are going to have to grow up quickly.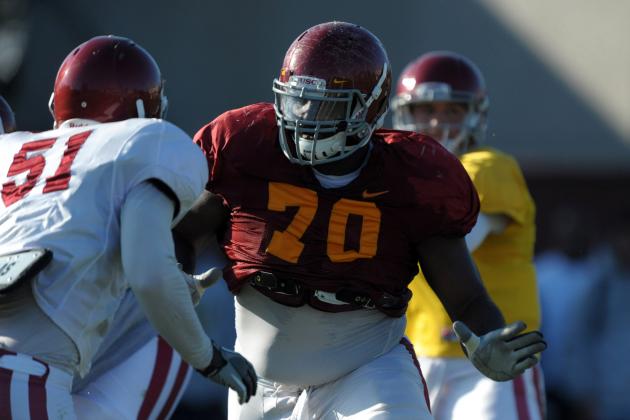 Kirby Lee-US PRESSWIRE

USC was blessed with a dominant offensive lineman in Matt Kalil, but he is preparing for an NFL season right now. That means that there is a glaring hole at the left tackle position, which is the worst possible issue you can have on the offensive line.
Aundrey Walker has been considered the starter the last that we have heard. The problem is that he hasn't played much on the offensive line and has experienced several injuries throughout fall camp. Is an inexperienced player really someone you want to take over the most important position right away?
The Trojans can always turn to Kevin Graf, who started every game last season on the right side, and judging by what Lane Kiffin is saying, it looks like he will remain at that position.
Both players have upside and potential to become good offensive linemen, but until they prove it in an actual game, Trojan fans have to be concerned with this unit.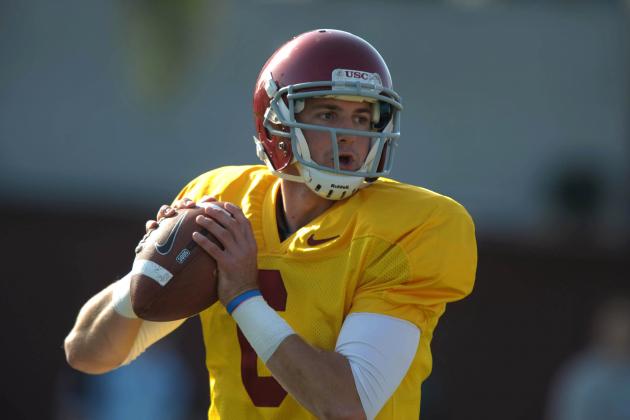 Kirby Lee-US PRESSWIRE

USC may be off the hook as far as bowl eligibility is concerned, but they are still dealing with scholarship reductions. Until the 2014 season, the Trojans cannot exceed 75 scholarships, while every other school gets 85.
That may not seem like a big difference, but let a couple of injuries take place throughout the year and you will see just how quick things change.
As far as overall depth, this is one of the bigger concerns with this team.
We have no idea who the backup quarterback is going to be, and with the issues at left tackle, that is something we should be concerned about. While Curtis McNeal and Silas Redd are great options at running back, there isn't much to get excited about behind them, which isn't great considering many contenders are three to four deep at the position.
The defensive line is already struggling trying to find a starting unit, while the linebacker position is also paper thin on experience.
Injuries are something this team must avoid at all costs, because once starters go down, you are going to see a lot of underclassmen expected to lead this team. It is not the starters I am worried about; it is the guys behind them that could sink this ship.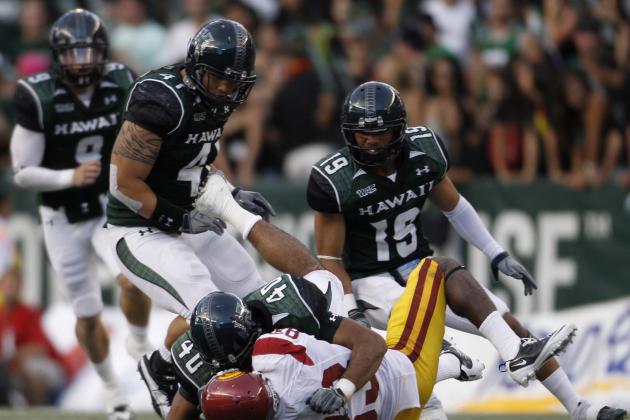 Kent Nishimura/Getty Images

While there are a few sleeper teams on the Trojans schedule that could give them problems, they should be the favorite in probably every one of the matchups. But just because USC continues to win, it does not guarantee that it will remain in the No. 1 spot.
LSU has a stretch of games that include Florida, South Carolina, Texas A&M and Alabama. The Tigers also will finish the year with a trip to Fayetteville to take on the Razorbacks. Alabama begins the season with a game against Michigan and then of course plays LSU, Arkansas and an underrated Auburn team.
Unless the Trojans are absolutely destroying teams, there is a good possibility that a couple of SEC teams could jump the Trojans simply off of more impressive victories.
As of right now, there are only two ranked teams that the Trojans will play this season. So while the schedule may look like an easy path to the national championship game, it could hurt USC if other teams begin to run the table as well.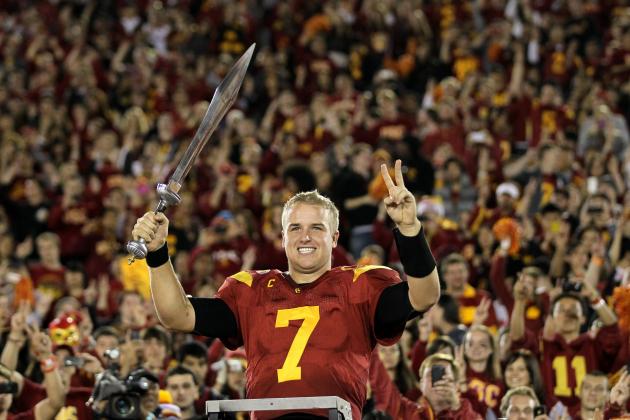 Stephen Dunn/Getty Images

Did LSU win the national championship last season? Oh, sorry, I almost forgot because it seems like USC has been the most talked about team this offseason.
And while much of the hype is deserved, there is a fine line between being a confident team and getting too comfortable. It is important that Lane Kiffin and company keep this team focused on the task at hand, (Yes, even the games against Hawaii and Colorado) and the players remember what the ultimate goal is.
USC has not had great success when beginning the season as the No. 1 team in the country, and the only way to change that is to not fall into the media trap. This is an extremely talented team, but we all know there are weaknesses that can hold them back from a 12th national title.