MLB: Ranking the Best Starting Rotations Among Contenders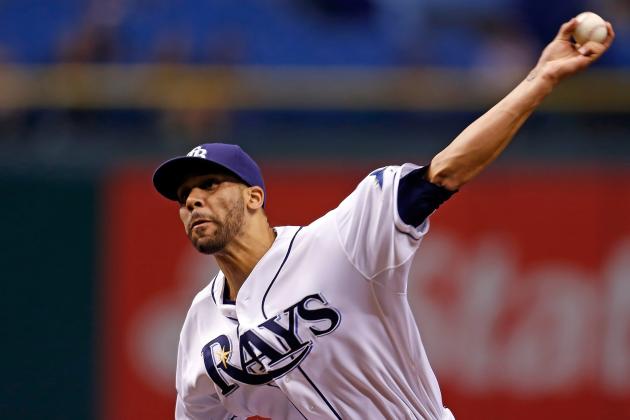 J. Meric/Getty Images

With a little over a month left to go until the postseason, 16 of baseball's 30 teams have emerged as contenders to clinch a spot in the playoffs.
If you look at a good portion of those 16 contenders, most of them have at least somewhat-decent starting rotations. As for the best rotations in the MLB, pretty much all of those teams find themselves in a competitive position here in the dog days of late August.
Here's my ranking of the best starting rotations among MLB contenders.
Begin Slideshow

»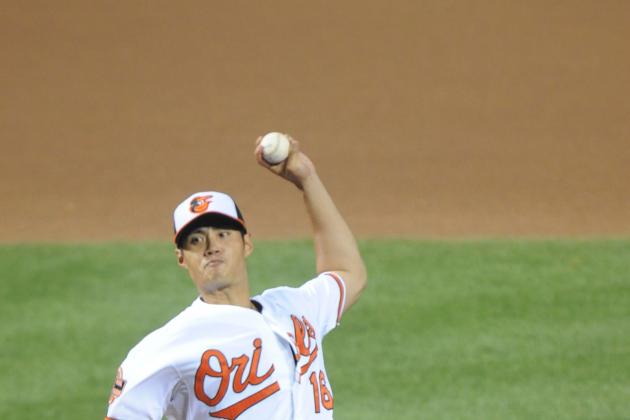 Mitchell Layton/Getty Images

Starting Rotation
Wei-Yin Chen: 12-7, 3.87 ERA, 4.22 FIP, 7.27 K/9, 151.0 IP
Chris Tillman: 6-2, 3.71 ERA, 4.18 FIP, 7.41 K/9, 51.0 IP
Miguel Gonzalez: 5-3, 3.66 ERA, 4.94 FIP, 6.65 K/9, 66.1 IP
Tommy Hunter: 4-7, 5.49 ERA, 5.88 FIP, 4.96 K/9, 118.0 IP
Zach Britton: 2-1, 6.23 ERA, 5.67 FIP, 6.53 K/9, 30.1 IP
The Orioles' starting rotation currently owns an ERA of 4.76 and an FIP of 4.63, which are both the highest among contenders.
They've really missed their ace, Jason Hammel, who has been on the disabled list with a knee injury since July. Hammel was enjoying the best season of his career with Baltimore until the injury.
The O's have somehow managed to hang in there with a struggling pitching staff and stand just a half game out of playoff position. Once they get Hammel back, which they likely will pretty soon, he could give them the boost they need to get into the postseason.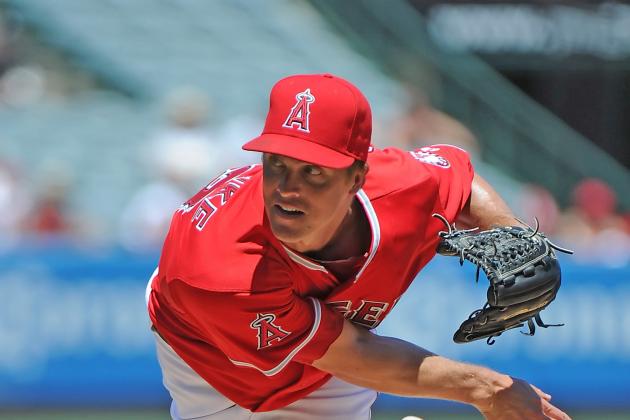 Lisa Blumenfeld/Getty Images

Starting Rotation
Jered Weaver: 16-3, 2.74 ERA, 3.53 FIP, 6.87 K/9, 148.0 IP
Zack Greinke: 1-2, 6.19 ERA, 4.78 FIP, 7.88 K/9, 32.0 IP (since being traded)
C.J. Wilson: 9-9, 3.83 ERA, 3.91 FIP, 7.72 K/9, 164.1 IP
Dan Haren: 8-10, 4.90 ERA, 4.56 FIP, 7.06 K/9, 128.2 IP
Ervin Santana: 7-10, 5.46 ERA, 5.64 FIP, 6.04 K/9, 141.2 IP
The Halos' star-studded rotation has really let them down in 2012, especially as of late. L.A.'s starters have posted a horrendous 5.53 ERA in the past 30 days, which has been the main reason for their recent struggles.
Ace Jered Weaver has been the only starter in their rotation who has met expectations this year, and even he has been knocked around lately.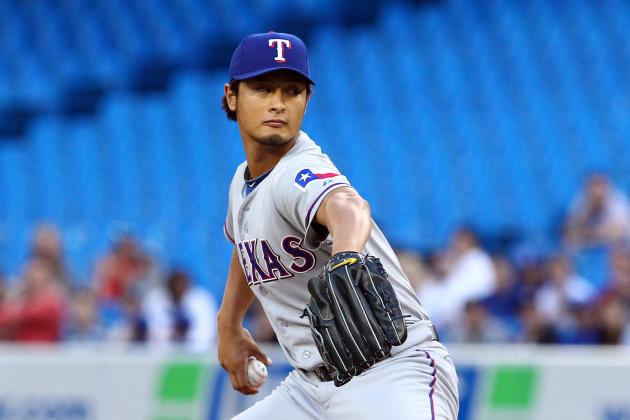 Abelimages/Getty Images

Starting Rotation
Matt Harrison: 14-7, 3.19 ERA, 3.83 FIP, 5.37 K/9, 161.0 IP
Yu Darvish: 12-9, 4.51 ERA, 3.74 FIP, 10.48 K/9, 147.2 IP
Derek Holland: 8-6, 4.96 ERA, 4.77 FIP, 7.30 K/9, 127.0 IP
Ryan Dempster: 2-1, 6.04 ERA, 4.87 FIP, 7.82 K/9, 25.1 IP (since being traded)
Scott Feldman: 5-9, 4.96 ERA, 3.91 FIP, 6.64 K/9, 85.1 IP
The defending AL champs have some pretty big issues with their starting rotation, and it's only gotten worse lately. Outside of Matt Harrison, who has led the pitching staff this season during his breakout year, nobody has an ERA under 4.50.
They picked up Ryan Dempster at the trade deadline in an effort to bolster the rotation, but so far, the move hasn't helped at all.
Texas also signed Roy Oswalt earlier in the season, but he did just as terrible in his eight starts (5.94 ERA).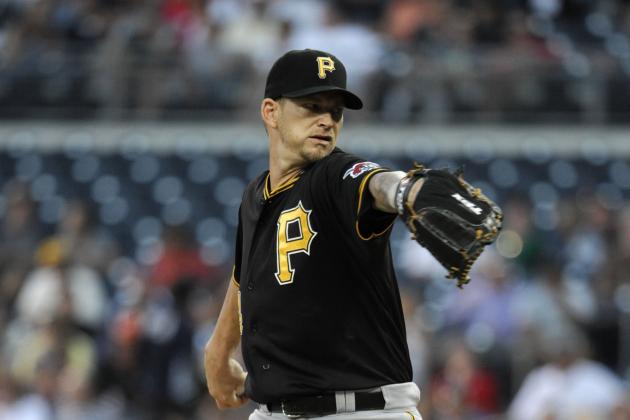 Denis Poroy/Getty Images

Starting Rotation
A.J. Burnett: 15-4, 3.63 ERA, 3.78 FIP, 7.91 K/9, 151.1 IP
Erik Bedard: 7-13, 4.76 ERA, 3.90 FIP, 8.55 K/9, 121.0 IP
James McDonald: 11-6, 3.73 ERA, 3.82 FIP, 7.99 K/9, 152.0 IP
Jeff Karstens: 4-3, 3.79 ERA, 3.33 FIP, 6.39 K/9, 76.0 IP
Wandy Rodriguez: 0-3, 5.47 ERA, 5.32 FIP, 4.38 K/9, 24.2 IP (since being traded)
A surprise to many, the Pirates are still competitive here in late August, and starting pitching is a big reason why. It has regressed recently, but was pretty good for the first three-fifths of the season.
The Bucs traded for Wandy Rodriguez at the deadline in order to strengthen their rotation, but all it's done so far is hurt them. If he gets his act together, Pittsburgh could take a wild-card spot and end the franchise's playoff drought.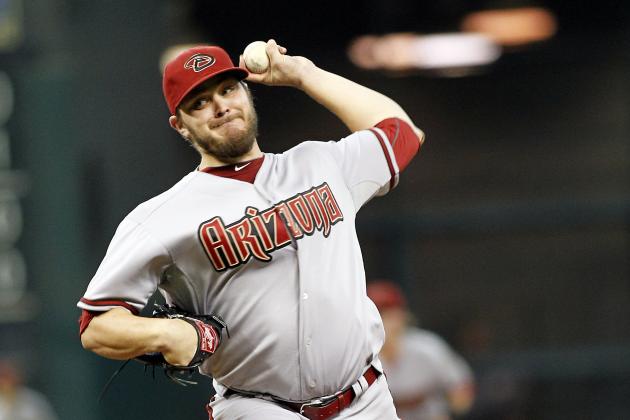 Bob Levey/Getty Images

Starting Rotation
Ian Kennedy: 11-10, 4.24 ERA, 4.16 FIP, 7.91 K/9, 157 IP
Trevor Cahill: 9-10, 3.86 ERA, 4.14 FIP, 6.62 K/9, 156.1 IP
Wade Miley: 13-8, 2.78 ERA, 2.94 FIP, 6.77 K/9, 142.1 IP
Joe Saunders: 6-10, 4.22 ERA, 4.19 FIP, 6.16 K/9, 130.0 IP
Patrick Corbin: 5-3, 4.05 ERA, 3.69 FIP, 7.09 K/9, 53.1 IP
Tyler Skaggs: 1-0, 2.70 ERA, 6.09 FIP, 4 K, 6.2 IP (one start)
Arizona's rotation has been led by rookie sensation Wade Miley, who's enjoying a terrific season as baseball's best rookie starter thus far in 2012.
The D-Backs have a pretty stable rotation, as nobody in the rotation has had a bad season, but nobody has really had a good season, either (excluding Miley).
Arizona added prospect Tyler Skaggs to the pitching staff Wednesday, expanding its rotation to six starters. However, Skaggs could be part of a five-man rotation if the D-Backs decide to deal Joe Saunders before the waiver deadline.
Skaggs had success in his first start, so he could possibly boost their mediocre rotation.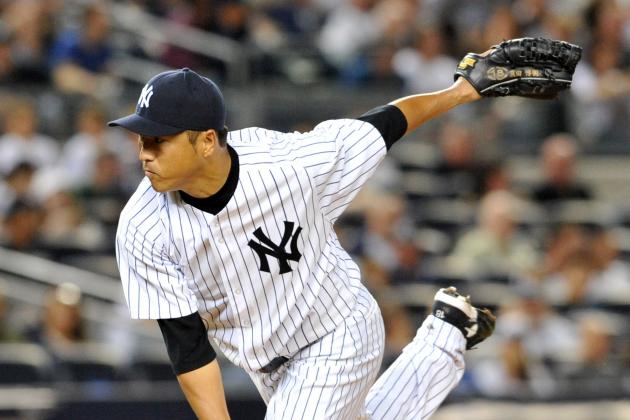 Jason Szenes/Getty Images

Starting Rotation
CC Sabathia: 12-3, 3.56 ERA, 3.32 FIP, 8.89 K/9, 141.2 IP
Hiroki Kuroda: 12-8, 2.96 ERA, 3.71 FIP, 6.74 K/9, 167.0 IP
Phil Hughes: 12-11, 4.15 ERA, 4.70 FIP, 7.52 K/9, 149.2 IP
Ivan Nova (will likely be replaced by David Phelps for at least next start due to shoulder injury): 11-7, 4.92 ERA, 4.54 FIP, 7.95 K/9, 157.1 IP
Freddy Garcia: 5-5, 5.78 ERA, 4.60 FIP, 7.53 K/9, 71.2 IP
Injuries have been the story for the Yankees' pitching staff in 2012. Michael Pineda is out for the year, Andy Pettitte has been sidelined since June and CC Sabathia was reactivated Friday after his second trip to the DL. Right as the Yanks get their ace back, it looks like Ivan Nova will miss at least one start due to a shoulder issue.
With all these injuries, Hiroki Kuroda has really saved the rotation, as well as the team's position as the division leader. He's probably been the best Yankee starter this year, posting an ERA under 3.00 and 0.60 less than Sabathia's.
New York's starting pitching has struggled lately, but it should improve in September when Nova and Pettitte are back healthy.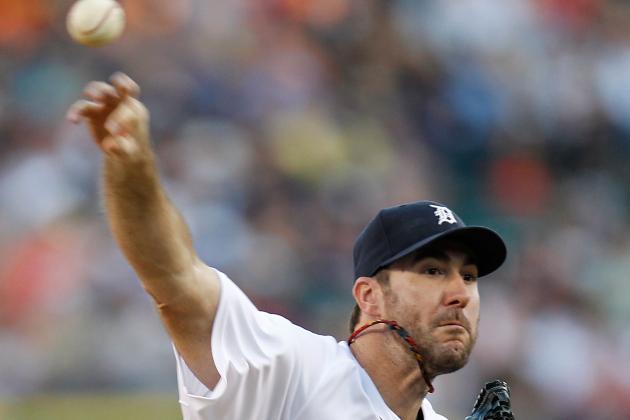 Gregory Shamus/Getty Images

Starting Rotation
Justin Verlander: 12-7, 2.50 ERA, 2.96 FIP, 9.06 K/9, 190.2 IP
Doug Fister: 7-8, 3.67 ERA, 3.29 FIP, 7.80 K/9, 117.2 IP
Max Scherzer: 13-6, 4.27 ERA, 3.67 FIP, 11.34 K/9, 147.2 IP
Rick Porcello: 9-8, 4.67 ERA, 3.72 FIP, 5.31 K/9, 140.2 IP
Anibal Sanchez: 2-3, 6.33 ERA, 5.43 FIP, 6.33 K/9, 27.0 IP (since being traded)
Led by reigning AL MVP and Cy Young Award winner Justin Verlander, who's having himself another great season, the Tigers' pitching staff has been one of the team's main weak points.
Outside of their front two—Verlander and Doug Fister—they don't really have a consistently good starter in their rotation.
Detroit acquired Anibal Sanchez at the deadline to address its starting-pitching problems, but so far, Sanchez has been a huge disappointment. If he can adjust to the American League and pitch like the Tigers know he's capable of, don't be surprised to see them in October.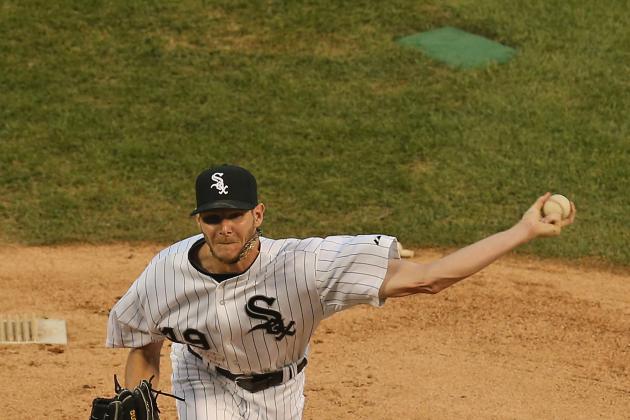 Jonathan Daniel/Getty Images

Starting Rotation
Jake Peavy: 9-9, 3.11 ERA, 3.45 FIP, 8.04 K/9, 168.0 IP
Gavin Floyd: 9-9, 4.56 ERA, 4.80 FIP, 7.46 K/9, 136.1 IP
Chris Sale: 15-4, 2.66 ERA, 3.10 FIP, 8.82 K/9, 152.0 IP
Jose Quintana: 5-2, 2.94 ERA, 3.87 ERA, 5.05 K/9, 98.0 IP
Francisco Liriano: 2-0, 4.39 ERA, 3.28 FIP, 10.13 K/9, 26.2 IP
The White Sox have three quality starters in Jake Peavy, Chris Sale and Jose Quintana. Sale has been their ace, as well as one of the AL's best pitchers this year.
They recently demoted Phil Humber to the bullpen, as he had been struggling mightily since his perfect game earlier this season. Humber was replaced by veteran southpaw Francisco Liriano, who has been decent in his first five starts and an improvement over Humber at the back end of the rotation.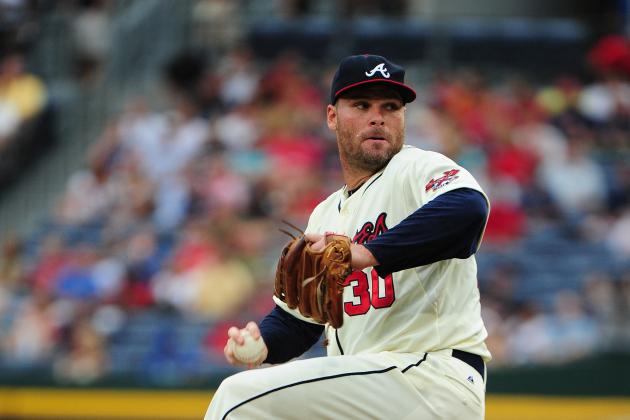 Scott Cunningham/Getty Images

Starting Rotation
Tim Hudson: 12-4, 3.69 ERA, 3.78 FIP, 5.51 K/9, 134.0 IP
Tommy Hanson: 12-6, 4.40 ERA, 4.58 FIP, 8.08 K/9, 137.0 IP
Ben Sheets: 4-3, 3.07 ERA, 4.21 FIP, 6.34 K/9, 44.0 IP
Mike Minor: 6-10, 4.74 ERA, 4.86 FIP, 7.18 K/9, 136.2 IP
Paul Maholm: 2-2, 2.40 ERA, 4.23 FIP, 7.80 K/9, 30.0 IP (since being traded)
Kris Medlen: 4-0, 0.83 ERA, 2.18 FIP, 7.99 K/9, 32.2 IP
The Braves have had some issues with their starting rotation throughout the season, but their staff has been very sharp as of late, posting a 2.80 ERA in the past month.
They've had three big additions this year that have bolstered their rotation. One is veteran Ben Sheets, who returned to the big leagues when Atlanta signed him back in July, and has since been a surprisingly effective starter for the Braves.
They also called up Kris Medlen from the minors, and he's been lights-out in the back of their six-man rotation thus far.
Then at the trade deadline, they picked up the potential last piece to the puzzle in Paul Maholm, who has also done a nice job.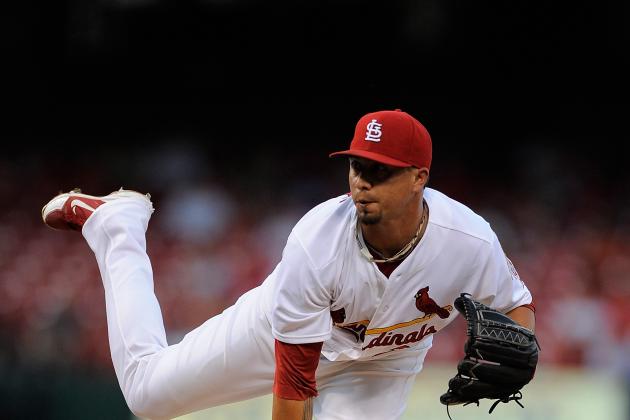 Jeff Curry/Getty Images

Starting Rotation
Adam Wainwright: 12-10, 3.65 ERA, 2.93 FIP, 8.64 K/9, 160.1 IP
Kyle Lohse: 13-2, 2.61 ERA, 3.58 FIP, 5.54 K/9, 169.0 IP
Jake Westbrook: 12-9, 3.67 ERA, 3.65 FIP, 5.54 K/9, 154.1 IP
Lance Lynn: 13-5, 3.73 ERA, 3.54 FIP, 9.04 K/9, 142.1 IP
Jamie Garcia: 3-4, 4.00 ERA, 2.57 FIP, 7.39 K/9, 74.1 IP
The World Series champs suffered a big loss this spring when they lost Chris Carpenter for the entire season due to an injury. They've managed to put together a pretty good rotation, however, which has posted a 3.45 ERA this year.
The rotation, led by Kyle Lohse, is a well-rounded one without anybody having an awful season. None of the five starters own an ERA north of 4.00 or an FIP higher than 3.65.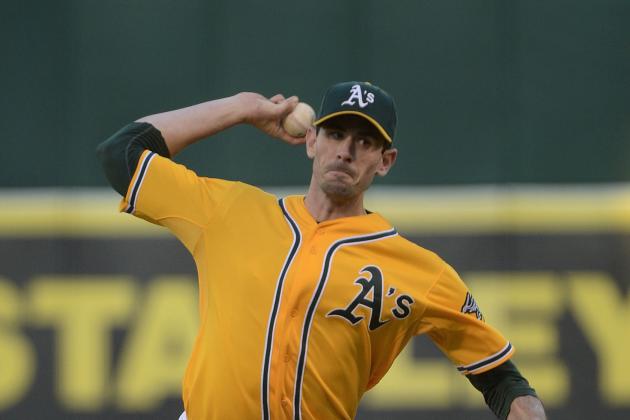 Thearon W. Henderson/Getty Images

Starting Rotation
Brandon McCarthy: 6-5, 3.16 ERA, 3.68 FIP, 5.94 K/9, 94.0 IP
Tyson Ross (replaced Bartolo Colon Thursday night): 2-9, 6.45 ERA, 4.85 FIP, 5.40 K/9, 68.1 IP
Tommy Milone: 10-9, 3.87 ERA, 3.99 FIP, 6.57 K/9, 153.1 IP
Jarrod Parker: 8-7, 3.48 ERA, 3.43 FIP, 6.75 K/9, 129.1 IP
Brett Anderson: 1-0, 1 ER and 6 K through 7.0 IP (one start)
Oakland's starting rotation was hit with a huge blow Wednesday when Bartolo Colon was caught for PED use and suspended for the rest of the season. This is obviously going to hurt the A's pitching staff, but A.J. Griffin's return is expected soon, which couldn't come at a much better time.
Excluding Tyson Ross, who likely won't stay in the rotation for long, nobody in Oakland's rotation has had a bad season or been a disappointment. Nobody's had a great year that has stood out, though, either.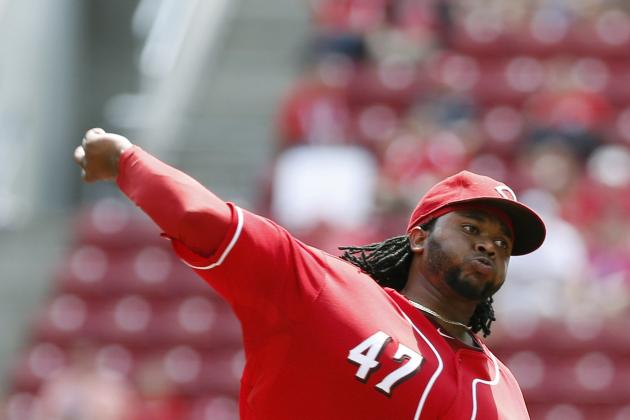 Joe Robbins/Getty Images

Starting Rotation
Johnny Cueto: 16-6, 2.47 ERA, 3.07 FIP, 7.16 K/9, 174.2 IP
Mat Latos: 10-3, 3.56 ERA, 4.05 FIP, 8.04 K/9, 156.2 IP
Bronson Arroyo: 10-7, 3.87 ERA, 4.20 FIP, 5.81 K/9, 158.0 IP
Mike Leake: 5-8, 4.59 ERA, 4.16 FIP, 145.0 IP
Homer Bailey: 10-8, 4.11 ERA, 4.31 FIP, 6.87 K/9, 153.1 IP
Led by Cy Young front-runner Johnny Cueto, the Reds have put together one of the better rotations in baseball in 2012.
Cincinnati's starters just need to keep up the good work and stay healthy, and the Reds will have themselves a very dangerous team coming into the postseason.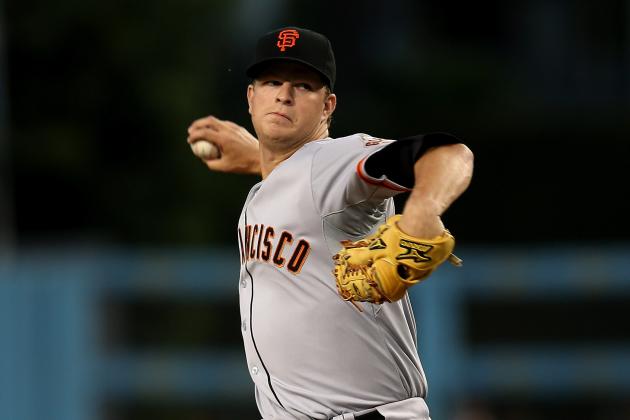 Stephen Dunn/Getty Images

Starting Rotation
Madison Bumgarner: 14-7, 2.83 ERA, 3.26 FIP, 8.39 K/9, 171.2 IP
Tim Lincecum: 7-13, 5.30 ERA, 3.78 FIP, 9.31 K/9, 146.0 IP
Matt Cain: 13-5, 2.83 ERA, 3.32 FIP, 8.19 K/9, 174.2 IP
Barry Zito: 9-8, 4.31 ERA, 4.88 FIP, 5.17 K/9, 146.1 IP
Ryan Vogelsong: 10-7, 2.85 ERA, 3.58 FIP, 7.08 K/9, 148.2 IP
The Giants feature three front-line starters in Madison Bumgarner, Matt Cain and Ryan Vogelsong. Those three are a huge reason why the Giants lead the NL West right now.
Even with Tim Lincecum struggling as much as he has this season, San Francisco still has a starting rotation that will likely land it a spot in the playoffs.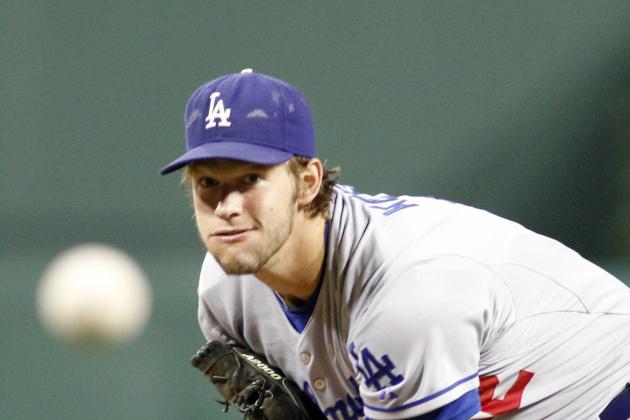 Justin K. Aller/Getty Images

Starting Rotation
Clayton Kershaw: 11-7, 2.87 ERA, 2.84 FIP, 8.82 K/9, 178.2 IP
Chad Billingsley: 10-9, 3.44 ERA, 3.21 FIP, 7.81 K/9, 146.1 IP
Chris Capuano: 11-9, 3.38 ERA, 3.56 FIP, 8.02 K/9, 162.2 IP
Aaron Harang: 9-7, 3.65 ERA, 4.09 FIP, 7.05 K/9, 143.0 IP
Joe Blanton: 0-3, 7.71 ERA, 5.14 FIP, 7.71 K/9, 21 IP
In their rotation, the Dodgers have a solid front four, all of whom have ERAs under 4.00 in over 140 innings pitched.
Their only real weakness in the rotation is in the No. 5 hole, where Joe Blanton has given them absolutely no production so far.
If the back end of the rotation improves, the Dodgers will likely find themselves playing baseball in October.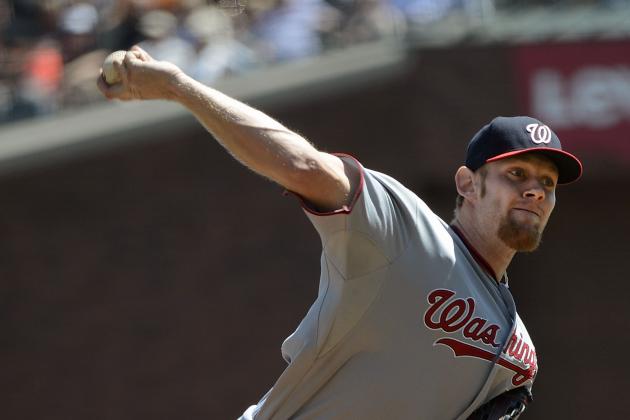 Thearon W. Henderson/Getty Images

Starting Rotation
John Lannan: 2-0, 3.46 ERA, 4.09 FIP, 4.85 K/9, 13 IP (2 starts)
Gio Gonzalez: 16-6, 3.23 ERA, 2.80 FIP, 9.45 K/9, 153.1 IP
Jordan Zimmermann: 9-7, 2.54 ERA, 3.34 FIP, 6.69 K/9, 156.0 IP
Edwin Jackson: 7-8, 3.69 ERA, 4.09 FIP, 7.56 K/9, 144.0 IP
Ross Detwiler: 6-6, 3.47 ERA, 3.55 FIP, 5.45 K/9, 114.0 IP
The Nationals have the best starting rotation in the National League and did have the best starting rotation in all of baseball for the first half of the season. They have five solid starters—six if John Lannan can pitch effectively—including three who are Cy Young candidates.
Young ace Stephen Strasburg will be shut down for the next two or three starts (due to limitations in his Tommy John surgery recovery process), but it shouldn't hurt them too bad, as his replacement (Lannan) is starting-rotation material.
The Nats' rotation owns MLB's best ERA (3.22), best FIP (3.36) and best opponents' batting average (.231).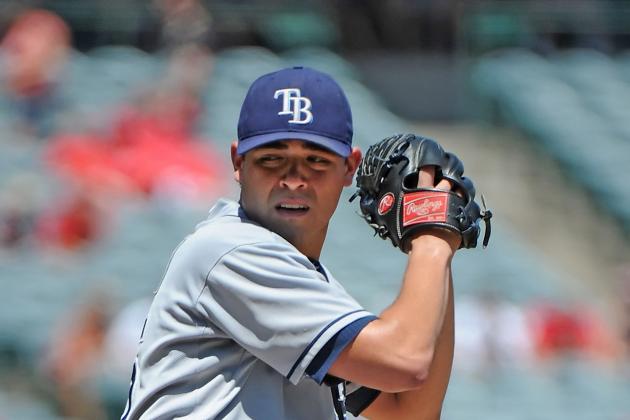 Lisa Blumenfeld/Getty Images

Starting Rotation
James Shields: 12-7, 4.01 ERA, 3.68 FIP, 8.64 K/9, 175.0 IP
David Price: 16-4, 2.28 ERA, 3.06 FIP, 8.84 K/9, 170.0 IP
Jeremy Hellickson: 8-8, 3.28 ERA, 4.79 FIP, 5.76 K/9, 134.1 IP
Matt Moore: 10-7, 3.57 ERA, 3.99 FIP, 8.65 K/9, 143.2 IP
Alex Cobb: 8-8, 4.32 ERA, 3.40 FIP, 6.71 K/9, 102.0 IP
Led by strong Cy Young candidate David Price, the Rays have a very talented, young and deep starting rotation that is red-hot at the moment. Tampa's starting pitching has been ridiculously good lately, posting a 2.26 ERA and a .209 opponents' batting average in the past month.
Since the All-Star break, the Rays have been tops among every MLB starting-pitching staff in ERA (2.62), FIP, strikeouts and opponents' batting average.
There's absolutely no question that the Rays' rotation is the best in baseball right now.