West Virginia Football: The All-Time Dream Team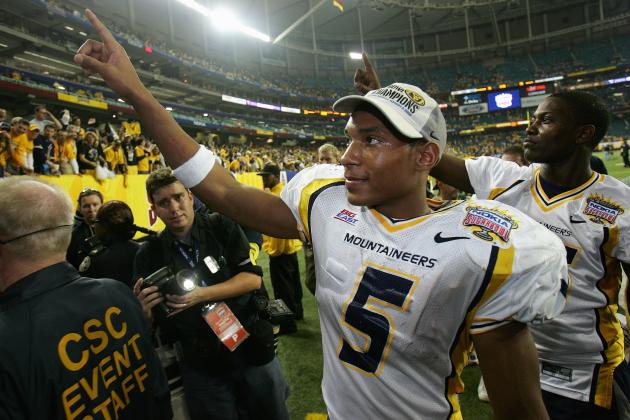 Streeter Lecka/Getty Images

In 121 years, the West Virginia football program has made a heck of a name for itself. Ranked 14th among NCAA football teams in victories (701), the Mountaineers have a plethora of players that could comprise a dream team.
West Virginia fans have grown to expect greatness from their Mountaineers. From the historic run of the 1922 team, that was unbeaten and posted six shutouts in 11 games, to the 2008 team that upset the third-seeded Oklahoma in the Fiesta Bowl, West Virginia can rightfully say they have experienced centuries of greatness.
The Big 12 contenders have been the home of countless talent. Current Director of Intercollegiate Athletes Oliver Luck, who was a stellar quarterback in his day, will make sure the college keeps things that way.
When a team has shown over a hundred years of incredible talent, one has to wonder: what would their "dream team" look like? Who would be on it?
Well wonder no further. In these 10 slides are the players that would surely be on the Mountaineer dream team.
Unless stated otherwise, all player stats retrieved from (WVUstats.com)
Begin Slideshow

»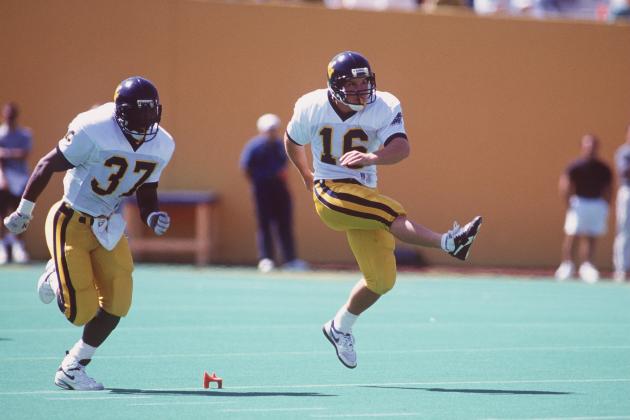 Rick Stewart/Getty Images

Todd Sauerbrun, who would eventually make three Pro Bowl appearances, is the undisputed punter for the Mountaineers' dream team.
Sauerbrun was selected for the first team All-Big East Conference during his sophomore, junior and senior year with West Virginia.
In his senior year, Sauerbrun set an NCAA record with the highest yard punting average (48.4 yds).
After his college years, Sauerbrun played a full 14-year career on five different NFL teams.
As one of the best punters to ever play college football, Sauerbrun would be West Virginia's guy to make the opening punt.
(all stats via the Herald-Journal)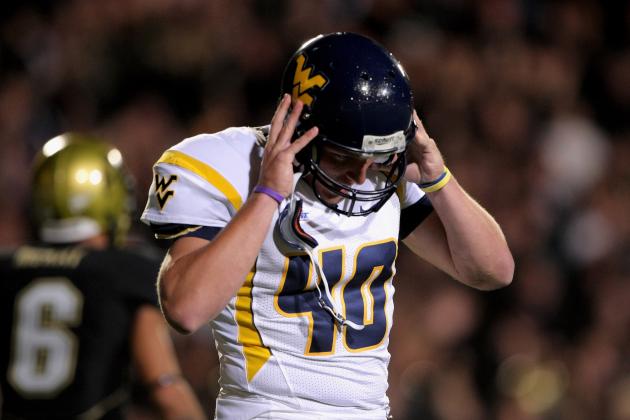 Doug Pensinger/Getty Images

Sitting on top of the West Virginia Football rankings with most career points (384) is kicker Pat McAfee. As if it were not easy enough to pull the guy off of the top-rankings chart, there is even more upside to McAfee.
McAfee was stellar from his freshman year—he started and was 11 for 18 on field goals (via WVUsports.com). He was clutch in countless big games, including one against Villanova, in which he kicked a 52-yarder for the win.
McAfee graduated from West Virginia and was picked up by the Indianapolis Colts, where he currently plays today.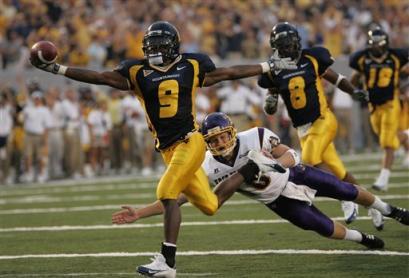 Photo credit: Scott Groves (via http://www.stlallsports.com)
Adam "Pacman" Jones (2002-2004): Adam Jones put up big year after big year during his time as a Mountaineer. "Pacman" played 11 games in his freshman year and was selected for the second team All-Big East Conference the year after.
He eventually became secondary captain and led his team in tackles during his junior year.
After his senior year, Jones made sure his name was near the top of several different ranking categories. He is ranked third at WVU with his kickoff return yardage (1,475 yds) and sixth with his yards per punt return average (10.92).
Pacman would lead West Virginia's secondary.
Aaron Beasley (1992-1995): In 1994, Aaron Beasley led the nation in interceptions (10), six of which occurred in consecutive games.
The three-year starter also finished 1994 with 57 tackles and 18 deflected passes. Beasley's versatility would be essential between "Pacman" and "Dirty Davis".
James "Dirty" Davis (1999-2002): A solid defensive back, Davis accumulated a respectable 100 tackles in his sophomore and junior year. Davis ended his career with 120 tackles and four sacks.
Davis graduated and played professionally with the Detroit Lions (2003-2005) and the New York Giants (2006-2007).
David Mayfield (1991-1994): 172 tackles, 69 assists and seven career interceptions in a 37-game career is why Mayfield made the cut. Mayfield has earned CFA Scholar-Athlete Team honors, the Second Team Academic All- American honors and CFA Good Works Team honors.
All Stats (via: WVUstats.com)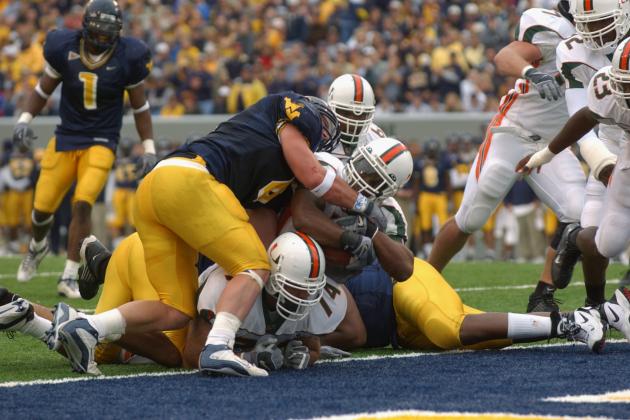 Doug Pensinger/Getty Images

Chuck Howley (1955-1957): Perhaps the best athlete to ever wear blue and yellow, Chuck Howley was a Mountaineer to whom sports came natural.
Howley is the only student in West Virginia history to letter in five different sports. Howley participated and excelled in football, track, wrestling, gymnastics and swimming.
Howley helped the Mountaineers produce a 21-7 record over three years as well as an historic upset victory over Penn State (21-7).
After college, Howley went on to play professionally for the Dallas Cowboys, where he would make history.
In the 1971 Super Bowl, Howley was voted the game's MVP despite his team enduring a three-point loss to the Colts (13-16)—making Howley the only football player on the losing team to win the Super Bowl MVP title.
Anyone familiar with the West Virginia athletics program knows the name Chuck Howley and omitting him from this team would be a crime.
(all Howley stats via: WVU's alumni website)
Sam Huff (1951-1955): Huff, who was a Pro Football hall-of-famer and former New York Giant, had an incredibly memorable athletic career. Huff made history when he became the first football player to be featured on the cover of Time Magazine in 1959.
Before all of this, Huff got his sea legs as a four-year letterman in West Virginia. The Mountaineers had an impressive four-year record (31-7) with Huff on the team.
The All-American linebacker is one of the best West Virginia has ever seen.
Grant Wiley (2000-2003): While Huff is definitely one of the greatest linebackers the Mountaineers have seen, Wile is arguably the best.
The All-American was voted the Big East Rookie of the year in 2000. The title was a no-brainer after an explosive freshman year—he recorded 94 tackles, three interceptions and a touchdown reception.
Unfortunately, Wiley's professional career ended prematurely—a shoulder injury prohibited him from playing and he never made it out of the Minnesota Vikings training camp.
During his time as a Mountaineer, however, Wiley was invaluable.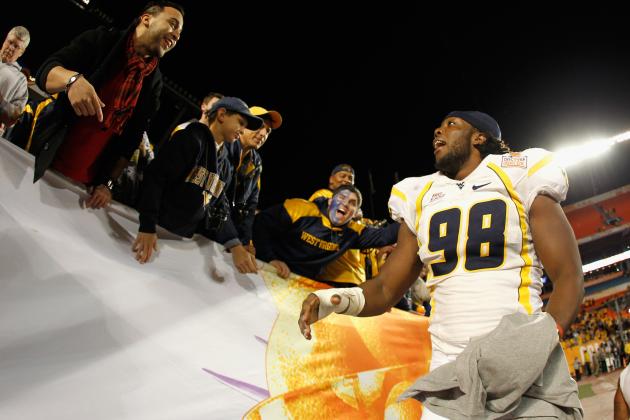 Mike Ehrmann/Getty Images

Tom Briggs (1990-1992): Briggs had 91 tackles and 12 sacks in 22 games during his junior and senior year.
Towering at 6'5" and weighing 230 lbs, Tom Briggs was impermeable on the defensive line.
Briggs made it to the Atlanta Falcons training camp but migrated to the Arena Football League, where he currently plays for the Tampa Bay Storm.
John Thornton (1995-1998): A consistent starting defensive tackle during his sophomore, junior and senior years, Thornton was a go-to starter for West Virginia. Thornton was also a two-time All-Big East selection and won First-team All American honors.
John Adams (1973-1974): One of West Virginia's few defensive tackles/all-time letterwinners, John Adams had a short but impressive college career.
Adams had 149 tackles, five of which were for loss, and four sacks—very impressive for a 22-game career.
Will Clarke (2010-2013): After posting 34 tackles and two sacks in only 13 games his sophomore year, the dream team will look to Clarke to lead their new defense.
Will Clarke could easily deliver an even bigger year this season. He is becoming a leader as he spends more time on the team and is going through the motions of a stellar college defensive end.
It might be a little early to throw him on the dream team, but after his breakout season last year, Clarke has proven that defense comes natural to him.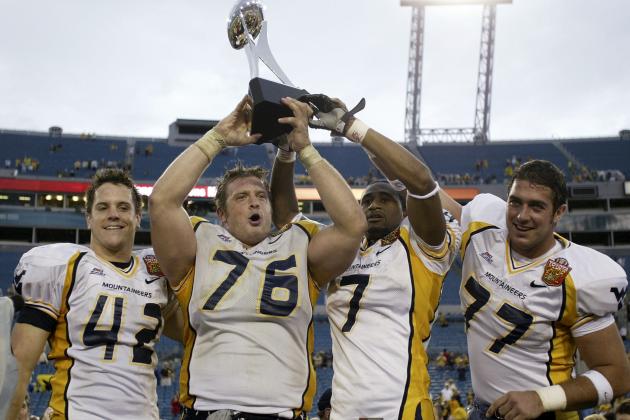 Marc Serota/Getty Images

Dan Mozes (2003-2006): Mozes moved around the offensive line throughout his college year. The three-time all Big East all-star went from offensive guard to center during his junior year.
Mozes was voted All-American by the NCAA and started all four years of his college career for West Virginia. In his senior year, Mozes won the Rimington Trophy, making him the first Mountaineer to win a national award since 1916.
In 2007, Mozes signed a deal with the Minnesota Vikings. Not long after that, Mozes won the Fred Schaus Captain's Award for his outstanding leadership with West Virginia.
His leadership as center would be imperative in holding down the offensive line—he is a must for the WVU dream time.
Brian Jozwiak (1982-1985): As the bodyguard for former star WVU quarterback Jeff Hostetler, Jozwiak blocked everyone that came his way. Jozwiak earned All-American status during his senior year.
Born and raised in West Virginia, Jozwiak was drafted 7th overall by the Kansas City Chiefs. He played three solid seasons before his career ended with a hip injury.
No, Hostetler will not be the dream team's quarterback, but Jozwiak will undoubtedly do the same for the dream team's QB as he did for Hostetler.
Bruce Bosley (1952-1955): A starter from his freshman year on, Bosley helped West Virginia win 31 of the 38 games he played during his college career.
The Humphrey Bogart-looking All-American was vital in a 1954 victory over Penn State—a feat that has become a valuable prerequisite for this list.
So to recap; Bosley is an All-American, beat Penn State and only lost 38 games—get him on the dream team's offensive line.
Dave Stephenson (1948-1949): Having spent five seasons with the Green Bay Packers and one season with the Los Angeles Rams, Stephenson left West Virginia ready for the pros. He was drafted in the fifteenth round by the Rams.
The West Virginia native could not have dreamed of playing anywhere but WVU. The pro-ready college student was an imperative Mountaineer during his career.
John Stroia (1985-88): As a guard during Major Harris' historic run, John Stroia is someone WVU would want on their dream team. Stroia was a part of West Virginia's first regular season undefeated team so obviously he is a go-to guy for the offensive line.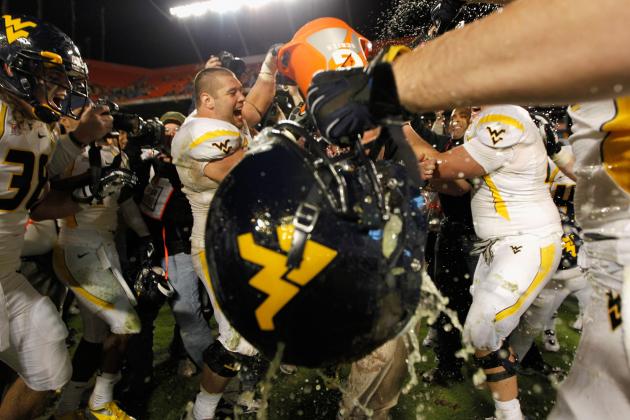 Streeter Lecka/Getty Images
no photo available
Shook is the only West Virginia all-time letter winner to play tight end and earn game time in all four college seasons.
In 27 career games, Shook racked up 128 rush yards and 246 reception yards. Shook gained the starting tight end job in his junior year and maintained it until he graduated.
Shook achieved CFA Scholar-Athlete Team honors at West Virginia and is the most stand-out tight end in Mountaineer history.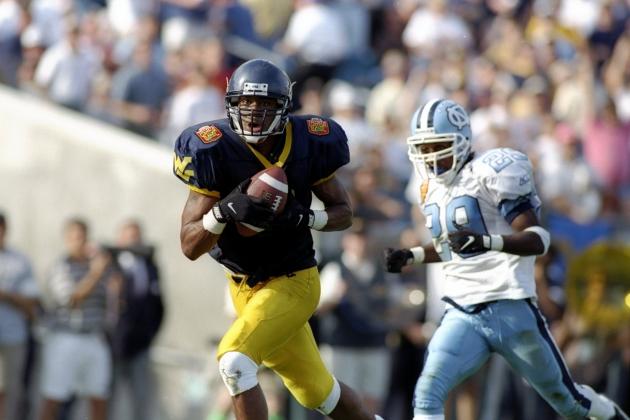 Al Bello/Getty Images

David Saunders (1995-1996, 1998): Arguably one of the best wide receivers West Virginia has ever seen, David Saunders has secured his rightful place on the dream team.
Despite having only played three seasons, Saunders has the college record for most career receiving yards (2608) and most career receptions (191).
Saunders is also tied with Shawn Foreman for most receptions in a season (77).
In his freshman year, Saunders scored his first touchdown on a 50-yard reception against East Carolina.
Saunders notched 1043 receiving yards during his "sophomore slump". He finished his sophomore year as a a First-team All-Big East selection.
When he graduated, he was drafted into the Arena Football League, where he played for eight years on six different teams.
James Jett (1989-1992): With a name that is indicative of his playing ability, James Jett was an olympic sprinter as well as a wide receiver. Jett was responsible for putting the Mountaineers on his back after star players Major Harris and Reggie Rembert graduated.
On top of his receiving skill, Jett was a natural receiver. In a game against Louisiana Tech, Jett scored a touchdown off of a 78-yard reception—a stadium record at the time.
West Virginia got what every football team wishes they had; an Olympic sprinter on a football field. His speed gave him a towering advantage over any team's defense. Needless to say, Saunders was inducted into the West Virginia Hall of Fame in 2002.
In 1993, Jett signed with the Los Angeles Raiders. In his rookie season, Jett recorded 771 yards on 33 receptions for 3 touchdowns, averaging 48.2 yards per game.
Jett ultimately ended his career with the Raiders as the eighth-leading receiver.
Doug Pensinger/Getty Images

Avon Cobourne (1999-2002): In his freshman year, Cobourne quickly filled the shoes of Amos Zereoue, who had left WVU early to play in the NFL. Cobourne ranked 1st in the Big East and 13th in the NCAA in rushing yards (1,139) during his first season.
Cobourne rushed for over 1000 yards in all four of his seasons with West Virginia and holds the college record for most career rush yards (5164 yds). He was a Heisman Trophy candidate during his senior year in 2002.
The All-American is arguably one of the best running backs in Mountaineer history.
Steve Slaton (2005-2007): It came down to Slaton and Zereoue for the last running back position. While Zereoue's rushing numbers were a bit higher than Slaton, Slaton dominated Zereoue in the receiving department.
Slaton's slight disadvantage in rushing numbers will not be detrimental to the dream team's offense and his receiving ability would be advantageous.
In his freshman year alone, Slaton earned the Big East rookie of the year and the ECAC rookie of the year.
Slaton holds the college record for most touchdowns scored in a single game (6) and the second most points scored in a single game (36).
Slaton also has the college record for most career touchdowns (55) and most points by a career non-kicker (318).
No offense to Zereoue, who was arguably snubbed off this list, but the Slaton and Cobourne duo would be outstanding.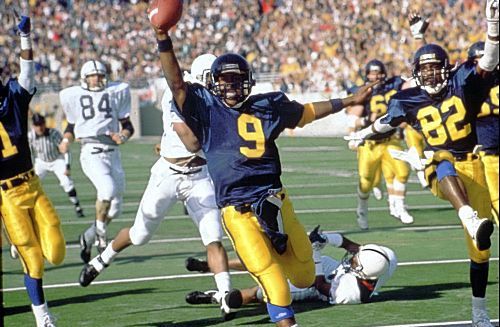 This should not come to any surprise, Major Harris is a West Virginia legend. Harris threw for West Virginia's first undefeated regular season during his sophomore year in 1988.
Major Harris holds the Mountaineer record in total yards (7,334 yds). He also became one of the very few quarterbacks in Division I history to pass over 5,000 yards and rush for more than 2,000 yards.
Pat White was a contender for the list, but Major Harris is too embedded into WVU history to be snubbed from the dream team.
Plus, who better than the quarterback with an undefeated season under his belt?
In a 1988 game against Penn State, Harris, alone, out gained the entire Penn State team.
Unfortunately, his undefeated season resulted in a loss against the number-one ranked Notre Dame Fighting Irish during the Fiesta Bowl. Harris played the entire game despite suffering a separated shoulder in the first half.
Harris was inducted into the College Football Hall of Fame in 2009.
Harris was a Heisman Trophy candidate for 1988, when he finished third, and 1989, when he finished fifth.
If the Mountaineer dream team is really expected to be unbeatable, it needs a quarterback who knows what it means to be unbeatable.