Southampton: 10 Games the Saints Need to Win to Avoid Relegation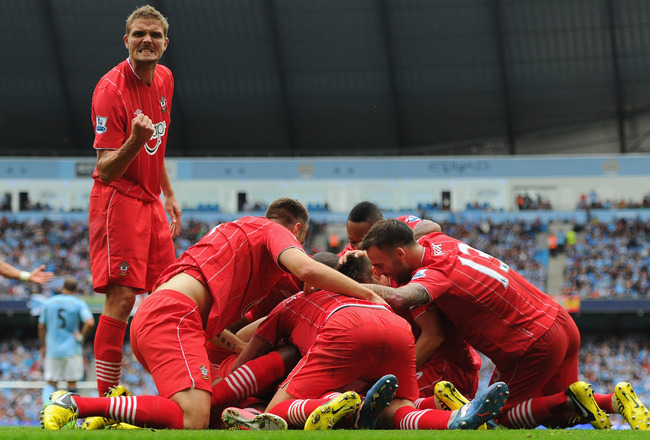 Reaching 40 points should trigger more Southampton celebrations like this
Michael Regan/Getty Images
Forty points. That is the assumed magic number that teams in the Premier League need to reach to avoid relegation to the npower Championship for the next season.
While the actual number of points needed for survival has been closer to the 35-37 range the past five seasons (only once was 40 needed, and Blackpool ended up being relegated via goal differential with 40 points in 2010-11), it usually takes around 10 wins and a handful of draws to reach that number.
For Southampton to make sure this year is more than a one-year stand in the Premiership, here are 10 games the Saints need to win to survive.
August 25, Home vs. Wigan Athletic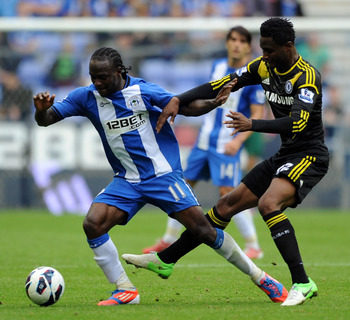 Chris Brunskill/Getty Images
The opening month of fixtures isn't very kind to Southampton. After Sunday's 3-2 defeat to Manchester City, Manchester United and Arsenal still loom in the first month of games for Southampton.
That's why Southampton really need to take advantage of this Saturday's game against Wigan. Wigan are coming off of a 2-0 defeat against Chelsea and once again will be contenders to face the drop at the end of the season.
If Southampton fails to win this match at home against another potential relegation rival, the first win may not come until the official start of fall. That would be a hole the Saints would rather not dig out of.
September 22, Home vs. Aston Villa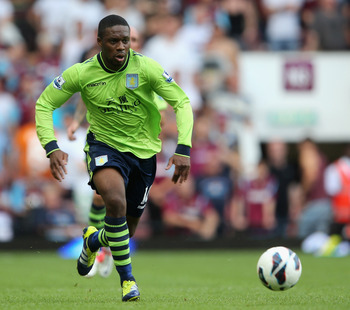 Warren Little/Getty Images
After the opening four-game gauntlet of matches, a home fixture against Aston Villa could provide some relief to Southampton.
Aston Villa have already lost to fellow promoted team West Ham United 1-0. Despite being one of the seven clubs to have played in every season of the Premier League, they are no shoo-in to survive this season, having finished 16th in the table last season.
If Southampton struggle to get off on a good start to the campaign, this would be an excellent opportunity to get the ball moving in the right direction.
October 20, Away vs. West Ham United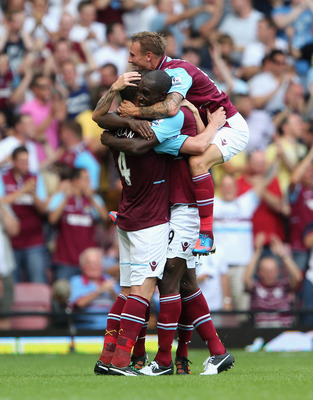 Warren Little/Getty Images
One of the keys to surviving the drop after gaining promotion to the Premier League is to do better than the other clubs who are in the same situation as you are. If you can manage that, you only have to finish higher than one club who was previously in the Premier League to clinch your survival pass.
In that case, each of the four matches against fellow promoted sides West Ham and Reading will take on some extra importance.
Southampton took four of the possible six points from West Ham last season in the Championship and will need at least that many from the two games against the side Southampton finished ahead of by two points for the second automatic promotion place last season.
November 17, Away vs. Queens Park Rangers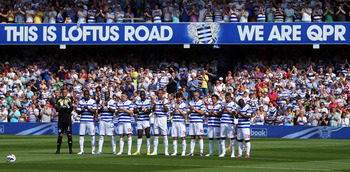 Richard Heathcote/Getty Images
Queens Park Rangers barely survived relegation last season. A 5-0 routing by Swansea City showed that QPR haven't done anything to dispel the opinions of those who think they will face the drop after this season.
Despite the fact that Queens Park Rangers fared reasonably well at home last season, winning seven and drawing five, this is one of the more winnable games Southampton will have away from St. Mary's this year.
November 28, Home vs. Norwich City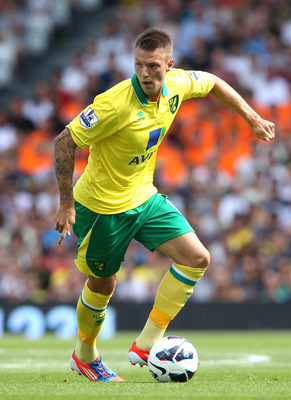 Jan Kruger/Getty Images
Another team that looks a bit wounded at the start of the season is Norwich City. Like Queens Park Rangers, Norwich also suffered a 5-0 opening day defeat, the Canaries doing so to Fulham.
This is one of the few scheduled mid-week fixtures, which can always be a bit tough on the traveling team. It would be hard to imagine Norwich will have a lot of fan support for a match four hours away from home on a Wednesday. Norwich will also be coming off another road game to Everton four days earlier, while Southampton will have played their previous game at home as well.
With all these factors in place, this is a game Southampton should win prior to the congested calender of the festive season kicking in.
December 8, Home vs. Reading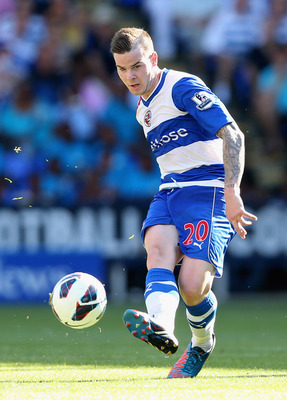 David Rogers/Getty Images
Not only is this match important in terms of surviving relegation, it's a bit of a revenge fixture as well.
Last April, Reading defeated Southampton 3-1 at St. Mary's in a match that ultimately gave Reading the npower Championship trophy, while the Saints settled for second. Southampton definitely do not want that result to happen this year, as that would be three winnable points down the drain.
March 2, Home vs. Queens Park Rangers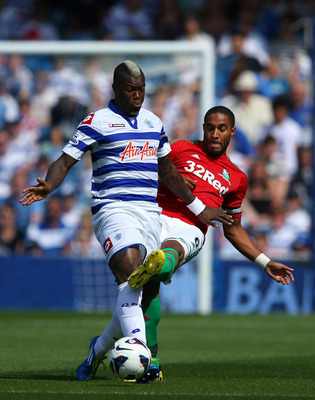 Richard Heathcote/Getty Images
If the away fixture at Loftus Road is a must-win for Southampton, then the return fixture at St. Mary's needs to be a five-star lock special.
After this match, Southampton will only have 10 games remaining. To stay on 40-point pace, Southampton need to have at least 30 points following this match. The three remaining need-to-win games would give Saints a 39-point haul, meaning a random draw in their other seven remaining games would be enough to keep them up at the end of the season.
April 6, Away vs. Reading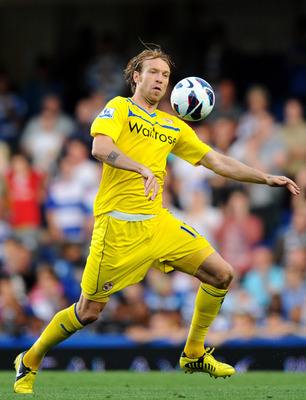 Mike Hewitt/Getty Images
This is the first leg of a big set of back-to-back fixtures against their fellow promoted sides. Last year, Southampton managed to get a draw out of their trip to the Madejski Stadium.
Saints might need to improve on that result and take all three points back to the South Coast to solidify their status away from the drop zone.
With just over a month left in the season, Southampton face some tougher away tests and need to have most of their required points locked up by this point to be able to relax down the stretch and not face any added pressure.
April 13, Home vs. West Ham United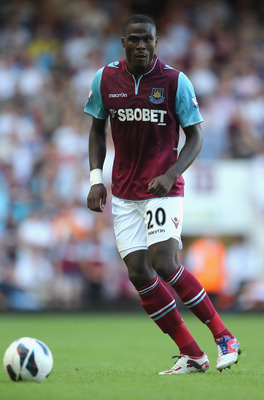 Warren Little/Getty Images
The second leg of the back-to-back games against fellow promoted sides is probably more important than the first.
After this home game vs. West Ham, three of Southampton's next four games will be on the road, at Swansea, Tottenham and Sunderland. The lone home game in that stretch is West Bromich Albion. So this in the most winnable game for Saints in that five-game set.
Southampton fans should hope that the Saints have reached 40 points after this game, otherwise, it will be a lot of fingernail chewing and antacids for the next month.
May 19, Home vs. Stoke City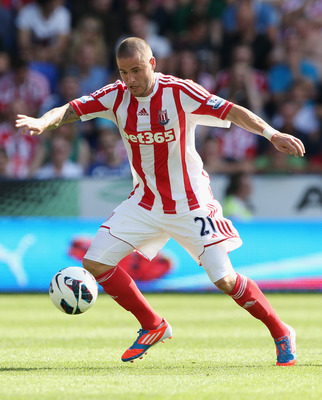 David Rogers/Getty Images
Southampton is no stranger to great escapes. And the fixture computer may have very well granted the Saints a reprieve on the final day of the season when it generated the schedule for 2012-13.
Stoke City will likely be safe on the final day of the season, but nowhere near a spot in Europe, meaning the incentive to win this match might be a bit lacking. If Southampton haven't reached 40 points by this point, the three available points from this match would give the Saints one final boost to stay in the top tier for 2013-14.
Keep Reading