Outspoken is one of the kinder adjectives that has been used to describe Jeremy Roenick throughout the years. Some of the not-so-kind words that could be used to describe Roenick are megalomaniacal, self-absorbed or just the old standby, full of it. Let's face it; the 42-year-old Roenick never met a camera and microphone that he didn't absolutely fall in love with.
So when Josh Rimer from Nextsportstar.com placed a microphone in front of Roenick, it was only a matter of time before Roenick provided his interviewer with some memorable lines. One of those quips was aimed squarely at the Pittsburgh Penguins, and the contract they gave to team captain Sidney Crosby: (h/t to Stephen Whyno of The Washington Times for transcription)
And then you have the Pittsburgh Penguins who give the guy who has the biggest concussion problems in all of hockey a 10-year deal or whatever Sidney Crosby got. I hope this concussion clause is in there. I think Sidney Crosby is the best player in the game, don't get me wrong, but when you have concussion problems the way that he has in the last year and a half and you give him a 10-year deal, is that smart business? I don't think so.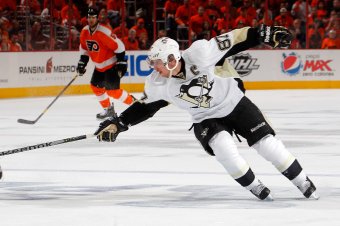 Paul Bereswill/Getty Images
Roenick is entitled to his opinion, but concerning Crosby's deal with the Penguins he is dead wrong. The deal makes perfect sense for the franchise—something that I detailed on the day that the contract was signed. For Crosby, that deal was a no-brainer; $104 million over 12 years. Why shouldn't he sign that contract?
That's not to say that I don't understand Roenick's point, because I do understand what he is saying. However, to think that the Penguins just threw this offer together because it is for an $8.7 million cap hit over the duration of the contract is short-sighted.
No smart business would offer up a contract of that magnitude without doing an in-depth risk analysis first, and in this case, the rewards far outweigh the risks, even if the contract is not insured.
To be fair, Roenick didn't just throw Crosby under the bus; he also threw the Zach Parise and Ryan Suter under the wheels of the Greyhound he was driving: (h/t The Washington Times transcription)
When you give [Ryan] Suter and [Zach] Parise those 10, 12-year, 13-year 14-year deals, you're committing contract suicide right here. Look what happened to [Alexei] Yashin, look what happened to [Rick] DiPietro, none of these guys have lived up to these long-term contracts because this game is so hard, it's so physically demanding, it is one of the most powerful, hard-hitting, injury-filled games in the world and you're giving these 13-year contracts.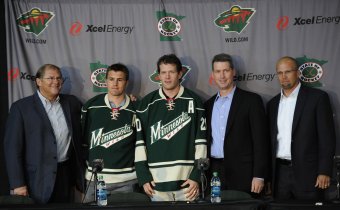 Hannah Foslien/Getty Images
Again, Roenick is entitled to his opinion, but to put Suter and Parise in the same group as Yashin and DiPietro is flat out unfair. Did the Minnesota Wild overpay for Suter and Parise by signing them to identical 13-year deals worth $98 million? Yes, they probably did, but to compare the work of Chuck Fletcher to the work of Mike Milbury is unfair to Fletcher.
Milbury was known for making questionable deals throughout his tenure with the NY Islanders, Fletcher has not. If anything, until the Parise and Suter deals, you could argue that Fletcher was too conservative as a general manager. Also, for some perspective, adjusted for inflation, Yashin's deal would be worth over $113 million today.
Another thing that's not being mentioned is the fact that coming from a former player these comments and criticisms are almost laughable. If the shoe was on the other foot, and Roenick was still playing today and in line for a new contract, would he be singing the same tune? Would Jeremy Roenick receiving a long-term deal be the end of the hockey world? I highly doubt it.
Roenick needs to step back and let the players of today get what the owners are willing to give them. If anything, he should be celebrating these deals, not condemning them.