Predicting Landing Spots for the Top 15 2013 Free Agents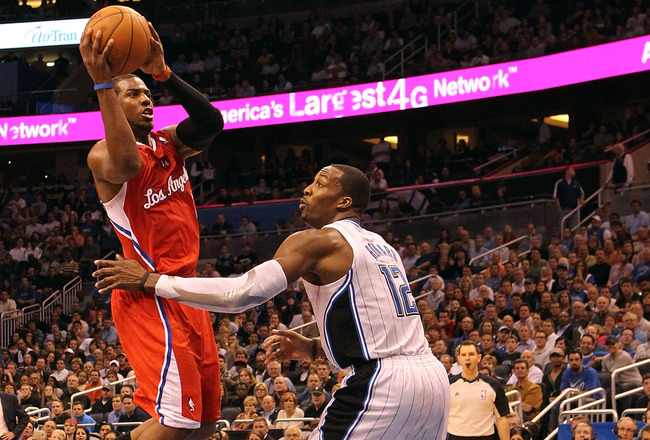 Sam Greenwood/Getty Images
It's a bit early to start getting excited about it, but 2013 free agency in the NBA is going to be a feeding frenzy for teams with cap space, with countless players coming off rookie scale and regular deals entering free agency. Where 2012 was the salad before the meal, 2013 is going to be the 15 ounce ribeye, the baked potato and the desert all rolled into one.
Teams this season did a great job of protecting the cap space they had this year in order to attempt to blow all their money next season. The only question that remains is who ends up going where.
There's going to be a run for the top free agents, but don't expect too many of them to change teams under the new collective bargaining agreement. Some will switch, for sure, but the allure of another year of guaranteed money from the team that owns a player's Bird Rights is going to prove too much to wrench players free from their nests.
Players are going to be cautious, but how cautious will they be? Surely the guys looking at a maximum deal are going to lean more toward staying at home unless they're in a bad situation. However, guys looking at leaving a team for a better chance at a title will have plenty of options.
A lot will happen between now and next July, but it's never too early to look at who is going to be big spenders at that point.
15. Tyreke Evans: Detroit Pistons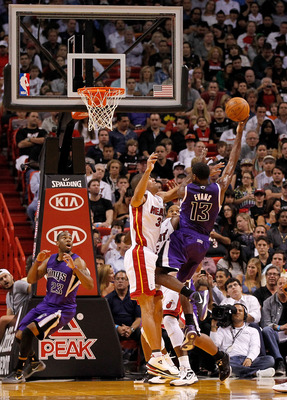 Mike Ehrmann/Getty Images
You know what the Pistons need? A guard that they can overpay. You know who's on the market next year? A guard that they can overpay.
'Reke has made a career out of fantasy basketball, putting up numbers good enough to look like a really good young talent, making for some intriguing conversations and making some insatiable buzzer-beaters, but he's never going to be a top option on a championship team. Hell, I'm not sure he could be a number two option on a good playoff team.
That being said, I'm totally behind overpaying Tyreke Evans a little bit if it means giving your team some direction, giving them a player with some confidence and making your fans happy (sort of) with a player with some ability to be dynamic.
14. Kevin Martin: Utah Jazz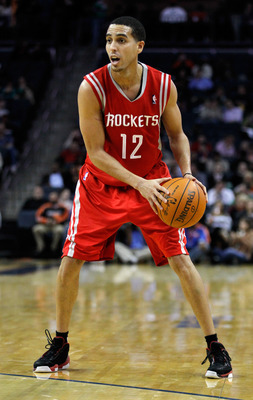 Streeter Lecka/Getty Images
The Utah Jazz are going to have all these shots and nobody to take them next season, which means they need a guy who is comfortable taking a bunch of shots a game. On top of that, they need a shooting guard who can put up some numbers and bring some experience to the team.
Kevin Martin isn't the guy to build a team around, but he's certainly a nice piece to go alongside some intriguing young players in Utah.
Between Derrick Favors, Enes Kanter, Gordon Hayward, Marvin Williams and the ton of cap space they have sitting ready and willing next season, Utah could build themselves a nice little team with the right offseason moves.
13. David West: Indiana Pacers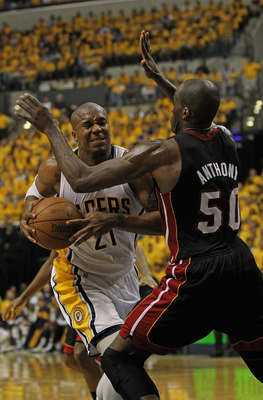 Jonathan Daniel/Getty Images
It seems like David West works too well right next to Roy Hibbert for them to let him go when their cap space is starting to fizzle away, and if they did it would only be because they had a replacement in mind. With no replacement in the foreseeable future (and don't you dare try to talk me into whatever Plumlee they drafted), West should be staying there.
Indiana has a chance to keep together a core of terrific and dynamic players that fit well together in the same city for a number of years, which has become quite a task at this point, and it should be nothing to shake a stick at.
After they spent last season near the top of the Eastern Conference, gave the Miami Heat a run for their money and excited the people of Indiana near the end of the season, this team should be good and in our lives for a while.
12. Steph Curry: Golden State Warriors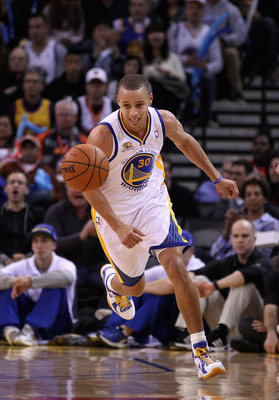 Ezra Shaw/Getty Images
This is the make-or-break year for Stephen Curry, and if he breaks again there's no way he can make a case as a max or near-max salary kind of player.
When Curry is healthy he's one of the most impressive point guards in the league. He's damn near Steve Nashish with his shooting ability and he can distribute the ball as well as most of the guys in the league. However, if he can only do that for you in 65 games a year then he can't make the case to get paid like someone who can play the whole season.
Curry is going to get a fine deal one way or the other, but he's going to be a dangerous commodity. If he does get injured some team could take a gamble on him and throw superstar money his way, and Golden State is going to have to weigh their options. It might be a huge gamble, but it seems like they would match almost any offer, depending on the circumstances.
11. Paul Millsap: Philadelphia 76ers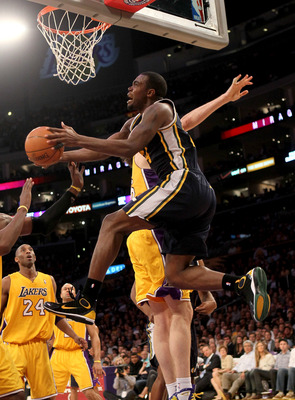 Stephen Dunn/Getty Images
It seems to me that the Utah Jazz should put either Paul Millsap or Al Jefferson on the trade block at some point during the season, and possibly both of them if they really want to put some security in their future. However, it's still likely that whatever team lands Millsap will lose him in free agency.
Moving forward, the Philadelphia 76ers are without a power forward that can play the position like a man and still score copious amounts of points while intimidating offenses. Lavoy Allen can get out and run from time to time and Spencer Hawes is, well, Spencer Hawes, but Millsap would be a drastic improvement.
On top of that, he's a young player capable of fitting in with their already young team, getting ready to take on the top teams in the Eastern Conference, that is if everything goes well, which it might not.
10. Ty Lawson: Denver Nuggets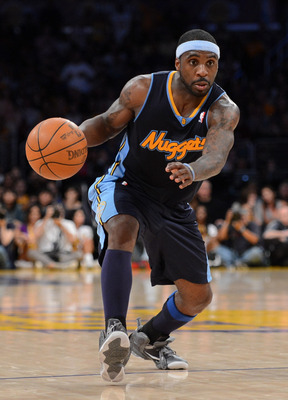 Harry How/Getty Images
Ty Lawson is the key cog in the Denver offense that is nothing if not exciting to watch, and letting him go would almost mean taking the team apart to the core and having a miniature rebuilding session.
Lawson's speed mixed with his ability to control the ball in both the half court offense and the fast break allows Denver to play at nearly any pace, although the preferred pace is obviously at top speed.
As a restricted free agent, Denver reserves the right to match any offer Lawson gets elsewhere, and unless some team does something idiotic like offering him a maximum deal then he should end up with Denver for another four-year deal.
9. Al Jefferson: Dallas Mavericks
Jonathan Daniel/Getty Images
Al Jefferson doesn't get nearly enough love for the way he plays in Utah, being one of the most skilled big men in the NBA. In fact, I'd put his low-post skills up against any other seven-footer in the NBA and he'd probably beat everyone but Pau Gasol.
Jefferson gets his first taste of legitimate free agency even though he is on his third team in the league, having been traded twice already. Believe it or not, Jefferson is only going to be 28 this year, despite the fact that it seems like he's been in the league for ages.
In all likelihood, Big Al is on his way out in Utah as they figure out what the future of this team is and playing alongside Dirk Nowitzki could be a perfect fit for both of them. Jefferson can take care of teams in the post as Dirk mills about looking for that flamingo fade-away.
It gives Mark Cuban a center it would make sense to overpay and it gives Dallas someone to take on the rebounding load with all their big dude's contracts expiring after this season.
8. Monta Ellis: Atlanta Hawks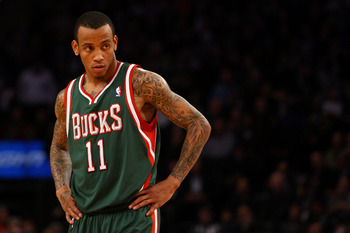 Chris Chambers/Getty Images
Monta Ellis has an early termination option in his current contract that will almost certainly make him a free agent in 2013, even though he would be walking away from $11 million. He'll be able to nab a long-term deal rather than risk getting injured next year and limiting his earnings in the future.
While I find the Ellis-Jennings combination as exciting as the next guy, I just don't think it's going to lend itself to a ton of wins this season, and a missed playoff berth from Milwaukee would probably mean a new team for Monta.
Meanwhile, Atlanta lurks in the wings with just Al Horford and John Jenkins under contract next season, giving them something like $11 billion to spend next Summer. I would advise against overspending for a guy like Ellis, that is unless you have nobody to take shots and giving him $14 million a year instead of $12 means the difference between having just $25 million and $23 million of total salary.
7. James Harden: Phoenix Suns
Pascal Le Segretain/Getty Images
Let me start this out plainly; James Harden is not worth a maximum deal. In fact, James Harden isn't worth anything approaching a maximum deal. That being said, don't be surprised when you see ESPN's ticker inform you that Harden signed a four-year, $55 million offer sheet with some freewheeling team.
That's going to pose a grave question to Clay Bennett's wallet, and it's going to be a tough one to answer. How far into the luxury tax can Oklahoma City go and still be profitable moving forward, and how will the team fare with less flexibility above the salary cap?
Enter the Phoenix Suns. The moves Phoenix made this offseason should be eerily reminiscent of when Houston did their best to stay afloat as Tracy McGrady disintegrated and Yao Ming retired early. They need a player to center it all around and they need to find him before fans get restless (like they aren't already) and before the players realize it's a bad situation.
James Harden is an attractive player because he could be had for less than the maximum deal and he could preform like a max player at times. Of course, that all depends on whether or not he can preform as well as the number one option of some team as he has as the number three option for the Thunder.
6. Manu Ginobili: San Antonio Spurs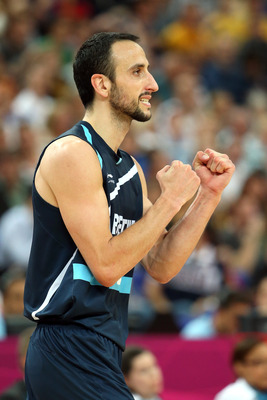 Christian Petersen/Getty Images
How likely is it that the San Antonio Spur lose one of their key players in free agency? It's more likely that Dwight Howard goes back to Orlando next July.
San Antonio is a basketball black hole in the best possible way. Players go in and they can never leave, that is unless San Antonio decides they want to spit them back out again (I don't think I know exactly how black holes work), and it should be no different with Manu Ginobili.
Ginobili just turned 35 and should be looking for a final big deal, which San Antonio should be willing to give him. He's not going to get buckets of money, and he might not even get five years out of the deal, but he's going to get to finish out his career with the Spurs, which should be good enough for Ginobili.
Plus, who's going to defend the team from bats if he leaves? He's got a duty to fulfill on this team.
5. Andre Iguodala: Denver Nuggets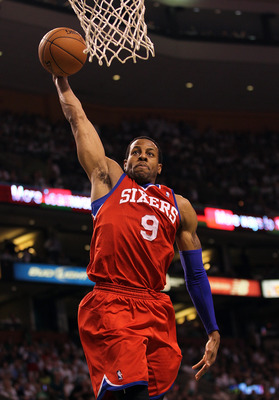 Jim Rogash/Getty Images
Andre Iguodala has been hot and cold on the trade to Denver, but after he gets a training camp in under George Karl and plays with these guys, he's not going to be able to get enough of it.
Remember last season when he was with the Sixers and they scored at a snail's pace? No longer my friends.
Iggy is joining a team that's going to run the ball up and down the court so quickly that he's not going to know what to do with himself. He's going to go back to finishing alley-oops like he did when Allen Iverson was in town (or, I don't know, like he did on the Olympic Team) and it's going to be fun.
Regardless of whether the city is up to snuff or not, Denver is too fun a team to want to leave. Plus they have so much young talent that they could blossom into a title contender in the next few years if everything goes right.
4. Josh Smith: Houston Rockets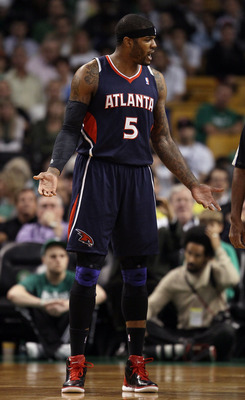 Elsa/Getty Images
Houston has the money to do some big things in next year's free agency market, and they're going to need to make a splash next year rather than beyond because of the poison pill contracts that they swallowed on Jeremy Lin and Omer Asik.
Josh Smith is not going back to Atlanta, that's one thing that's a given, and that's pretty much all we know.
At one point it did look like Boston could be major players, but they tied themselves up in a bit of a re-mix re-run of their big three (which wasn't a bad decision). Plus it would mean giving Kevin Garnett or Paul Pierce a direct look at their replacement, or it would force Garnett to play center, which he can do, he's just not as good at it now that he's older.
Smith would fit in well with Houston, especially if Lin works out as it would give him a point guard who can keep the ball out of his hands when he needs the ball to be kept out of his hands. Plus, Smith is one of those high production defense guys that Morey tends to love.
3. Andrew Bynum: Houston Rockets
Stephen Dunn/Getty Images
Andrew Bynum is Philadelphia's big prize in Dwightapalooza was Andrew Bynum, and while they didn't get any kind of guarantee of an extension, that's not necessarily a bad thing.
What happened was they got a chance to keep Bynum past this season by showing him they are a team in a position to win. Plus, of the guys they shipped away, Mo Harkless and Nikola Vucevic were easily expendable and Andre Iguodala was on the final year of his deal and on the move at some point anyway.
However, it seems to me that Bynum is just weird enough to forego a full maximum deal, meaning he's willing to take the four-year deal with slightly smaller raises each season on the free agent market rather than the five-year deal, if it means he can be his own man and pick his team out for himself.
He'd be leaving something like $20 million on the table, but if he's healthy and doesn't feel great about Philadelphia, making for a different team wouldn't be so bad.
Enter Darryl Morey and Bynum's reported interest in Houston, along with a few other teams. We've all looked at Morey as this god of a GM for the past few seasons, but for all intents and purposes he fell flat on his face this offseason, or so it may seem. This is Morey's best shot at making this offseason look right, and possibly last shot at keeping his job, so look for him to hit hard at the big man. And you know what? I think he can sway him.
2. Chris Paul: Los Angeles Clippers
Harry How/Getty Images
Chris Paul is coming into his second year with the Clippers, and it's already the final year of his deal. Whether Paul is entirely happy in Los Angeles or not is up in the air, but it seems like he's having a good time alongside Blake Griffin.
Sure, there are some changes that he'd probably like to see, starting with a head coach who can actually design effective inbound plays, but that should all come in time we can only hope.
As far as Paul leaving Los Angeles goes, it just doesn't seem to make sense. He's in a situation where he's surrounded with young talent, and he is playing for a Clippers team that has actually made sound decisions for the past few years. They're destined for a disaster, right? It is the Clippers, after all.
Even still, that fifth year with all that extra money combined with the fact that there aren't too many teams out there who both have cap space and would be instant title contenders with Paul coming into town should keep him with the little sisters in L.A.
1. Dwight Howard: Los Angeles Lakers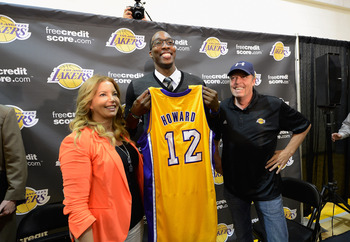 Kevork Djansezian/Getty Images
The traded that landed the Los Angeles Lakers Dwight Howard is the trade that everyone knew deep down would happen sooner or later, the only problem is that it happened way later. However, this should be the end of it, Howard is where he was always going to end up.
Among other things, Howard would have to walk away from nearly $30 million in guaranteed money should he decide to spurn Los Angeles for a team like Dallas, or Atlanta (deep down I'm hoping he's been trolling us all and he ends up going back to Orlando). That's too ridiculous a sum of money for a sound-minded individual to walk away from, especially when you consider how few teams are as well off and willing to spend money as the Lakers.
Aside from that, Howard just shelled out a cool $20 million on a mansion in Los Angeles, which doesn't exactly sound like the behavior of a guy who is going to be in and out of town for the next 10 months.
The combination of the money he would leave on the table with the winning tradition of the Lakers and the fact that they are in such a good position to win a title should mean at least five more years of Dwight in Los Angeles.
If you are one of those twitterers, you can follow me @JDorsey33.
Keep Reading