College Football: Betting Picks of Week One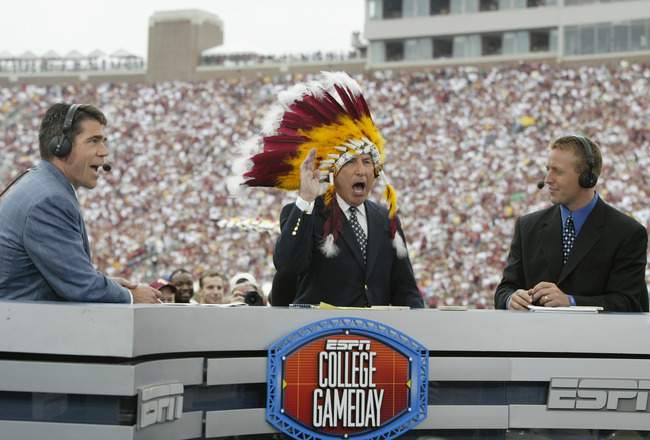 Craig Jones/Getty Images
Hello I'm Sean "Sport" McDermott and guess what? College football is finally here. It's time to wake up on Saturday morning and hear the marching bands play their schools' fight songs, while thousands of fans are dressed in their school colors showing their school spirit.
It is also time to start calling Vegas with your bets. I will be writing a weekly slideshow on my top five betting picks of each week of the college football season. Here are my first five betting picks for Week 1 of the college football season. These picks should help add a few bucks into your wallets and/or purses.
Note: All lines and trends are from Scores and Odds.com.
Texas A&M Aggies @ Louisiana Tech Bulldogs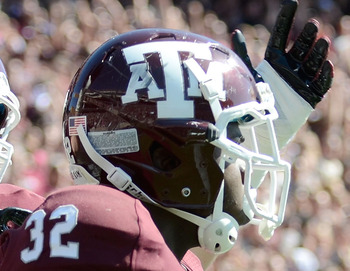 Sarah Glenn/Getty Images
Date: August 30 (Thursday)
Time: 7:30 p.m. Eastern
Current Line: Texas A&M by 8
The Story
Texas A&M comes into 2012 with a new head coach in Kevin Sumlin, new starting quarterback (Jameill Showers) and a new home in the SEC. The Aggies will feature talented senior running back Christine Michael, whose junior year was cut short due to a torn ACL. The Aggies also will have the talented tackle duo of Luke Joeckel and Jake Matthews, who should be able to hold off the Bulldogs defense. With that being said, the Bulldogs come into this matchup with a chip on their shoulders.
The Bulldogs come into the 2012 season as the clear favorite to win the WAC and are looking to make a splash from the get-go. Quarterback Colby Cameron returns after he passed for 1,667 yards and 13 touchdowns. LT also has an experienced O-Line back for the 2012 campaign. The Bulldogs offense last year generated 394.6 yards and 30.1 points per game. On the other side of the ball, the Bulldogs defense will have four returnees. Last year, the Bulldogs gave up 376.5 yards per game, which was 57th best in the nation, and they only allowed 23.2 points per game.
Recent Trends
Texas A&M has been 4-1 ATS against LT since 1992, but LT was 11-4 ATS as an underdog in the last three seasons. Texas A&M has gone 9-10 as the favorite ATS. The over-under is a crab shoot as Texas A&M has gone over 13 times and under 12 in the last three seasons, while LT has gone 13 over and 11 under.
Pick
I expect this game to be a high scoring affair. Louisiana Tech will hang around throughout the ball game as Texas A&M's defense will struggle.
Louisiana Tech (+8)
Final Score: Texas A&M 45, Louisiana Tech 38
No. 24 Boise State Broncos @ No. 13 Michigan State Spartans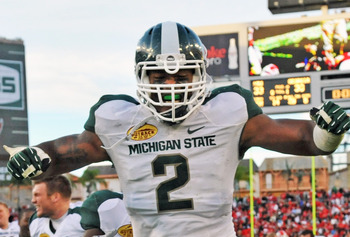 Al Messerschmidt/Getty Images
Date: August 31 (Friday)
Time: 8 p.m. Eastern
Current Line: Michigan State by 7
The Story
One of the most intriguing matchups of Week 1. Both teams come into the 2012 season with key departures. The Broncos lost the winningest quarterback in college football history (Kellen Moore), one of the best tailbacks in the nation (Doug Martin), an consensus All-American left tackle (Nate Potter) and their school record-holder for touchdown catches in a season (Tyler Shoemaker). The Broncos offense is in better shape than their defensive unit. With only one returning starter, the Broncos are certainly in a rebuilding mode for the 2012 season.
Michigan State must replace Kirk Cousins, who's leadership will be missed greatly. The Spartans also have a measly four returnees on the offensive side of the ball (all four returnees on the O-Line). Quarterback Andrew Maxwell should be able to hold down the fort for the Spartans. Maxwell spent the last two seasons serving as Cousin's backup. On the defensive side, the Spartans return eight starters of last season's No. 6 ranked unit in total defense.
Recent Trends
This will be the first ever meeting of these two schools. Boise State was 14-12 ATS in the last three seasons in all games. On the road the Broncos have gone 7-3. Michigan State has gone 17-10 in all games ATS over the last three seasons with a strong 9-5 home record ATS.
Pick
A Kellen Moore-less Boise State Broncos team is a team that I wouldn't bet on. Of course, Boise State has been a sexy pick over the past five seasons, but this team is really young and most likely needs a of couple games to find its footing. The deciding factor of this game is the Spartans defense. Boise State will struggle to find the end zone.
Michigan State (-7)
Final Score: Michigan State 24, Boise State 10
No. 14 Clemson Tigers vs. Auburn Tigers
Mike Ehrmann/Getty Images
Date: September 1 (Saturday)
Time: 7 p.m. Eastern
Current Line: Clemson by 3
The Story
The Clemson Tigers have the talent and are one of the favorites to contend for the ACC crown, but questions up front on both sides of the ball are concerning. With quarterback Tajh Boyd, tailback Andre Ellington and three starting wideouts returning, the Tigers look to have an explosive offense. Last year the Tigers averaged 33.6 points per game and 440.8 yards per game. New defensive coordinator Brent Venables will look to revamp the Tigers defense after a disastrous 2011 season. The former Sooner coach has eight defensive starters returning from last year's team. The Tigers defense has nowhere to go but up after giving up an average of 394.4 yards per game and allowing 29.3 points per game.
Two years removed from Cam Newtown and the BCS National Championship, the Auburn Tigers have fallen off the radar a bit. With LSU, Alabama, Arkansas, Texas A&M and Mississippi State in the SEC West, "War Eagle" is headed for another mediocre season. Gene Chizek piled in another top-10 recruiting class as he tries to make the Tigers a contender for the SEC Championship within the next three years. The Auburn Tigers have seven returning starters on offense and nine returnees on defense.
Recent Trends
This game is pretty close with the recent trends. Auburn has gone 5-0 in the last three years when the line is plus-3 to minus-3 while Clemson has gone 1-4. Clemson has gone 2-0 ATS against Auburn over the last three seasons.
Pick
Last year the Tigers of Clemson beat Auburn 38-24. I firmly believe that Clemson will cover the three-point spread in this years matchup. Auburn is a very good team, but like Boise State I think that Auburn needs a game or two to find its identity.
Clemson (-3)
Final Score: Clemson 31, Auburn 21
Georgia Tech Yellow Jackets @ No. 16 Virginia Tech Hokies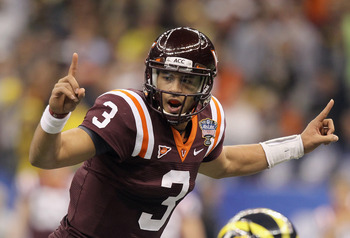 Matthew Stockman/Getty Images
Date: September 3 (Monday)
Time: 8 p.m. Eastern
Current Line: VT by 7.5
The Story
Georgia Tech continues to be one of the most consistent and exciting teams to watch in the FBS. Last year, the Yellow Jackets were a young team. Most experts predicted the Jackets to win six to seven games, but the Jackets won eight and could have won 10 games with two close losses to Virginia and Utah. This year, the Yellow Jackets bring an experienced team that's out for revenge, especially against their rival Virginia Tech. The Yellow Jackets do have one major problem and that is their receiving corps. No returning receiver has a single career reception.
Virginia Tech enters the 2012 season as the No. 16 ranked team in the nation. The Hokies offense will anchored by starting quarterback Logan Thomas, who has an uphill battle ahead of him. The Hokies have to replace eight starters, which includes four offensive linemen, two wideouts and the ACC Player of the Year, running back David Wilson. On the other side of the ball, the Hokies defense is poised to be the best in the ACC. With eight returning starters, defensive coordinator Bud Foster looks to put out a defensive unit that will be as good as their 2005-06 unit.
Recent Trends
Virginia Tech was 1-1 ATS against the Yellow Jackets over the last three years. Georgia Tech is 3-1 ATS when games are played at Virginia Tech. In the last three seasons, VT was 5-4 ATS as a favorite of 3.5 to 10 points while GT was 1-2 as the underdog in the same category.
Pick
I have a feeling this is a classic "trap game". The Hokies are always a sexy pick at home, but the recent trend of Georgia Tech going 3-1 ATS at Virginia Tech makes me believe the Yellow Jackets will cover.
Georgia Tech (+7.5)
Final Score Virginia Tech 31 Georgia Tech 28
Game of the Week: No. 8 Michigan Wolverines vs. No. 2 Alabama Crimson Tide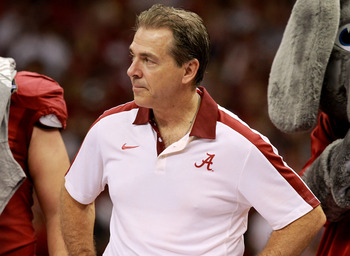 Ronald Martinez/Getty Images
Date: September 1 (Saturday)
Time: 8 p.m. Eastern
Current Line: Bama by 12.5
The Story
Hands down, the best game of Week 1 of the college football season will be when Nick Saban's Crimson Tide take on Denard Robinson's Wolverines of Michigan. This game is an early season clash of top 10 teams. The reigning national champions have 10 returning starters (six on offense and four on defense). Honestly, I believe that this Alabama team is the strongest team in the nation. Despite the low amount of returning starters, Saban's recruiting stockpile should easily take care of business as starters. Last year, Alabama's defense ranked No. 1 in every defensive category.
Two potential Heisman Trophy candidates in Robinson and Fitzgerald Toussaint and an outstanding defensive backfield have Ann Arbor buzzing again. One downer though for the Wolverines is the suspension of Heisman hopeful Toussaint, who is out indefinitely. In just one season, Brady Hoke has brought the Wolverines back to the FBS top 10. Last year, the Wolverines went 11-2, with an Sugar Bowl victory. There is no better way to open up the 2012 season with a victory against Alabama, as the Wolverines are in search for their first national championship since 1997.
Recent Trends
Alabama was 5-2 ATS over the last three seasons when they were the favorite by 10.5 to 21 points. The Wolverines are 0-1 ATS when they are the underdog of 10.5 to 21 points. As an favorite, Alabama was 17-9 ATS over the last three years, as the Wolverines were 2-5 as an underdog.
Pick
This is probably the safest pick of the week. The loss of Toussaint and the overall strength of the Crimson Tide will be too much for Michigan to handle. I expect Alabama to show the nation that it is the reigning national champ and will show no mercy throughout the year.
Alabama (-12.5)
Final Score: Alabama 42 Michigan 17
Keep Reading