5 Ways Dwight Howard Can Repair His Tarnished Image with L.A. Lakers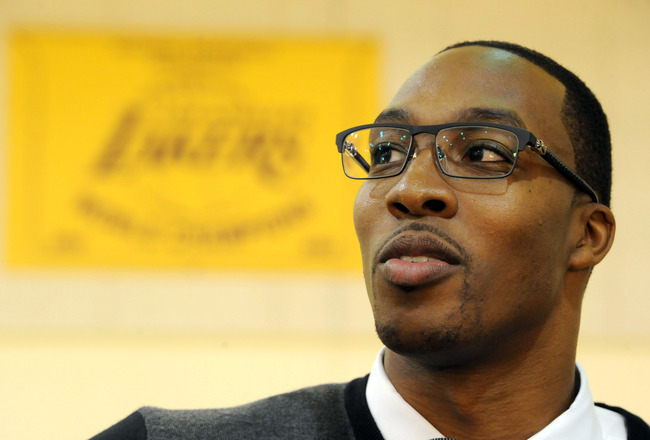 Jayne Kamin-Oncea-US PRESSWIRE
Dwight Howard may finally have a new home, but has the Dwightmare really ended?
The league's best center has widely been regarded as the league's biggest drama queen after stating he wanted to leave Orlando, only to change his mind again, again and again.
Holding the Magic franchise captive for the past year, he also managed to get both his head coach and general manager fired in the hopes their dismissal would perhaps persuade him to consider staying.
Now, Howard isn't really a bad guy.
In fact, for most of his career, he's been very well-respected and has stayed out of trouble outside of the arena. Howard just needs a little time to collect himself and learn from his mistakes.
As we've seen in the past, getting yourself in deep with fans and the media isn't at all an inescapable situation.
Here are five tips for Dwight to help him rebuild his image and win back NBA fans once again.
Stay Away from the Media at All Costs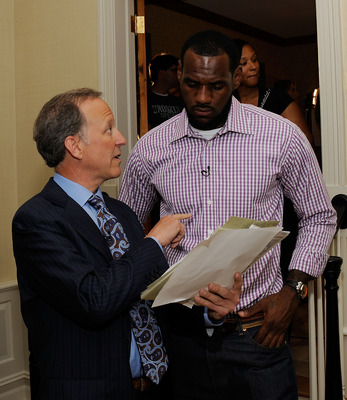 Larry Busacca/Getty Images
As tempting as it would be to call ESPN to run a one-hour special about you answering a single question, it's probably best not to if you're Howard.
In fact, at this point, avoiding the media at all costs would be in your best interest.
Believe it or not, some media members prefer to add fuel to the fire whenever there is drama surrounding an athlete.
Crazy, right?
Not the fine writers at B/R, mind you, but others nonetheless.
Howard would be wise to lay low for a while, because any questions coming at him will likely revolve around his contract situation or the whole holding-the-Magic-captive thing.
Let the media prey on some other unsuspecting athlete who will undoubtedly make headlines for some off-guard comment or late-night club incident.
Lay low for now, Howard, and let your game do the talking.
Avoid Conflict with Kobe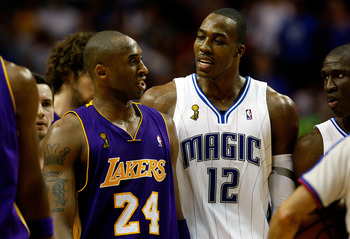 Chris Graythen/Getty Images
If Howard wants to reconcile with his old fans and appease the new ones in Los Angeles, he better do whatever Kobe Bryant wants.
Love him or hate him, Bryant is one of the most popular athletes worldwide and has a fan following unlike any other current athlete.
The Lakers are Bryant's team, and Howard needs to realize this.
While Kobe is seeing his best days leave him, Howard is just now approaching his. Dwight may end up being the biggest difference maker on the Lakers this season, but it's Bryant who still owns LA.
Getting along with Kobe and buying into the Lakers system is crucial for Howard if he wants to win his first championship and begin to repair his image.
Don't Date a Kardashian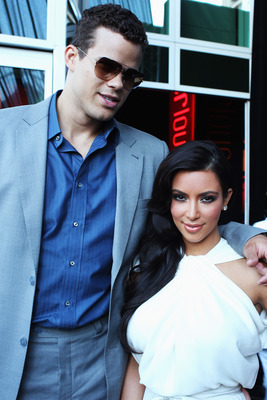 Mark Thompson/Getty Images
Well, this one is obvious, yet it's worth noting.
In a study that appeared on Forbes.com last December, a study was done ranking the 10 most disliked NBA players. You can see the list here, but first a spoiler: 20 percent of the players on this list were married to a Kardashian sister.
Topping the list was Kris Humphries, who most people nationwide could tell you all about his relationship with Kim Kardashian, but they probably have no idea what team he even plays for.
Also on the list was LeBron James, with his nightmare summer of 2010, Metta World Peace, who ignited the worst stadium brawl in perhaps all of NBA history, and Tony Parker, who supposedly cheated on wife Eva Longoria—with a teammate's wife.
All Humphries did was marry a beautiful woman and later get divorced.
Howard should learn from Humphries' mistake and avoid any and all Kardashians at all costs.
Sign a Long-Term Deal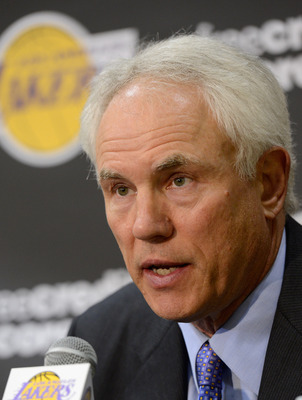 Kevork Djansezian/Getty Images
The trade is now complete, but the contract situation remains.
Howard is in the last year of his deal that's paying him better than $19 million. The Lakers currently hold a team salary of $99 million, highest in the entire NBA.
Upon completion of the trade to L.A., neither Howard nor Andrew Bynum signed a long-term deal, and both are scheduled to be free agents next summer.
For Howard, re-signing in L.A. should be a no-brainer.
The Lakers have a tradition of winning, and with Kobe, Steve Nash and Pau Gasol all under contract for this season and next, L.A. has an incredible two-year window for a title.
Howard can also sign for longer and more money with L.A. than any other team due to the NBA's new CBA rules.
If Howard signs his extension soon instead of waiting until next year's free agency, he'll not only eliminate a ton of repetitive questions from the media, but he'll also have the security of knowing he'll be playing on a winning team for years to come.
Win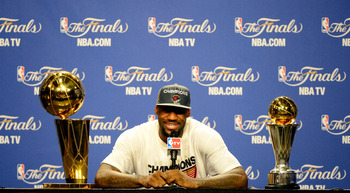 Ronald Martinez/Getty Images
As the saying goes, time heals all wounds.
In the NBA, time—and winning—are what seem to do the trick.
LeBron James could probably vouch for that, as he was a bull's eye for criticism last offseason after the Miami Heat lost to the Dallas Mavericks in the NBA Finals.
The ring-less jokes were funny, yes, but a tad overdone to say the least.
James now has a championship and seems to rebuilding his image nicely, one that took an even bigger nosedive than Howard's has recently.
If the Lakers win the 2012-2013 title, many will forget all about how Howard got to L.A. and will instead focus on what he's done since he's been there.
Keep Reading

Los Angeles Lakers: Like this team?