The 6 Most Pivotal Players for Miami Heat in 2012-13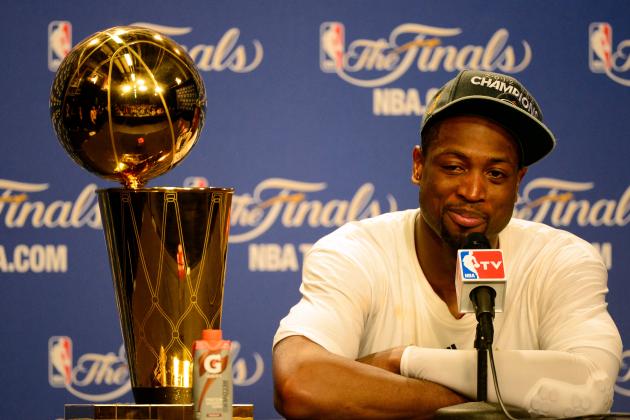 Ronald Martinez/Getty Images

The Miami Heat finally captured the first championship of the Big Three era. After falling in year one to the surprise package Dallas Mavericks, the Heat overcame a young, athletic Oklahoma City Thunder in the finals in comprehensive fashion.
LeBron James led the team all season long, winning both regular season and Finals MVP awards as he assumed the mantle of team leader as Dwyane Wade battled injuries during the season.
However, role players like Shane Battier and Mario Chalmers deserve as much credit for delivering the championship trophy to South Beach once again due to several inspired performances from both helping defeat the plucky Thunder team.
These players, along with a new addition, will again be pivotal in Miami attempting to be just the second franchise to repeat since Michael Jordan's second retirement in 1998 (The Los Angeles Lakers have repeated twice from 2000-2002 and 2009-10).
Begin Slideshow

»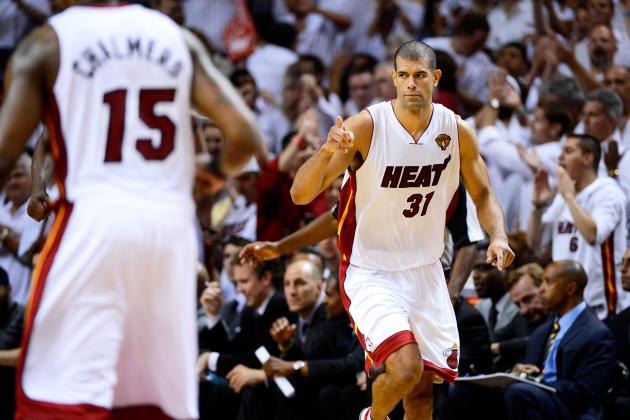 Ronald Martinez/Getty Images

Shane Battier was one of the few Miami Heat signings during the lockout-affected offseason. The veteran wing defender was signed to provide some depth and leadership on a roster that lacked both.
Little did the Heat expect that he would become a regular, one of the team's key defensive players and a confident spot-up three-point shooter, capable of inflicting damage on teams who dared leave him open to double one of the Heat's three stars.
This will be the job Battier has to perform well next season for the Heat to have continued success. With the formation of a new power in Los Angeles with the Lakers, Battier will be expected to provide his trademark exceptional defense against a team that will boast four premier scoring players at any one time.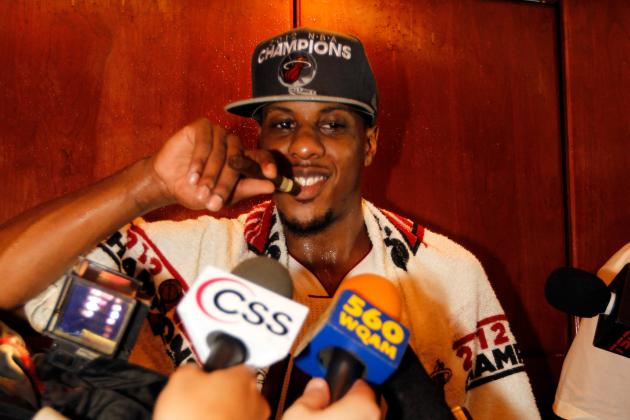 Mike Ehrmann/Getty Images

Mario Chalmers' breakout performance in Game 4 of the NBA Finals finally announced to the world that he is the Heat's point guard going forward.
It put to bed any talk of the Heat targeting a replacement in the offseason. Chalmers went off for 25 points on 60 percent shooting on a night that affirmed the Heat's status as title favorites. Nineteen of Chalmers' 25 points came after halftime, 12 in the fourth quarter.
Chalmers seemingly figured out his role in the finals as the guy to run the offense at the right moment, take the shots when they were on and generally be the go-to guy after the Big Three.
With Chalmers assured of the starting gig for another season, he can help push on and improve his consistency, something which lacked last season and led to much criticism.
With a point guard capable of running an offense, the Heat can avoid becoming the isolation-heavy team they have threatened to become.
Isolation plays are great when they work, but when great defensive teams like the Chicago Bulls come to town, a structured half-court offense is a necessity as players like Joakim Noah and Luol Deng are far too good to be beaten one-on-one.
Chalmers can provide the direction in an offense that finally features some intricate plays.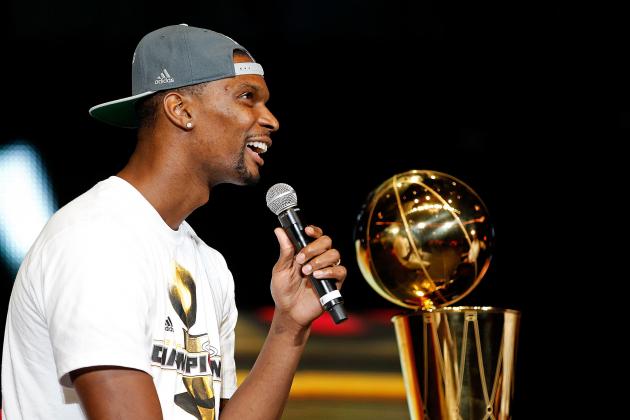 Mike Ehrmann/Getty Images

Chris Bosh, despite being part of the Big Three, is not in the top three of this list.
That's not a knock on Bosh.
It's just that this Heat team is so top-loaded that, on any given day, he could be the best- or fourth-best performing player on the floor for Miami.
Bosh struggled with an injury during the latter rounds of the playoffs, but returned for the finals and proved that Miami did not need a quality center to match Oklahoma City Thunder's Serge Ibaka-Kendrick Perkins tandem.
In fact, very much the opposite proved true.
Miami's small-ball lineup utilizing Bosh at center rendered Oklahoma's much-trumpeted size advantage obsolete. Perkins could not live with Bosh on the perimeter and fell down the Thunder rotation as they too adapted to a small-ball lineup with Kevin Durant at power forward and the more agile Serge Ibaka at center.
Bosh is the one member of the Big Three whose future will always be questioned when he has a bad season given that, to the fans, Wade is Miami, and there is no way you trade LeBron. Bosh has to have a good year, and now, that small-ball is seemingly the way forward.
With the additions made over the summer in Miami, Bosh should find more room to operate and capitalize on more loose defensive play as opponents struggle to key into lineups featuring as many as four future NBA Hall of Famers.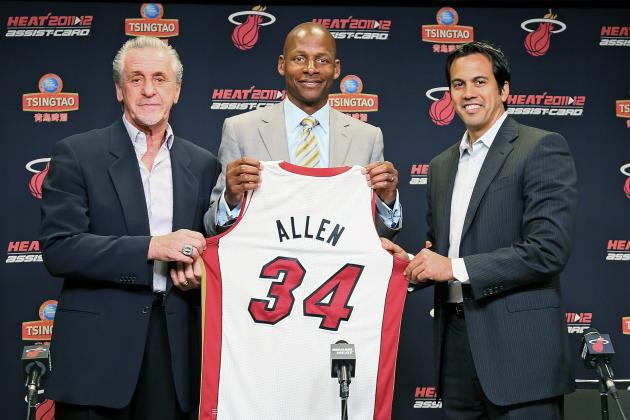 Mike Ehrmann/Getty Images

Ray Allen's decision to join the Miami Heat made many people write off the next season as a mere formality with Miami destined to win the title at a canter.
That was before the Dwight Howard trade.
Nevertheless, Allen makes the Heat a truly complete team.
Miami got its three point shooting from the hot-and-cold, walking-wounded Mike Miller, inconsistent Shane Battier and spotty contributions from other players.
Allen, the NBA's all-time leader in made three-point field goals, alters the whole dynamic of this team.
With Allen on the floor, Miami has someone who can run off screens for catch-and-shoot plays from deep. They have someone who from that triple-threat position on the catch can then find the roll man (someone like Bosh?) and find them in space created by defenses trying to make Allen's rhythmic three-point shot misfire.
On top of that, Miami's small-ball lineup becomes more potent still. Both Wade and Allen have played significant minutes at point guard during their careers, and LeBron James is effectively becoming a point forward.
That gives the Heat three ball-handlers in a lineup of Wade-Allen-Battier-LeBron-Bosh. That's a lineup that presents a defensive nightmare. How do you prevent a LeBron drive when you have to respect the outside shots of all four other players on the floor?
Allen's health, however, will be a critical factor. He lost his starting gig in Boston through injury so whether he remains healthy enough for the Heat to truly get him into the fold is up in the air.
Mike Ehrmann/Getty Images

It may read on this slide that Dwyane Wade is the second-most important player. In actuality, this is pretty much a tie, edged slightly by LeBron's amazing finals performances.
Wade needs his health to maintain for Miami to have any chance of defeating a suddenly stacked Lakers team.
With Kobe Bryant rejuvenated by a mysterious knee procedure, Wade will be expected to compete on that same level in a one-on-one situation should the two powerhouse teams meet in what would be one of the great NBA Finals series' in league history.
Wade's leadership and toughness defines this Heat team. Without him on the floor, they lose some of their identity, especially in the clutch where Wade pulled off several spectacular plays this season with the game on the line.
With the addition of Ray Allen, Wade figures to have a backup capable of handling more minutes as Wade's body tries to handle another season at the top of the basketball world.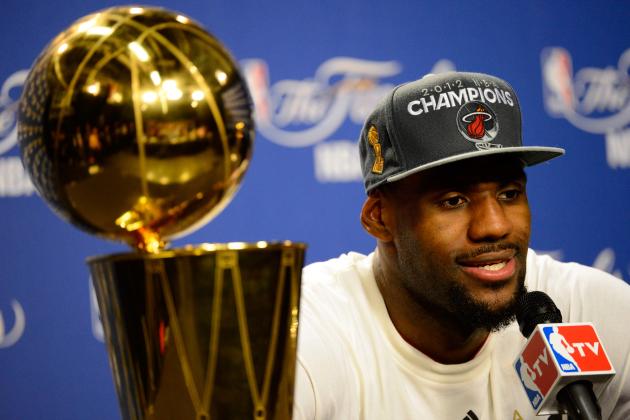 Ronald Martinez/Getty Images

Of course, LeBron James is the most important player to the Miami Heat next season.
Just the second player in basketball history to win the NBA Regular Season and Finals MVP awards, NBA Championship and an Olympic gold medal in the same year (Jordan in 1992, if you were wondering), LeBron will be the leader and focal point of all Miami does next season.
LeBron took his game to another level in the 2012 finals, a level that really started with his 45-point showing in Game 6 of the Eastern Conference finals in Boston.
The sheer domination of his opponents that he exhibited in that game and subsequently in the finals has been unseen in the NBA since the days of Jordan and those Bulls.
Coming off the back of such an impressive year when the bitterness from The Decision was finally swept under the carpet, LeBron got the championship monkey off his back and can now play with yet more freedom and less pressure—something which should strike fear into the hearts of other teams.
With no reason to feel pressure and the confidence that he is, by far, the best player in the game today, LeBron's 2012-13 season could be utterly sensational.
Of course, should he somehow contrive to have a poor season, the Heat will then have to fall back on the much-maligned Bosh and minutes-weary Wade to pick up the slack. That's not so tempting now.