NHL: 20 Most Overused Cliches in Hockey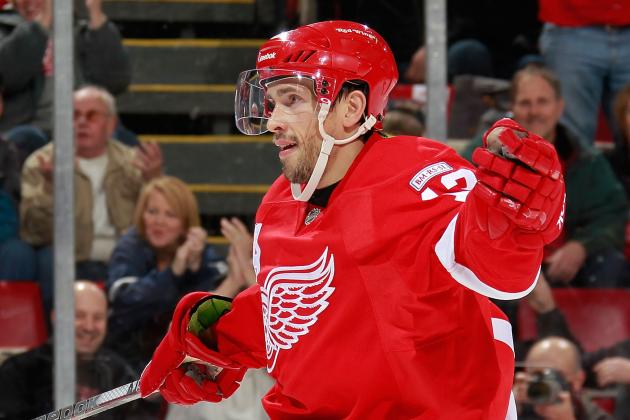 Gregory Shamus/Getty Images

All sports lend themselves to cliches and hockey is no exception. Hey, if you're a player and you get asked questions after each of the 82 regular season games, after practices in between games and then during the playoffs, eventually you're going to repeat yourself.
Here's a look at some of the most commonly used cliches in hockey, either by players, writers or broadcasters.

I'm sure I'll miss a bunch, so please chime in and add your own, this list is purely for fun.
The order of the list really doesn't mean much, I'm just putting these out there for your reading pleasure...
Begin Slideshow

»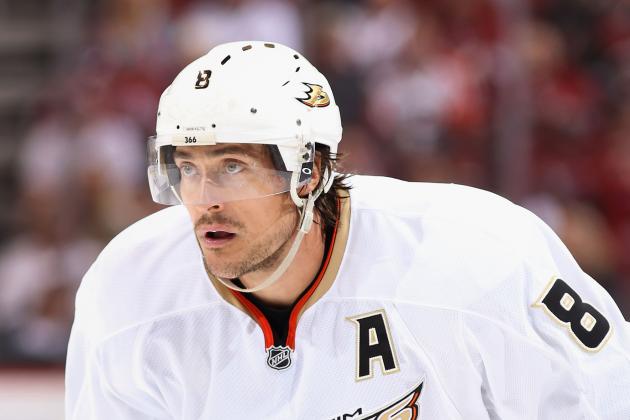 Christian Petersen/Getty Images

"We're going to take them one game at a time."
Well of course you are. To my knowledge, hockey doesn't have double-headers and never did. Heck, even if you were playing two games in one night against the same team, you still have to play them one at a time.
Do fans really want or expect hockey players to take games two or three at a time? No.
So I guess they'll just have to take them one game at a time...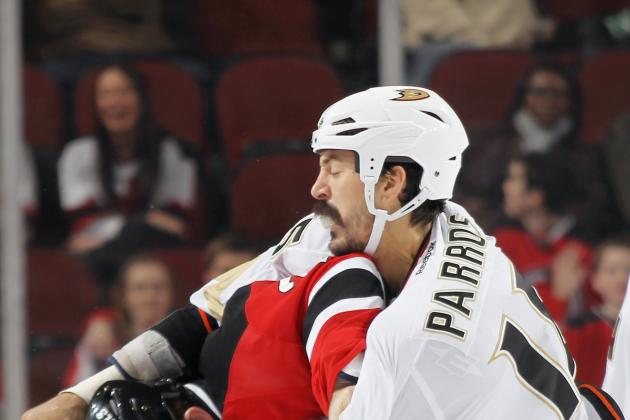 Bruce Bennett/Getty Images

"If you can't beat 'em in the alley, you can't beat 'em on the ice."
Maybe it was more true when Hockey Hall-of-Famer Conn Smythe said it more than a half century ago and yes, toughness is indeed still a part of the game. But let's face it, the team that wins a fight in any given hockey game does NOT necessarily win the game.
In fact, how many times have we seen a team fall behind early in a game then send out their enforcer to start a fight in order to "rally" his team? Heck, the team is already down 2-0 when the fight takes place.
Win the fight but lose the game? Happens plenty, folks.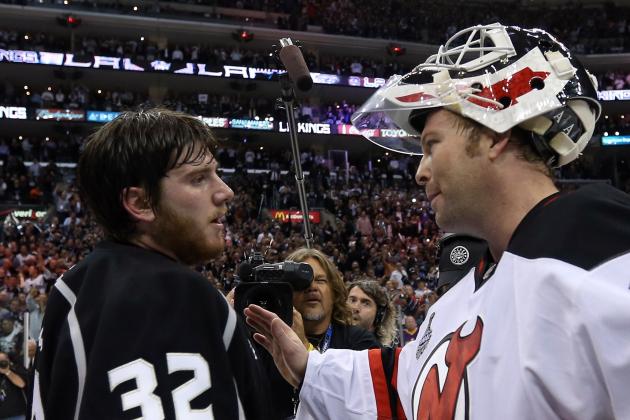 Bruce Bennett/Getty Images

"The fourth win is the hardest to get."
We hear that every time a team wins their third game in any playoff series.
There is some truth to it. After all, it is the hardest to get to since you have to win three games before you can win the fourth....
A team that has lost three games may be desperate, but they may also be demoralized and defeated.
Every playoff series, we hear both players and broadcasters spouting this one off and trust me, it's probably here to stay.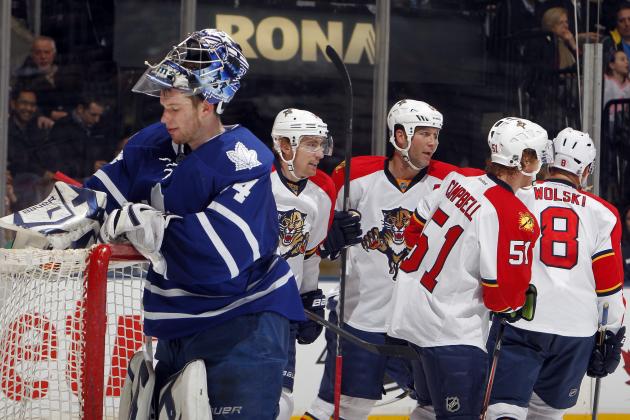 Abelimages/Getty Images

"A two-goal lead is the hardest one to hold on to in hockey."
If a team goes up 2-0 early in any game, broadcasters always bring up this well-used chestnut.
The theory behind this one is that a team with a two-goal lead will relax a little and "take their foot off the gas," thereby allowing their opponent a chance to get back into the game.
But let's face it, all things being equal, a one goal lead is always tougher to hold on to than a two-goal lead. After all, there is a lot less of a margin for error.
Either way, the cliche persists on hockey broadcasts across North America and it probably won't be disappearing any time soon.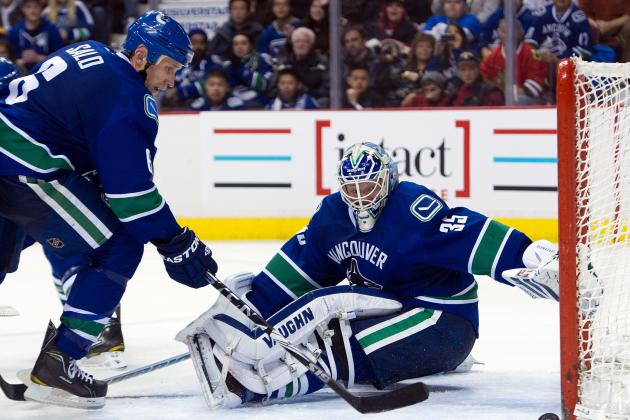 Rich Lam/Getty Images

"The goal posts are part of the goalie's equipment."
We hear this cliche when one team takes a shot that clanks firmly off the iron, especially in a very close game.
The post certainly can help a goalie get away with a mistake even after he's been beaten on a play—though I've yet to see a goalie wear a goal post.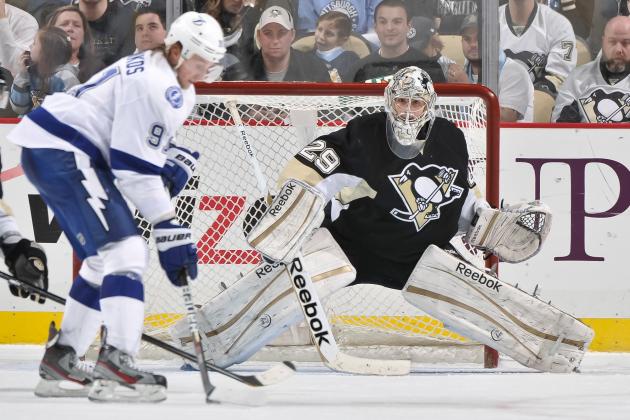 Jamie Sabau/Getty Images

"When you put the puck on net, good things happen."
Players and coaches love this saying and to a certain extent, so do broadcasters. You'll hear broadcasters turn to this cliche whenever teams are over-passing or being shut down offensively and being badly out-shot.
Coaches and players often turn to it in postgame press conferences after a low-scoring loss.
The reason this one is used so often? It's true, at least most of the time.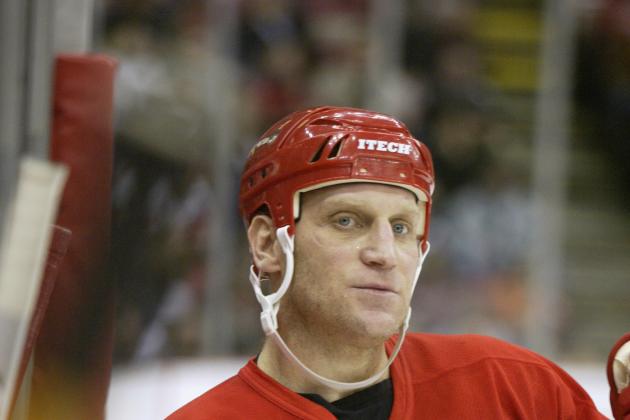 Tom Pidgeon/Getty Images

"That was a goal scorer's goal."
We hear this hockey cliche whenever a highlight-reel goal is scored—one that allegedly requires a lot of skill, great hands or an end-to-end rush involving faking-out several defenders.
Either way, we hear broadcasters say this much more often on a goal by Steven Stamkos or Teemu Selanne than we will on a goal by a grinder like Ruslan Fedotenko or an enforcer like George Parros.
Of course, that takes us to our next cliche....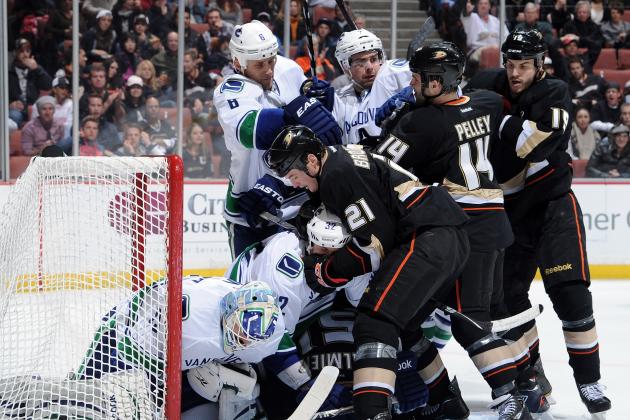 Harry How/Getty Images

"We've got to score those dirty goals."
Hockey players resort to this well-worn cliche when they are trying to be too perfect and over-passing the puck, or trying to set up the perfect shot.
They will also use it when the team is struggling to score goals.
"Dirty goals" or goals from the "dirty areas" of the ice come off scrambles in front of the net, tip-ins, deflections, rebounds and the like. They may not be pretty, but they require a lot of hard work or "dirty work."
In the modern era, we see a lot more dirty goals than highlight-reel goals, but that's another issue altogether...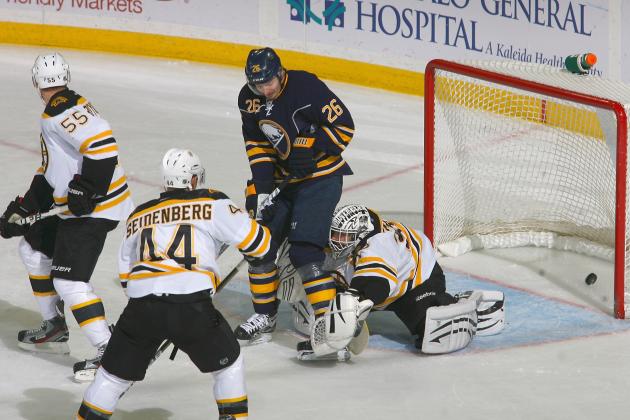 Rick Stewart/Getty Images

"We need to get more traffic in front of the net."
OK, this is another cliche coaches and players use to discuss "dirty" goals.
Tip-ins, deflections and especially screening the goalie are obviously a good way to limit a goalie's effectiveness and concentration.
Of course you want more traffic in front of the net, and you want to put the puck on net more often—especially when you aren't scoring enough goal-scorer's goals. You get the idea....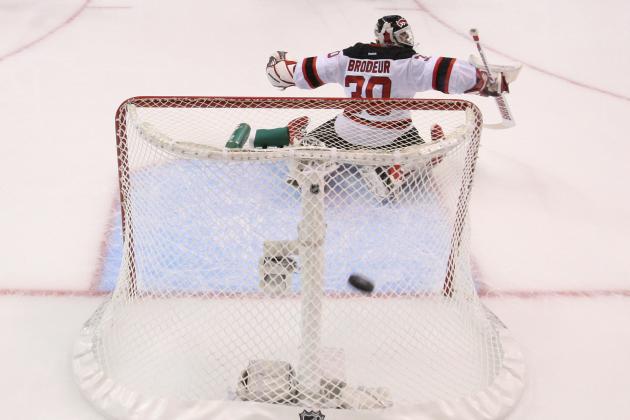 Christian Petersen/Getty Images

"You don't want to give up a soft goal here..."
OK, when exactly DO you want to give up a soft goal? Announcers turn to this cliche when a team has the "dreaded" two-goal lead—or a one goal lead. Maybe it's OK to give up a soft goal if you're up 6-0?

Anyway, as a general proposition, you really don't want to ever give up a soft goal...it makes your goalie look bad and can be demoralizing to your team.
Plus, if he yields too many soft goals, a goalie will lose the confidence of the players in front of him.
It's an obvious cliche, but we hear it all the time...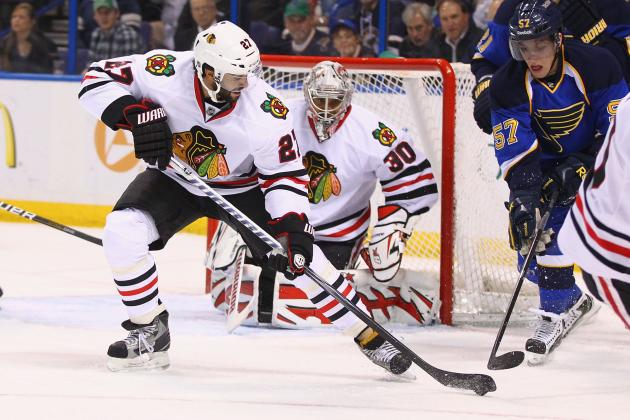 Dilip Vishwanat/Getty Images

"We need to give 110 percent."
Can any team go three postgame press conferences without either a player or coach using this hockey cliche?
Sure, it refers to extra effort or giving one's all but let's face facts: by definition, you can't give more than 100-percent effort. If you give all the effort you have, that's 100 percent. You can't give more than that. If you do, it's still really only 100 percent. So this cliche is not only overused, it's inaccurate.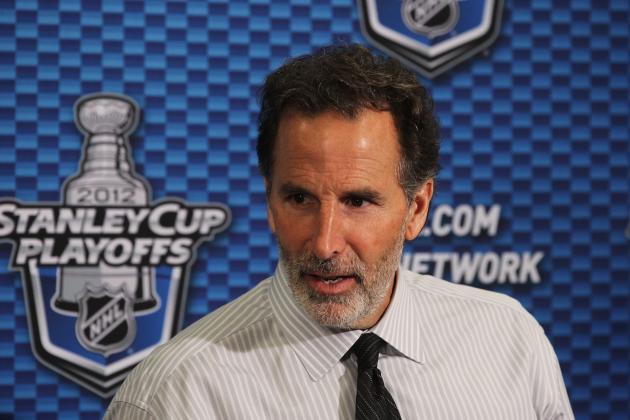 Bruce Bennett/Getty Images

"We didn't play a full 60 minutes."
Losing coaches usually rely on this nugget in postgame press conferences, especially if the team played poorly for a period of even a five-minute stretch that costs them the game.
Of course, they played the full 60 minutes, they just didn't play consistently well for all 60 minutes.
Players use this cliche, too, but it is most often used by coaches trying to explain why their team lost...again.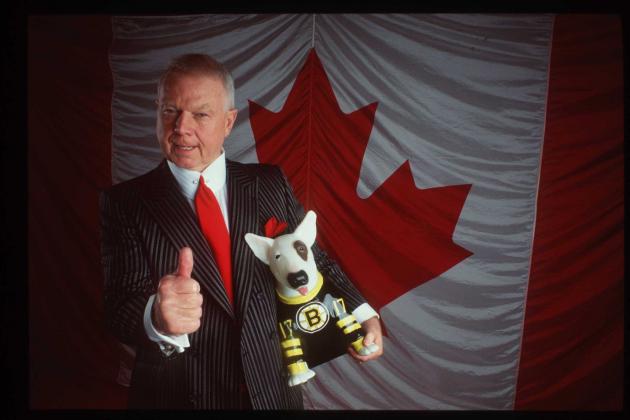 Rick Stewart/Getty Images

"Lunch Pail Crew"
A lunch pail crew is a hard-working, blue collar hockey team that doesn't play a very fancy game, but grinds it out and wins hockey games.
Don Cherry's Boston Bruins of the late 1970s were a great example of a lunch pail crew featuring players like Don Marcotte, Terry O'Reilly, Stan Jonathan, John Wensink, Greg Sheppard, Rick Smith and Wayne Cashman.
Those Bruins teams went to back-to-back Stanley Cup finals in 1977 and 1978 but were beaten both times by the Montreal Canadiens.
Teams that play a similar style today still get referred to as a lunch pail crew, usually with affection.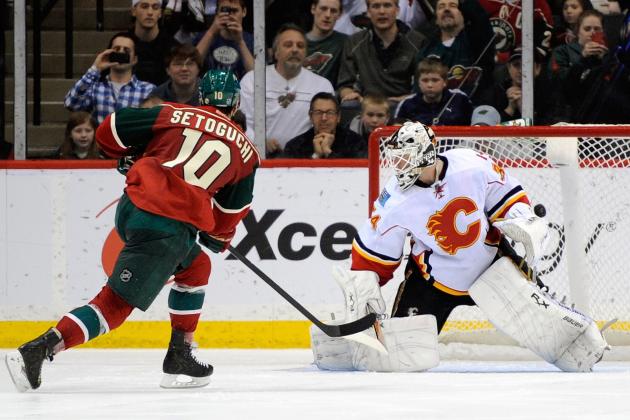 Hannah Foslien/Getty Images

"We really didn't give the goaltender any support."
Coaches and players use this well-worn saying whenever they don't want their goalie to feel badly after he had a poor game, or if the defense in front of the goalie was sieve-like, allowing too many quality-scoring chances and the loss really wasn't the goalie's fault.
It's tough on a goalie when you stop 44 shots and still allow five goals and three of them were on odd-man rushes. When that happens, coaches and players will rely on this cliche, although you'll never see goalies themselves use it.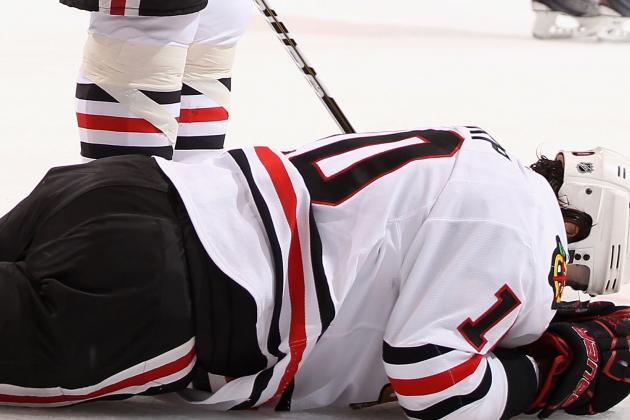 Christian Petersen/Getty Images

"He suffered a lower (or upper) body injury."
Hockey teams use this reference all the time and do you know why? Because the league actually lets them get away with it.
The excuse is that if opposing teams knew specifically where a player was injured, they'd go out and try to intentionally pick on that part of the player's body. This of course puts the player at risk for further injury.
Keep in mind the NFL takes the opposite approach and makes sure teams release the specific injury information to the press and therefore to the fans (and gamblers, but that's another story).
Regardless, NHL teams love to keep us guessing; even when we see a guy helped off the ice with a bad knee, we are still told he has a lower body injury and nothing more.
So be very quiet! We're (not) reporting injuries...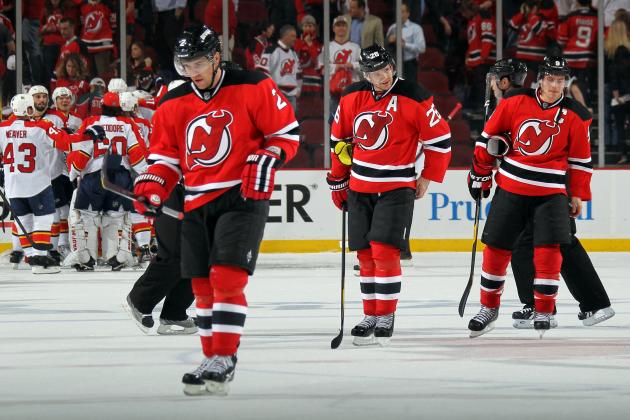 Bruce Bennett/Getty Images

"We just didn't get the bounces."
Another chestnut from postgame press conferences, "we just didn't get the bounces" is a fallback answer for players and coaches who either:
a) Have no idea why they really lost a game; or
b) Don't want to tell fans and the media why they really lost the game.
Most of the time, I vote with choice "b."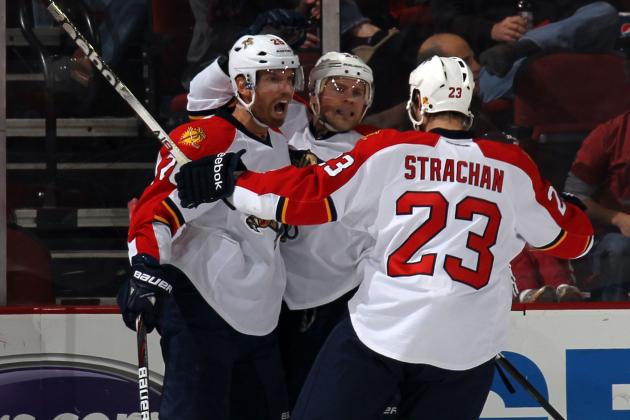 Bruce Bennett/Getty Images

"It was a good team effort."
Coaches and players who want to say good things about their club without singling out a particular player use this well-known expression in postgame press conferences.
It is rare that all 20 players who dress for a game played equally well, so this answer is usually given out of laziness when a coach or teammate just doesn't want to go into too much detail about why their team just won the game.
Sometimes, they just want to spread the credit around rather than give it to any specific player or group of players.
Hockey is a team sport and this answer does reflect the team ethos of the game. Perhaps that's why it gets used so much.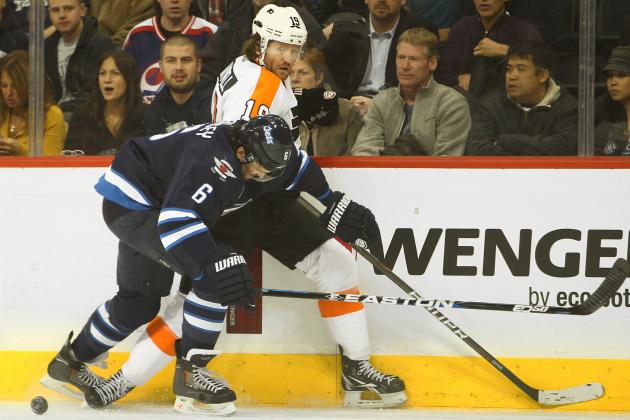 Tom Szczerbowski/Getty Images

"They are mucking it up along the boards."
Hockey coaches and broadcasters love to see their team "muck it up" successfully. Mucking is winning battles for loose pucks, usually along the boards and in the corners.
So many successful teams play a "puck possession" style these days, which means that to be successful, they need to get the puck (hard to score without it if you think about it). Mucking is a good way to get the puck.
Successful mucking is usually done by third or fourth line forwards known as grinders. If your grinders are mucking well, your team has a better chance of winning games.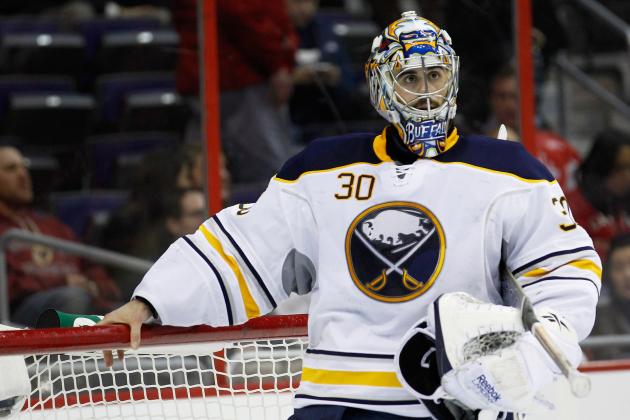 Rob Carr/Getty Images

"Our goalie really bailed us out."
Coaches and players use this cliche when the team played poorly on defense and allowed a lot of quality scoring chances, but the goalie came up with a lot of saves and the team managed to win anyway.
It's a good way to praise your goalie while admitting your team did not play well in front of him.
Let's be honest, though, most good teams can't rely on this cliche too often or they won't still be good teams.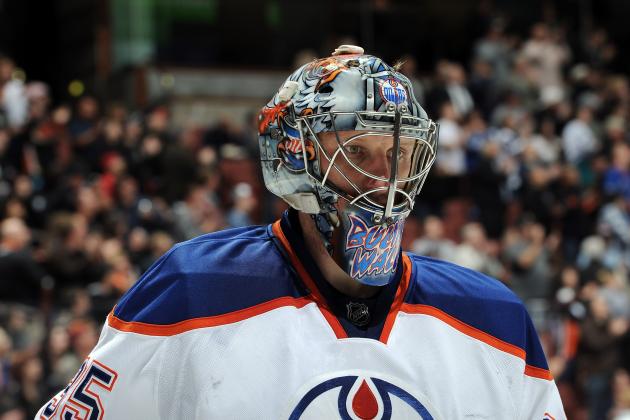 Harry How/Getty Images

"Your goalie has to be your best penalty killer."
Like all cliches, this one has its basis in fact, but it is a little off. The truth is, your goalie doesn't have to be your best penalty killer, but he most certainly cannot be your worst penalty killer.
Still, it is occasionally good to have your goalie bail out your penalty killers when they aren't doing a great job and are allowing too many good scoring chances (see the previous slide).
Now we are mixing our cliches, which can be trouble.