Houston Texans vs. New Orleans Saints: Preseason Week 3 Live Score, Analysis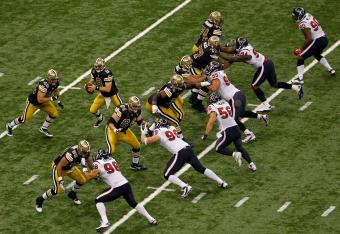 Chris Graythen/Getty Images
Saturday night the Houston Texans and New Orleans Saints played what had to have been the most exciting first half of preseason football in 2012.
The Saints won 34-27.
Drew Brees finished with 179 yards passing and two touchdowns, while Matt Schaub was even better with 194 yards and a touchdown toss.
The game had a little bit of everything, much like one of New Orleans' crazy playoff games of the past few years.
Though this was a preseason game, both teams showed the kind of effort that could lead to a rematch in the Mercedes-Benz Superdome in February.
Of course that is a long time from now, and a lot has to go in favor of both teams for that to occur.
But it is not wholly impossible. I don't think CBS would be disappointed if it took place, though.
All in all, Brees looked himself. Schaub looked great as well.
The Houston run game looked in order, while the Saints' run scheme wasn't quite what they want it to be.
Defensively neither team looked great, but then again both offenses were in mid-season form.
Not a bad effort for either team in the preseason.
Good night from New Orleans.
Saints wrap up in the victory formation after a sloppy last-minute effort from T.J. Yates and the Texans fails.
Houston 27 New Orleans 34
Final
We've reached the two-minute warning with Sean Canfield in the game.
The Saints would have to really blow this now to not win.
Houston 27 New Orleans 34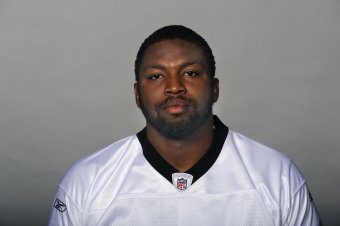 Handout/Getty Images
Another sack all but ended it there, but the Texans' backup lineman was able to recover after Turk McBride got Yates and stripped him of the ball.
One play later, Tyrunn Walker recorded the sack of Yates. Both Walker and Hicks are quite impressive for rookies.
Houston 27 New Orleans 34
2:17 to go 4th Quarter
This game is about in the refrigerator, to use a term familiar to those who followed Chick Hearn's broadcasting career with the Los Angeles Lakers.
Houston needs a miracle drive to tie this game, or take the lead.
That last play is under review. According to the woman sitting next to me, "It's going to be close."
And the Jospeh Morgan diving attempt in the end zone is...
A Touchdown!
It was a great throw and catch against excellent coverage for Houston.
Houston 24 New Orleans 31
Late Fourth Quarter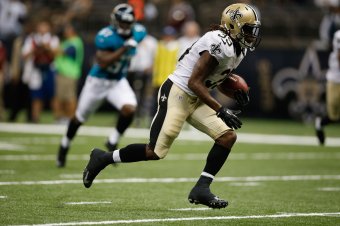 Chris Graythen/Getty Images
Wow, I genuinely thought Travaris Cadet just busted his knee. Thankfully he got right up.
That should make everyone happy, regardless of who you are rooting for in this game.
Saints are on the move, trying to take the lead late in the fourth quarter.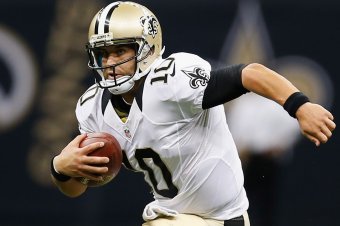 Chris Graythen/Getty Images
Chase Daniel with another scramble, this time for a first down.
The difference between he and Drew Brees is intriguing from a football perspective. Of course, Brees is always looking to throw the ball down the field. Daniel mostly wants to make a play at all cost.
If that means running the ball he'll do it.
Perhaps most importantly, this game is finally moving along to the point where it'll be over before midnight eastern, hallelujah!
Akiem Hicks and Martez Wilson combine for the heavy pressure and sack of T.J. Yates which leads to the 53-yard attempt for Shayne Graham, and it's good!
And the woman next to me is quite unhappy.
Houston 27 New Orleans 27
11:21 to go 4th Quarter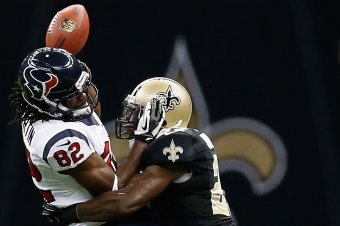 Chris Graythen/Getty Images
It's interesting to see Houston playing guys like Keshawn Martin and Justin Forsett, who played at the beginning of the game with the first unit, now in the fourth quarter with their second and third stringers.
Houston 24 New Orleans 27
Fourth Quarter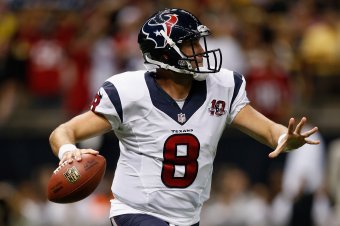 Chris Graythen/Getty Images
"Next step for this organization is a championship", Matt Schaub.
That's what Houston fans want to hear. How realistic that is any time soon, well we shall see.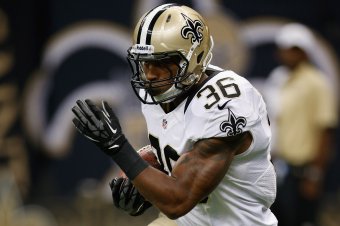 Chris Graythen/Getty Images
That run just proved what I've been thinking all preseason. Joe Banyard has been completely overshadowed by the exhilarating play of fellow undrafted rookie running back Travaris Cadet.
He is a kid who could definitely make another squad, or at least make a practice squad this season.
Rookie LB Kadarron Anderson just slivered into the backfield for an easy sack of T.J. Yates to essentially end the third quarter.
Houston 24 New Orleans 27
End of 3rd Quarter
Duncan of TP just made note of what I thought I saw. Former Saints' DT Mitch King is now in the game for Houston. He helped their defense get the stop on the Saints' second offensive unit on that last possession.
Houston 24 New Orleans 27
2:10 to go 3rd Quarter
It is important to note from the Saints' perspective that middle linebacker Barrett Ruud is now in the game.
Upon his insertion the Saints go 2009-11 defensive mindset and blitz T.J. Yates like it was nothing. Houston does little on their first drive of the half under second-stringer Yates.
Houston 24 New Orleans 27
5:22 to go 3rd Quarter
Rob Carr/Getty Images
T.J. Yates, the same guy who won the Texans' only playoff game in franchise history is now in the game for Houston.
Justin Forsett and James Casey have been featured thus far on this drive. Both figure to play with the first unit during the regular season.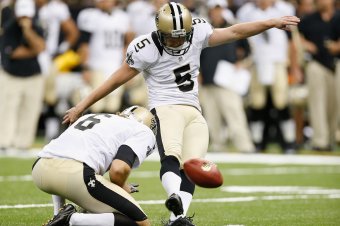 Chris Graythen/Getty Images
The Saints start the second half with a drive lasting almost six minutes and resulting in a field goal.
On the drive Chase Daniel was effective, though he didn't blow anyone out of their socks.
The Texans' second string defense did its job and got the stop when it needed it most. And Garrett Hartley chips in the gimme to give the Saints the lead.
Houston 24 New Orleans 27
9:17 to go 3rd Quarter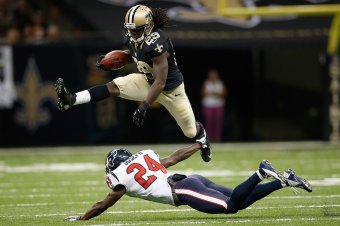 Chris Graythen/Getty Images
Lost in that crazy first half was that recently signed tight end Daniel Graham appears to have passed up the incumbent third tight end Michael Higgins. Higgins did just catch an important pass from Chase Daniel there.
Also Chris Ivory is looking good today except for when he fumbles the ball. And recently signed Greg Camarillo is making an impact on this first unit.
In other words, the Saints' second unit isn't too bad.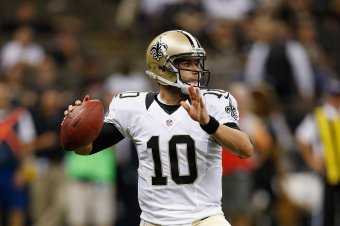 Chris Graythen/Getty Images
We get the answer from Joe Vitt and the Saints side, at least offensively.
Chase Daniel starts the second half for New Orleans.
And it appears the Texans' second defensive unit is starting the second half as well.
The big question as we enter the second half is simply whether either team plays their first team units (or what remains of them in this game since each have so many injuries on defense already).
Houston 24 New Orleans 24
Start of the 3rd Quarter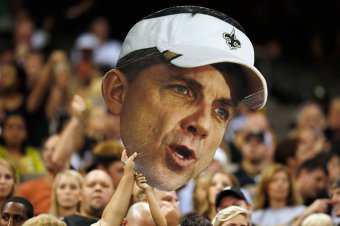 Chris Graythen/Getty Images
That Phil Simms-Drew Brees interview was insightful especially as Drew talked about Sean Payton's presence or lackthereof this season. Additionally the relationship Payton and Brees have will be missed.
But it still seems clear the Saints will be fine this year even without their coach.
And of course the Texans with their coach, Gary Kubiak, figure to be pretty darn good as well.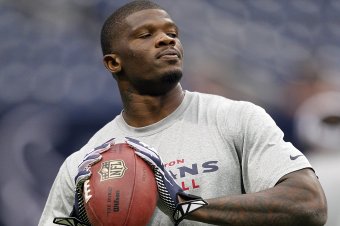 Bob Levey/Getty Images
The Texans simply kneel down to end the first half.
That had to be the most entertaining first half this entire preseason. CBS made a great call on making this their national game of the week.
Houston 24 New Orleans 24
Halftime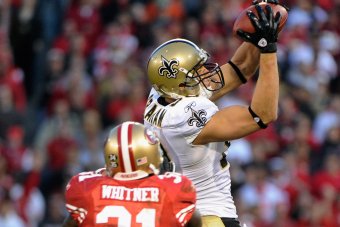 Thearon W. Henderson/Getty Images
Two plays later, Drew Brees does an amazing job of stepping up in the pocket and creating more time for his receivers to get open.
He then finds Jimmy Graham, matched up on the shorter Danieal Manning. Graham boxes him out and makes the easy touchdown catch.
Houston 24 New Orleans 24
0:15 seconds to go 2nd Quarter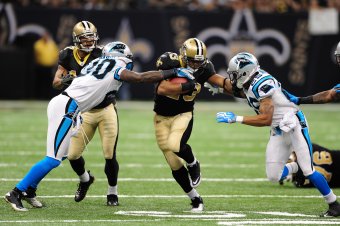 Scott Cunningham/Getty Images
The best screen back in the game does what he does best on that last screen.
Drew Brees also did a wonderful job of sucking the defense toward him and allowing his blockers to get down field for Pierre Thomas.
This from an Evangelical Christian Pastor I follow on Twitter:
@jaredcwilson
From Saints sidelines: "$1,000 if you make it so Foster's gotta eat his organic girly meals through a straw."
This article is
What is the duplicate article?
Why is this article offensive?
Where is this article plagiarized from?
Why is this article poorly edited?

New Orleans Saints: Like this team?