Boise State Football: Game-by-Game Projections for D.J. Harper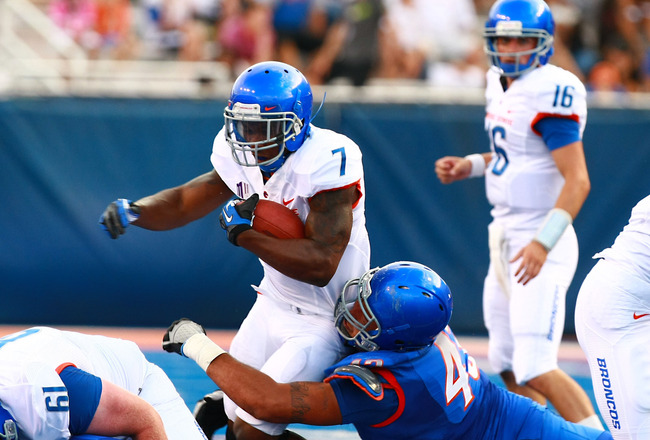 Brian Losness-US PRESSWIRE
D.J. Harper has had a long and sometimes difficult road on the journey to becoming the starting running back for Boise State. However, this is the year that all of his hard work and dedication should pay off.
Harper started his career in 2007 and had breakout true-freshman season. According to Broncosports.com, D.J. had the fourth best season of any true-freshman running back in school history. In that year, he had 376 yards and five touchdowns.
In 2008, his sophomore season, Harper struggled to get carries and finished the year with just 278 yards and four touchdowns. He looked to be a significant part of the offense in 2009, having racked up 284 yards and three touchdowns in the first three games.
However, it was in the game against Fresno State that Harper would experience the first of two devastating knee injuries. He worked very hard to get healthy over the course of the year and came back in 2010 ready to play.
Three was not a charm for Harper, as he experienced injury deja vu. In the third game of the season in 2010, Harper was knocked out with another season-ending knee injury. It had to be a serious discouragement for D.J., and you have to wonder how he found the heart to come back in 2011.
The fact that Harper did make a comeback and returned to the Broncos last season is a huge testimony to the heart and passion he has for the game. This fact alone should give Boise State fans a reason to be confident that with Harper as the starting running back the Broncos are in good hands.
Last year, Harper appeared in 12 games and finished the year with 557 yards and nine touchdowns. Expect those totals to at least double this season if he is able to stay healthy.
Every game of the season should be another milestone for the hard-working running back. In his sixth year of eligibility, you can expect him to make it count.
Let's take a look at how he might do in each of the Broncos 12 regular-season games.
Game 1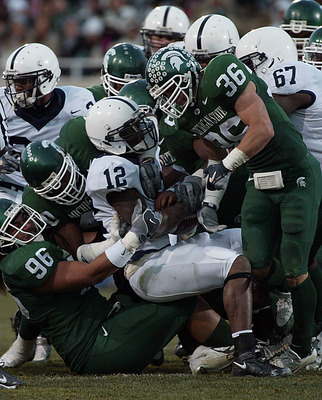 Domenic Centofanti/Getty Images
Game: Boise State at Michigan State

Date: August 31, 2012

Time: 6 p.m. MST
This game will probably be the Broncos' toughest contest on their 2012 schedule. With several returning starters on a defense that was very good in 2011, the Spartans will be well-equipped to shut down the Boise State offense.
Five All-Conference players return for Michigan State as well as three other starters who saw significant action last year. Defensive ends Marcus Rush and William Gholston are back, as are linebackers Denicos Allen and Max Bullough. This will make moving the ball against them difficult, especially when it comes to the run game.
Harper is going to get an early test in this one. The way it looks at this point is that it will take an exceptional game from D.J., the fullback and the offensive line to move the ball on the ground. The Broncos will also have to be effective passing the ball to create some space for Harper and the other running backs if they expect them to do some damage.
Chris Petersen will no doubt have his team ready to go, but it is still going to be quite a challenge. If all cylinders are going for BSU you can expect Harper to have a solid night running the ball. A 100-yard game is certainly a possibility, but only if the rest of the offense is doing what it needs to do.
If the Spartans are effective in shutting down the passing game and forcing the Broncos into a one-dimensional offense, it could be a very long night for Harper and the rest of the team. Knowing the Broncos history, however, that seems highly unlikely.
Game 2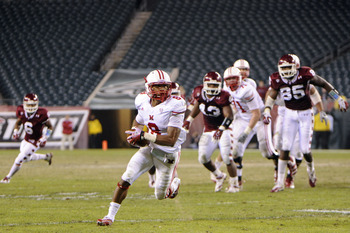 Howard Smith-US PRESSWIRE
Game: Miami (Ohio) at Boise State

Date: September 15, 2012

Time: 2 p.m. MST
Miami Ohio is an interesting game. In 2011, the RedHawks were solid on defense. They were ranked 24th in pass defense, only allowing 195 yards per game. They were also 39th in scoring defense and return nine starters including All-MAC defensive tackle Austin Brown.
Overall, this RedHawks team will be much tougher than people expect. They also have eight starters returning on offense from a team that went 4-8 last season. However, two of their losses were by the same score of 24-21; one loss was in overtime to Minnesota, and one loss was a 17-6 game against Missouri, so it's not like they weren't competitive.
They will certainly be no pushover in 2012.
In saying all that, when it comes to D.J. Harper, he should have a great game against Miami Ohio. This will be the Broncos first home game of 2012, and if you know anything about Boise State, you know they are hard to beat at home. D.J. Harper will be looking to have an excellent game for the home crowd that will be bigger than any in the history of Bronco Stadium.
New bleachers were added in the south end zone, and it should be even louder when the RedHawks come to town. Don't be surprised if Harper breaks the 150-yard mark and scores at least two touchdowns. The adrenaline from the home crowd and the fact that Chris Petersen will have two weeks to prepare for Miami Ohio spell victory for the Broncos and a breakout game for Harper.
Game 3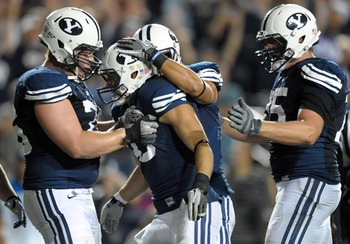 Kirby Lee-US PRESSWIRE
Game: BYU at Boise State

Date: September 20, 2012 (Thursday)

Time: 7 p.m. MST
Live on ESPN in a sold-out Bronco Stadium, this game should be loud and crazy. This game should be a good one. BYU returns a good number of solid players from a team that went 10-3 in 2011, including a Bell Helicopter Armed Forces Bowl victory over Tulsa.
On defense, BYU returns eight starters from the 22nd-ranked scoring defense in the nation, including three of their four linebackers and two of their three defensive lineman. They also return three players in their secondary. This will make it very challenging for Boise State to move the ball.
By this game, however, the Broncos should have most of the kinks out of their new defense, and their new quarterback should be catching rhythm. Harper should be ready to go, and at home against BYU on national television, expect him to shine.
It would be surprising if D.J. did anything less than have a great game. Both teams will be coming off just five days rest, but Boise State plays Miami Ohio in Boise the Saturday before while BYU plays arch-rival Utah at Rice-Eccles Stadium in Salt Lake City.
Of those two games, you can expect the Utah game to be a bit more difficult to recover from than the Miami Ohio RedHawks at home.
Harper will have a stellar game, and you can look for him to have much success against an emotionally drained BYU team.
Game 4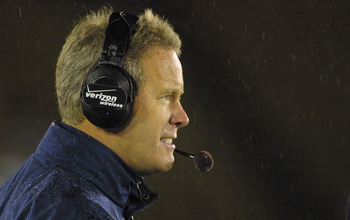 Scott Halleran/Getty Images
Game: Boise State at New Mexico

Date: September 29, 2012

Time: 4 p.m. MST
New Mexico is coming off a 1-11 season in 2011. Their only win was against UNLV. They did hire a new coach in Bob Davie, but even with new leadership, the team will need a few years of rebuilding before they show significant improvement.
Look for Boise State to dominate this game. Look for D.J. Harper to light it up early, but also look for him to be sitting on the bench for the entire fourth quarter. Coach Petersen will certainly rest Harper when he gets the chance, and against the Lobos, you can expect that to happen.
In three quarters of action, Harper will still break the 100-yard mark, but look for another running back to out gain D.J. on this day. Jay Ajayi or Drew Wright may very well finish the game with more yards than Harper. If for no other reason, the Broncos will be running the ball for most of the second half and making much use of their backups.
Game 5
Marco Garcia-US PRESSWIRE
Game: Boise State at Southern Miss

Date: October 6, 2012

Time: TBA
This is another one of those mystery games for the Broncos. Until the season starts, no one knows for sure how good either team will be.
Southern Miss lost a number of key starters from last year's team that went 12-2 and beat the Wolf Pack of Nevada in the Sheraton Hawaii Bowl 24-17. On defense, the Golden Eagles lost six starters and will look much different than the 26th-ranked scoring defense of 2011.
Before they face the Broncos, Southern Miss will face Nebraska, East Carolina, Western Kentucky and Louisville. This will be a difficult schedule for a rebuilding team, and it will be interesting to see how they handle it.
With so many replacements on the defensive side of the ball, D.J. Harper should be able to find holes in that defense. Again, no one knows for sure how they will look, but the Broncos have the talent to take this game, and Harper has the ability to make some noise.
How much noise will depend on how well the Broncos offense executes. By this time in the season, you have to figure that Petersen will have his team looking good and hard to beat. Look for Harper to keep his historic season going in this contest. It will be surprising if the Golden Eagles can keep him under 125 yards.
Game 6
Otto Kitsinger III/Getty Images
Game: Fresno State at Boise State

Date: October 13, 2012

Time: 1:30 p.m. MST
Fresno State has to return to "The Blue", and they can't be happy about it. Of course, they will be without head coach Pat Hill who was replaced by Tim DeRuyter last December.
Last season, Boise State demolished the Bulldogs 57-7, and you have to believe the players on that Fresno State team want some kind of revenge. Unfortunately for them, it won't happen.
Look for a big game from D.J. Harper, even with the seven returning starters the Bulldogs have on defense. Last year, Boise State had 183 rushing yards as a team with eight players getting in on the action. Doug Martin led the way with 94 yards and one touchdown.
Look for Harper to pound it out and have a field day against a new-look, old-results Bulldogs team. It will be surprising if D.J. doesn't have a better game in 2012 than Martin did in 2011.
Game 7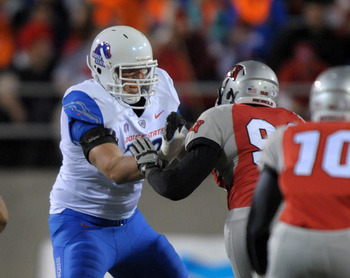 Kirby Lee-US PRESSWIRE
Game: UNLV at Boise State

Date: October 20, 2012

Time: 1:30 p.m. MST
UNLV had the 118th-ranked scoring defense in the nation last season. While they should improve that number in 2012, they probably won't improve much.
When it comes to D.J. Harper, this game should be a good one. Last season, Harper carried the load for the Broncos against UNLV. He carried the ball 13 times for 109 yards and one touchdown. In that game, he averaged 8.4 yards per carry, and the UNLV defense couldn't slow him down.
This season should be no different, except for the fact the game will be at Bronco Stadium. For that fact alone, add 50 yards and a couple touchdowns to Harper's total.
Game 8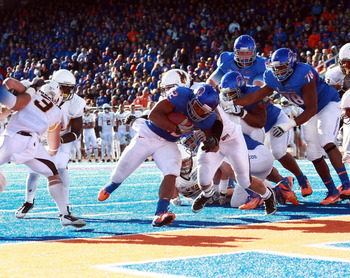 Brian Losness-US PRESSWIRE
Game: Boise State at Wyoming

Date: October 27, 2012

Time: 1:30 p.m. MST
This game is in late October, so the temperature in Laramie should be a balmy 20 degrees, but on the bright side, the wind should be blowing to make it feel colder.
In all seriousness, playing at Wyoming is not an easy thing to do. The conditions are never guaranteed, especially the closer you get to November.
Last season, the Broncos took the victory 36-14, but Wyoming showed some toughness. This season, the Cowboys bring back seven starters on defense and should be playing strong at home.
In 2011, Doug Martin ran all over the Cowboys defense for 153 yards and two touchdowns. Harper contributed 35 yards to the cause on nine carries.
This season, look for Harper to have the same kind of game Martin did last year. With Boise State having a very good offensive line, and a large group of excellent receivers, you have to believe Wyoming will have a very hard time slowing down the Broncos offense.
Harper will be a big part of a big win in Laramie, no matter how cold it is.
Game 9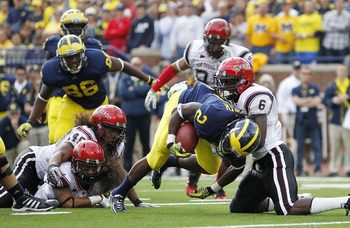 Leon Halip/Getty Images
Game: San Diego State at Boise State

Date: November 3, 2012

Time: 8:30 p.m. MST
Last year, Boise State shot out to a huge first-half lead, but the Aztecs were better than the score. It was 42-14 at the half, but the final score was 52-35.
Doug Martin ran for 129 yards and two touchdowns, but Harper didn't play. This year, however, it is his spot and his game. The Broncos should have a great game against a team in the Aztecs that has only five returning starters on defense.
Another home game performance for Harper and another 100-plus-yard game.
Game 10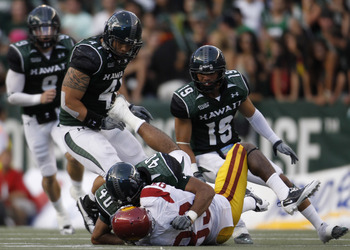 Kent Nishimura/Getty Images
Game: Boise State at Hawaii

Date: November 10, 2012

Time: 5 p.m. MST
Trips to Hawaii are great memories for many people, but for Bronco fans, that is not always the case. In 2007, the Broncos lost to the Warriors 39-27 and then returned to the Islands a month later only to lose to East Carolina in a heart-breaker 41-38 in the Sheraton Hawaii Bowl.
However, the last time the Broncos visited Hawaii, the results were considerably better. The Broncos handled Hawaii 54-9 in a very lopsided contest in 2009.
Fast forward to 2012, and Boise State will return to Aloha Stadium to take on the Warriors in what will be a Mountain West conference game.
With only four returning starters on defense, Hawaii will have a hard time slowing down the potent Boise State offense. Look for that experienced offensive line of the Broncos to make some volcanic holes for D.J. Harper to sail through.
In the end, the journey to the islands may bring Harper player-of-the-week awards, and don't be surprised if he has a record performance.
Game 11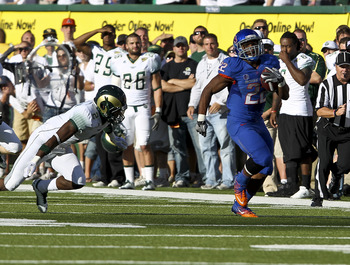 Troy Babbitt-US PRESSWIRE
Game: Colorado State at Boise State

Date: November 17, 2012

Time: 1:30 p.m. MST
Colorado State probably wishes last year's game with Boise State didn't happen. However, you can't change the past, and the 63-13 beatdown the Broncos gave the Rams had to be embarrassing for them at home. They probably want some revenge, but they certainly won't find it this year.
Last season, the Broncos had three running backs gain a decent number of yards against the Rams. Doug Martin led the way with 200 yards on 20 carries. Drew Wright added 79 yards on 16 carries, and D.J. Harper chimed in with 63 yards of his own on just eight carries.
The offensive line of Boise State, along with the talent of Harper and the other running backs on the Broncos 2012 roster, spell more of the same this season. Look for Harper to be exhausted after this one.
Game 12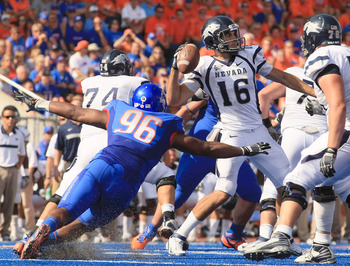 Brian Losness-US PRESSWIRE
Game: Boise State at Nevada

Date: December 1, 2012

Time: TBA
This will be a big game in Reno, Nevada. Bronco fans know all too well what happened the last time Boise State went down to face the Wolf Pack in the Biggest Little City in the World. This season, the game could be as big as ever, and it could be the one that decides the Mountain West title.
In 2011, the powerful Broncos ran all over the Wolf Pack. Doug Martin had 126 yards and two touchdowns. Meanwhile, D.J. Harper added 36 yards of his own, but he struggled in yards per carry. As the game went on, the Wolf Pack got stronger, and if they play that way all game this season, it could be quite the challenge.
Nevada returns six starters on offense and six on defense. They have enough returning talent to make things very interesting.
As far as Harper is concerned, this game will be his last regular-season game in his long career for Boise State. Look for him to play an incredible finale.
Overall, 2012 should be an incredible year for a very talented and relentless competitor in D.J. Harper.
Keep Reading

Boise State Football: Like this team?