Joe Saunders and 10 Predictions for the MLB Waiver Trade Deadline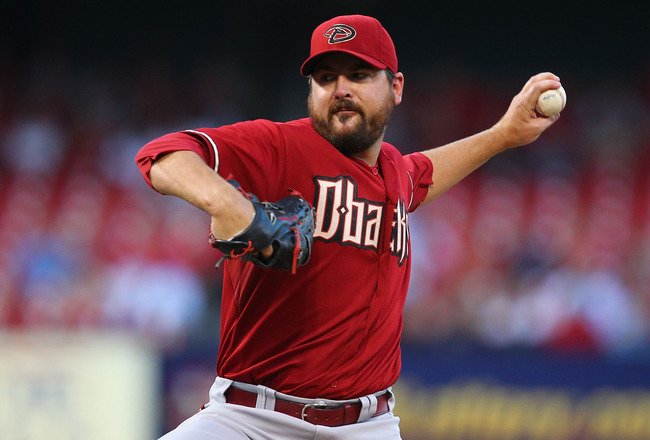 Dilip Vishwanat/Getty Images
The MLB waiver trade deadline is drawing near—now just eight days away—and contending teams are likely still looking for that one last piece that can help propel them into the postseason and beyond.
Activity thus far has been light, the most recent trade occurring between the Arizona Diamondbacks and Oakland A's, with the A's picking up veteran shortstop Stephen Drew for minor league shortstop Sean Jamieson.
Teams will likely look for players on the last year of their contracts, more as a rental option rather than a long-term solution.
With that in mind, I will present 10 possible options that could occur between now and August 31.
Joe Saunders to Oakland Athletics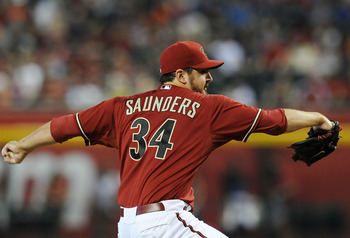 Norm Hall/Getty Images
Arizona Diamondbacks pitcher Joe Saunders is likely one of the more highly sought-after pitchers on the waiver trade market, and the Oakland A's now have a need.
Courtesy of Bartolo Colon's extreme act of stupidity, the A's are now scrambling to find a replacement for the suspended veteran. Ken Rosenthal of FOXSports.com reported that Saunders was placed on waivers, so the D-Backs will indeed look to move the veteran before the Aug. 31 deadline.
Saunders is 6-10 with a 4.22 ERA in 21 starts thus far in 2012. He is a fly-ball pitcher, so his stuff would actually play well at spacious O.co Coliseum.
Adrian Gonzalez to Los Angeles Dodgers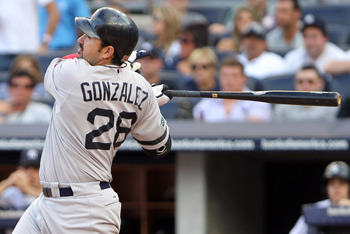 Anthony Gruppuso-US PRESSWIRE
The Los Angeles Dodgers need a first baseman, and the Boston Red Sox might just have one available.
Adrian Gonzalez was placed on waivers by the Red Sox, according to Sean McAdam of CSNNE.com. While on the surface it may look like standard procedure considering Gonzalez's lengthy and hefty contract, the Dodgers were at one time interested in Gonzalez before the non-waiver trade deadline.
Gonzalez would absolutely be a long-term solution that the Dodgers are looking for at the corner, but it would take some wheeling and dealing for any deal to get done. The Dodgers would likely want the Red Sox to take on at least one unwanted contract, and the Sox would absolutely want young pitching.
Alfonso Soriano to Baltimore Orioles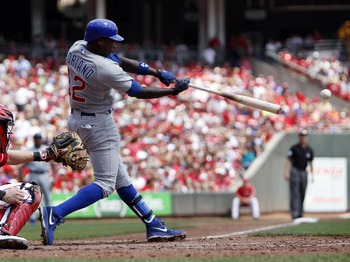 Frank Victores-US PRESSWIRE
With Wilson Betemit now on the disabled list for the Baltimore Orioles, might now be the right time to consider dealing for Chicago Cubs left fielder Alfonso Soriano?
Soriano has already cleared waivers, paving the way for a deal. Soriano does have 10-and-5 rights, so his approval is still needed. But the Cubs have said on more than one occasion they would be willing to assume most of the remaining money on Soriano's contract, now roughly $39 million.
Soriano has raked during his career as a designated hitter, hitting .357 with seven HR and 19 RBI in 22 games. Granted, it's a small sample size, but Soriano's swing would indeed play well at Camden Yards.
Carlos Marmol to Detroit Tigers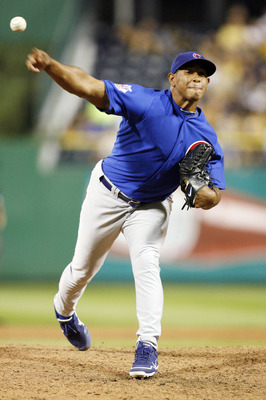 Charles LeClaire-US PRESSWIRE
Much like his teammate Alfonso Soriano, Chicago Cubs closer Carlos Marmol has also cleared waivers.
There's always a market for a veteran reliever for a contending team, so Marmol could draw interest. The Detroit Tigers wouldn't be afraid to bring in a veteran arm to support Jose Valverde and Joaquin Benoit on the back end of the bullpen, either.
Marmol's contract will be a sticking point. The Cubs back-loaded his deal when he signed a three-year, $21 million deal prior to the 2011 season, and he's owed $9.8 million next season. Considering the Cubs have already facilitated the deal to ship Carlos Zambrano to Miami and pay the vast amount of his 2012 salary in the process, the Cubs could well do the same with Marmol.
David DeJesus to San Francisco Giants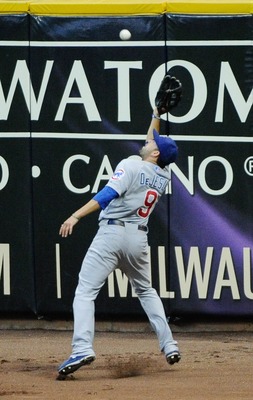 Benny Sieu-US PRESSWIRE
It should be pretty clear to just about everyone right now that Melky Cabrera's career with the San Francisco Giants is all but over.
After receiving a 50-game suspension and also looking at a federal investigation, Cabrera is toast as far as the Giants are concerned.
With a 2.5-game lead over the Los Angeles Dodgers in the NL West, the Giants would love to do what they can to hang onto that slim lead.
Chicago Cubs outfielder David DeJesus could be the answer. Hitting .270 with six HR and 38 RBI on the season, DeJesus could well be moved to make room for prospect Brett Jackson and to facilitate the Cubs' ongoing rebuilding process.
Patrick Mooney of CSNChicago.com speculated whether the Giants have interest as well.
Scott Hairston to Chicago White Sox
Anthony Gruppuso-US PRESSWIRE
The Chicago White Sox are riding a high right now, winners of three straight games over the New York Yankees to take the season series between the two teams for the first time since 2003.
DeWayne Wise has filled in admirably in the absence of the injured Alejandro De Aza, and the Sox are holding onto a two-game lead over the Detroit Tigers in the AL Central.
However, one thing they currently lack is a solid bat off the bench. Enter New York Mets utility player Scott Hairston.
Hairston has been outstanding for the Mets this season, hitting .277 with 14 HR and 45 RBI. Hairston is a free agent at the end of the season, and the Mets have not yet started negotiations.
Scott Merkin of MLB.com reported that White Sox GM Kenny Williams is carefully monitoring the waiver wire, so he could pounce if the Mets place Hairston on waivers.
Justin Morneau to Tampa Bay Rays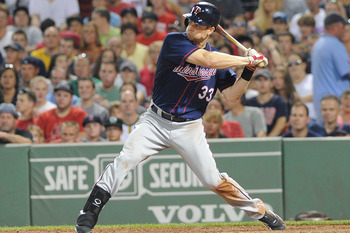 Bob DeChiara-US PRESSWIRE
The Tampa Bay Rays have closed the gap considerably in the AL East, now just three games behind the reeling New York Yankees.
Much like last year, timing is everything for the Rays, who have now won 15-of-20 games in the month of August. Slugging third baseman Evan Longoria is back in the lineup after missing close to three months, and the pitching has been outstanding as well.
One thing the Rays would love to have is another veteran bat. Justin Morneau of the Minnesota Twins could be that bat.
Morneau has raised his batting average to .275 courtesy of a strong second half, hitting .331 since the All-Star break. With 16 HR and 59 RBI, Morneau would be an outstanding addition for the Rays.
How much chance does this have of actually happening, however? Practically zero.
For one, the Rays won't want to take on a $14 million salary for the 2013 season without some financial aid from the Twins.
In addition, Morneau's resurgence in the second half could give promise to the Twins that he's finally completely healthy after concussion symptoms that derailed his career for the better part of two seasons.
Don't hold your breath on this deal.
Edinson Volquez to Oakland Athletics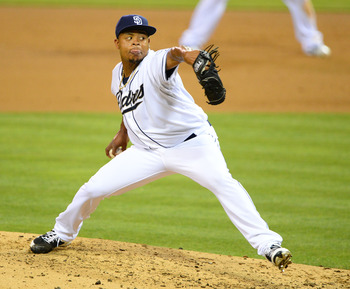 Christopher Hanewinckel-US PRESSWIRE
If the earlier trade scenario involving the Oakland Athletics and Arizona Diamondbacks pitcher Joe Saunders doesn't come to fruition, how about San Diego Padres pitcher Edinson Volquez?
Volquez has been placed on waivers, and there was discussion about Volquez being available at the non-waiver trade deadline. The Atlanta Braves considered Volquez as a possible solution in their rotation in late July.
Volquez is 8-9 with a 4.18 ERA in 26 starts this season.
Heath Bell to San Francisco Giants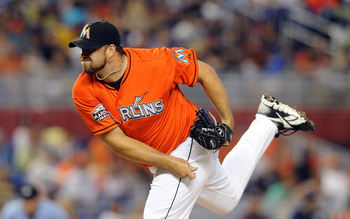 Steve Mitchell-US PRESSWIRE
Reliever Heath Bell was paid $27 million to close out games for the Miami Marlins for the next three years, and so far he has spit the bit.
Bell is now a seventh/eighth inning man, having been demoted from his role twice this season after blowing six save opportunities and posting a horrific 5.69 ERA.
The San Francisco Giants could have need for additional help in their bullpen for the final five weeks of the season. Although there's been no indication that Bell has been placed on waivers by the Marlins, given the fact he's owed roughly $19 million, he would easily clear waivers.
Henry Schulman of the San Francisco Chronicle said it is possible, but not likely, that the Giants would pursue Bell before Sept. 1.
Jason Giambi to Oakland Athletics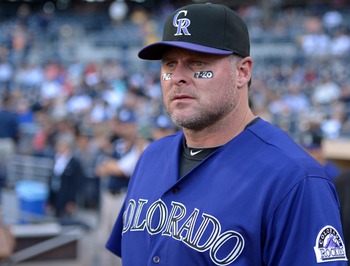 Jake Roth-US PRESSWIRE
At 41 years of age, the 2012 season could likely be the swan song for Colorado Rockies pinch-hitter/first baseman Jason Giambi.
Sidelined with a viral infection, Giambi will begin a rehab assignment this Friday and could be back with the Rockies next week.
Could Giambi return home to Oakland to help out a possible playoff contender and put the finishing touches on an 18-year career?
Highly doubtful.
It's a nice thought, though, as Giambi would be returning to Oakland for a second time after starting his career there in 1995. His veteran leadership could certainly be of benefit for a young team with little postseason experience.
Doug Mead is a featured columnist with Bleacher Report. His work has been featured on the Seattle Post-Intelligencer, SF Gate, CBS Sports, the Los Angeles Times and the Houston Chronicle.
Keep Reading