NFL 2012 Preseason Predictions: Which Teams Are Bound for Super Bowl XLVII?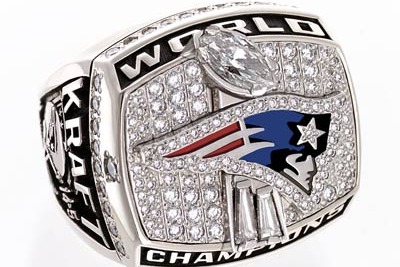 Every NFL season is an unpredictable whirlwind of action, a set of stories all interconnected that completely encapsulate its legions of passionate followers. From coast to coast and division to division, every fall campaign teaches pigskin pundits, all of us somehow convinced that we're preordained with the answers to the season's biggest questions, that you just never really know what's around the corner.
Yet, no matter the obtuse degree to which NFL stands for the "Nobody Figured League," we loyal fans simply can't help ourselves when it comes to predicting what's ahead, as though we're powered by a psychic cap or a futuristic sports almanac seized during time travel.
I am included among the masses, complete with my own gridiron God-complex, ready and willing to lend my annual opinion about the upcoming campaign's final standings.
Last year, my claims to fame were correctly picking the 49ers to win the NFC West, as well as foreseeing the Houston's rise and the correlating fall of Indianapolis from the postseason (even prior to the announcement of Peyton Manning's season-ending surgery!)
And, like anyone who tries their hand at football fortune-telling, I had a couple of duds, none bigger than my opting to drink the Eagles Kool-Aid! They were truly the wind "above my wings," sending my NFC East thought into a free-fall that ended with a true crash and burn.
Looking ahead may be a fool's errand, but I do have one key piece of knowledge on my side that many other prognosticators lack: understanding that this year is not last year.
While power in the NFL is quite fluid, there is one constant that pigskin prognosticators can absolutely take for granted: their picks will fall painstakingly short if they are failing to account for change, whether a lot or a little. So many people take the results of last year as scripture when looking ahead, which is a recipe for disaster.
Predicting an upcoming season may seem like a futile effort, but it can also be aptly described by another F-word: fun. That's why we'll all continue to try, both valiantly and in spite of the odds!
Tapping into my self-proclaimed and altogether fabricated skills of telepathy, I will delve into the upcoming season to predict the final standings, playoff results and most importantly...
...the winner of Super Bowl XLVII!
Begin Slideshow

»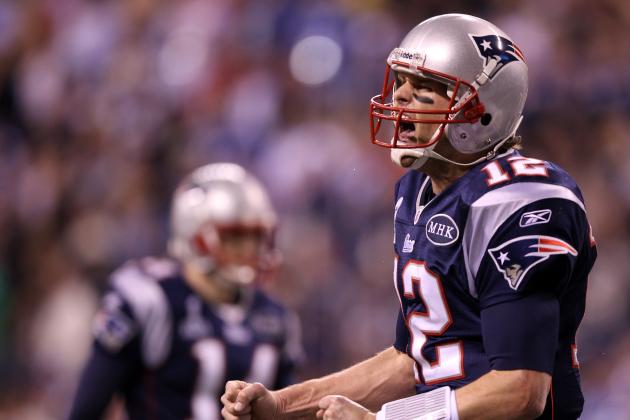 Elsa/Getty Images

The AFC East has been a fairly consistent and simple act to follow in the last decade. Quite simply, the AFC East is the "Patriots Act."
The Patriots have nine double digit win seasons since 2002 (the first season of the four-team AFC East), four more than the entire rest of the division. In their four best seasons, they are a combined 58-6, going 16-0 and 14-2 thrice. The rest of the teams in the East have lost at least five games every year.
The Patriots. Outside of Boston, they're the instigators of so many fan ulcers.
We all remember that play, a catalyst for franchise success that is either recalled with giddy fondness or unquenchable ire, depending on one's loyalties. On September 23, 2001, Drew Bledsoe attempted to run up the right sideline for a first down. Linebacker Mo Lewis hit the established "franchise" quarterback, a tackle whose pop echoed through Foxboro Stadium, and most fans who witnessed the play live can recall the sickening crack of pads (and vital organs) popping with uncanny clarity.
Enter a skinny-armed California kid who had to work his behind off just to earn a starting spot at the collegiate level. The former Michigan Wolverine graduated to an NFL starter, and the rest was simply the stuff of legend.
Since that fateful afternoon, when Tom Brady took the controls from the previous quarterback to have invigorated the franchise in the mid-90's, life has been good in New England. The Patriots are perennial double-digit winners, frequent Lamar Hunt Trophy hoisters, and optimistic about reclaiming the Lombardi Trophy in 2012.
Taking their juggernaut offense and adding in a superb playmaker- both down the field and at the sticks- in Brandon Lloyd, whose hands must be genetically predisposed to sweating Stickum, is almost unfair.
Considering the team's tremendous defensive struggles last season, one must also project an overall improvement, even if only slight. Of the most notable changes, the play of the team's first round pick, vaunted Alabama linebacker Dont'a Hightower, has been excellent so far in the preseason.
Frankly, let's just be honest: objectively speaking, who could really expect that the Patriots won't win the AFC East? Beyond the division, New England's favorable schedule could prove formidable to the rest of the conference. Wins should compile easily for the NFL's most consistent team of this millennium.
So if the Pats are the standalone favorite to win the division, which team(s) present their biggest intradivision threat...and will any of them make the playoffs?
While their appearance on Hard Knocks may be creating a bond between fans and football team, or at the very least making for interesting television, it's hard to confuse the Miami Dolphins as a viable threat this season.
Their offensive line has struggled in pass protection all preseason, the outside targets are limited (somehow, even more so than last year) for a trio of quarterbacks who all have something to prove, and the decision to start Ryan Tannehill should pay more dividends in the future than right now. Personally, I question the decision not to start Matt Moore, particularly against a largely beatable set of opponents.
The real debate amongst most fans concerns the Buffalo Bills and New York Jets, many wondering which squad will finish second in the division, whether they'll make the playoffs, and if that club can give the Pats a run for their money.
The Jets offseason has been a veritable circus, even without the typically bombastic Rex Ryan making his normal cornucopia of controversial comments. Well, I suppose there was that whole "best defensive coach" bit...
Luckily, the Jets defense is a talented bunch that should mostly help to back up his point, true or not, starting with the league's premiere cover corner, Darelle Revis, and working down.
Everyone knows where the concern lies: the offense. Gang Green hopes not to look too green, and they maintain that Mark Sanchez is their incumbent starter, proclaiming their faith in him as a passer. The NFL schedule-makers are master manipulators, and it is no coincidence that the Jets start the season against elite pass defenses such as the Steelers, 49ers, and Texans in the early weeks. It's a recipe for a controversy, and Tim Tebow's status as a backup or otherwise will be a polemical topic all season.
The Buffalo Bills kept Stevie Johnson in the house and brought in Mario Williams, a "house-sized" signing that stands as the keystone piece of Buffalo's goal to get better. Add the return of Fred Jackson from injury, and nobody can deny that the Bills should be in almost every game this upcoming season.
However, the Bills are not improving upon a 5-2 squad or the 1-8 team that finished last season. The truth of their previous existence likely rests somewhere in the middle, meaning that Buffalo hopes to take the rise from mediocre to good, not good to great. Let's not forget that their fast start last year hinged on a couple of comebacks that consisted of a slew of opportunistic plays. You have to fall behind before you can come back and opportunism doesn't exist without opportunity. Buffalo could have easily been 3-4 before their slide.
Count me in among those who ABSOLUTELY see improvement in western New York, but not necessarily a meteoric rise.
PROJECTED ORDER OF FINISH:
1. New England Patriots (14-2) *1st seed
2. Buffalo Bills (9-7)
3. New York Jets (8-8)
4. Miami Dolphins (3-13)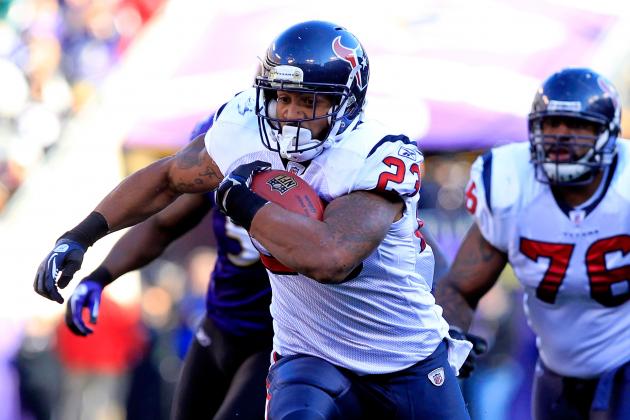 Chris Trotman/Getty Images

Before Matt Schaub fell to injury last season, it would have been easy to argue that the Houston Texans were the AFC's best team even without stud receiver and prime playmaker Andre Johnson.
Even after their quarterback fell, Y.A. Tittle....err, wait, T.J. Yates (it's so easy to confuse those two letter names, isn't it?) filled in with an unexpected aplomb. Nevertheless, playing hard to overcome the mounting of injuries, the team ultimately fell to Baltimore in the playoffs. If not for a horrendous first quarter in Maryland, the Texans may very well have traveled to New England for the AFC title tilt.
In the Ravens affair, Houston showed off its vastly improved defense, which dominated so decisively against Joe Flacco, Ray Rice, and crew in the playoff game's final three quarters that many Ravens coaches sang its praises going off the field.
In truth, the effort was decisive, particularly pleasant for Texans' fans who went from enduring the league's worst secondary to one of its finest.
Thanks, Jonathan Joseph and company!
Even with the loss of Mario Williams in the offseason, the Texans' defense should rank among the league's finest once again.
Complemented by stud running back Arian Foster, all-pro receiver Andre Johnson, and quarterback Matt Schaub on offense, the Houston Texans will be a force to be reckoned with in 2012! Hopefully, injuries are kinder to a team that rightfully has Super Sunday dreams. A healthy Texans squad could very well be one of the two best teams in the NFL.
Their closest competition in the AFC South should be the Tennessee Titans. Much of their success will hinge on the play of sophomore quarterback Jake Locker.
If Chris Johnson can regain form, as many predict he will, this will help take some pressure off the first-year full-time starter. Luckily for Locker, he will be targeting two fine receivers. Nate Washington, fresh off a 74 catch season that resulted in over 1,000 yards, is the team's second-best wideout, behind the awe-inspiring Kenny Britt.
Did I say second-best? He may rank third, particularly if rookie receiver Kendall Wright matches the high end expectations fans have for him.
The defense will have to improve, ranking near the middle of the pack in most categories last season, aside from a run defense that started the season hot but faltered to a near-bottom ranking by the end of the year.
Likewise, the defensive front will need to get more pressure, ranking last in sacks in 2012. The secondary, however, is pretty solid, with safeties Jordan Babineaux and Michael Griffin and corners Jason McCourty and Alterraun Verner.
The AFC South is hot at the top and cold at the bottom. The Titans and Texans represent the finer side of the division, whereas the Jaguars and Colts (who would have thought that two years ago?) are at the bottom of the pack.
Of the two, only the Colts have a remote chance of shocking fans. Andrew Luck appears to be the second coming of greatness in a row at quarterback in Indiana, and he will have the blessings of some veteran leadership to help his progress.
However, as AFC South Lead Writer Nate Dunlevy notes, the Colts defense is still a work in progress.
Still, things could be worse. Ask Jacksonville, whose 2012 roster ranks among the most pedestrian I've ever witnessed—and that was before the holdout of Maurice Jones-Drew.
Question: If the Jaguars were a projected two to five win team with "Pocket Hercules," how could they possibly fare without him? The likelihood of fans discovering that answer is becoming painfully probable. That said, I feel the Jaguars are making the right decision to hold their ground. Improvement starts from the foundation—lines and quarterback—and works outward from there, and Jacksonville needs dramatic improvement. They can't afford to tie up too many resources on one man, even if he represents half of a bad offense.
PROJECTED ORDER OF FINISH:
1. Houston Texans (12-4) *2nd seed
2. Tennessee Titans (10-6) *6th seed
3. Indianapolis Colts (6-10)
4. Jacksonville Jaguars (1-15)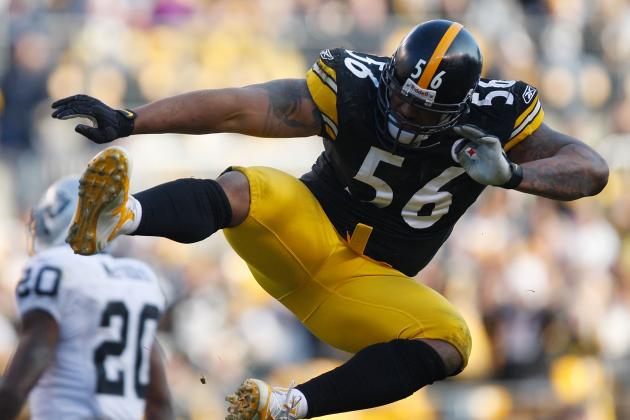 Jared Wickerham/Getty Images

The AFC North is a three team race. The Cleveland Browns are gearing for the future, particularly with the drafting of Trent Richardson and Brandon Weeden, but holes still exist and there is lots of development to be had prior to success. An almost surefire 1-5 or 0-6 AFC North record puts the once proud franchise in an immediate hole.
Perhaps their young acquisitions will help to recall the glory years earlier than expected, making the Browns this year's "Cincinnati Bengals" for NFL prognosticators.
Or maybe not—after all, the Bengals are still the Bengals!
The NFL's black and blue division added a "horse of another color" to its list of contenders last season when the Cincinnati Bengals made a shocking playoff run that was the bane of last preseason's picks.
This season, they return equally capable and certainly improved. A healthy Leon Hall should help bolster the team's secondary, and the acquisitions of Terence Newman and Jason Allen will give the defensive backfield a depth it sorely missed in spots in 2011.
A full offseason of development should only foster growth from sophomores Andy Dalton and A.J. Green. The quarterback/wide receiver duo exceeded all expectations; despite falling twice to the Men of Steel, the Pittsburgh Steelers got to experience their connection first-hand (see video).
Regarding the Steelers, the jive of many experts goes something like this:
The Steelers secondary is questionable. The unit finished atop the NFL last season, was victimized by a horrendous gameplan in the playoffs, and will only improve with Keenan Lewis and Cortez Allen playing starting and nickel corner opposed to William Gay.
The offensive line is questionable. I can't imagine how these hogs, even with two rookies potentially, can't be an improvement on the oft-injured front that finally inoculates itself from Chris Kemoeatu.
The running game is questionable. The NFL is no longer a house of heralding over thousand-yard rushers and big number backs. The backs in camp that are ready to go are exceeding expectations.
Key defensive veterans have left. No team replaced defensive talent like Pittsburgh, and gee-whiz, I suppose that means they're not old and slow this year, eh? That said, a huge part of their success hinges on health, and James Harrison's injury doesn't lend a warm, fuzzy feeling to Steelers Country.
Mike Wallace is absent, and the new offense leaves questions. Mike will return, the wideouts are deep, and...well, the offensive game plan certainly is a cornerstone for the team's 2012 success.
With a franchise quarterback in Ben Roethlisberger, who appears to be working well with Todd Haley during a crisp preseason, signs look positive. Few teams have a Q.B. of his caliber, intangibles, and experience, and certainly no team in the AFC North matches the 'Burgh at the most critical position on the field.
The Steelers are still a superbly talented crew that will challenge for the division title. After being swept last season by Baltimore, they'll be focused on correcting that pattern.
The Ravens replaced haunting images of losing to Pittsburgh in the playoffs with unsavory visions of a dropped winning touchdown pass (Lee Evans) and missed field goal attempt that likely cost them a Super Bowl trip. Nobody questions that they have the talent to go even further than last season.
Joe Flacco did prove that he can lead a team to great feats, even the "big game," with his aplomb in the second half at Gillette Stadium in January. Ray Rice returns as a gamebreaking running back, and the offensive system that was adjusted to defeat the Steelers still features the talent that did the job, namely two fine tight ends and receiver Torrey Smith.
With possibly one last shot at ultimate glory, Ray Lewis, Ed Reed, Haloti Ngata, and the Baltimore defense will be blistering once more, even with the absence of Terrell Suggs early in the season.
If the Ravens have any disadvantage, it's an even more difficult version of an already tough AFC North schedule, which features the added whammy of the Patriots and Texans. Baltimore will face these tests early in the season, likely without the one-man demolition crew himself, Terrell Suggs.
That, along with the fact that the current version of the Bengals still seek a first win over a winning opponent entering the year, lends me to give the nod in the division to Pittsburgh, despite the questions. In fact, Cincinnati's record may take a step backward even though the team as a whole should be better. The NFC East is NOT the NFC West, who the AFC North teams faced last season. And, above all else, Cincy is still a young, developing team, looking to transition from a squad that beats everyone and should and nobody it shouldn't and into the actual elite.
PROJECTED ORDER OF FINISH:
1. Pittsburgh Steelers (12-4) *3rd seed
2. Baltimore Ravens (11-5) *5th seed
3. Cincinnati Bengals (8-8)
4. Cleveland Browns (3-13)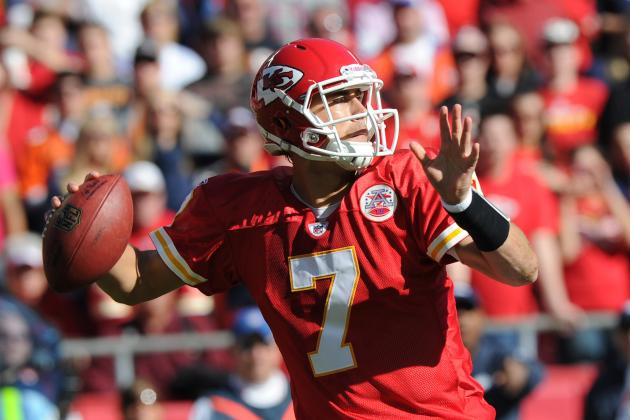 Peter Aiken/Getty Images

Unfortunately, Bleacher Report content standards don't afford me the option of describing the difficult to predict NFC East division with the one expletive that I feel aptly describes it: a "cluster-you-know-whatter!"
This division is a true toss-up, with all four teams sporting positives and negatives that work against them, optimistic franchises with flaws.
On paper, the San Diego Chargers should be a perennial winner, featuring veteran talent that has been in place for years and skill players that are the envy of so many talent-anemic organizations league-wide.
Yet, every season, the bubble bursts in southern Cali, and the Chargers end up being struck down by lightning amidst a long losing skid. Likewise, every season, the same team can start or finish white hot. The end result is a tale of two seasons which combine to tell a tale of mediocrity.
Indeed, San Diego is two teams, both "Charger" related: the bolts and the bulbs (or, should I say busts?) They can look like a lightning bolt, intimidating and able to strike with frequency whenever and wherever they desire. Then, in an instant, they can be a bulb, using almost no electricity and just waiting and waiting for the day whenever the lights go off completely and forever, useless.
With Norv Turner at the helm, I expect little change. If the team sees a fast start, a slow finish will result, and vice versa. Philip Rivers can be a stud quarterback, and he needs to show so by carrying his team. With a questionable defense and the loss of Vincent Jackson, the Chargers need Rivers to prove himself as capable of consistent quality outings.
California's other AFC West squad, the Raiders, lacks the type of depth needed to get through a 16-game season. Entering the offseason more than $30 million over the cap, the team had to slice and dice, a bad combination to go with lacking a draft pick until the late third round.
They've put a great deal of stock in Carson Palmer, who struggled without having any time to develop with his offense. Now, he'll have had that time, but this is the same quarterback who struggled in Cincinnati most of the time following his 2006 knee injury.
With a new coach and new attitude, management hopes for results. But a "low cost, low risk" offseason approach should sum up to low improvement, and that's even if Carson manages to minimize his turnovers.
Denver did not go low cost, low risk. They signed the biggest free agent of the summer, quarterback Peyton Manning.
On defense, the Broncos have studs upfront, particularly Elvis Dumervil and Von Miller, but their secondary will still raise eyebrows. Likewise, the run defense struggled last season, and the team hopes the return of tackle Ty Warren will help shore this up.
Yet, let's face it: nobody is talking defense in this offseason's version of "Big D." (Move aside, Dallas!)
The NFL's senior incumbent Manning will have a solid run game with Willis McGahee, and his targets in the passing game will include playoff hero Demaryius Thomas and a familiar face in Brandon Stokley. His receivers won't amaze in the same fashion as a Marvin Harrison or Reggie Wayne, but they shouldn't be too inept for the great passer to be productive...
...if the offensive line holds its own. A weakness of the unit, improvement is needed, and the biggest question remains: it's a radical adjustment to change from the run-first, read-option Tebow scheme to Manning's read and react pre-snap passing attack. Denver's line has to show it's ready for making the switch.
Denver knew it had to step up across the board and fight for Tim Tebow in order to win with him at the helm; somehow, I suspect that Peyton's presence could cause a little bit more relaxation, thus making the better quarterback his own worst enemy for that very reason. Though I'm sure they'll rally around Peyton, it's easier to take a deep breath and say, "He can bail us out," with Manning than with the pride of Florida.
Quietly, the Chiefs are the best team in the AFC West to start 2012. I think Denver may surpass them quality-wise, but that may not be enough to prevent K.C. from squeaking into the playoffs.
Jamaal Charles, Matt Cassel, Tony Moeaki and Eric Berry missed considerable time to injury last season, but they return confident for a rebound in 2012, particularly if free agents Eric Winston, Kevin Boss, Stanford Routt and Peyton Hillis can make an impact.
Kansas City showed flashes of a team on the rise before coming apart at the seams last year. Can they rediscover their 2010 swagger?
I feel this is the toughest division to project, a group of teams that are all perfectly mediocre with any one able to beat the other. By season's end, I think the Broncos will be the better team, but the Chiefs will benefit from an easier AFC schedule and slightly better AFC record, giving K.C. the division based on the conference tie-breaker.
PROJECTED ORDER OF FINISH:
1. Kansas City Chiefs (8-8) *4th seed
2. Denver Broncos (8-8)
3. San Diego Chargers (8-8)
4. Oakland Raiders (7-9)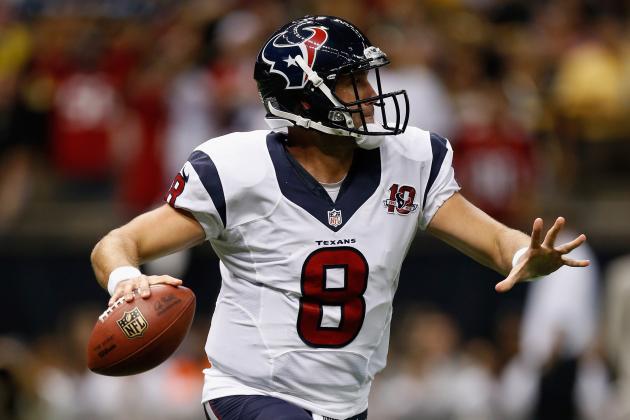 Chris Graythen/Getty Images

AFC EAST CHAMPION (SEED No. 1): NEW ENGLAND PATRIOTS (13-3)
AFC SOUTH CHAMPION (SEED No. 2): HOUSTON TEXANS (12-4)
AFC NORTH CHAMPION (SEED No. 3): PITTSBURGH STEELERS (12-4)
AFC WEST CHAMPION (SEED No. 4): KANSAS CITY CHIEFS (8-8)
WILD CARDS: BALTIMORE RAVENS & TENNESSEE TITANS
The AFC playoffs will feature an exciting roster of teams, including annual January staples and newcomers to the postseason.
Two compelling angles heading into the tournament will be the potential for rematches from the previous seasons (i.e. Baltimore vs. Houston/New England/Pittsburgh), mainly involving a team with a few haunting memories from recent Januaries. The Ravens, fresh off of a monumental disappointment, will begin their playoff trek on the road against the Chiefs, who lasted hosted a playoff game against the very same team two seasons ago. Can the Chiefs win a home playoff game for the first time since Joe Montana lined up under center?
Fans in Houston will be ready to create quite a raucous atmosphere, hosting their second playoff game for the right to go to their first AFC Championship Game!
Finally, while the Titans will look to put this roster's first stamp on the postseason, the Steelers and Patriots—who have represented the AFC in 8 of the last 11 Super Bowls—will look to further cement their glorious modern legacies with another championship.
Big Ben can tie Tom Brady himself with another ring, while Brady and Belichick continue to chase the great Noll/Bradshaw duo from Steeltown and their four championships together.
WILD CARD PLAYOFFS:
TENNESSEE TITANS 13 @ PITTSBURGH STEELERS 27
Ben Roethlisberger and the Pittsburgh offense have played well in recent seasons against the Titans, whose first playoff game since 2008 comes at a venue (Heinz Field) where the home team has won their last four postseason contests.

BALTIMORE RAVENS 20 @ KANSAS CITY CHIEFS 10
Joe Flacco has won at least one playoff game in each of his first four seasons, while the Chiefs, likely overmatched in the contest, haven't won a postseason home game since the age of Neanderthals.
DIVISIONAL PLAYOFFS:
BALTIMORE RAVENS 27 @ NEW ENGLAND PATRIOTS 24
Almost annually, top seeds fall in the postseason. Who am I to deny an apparent tradition?
Last season, the Patriots snapped a streak of one-game-and-out playoff appearances, earning a berth in Super Bowl XLVI. The Ravens feel the Lamar Hunt Trophy was handed away. In a contest the Pats would clearly rather avoid as their opening sudden death affair, a bad draw against a determined Ravens club goes awry for the home team, ushering back images of New England's 2009 and 2010 home losses. Nonsensical cynics will cite the loss as more reason to bash the legacy of the greatest quarterback of this generation (or beyond), as though he hadn't already won three rings and as if continual success isn't proof of greatness without an even greater cornucopia of championships. And, as if losses aren't team-oriented... and... wait... (deep breath).
In the ultimate revenge, Joe Flacco records the fourth quarter comeback that eluded him in January 2012.

PITTSBURGH STEELERS 23 @ HOUSTON TEXANS 26 (OT)
A classic playoff affair between proud Pittsburgh and rising Houston will mark the highlight game of the postseason, an epic clash that goes to bonus time, tied 20-20. However, the Steelers, after great debate, will kick the opening overtime field goal to be safe (just as they did in their last trip to Houston, a play which won the game against Jerry Glanville, Warren Moon and the Oilers on the final day of 1989). Then, as we know fate will have it in this situation, the Steelers will get burnt by the new rules. For the second year in a row, a long touchdown, this time by Arian Foster, will end the Steelers season in sudden death(ish).
AFC CHAMPIONSHIP GAME:

BALTIMORE RAVENS 17 @ HOUSTON TEXANS 20
As Baltimore experienced last season, the Texans are no slouch, even if they're not registering at 100% or fielding their starting quarterback. This time, however, instead of facing a loaded defense, the Ravens will have to square off against the Texans offense as it is supposed to look in big games.
The Texans will improve their postseason record to 3-0 at Reliant Stadium, securing a berth in Super Bowl XLVII in grand fashion. Strangely, their three home playoff wins in my vision will have all come against the AFC North, in order: Bengals, Steelers, Ravens.
Odd, right?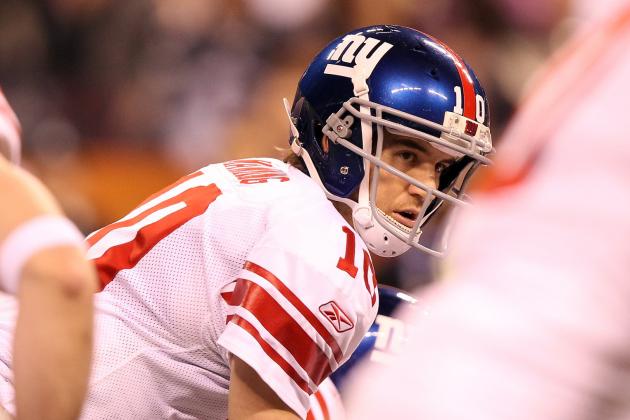 Ezra Shaw/Getty Images

Undaunted, I'll venture into the congested jungle of the National Conference's eastern-most group, trying to separate the forest from the trees.
On the ESPN Special "NFC East Preview," the network's analysts selected the Eagles to win the division, followed by the Cowboys and the third-place Giants.
Big Blue fans in the Big Apple certainly had big red about the face.
While everyone has the right to their opinion, those are the types of picks I generally hate, as they seem to be an avenue to garner more attention opposed to a true objective analysis, a mere shot in the dark to say, "See, told ya!," in the off-chance of success opposed to just focusing on the teams.
Though the G-Men only finished 9-7 last season, it was a resilient nine-win season in spite of a fast start, and their ending was the type that only helps solidify camaraderie. Would anybody honestly argue that the Eagles and Cowboys locker rooms are in a more volatile position to go "kablooey!" if things start to go awry? For New York, adversity is a simple matter of been there, done that.
More than that, however, is that they have the division's best team, and the confidence of a recent Super Bowl win should facilitate an ever better regular season in 2012, minus the skid that skewed their final record last year.
Speaking of the above-referenced phrase regarding "separating forests from trees," Tom Brady found the Giants defense was both last year, heard in the Super Bowl XLVI highlight film describing the effort to throw against the unit. He mentioned that it was like trying to throw a football in a forest; the Giants linemen's long arms and intuitiveness made open throwing windows a premium luxury.
To think, this was after a season in which the defense struggled mightily due to injuries! Sure, the front seven accounted for 48 sacks, third-most in the league. When you have Justin Tuck, Jason Pierre-Paul, and Osi Umenyiora, you're going to harass opposing passers!
The real struggles came in a ravaged secondary. As the season progressed into the playoffs, a New York secondary that had been decimated by injuries slowly took shape as a capable unit.
Consider the team's struggles: Terrell Thomas, Brian Witherspoon and Bruce Johnson were all lost for the season. Likewise, top team pick Prince Amukamara missed the first nine weeks of 2011. The result was an awful struggle, led in part by Aaron Ross, one of the worst statistical corners by measure in the league.
An improved secondary, or so the G-Men hope, will only further boost Tom Couglin's club, and please note that the third-down dynamo himself, Eli Manning, hasn't even been mentioned yet. He's only the division's most reliable field general, both in health and performance!
Unlike Michael Vick, Tony Romo, and particularly, Robert Griffin III, Eli has twice doubled the total playoff wins by his division peers (two) in one postseason. That, coupled with the rest of the NFC East's unproven track record to win the biggest games in December, you know—the ones that decide who keeps playing, gives New York a clear nod.
As recently as last season, Dallas's late-season loss to the Giants, in which they led by a decisive score late, marked another huge letdown in a critical juncture. At home, instead of taking a commanding division lead, the Cowboys fell apart.
Sure, Romo had a magnificent statistical season. It certainly wasn't his fault they lost the Giants' game, which saw a massive defensive collapse by the home team. Still, every season seems to include a tailor-made contest or two, serving as a coat rack for Romo critics to hang their "non-clutch" jackets.
Last year, nobody could dispute that poor decisions by the quarterback in the second half cost the Cowboys wins in New York and against Detroit.
Dallas is a team rife with talent, but until they desist with their isolated meltdowns, nobody can reward them with full faith.
For the Eagles, the issues are quarterback health (and performance) and defensive play.
Will Juan Castillo, an offensive line coach by normal trade, returning as defensive coordinator, a move that surprised many expecting a change, cause laser-locked, scrutinizing eyes to look upon the unit's production? Will the defensive line improve on their lack of gap discipline in the run game? Will the secondary's gamely, if not quarterly, schematic meltdowns discontinue?
Even if the defense improves, the Eagles will depend on a certain No. 7. Michael Vick's hand and ribs have already been victimized by limited snaps in the preseason. After such peril so soon and so abundantly, one has to wonder just how Philly will "phare" without Vick, a near certainty for portions of 2012.
Last, and perhaps least (though not to the same degree), Mike Shanahan's Washington Redskins will attempt to be the surprise team of the division, hoping that RG3 serves as a spark plug in the way that Cam Newton did last season, albeit in his own way.
However, if the RG3 is to have success this season, it appears it will have to be in spite of his offensive line, a problematic area that Redskins' featured columnist James Dudko recently examined.
Defensively, fans hope defensive coordinator Jim Haslett's aggressive 3-4 defense works well with their incumbent front seven, returning to the roster from last year. Nevertheless, the secondary is the problematic area on the defense once again.
The Redskins are close, and they could even be a borderline playoff contender in another division. For now, Shanahan's team will have to take solace in being "on the rise," which could translate to at or near the top of the division in a few years with enough improvement.
If the NFC East is truly up for grabs, as so many other analysts believe, it could be the result of a ridiculously hard schedule for each of its squads, having to play the AFC North (three playoff teams from one year ago) and NFC South (two playoff teams and the Rookie of the Year).
Once again, just like last year, teams' records in the division may fall a win or two short of truly reflecting their capabilities.
PROJECTED ORDER OF FINISH:
1. New York Giants (10-6) *fourth seed
2. Philadelphia Eagles (9-7)
3. Dallas Cowboys (8-8)
4. Washington Redskins (6-10)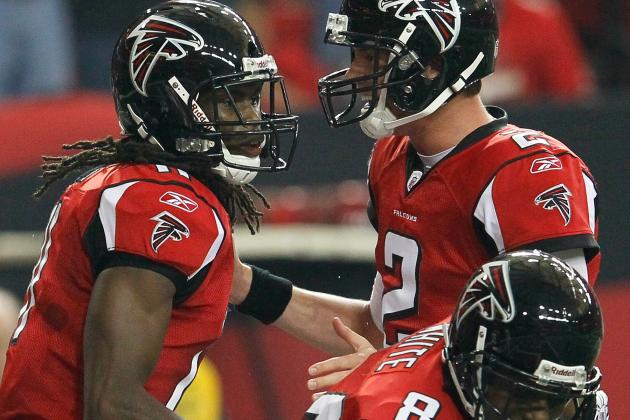 Kevin C. Cox/Getty Images

"Like sands through the hour glass..."
Many of the Saints' coaches and players were responsible for the ultimate hubbub of the 2012 offseason, and the question everyone asked in the late spring and early summer was: "What will happen to New Orleans in the wake of 'Bounty-gate?"
The answer was severe, and it included player suspensions, coaching suspensions, team fines and more. If nothing else, the team was allowed to keep the standing record of all of their wins since the late '90s, but- yeesh!
It's a lot to overcome for a team that surely entered 2012 confident in their ability to get back to another Super Bowl.
Instead, one has to ask whether or not Roger Goodell's penalization of the Saints will keep this season from being "Easy 'Brees-y'" in Louisiana, or if the strong winds of change will create a more forceful disruption. Did this open the door for another team in the division?
The Saints defense had already showcased a lack of killer instinct on the road, particularly in the playoffs, in the last two years, and the results of the offseason will only further neuter a unit that needed improvement. Along with adjusting to a new coordinator, the franchise will presumably be without Jonathan Vilma for the entire season.
Drew Brees represents the ultimate stabilizing force, arguably the game's best quarterback and returning with weapons galore in 2012. If he can keep the Saints on the same track as before, prior to the unrelenting noise of the summer, his legacy will only grow even more exponentially!
Conversely, one has to wonder if Sean Payton would rather see his team flourish or flounder without him, seeing as how their success in his absence could somewhat soil his golden image. Sure, we want to presume the best in everyone, but don't think for a second the thought hasn't crossed his mind.
If any team in the NFC South has a shot at eclipsing the Saints, it is the Falcons. Under Mike Smith and Matt "Matty Ice" Ryan, the team has four straight winning seasons and three playoff qualifying campaigns. Yet, they have no postseason wins.
Passing up New Orleans to secure a home game in January would go a long way toward changing that statistic.
If the Falcons have a major flaw, it's not a flaw so much as a universal truth: they're good at everything, but not quite great at any particular thing.
(Before you argue, ask yourself: whatever thing it is which you're going to argue as being great... is it great in the context of the NFL, or just great in the context of Falcons team history?)
While that may sound harsh, it's the consistent model that has born double-digit winning seasons and high expectations. The Falcons are a few key moves away, verging on greatness, but they could also be a mistake or two away from losing their current momentum.
What a slippery slope NFL decision-making can be, particularly for a front office of a successful team that isn't accustomed to such successes!
While the Falcons and Saints are the division's perennial winners, the Panthers and Buccaneers took offseason steps to leap into that class.
Tampa Bay hired coach Greg Schiano and acquired a slew of talent, including receiver Vincent Jackson, tight end Dallas Clark and offensive lineman Carl Nicks.
Carolina returns five defensive starters from injury, most notably Jon Beason. However, everyone knows the credit for team success will go to standout rookie, and, optimistically, sizzling sophomore Cam Newton.
A gut check tells most that Carolina is the team slightly closer to contention, though one can't completely forget that the Bucs were a combined 14-8 over 22 games prior to last season's meltdown.
In the case of these teams, improvement may not be a matter of meeting high-end expectations, but moreover, a simple matter of, well... improving, if only by a game or two.

PROJECTED ORDER OF FINISH:
1. Atlanta Falcons (10-6) *third seed
2. New Orleans Saints (10-6) *sixth seed
3. Carolina Panthers (8-8)
4. Tampa Bay Buccaneers (6-10)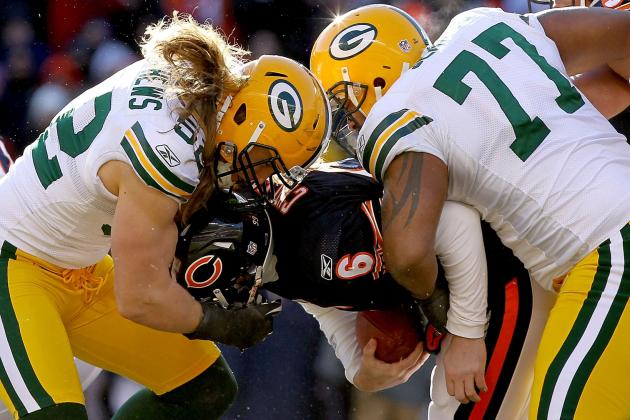 Doug Pensinger/Getty Images

Slingin' and backshoulderin' and dominatin'...
And fallin' short.
That was the story for Aaron Rodgers and the 2011 Green Bay Packers. A record-breaking season from the game's quarterbacking Mozart ended on a flat note, and the New York Giants turned their playoff "twist" into a sultry samba, winning Super Bowl XLVI.
Everyone remembers the unpredictable overthrows, the Hail Mary, the recent excuses...
Clay Matthews, a standout player on the one unit that must improve if the team is to duplicate, nay...exceed its recent successes, spoke about the playoff loss (via Ohm Youngmisuk of ESPN):
The fact is, (the Giants) didn't beat us; we beat ourselves. We need to play our best ball when it counts. This year, I expect us to be right back where we should be.
Few who know what they're talking about would ever truly believe the Packers were as bad as their 32nd ranking in defensive yards allowed, which is one of the most overrated (and, sadly, official) ways that defense is measured.
After all, they forced more turnovers than anyone else in football and feature a who's who of talent, including the returning B.J. Raji (from injury), Charles Woodson, Nick Collins and the aforementioned Matthews.
If they can continue to force turnovers and regain the swagger of two years ago, thus improving in the NFL measure of total defense, then the Pack will be on a relentless attack again.
All the while, Rodgers and his amazing offense will once again be "slingin' and backshoulderin' and dominatin."
While most feel there's nothing cheesy about picking Green Bay to win the NFC North, the real division debate regards the second-best team. Is it Detroit or Chicago?
The Lions return an offense that rivals their division elite in Wisconsin, and it all starts with quarterback Matthew Stafford. In the Motor City, "Megatron" could refer either to Calvin Johnson or the ever-active scoreboard (on both sides of the ball!).
Speaking of Johnson, the elite receiver whose two touchdown games and 1,600-yard season make him the most feared of his fraternity, the cover of Madden '13 will show off the stud player. Fittingly, his connection with Matthew Stafford is so psychic, it almost seems to have a video game-like quality.
For all of their success last season, clearly catapulted by their four-game winning streak that ended in 2010, the Lions finished 4-8, largely due to a defense that couldn't hold up its end of the bargain against good teams. That must improve under Gunther Cunningham, but will it?
Last season, so much stress fell on a 5,000-yard offense that already needed its injury-prone quarterback to stay healthy for a full season. That's too much strain on one unit, and I don't foresee enough of a defensive overhaul to prevent a step backward in Motown, despite popular opinion.
The Chicago Bears hope to be catapulted by the way last season started opposed to how it ended. With Jay Cutler discovering a groove and the defense finding solid footing, as per the norm in the Windy City, 'da Bears hit a stride that had many wondering if they could be the surprise team to unseat Green Bay in the playoffs.
Cutler fell, and the season spiraled into the abyss.
This season, Chicagoan hopes are for Cutler's health, dreams of a Pro Bowl season catapulted by the return of his connection with receiver Brandon Marshall. Hopefully, a return by Johnny Knox, who endured a career-threatening spinal injury when attempting to recover a fumble during a collision with Seattle's Anthony Hargrove, will further bolster the offense's production.
The Bears also get to play a third-place schedule thanks to their drop-off, which could pay dividends a season late in a tight NFC North race.
Yet, the true key for a team where the offense holds the keys to success is the offensive line. Can they protect Jay Cutler? And, just as importantly, can they run block well enough for Matt Forte to hit his peak? After struggling to get Forte going in their most recent preseason game against the Giants, Cutler made a candid point, according to the Daily Herald:
We have to get Matt going. We're not going to be a successful offense if we can't run the ball.
In Minnesota, hopes rest on the performance of second-year starter Christian Ponder at quarterback and All-Pro running back Adrian Peterson.
Nevertheless, the "Land of 10,000 Lakes" is currently the "Land of 10,000 Liabilities." Certainly, that's an exaggeration, but the fact that the Vikings still have a ways to go before truly contending in an awesome division is not remotely exaggerating.
PROJECTED ORDER OF FINISH:
1. Green Bay Packers (12-4) *first seed
2. Chicago Bears (11-5) *fifth seed
3. Detroit Lions (8-8)
4. Minnesota Vikings (2-14)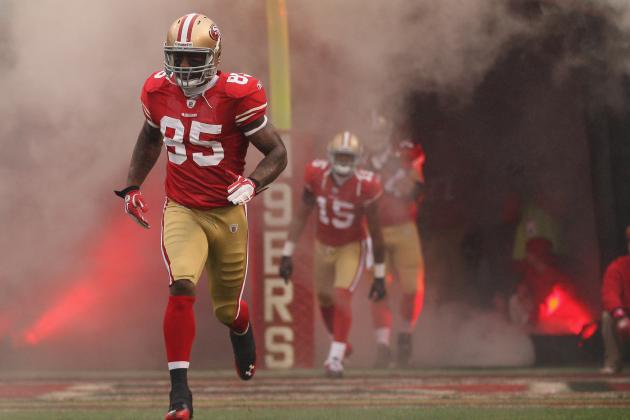 Ezra Shaw/Getty Images

The pride of my predictions from last year was accurately selecting the San Francisco 49ers, aided by the disciplinary improvements needed from coach Jim Harbaugh to win the division. Eureka!
This season, selecting the 49ers comes with no such bold claim, but the name of the predicting game isn't to take chances to stand out or to go out on any limbs; it's to be correct.
And, the 49ers are going to win the NFC West again. In fact, outside of the AFC East championship, it's the one title I'm most certain about heading into 2012.
A capable offense with a highly improved and non-mistake-prone quarterback in Alex Smith will return stud tight end Vernon Davis. While this is grand for the 13-3 squad, the fact that he was among the lone big playmaking threats on the team wasn't great.
Leave it to Harbaugh and crew not to cake over the problem, going out and acquiring additional threats, namely Randy Moss (whose speed and determination has seemed palpable through camp, to my own surprise!).
Further acquisitions have included Super Bowl hero Mario Manningham and two superb draft selections in Illinois wideout A.J. Jenkins and Oregon running back LaMichael James, either or both of whom could have immediate impact.
If the 49ers offense improves, the team could easily finish atop the NFC standings. This isn't a guarantee. Moss has been unpredictable, at best, along his many pit stops, and Jenkins has detractors who question his strength and size despite his sheer speed. Only time will tell the tale of the 49ers' new offensive talent.
If San Francisco is to be the best all-around NFL team headed into 2012, this ranking will be largely predicated on the strength of their outstanding defense.
The rest of the NFC West is playing catch-up, trying to nip the heels of a team whose return to prestige was as sudden as it was complete.
Pete Carroll has clearly demarcated that his team is well past the Super Bowl XL squad, trying to strip the fat and build a young, energized and explosive squad in the image of his own personality. No player better embodies this infusion than running back Marshawn Lynch.
Real hope banks on the ability to start a capable NFL quarterback, and most, in the long run, will share the belief that Matt Flynn is as close to that mold as exists on the Seattle roster. Personally, I hesitate to place too much stock on Flynn at the moment, though I don't deny his upside is huge.
But, I don't foresee Russell lasting beyond Week 6 with such a small leash, as dictated psychologically by circumstances. I still need to see him perform without the league's most dynamic offense surrounding him—and more importantly, over the course of more games!
If Flynn or the chosen starter is to have success, the receivers will need to meet expectations. Sidney Rice will need to stay healthy and better contribute, Braylon Edwards will need to rebirth himself from the doldrums of his recent seasons and Golden Tate will need to stop disappointing.
The most hidden gem unit in the NFL may be the Seattle defense, which not only anchored the team to a 5-3 finish, but also ranked in the top 10 in total defense last season.
They surrendered the seventh-fewest yards per play, despite seeing the field for staggering lengths of time due to an anemic offense. The standout players are few, but the unit as a whole tends to get the job done with grit, particularly when playing at home.
Most would have been surprised to discover featured columnist Dan Van Wie's ranking of the Seattle defense as sixth in the NFL.
Seattle may be closer to the winning cusp than many believe.
Arizona has been a perennial .500 team for a couple of seasons, ever since the exodus of Kurt Warner.
Even with All-Pro Larry Fitzgerald hauling in improbably grabs, the quarterback controversy in camp is a debate between two unproven commodities, and most feel John Skelton has intangibles in the clutch to better aid winning. Skelton may be good, but he's not that good. We'll see if he's the winner that many argue.
Arizona's defense, though improved last season in rank from a year earlier, should continue to struggle. And, word to the wise to Ken Whisenhunt regarding a familiar face from Pittsburgh: give William Gay zone assignments and/or safety support at all times, lest you get burnt by the false hope that he's remotely capable in man coverage.
Lastly (and least), Jeff Fisher is taking over a mess in St. Louis, a hodgepodge that overachieved two years ago in merely competing for a division that was won by a team finishing 7-9. Since then, all three other franchises have eclipsed that record or put themselves in more favorable positions.
Even in a weaker division, Fisher's task should add more gray to his beard for now!
PROJECTED ORDER OF FINISH:
1. San Francisco 49ers (11-5) *second seed
2. Seattle Seahawks (9-7)
3. Arizona Cardinals (6-10)
4. St. Louis Rams (2-14)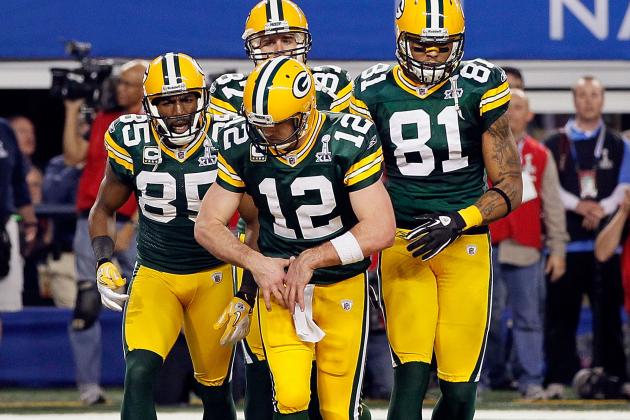 Kevin C. Cox/Getty Images

NFC NORTH CHAMPION (No. 1 SEED): GREEN BAY PACKERS (12-4)
NFC WEST CHAMPION (No. 2 SEED): SAN FRANCISCO 49ERS (11-5)
NFC SOUTH CHAMPION (No. 3 SEED): ATLANTA FALCONS (10-6)
NFC EAST CHAMPION (No. 4 SEED): NEW YORK GIANTS (10-6)
WILD CARDS: CHICAGO BEARS and NEW ORLEANS SAINTS
The top two seeds will be an encore of 2011, thus presenting a new theme in the NFC playoffs. Instead of home-field advantage, the mantra of those awaiting wild-card winners will be "Home-Field Redemption."
Namely, both the 49ers and Packers will be licking their chops, either for witnessing the fall of Big Blue or the opportunity to exorcize some demons. Will either succeed?
Making the playoffs for the fourth time in five years, will Matt Ryan finally seize that elusive first playoff win, or will fate cruelly hand him another unfortunate matchup post-December?
Sometimes, the hottest fires create the hardest steel, creating a great "mettle." Will the Saints use their controversies as inspiration to win in the playoffs, or are their road woes simply too much to overcome?
Lastly, Jay Cutler's last trip to the playoffs saw controversy of its own, as the Chicago quarterback sat in isolation as Caleb Hanie desperately attempted to engineer a comeback at Soldier Field? Is redemption in his future?
Many modern team championship records (a.k.a., Super Bowl records) will be on the line. San Francisco will get the chance to tie Pittsburgh for the most Super Bowl wins of all-time.
Meanwhile, the Green Bay Packers or New York Giants could tie Dallas and San Francisco for second place all-time with five Lombardi Trophies each.
WILD CARD PLAYOFFS:
NEW ORLEANS SAINTS 27 at ATLANTA FALCONS 30
An NFC South rematch and likely rubber match between these foes will put two playoff trends on the line, and something will have to give.
Will the Saints finally win on the road, despite their tumultuous offseason?
Or, will Matt Ryan get a much-needed playoff victory to cement himself among the current quarterbacking elites?
Who wins? The fairly good all-around Falcons? Or, the offensively dynamic and defensively inconsistent Saints? Does anyone have a coin?
The New Orleans defense has collapsed against far inferior opponents when it had all of its talent and expertise intact, so Matt Ryan should be able to engineer a more capable offense than the display against Giants this past January.
While the Saints haven't lost a playoff game due to Drew Brees, they haven't recently won with him either.

CHICAGO BEARS 13 at NEW YORK GIANTS 24
As dark-horse teams are concerned, I love the Bears in 2012. Yet, a trip to MetLife to face the G-Men, who stand as a tall test for Chicago's offensive line, seems a terribly unfortunate draw.
DIVISIONAL PLAYOFFS:
ATLANTA FALCONS 9 at SAN FRANCISCO 49ERS 20
Capable offense. Great defense. Road test.
Atlanta saw the same recipe last season with disastrous results, and not enough has changed in Georgia to make me expect a fresh outcome.
NEW YORK GIANTS 24 at GREEN BAY PACKERS 27
The NFL has a wonderful habit of playing out like the best script, offering stories and angles that seem too far-fetched for even a Hollywood tale. Yet, like clockwork, they happen almost annually.
Doesn't it seem fated that the Giants and Packers should meet again in the 2012 NFL playoffs? With defensive improvement as the main theme of their campaign, Green Bay would look to showcase its best form. Luckily, a tighter NFC race should prevent the rust that many argue occurs after extended time away from the field for starters.
Yet, excuses aside (here's looking at you, Clay!), the Pack will still need to knock the NFL champions from their platform, a feat that will once again not be easy in what promises to be an epic showdown between two great franchises and elite quarterbacks.
AFC CHAMPIONSHIP GAME:

SAN FRANCISCO 49ERS 16 at GREEN BAY PACKERS 20
Last season, many fans expected the Saints and Packers to rematch in a classic replay of an intense and exciting Week 1 affair. The Packers won the kickoff classic, 42-34. The second meeting never happened as the 49ers upended the Saints' season in an epic fourth quarter.
In 2012, a rematch from the first week will happen when San Francisco travels to frigid Lambeau Field. Many believe offense has the edge in bad weather, and certainly, the Packers have an advantage in inclement wintry conditions. As such, Wisconsin faithful will surely chant in unison, "Let it snow, let it snow, let is snow!"
The game will feature two classic battles: Rodgers and company versus Patrick Willis and the 49ers defense and the Packers' scrutinized defense (which led the league last season in forced turnovers) against the cautious, yet capable, 49ers offense.
If the Pack are at their peak, demonstrating a crispness in timing and execution on offense, even the best defenses in the game will have trouble stopping their attack. Likewise, the better offenses will have trouble keeping up!
(See: Super Bowl XLV)
The 49ers are a disciplined crew, but avoiding the game-changing turnover against Aaron Rodgers for 60 minutes during a winter's day at Lambeau Field seems a daunting task for any team.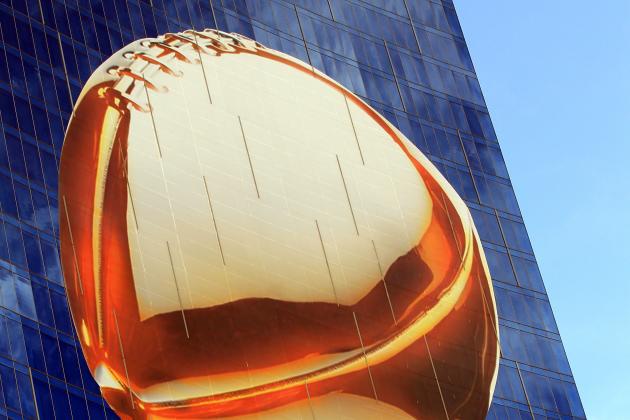 Scott Halleran/Getty Images

Super Bowl XLVII will be a refreshingly modern battle between two teams whose histories couldn't be more different.

The Houston Texans, a franchise entering its 11th season of existence, had yet to earn so much as a winning season. That was until 2011 when they finally won a division championship.
The Green Bay Packers, on the other hand, have enjoyed more league championships than the Texans have enjoyed seasons. Their winning dates back prior to the modern era.
Even limiting the scope to the Super Bowl era reveals a study in contrasts: a brand-new modern squad looking to win its first title and a storied crew steeped in tradition looking to a win a fifth trophy named for the legendary coach who once graced the hallowed grounds of their beloved Lambeau Field.
This study in stark contrasts isn't limited to a historical context. On the field, they also differ, despite some smaller similarities.
The Packers' offensive assault is an aerial showcase. Though the Texans have a passing attack, notably the combination of Matt Schaub to Andre Johnson, their success is largely dictated by a phenomenal ground game behind the strength of back Arian Foster.
In a strange way, that makes the Green Bay attack more modern and the Texas attack more... traditional. Ironic, no?
The Houston defense is a bit more of a shutdown crew, ranking second in yards allowed in 2011. They forced 27 turnovers, finishing with a +7 turnover margin. The Packers, who ranked dead last in yards allowed, forced a resounding 38 turnovers, ranking second in the NFL with an unbelievable +24 differential.
Also, strangely enough, the Texans defense was awful in 2010, before seeing a meteoric rise last year. The Packers defense, at least in terms of yardage and (thus) ranking, fell from grace last season.
Indeed, there's more than one way to "skin a cat," or whatever phrase you prefer to use for getting something done.
Sometimes, teams have to endure championship heartache before rising perseveringly atop the mountain. If for no other reason, my gut tells me to go with Green Bay.
FINAL SCORE: GREEN BAY PACKERS 30, HOUSTON TEXANS 22
Do you agree or disagree with my Super Bowl selections? Who do you feel will win the Lombardi Trophy in February?
Share your thoughts in the comments section below.