Grading How Top 5 2012 NBA 1st-Round Picks Look in Their New Uniforms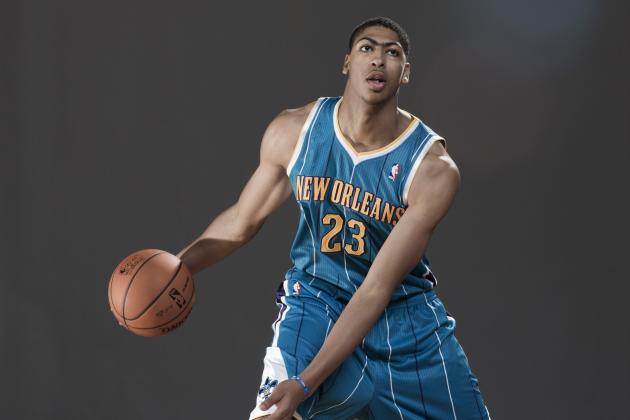 Nick Laham/Getty Images

The NBA's newest recruits converged for the Rookie Photo Shoot, and the much-anticipated results are in.
They all looked pretty much just like you'd expect them to.
Michael Kidd-Gilchrist and Bradley Beal pulled off their new looks especially well, perhaps bringing some dignity to some uniforms that badly need it. But, no one looked completely out of sorts in the new attire.
The shoot was also an opportunity for the budding stars to rep their new kicks after inking some endorsement deals with all your typical sneaker brands.
Here's a look at the top five picks and how their jersey debuts rated.
Begin Slideshow

»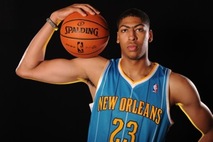 Let's be completely honest about how Anthony Davis looks in his New Orleans Hornets' jersey.
He looks like he's going to wear it for about three years and then decide he wants to try on a different one.
I really hope that's not the case. I hope he's watching what's happened to Dwight Howard's legacy and instead thinking about how he could do what Chris Paul couldn't for the city of New Orleans.
I also hope Eric Gordon and Austin Rivers realize that with some time and tweaking, this club has the potential to turn things around in much the same way the young Oklahoma City Thunder became overnight contenders.
Davis would be central to such a reversal. He's already demonstrated a level of confidence that far exceeds what most 19-year-old prospects bring to the table (even good ones), and his experience at the Summer Olympics should help him get off to a quick start with the Hornets.
Yes, it might be tempting to think about what Davis would look like in a New York Knicks jersey or paired with Derrick Rose and the Chicago Bulls, but let's enjoy his years with New Orleans.
Even if they don't last forever.
Grade: A-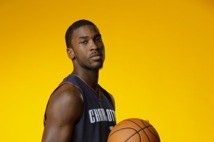 How to describe the way Michael Kidd-Gilchrist looks in his sharp new Charlotte Bobcats duds?
I'd say it looks like he wishes he was wearing a different jersey.
But, maybe I'm just projecting. It would be strangely satisfying to watch winners like Kemba Walker and Michael Kidd-Gilchrist do some winning at the NBA level too, turning around a franchise that's reached embarrassing lows and seems long overdue for some achievements that are at least respectable.
If I had to start rebuilding with a rookie, though, I'd be pretty excited about doing so with Kidd-Gilchrist. I don't even care if he lives up to all his potential, because I know he's going to work hard and do a great job no matter what.
And, he'll put on a good show in the process.
Of course, if he does live up to his potential, he could become the biggest superstar in his draft class. But, seriously, no pressure.
That's the other nice thing about MKG. He's cool under pressure, and I think his casual smile to the camera suggests as much. He looks like he's been there before.
Grade: A+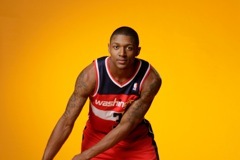 Let's just say this about how Bradley Beal looks in his new uniform: He's the first guy since John Wall who's been able to make it look remotely good.
I'm still not sure how I feel about these jerseys, or the Wizards in general for that matter. Did they get better? Yes. But, that's really not saying much, and it's still far too soon to know what "better" will actually mean for this club.
If it's to mean a 40-win season, it will require a lot from the 19-year-old Beal. He's instantly one of the Wizards' best scorers, and he'll be expected to take some of the pressure off of Wall. With starter Jordan Crawford making just 29 percent of his three-point attempts last season, Beal's shooting could win him plenty of fans in short order.
Oh yeah, Beal also looks like a star in the making in that uniform. He's one of the very few things this franchise has worth being excited about.
Does he look like a Rookie of the Year? Maybe, but let's not make any assumptions.
Grade: A-
How does Dion Waiters look as a Cleveland Cavalier?
Better than teammate Tyler Zeller, we'll give him that. But, does he look like he should have been the draft's fourth overall pick?
Not everyone thinks so, but that's never stopped this franchise from thinking a little bit outside the box. It seems to have worked with 2011 pick Tristan Thompson. It could work with Waiters too.
Does Waiters look like he'll be the next Dwyane Wade? Maybe, but that's a bit of a stretch. Does he look like he could make Kyrie Irving's life a lot easier?
Absolutely.
Waiters can get to the basket, finish, draw fouls and do all the things you'd expect from a prototypical slasher. He should also be able to shoot well enough for head coach Byron Scott to leave him on the floor for long stretches.
It's not as if the Waiters will have much competition for minutes at that guard spot.
Grade: B-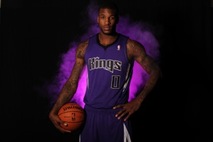 I'm not sure how I feel about the plume of purple smoke emanating from the background, but we won't hold that against Thomas Robinson.
Otherwise, the fifth overall pick looks like he's going to bring some fire to the Sacramento Kings. This roster already had plenty of young talent, but it needed another guy who could play hard every night and attack the basket without abandon.
Thomas Robinson also looks like he should have gone a pick or two higher. If the Cleveland Cavaliers hadn't just drafted power forward Tristan Thompson last summer, he very well might have. There's nothing not to like about Robinson, save maybe the fact that he could be an inch or two taller.
Couldn't we all?
The bottom line if that Robinson will be the best power forward this organization has had since Chris Webber, and he could form one heck of a front line with DeMarcus Cousins if they find a way to mesh together.
The one thing about putting a Sacramento jersey on is that Robinson already looks like he's on the losing team. If the Kings can learn how to play some defense, that might change. In fact, Robinson could have a lot to do with the Kings' image enjoying a radical change for the better.
Grade: B+