Power Ranking College Football Players Most Likely to Score Fat Guy TDs in 2012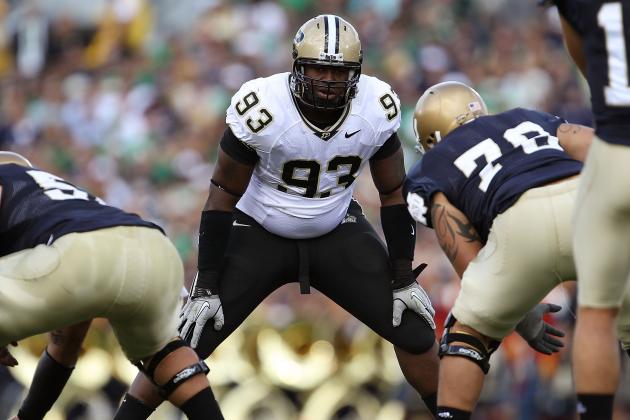 Jonathan Daniel/Getty Images

It's one of the most unorthodox scoring plays, and it doesn't matter what team you cheer for, it always leaves you smiling: it's the "fat guy touchdown."
There's no question that we love the big guys rumbling into the end zone for a score. Maybe because it's so rare or maybe because it's admittedly kind of funny to watch. Either way, it almost always makes the weekly highlight reel when it happens.
For our list, we looked at linemen weighing in excess of 240 pounds. No lightweights here!
So which "fat guys" should you be keeping an eye on this fall? We've compiled a list of the top buffet busters with reservations for six in 2012 with our "Fat Guy Touchdown Power Rankings."
Begin Slideshow

»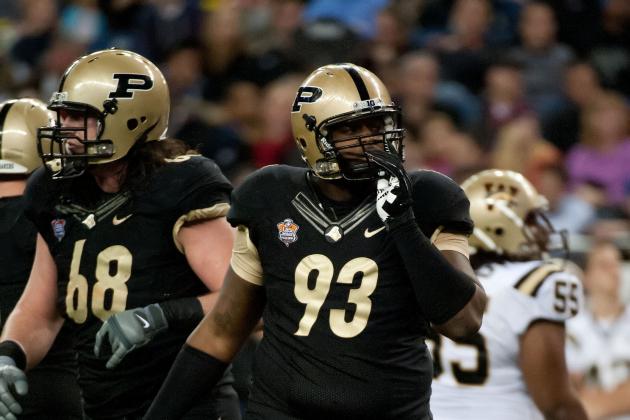 Tim Fuller-US PRESSWIRE

We begin our list with Kawann Short of Purdue.
At 6'3" and 310 pounds, Kawann Short easily qualifies for classification as a "fat guy."
And with 17.5 tackles for loss in 2011, Short has the distinction of being the Big Ten's top returning defensive lineman in 2012 in that category.
Spending so much time in the opposition's backfield is a great way to wreak some havoc, and when you add in his ability to produce sacks (6.5 in 2011), break up passes and force fumbles, you have the makings of a monster defensive lineman that does the Boilermaker Special proud.
This locomotive of a man also managed to block a kick last season, giving him even more credibility as a "fat guy touchdown" honoree.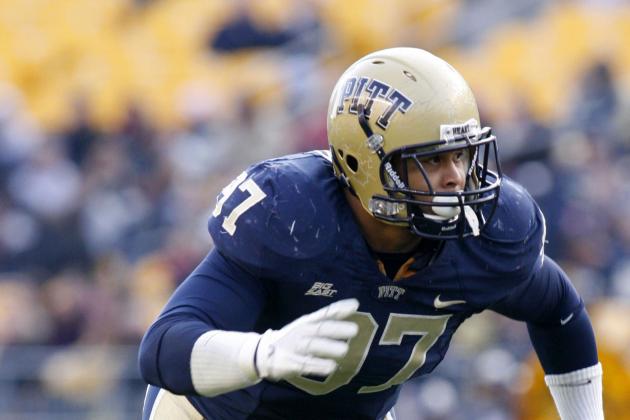 Charles LeClaire-US PRESSWIRE

Aaron Donald is one of the biggest, baddest defensive linemen in the Big East.
Last season, Donald recorded 11 sacks, tied for tops in the conference, and tied for sixth in the FBS.
He also added an additional six tackles for loss and had a total of 47 tackles in 2011.
Add in a forced fumble, four pass break-ups and 11 QB hurries, and you have a player who's capable of finding ways to score that momentum-grabbing defensive touchdown.
And did we mention this guy is 270 pounds at just six feet tall?
Football's fat guys are dangerous enough. Add in a naturally low center of gravity, and you start to understand why Donald makes this list.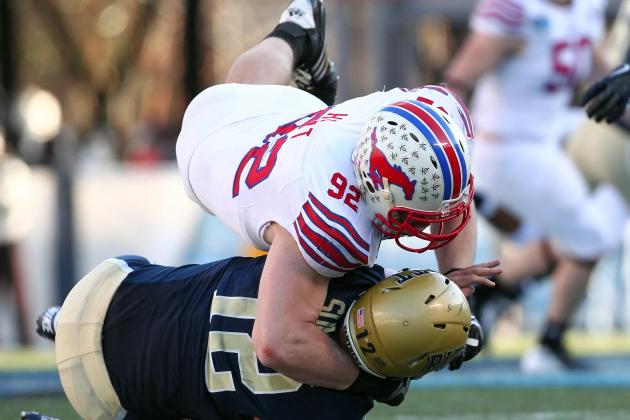 Marvin Gentry-US PRESSWIRE

A guy walks into a bar. He weighs 295 pounds, stands 6'8", and is named Margus.
It could be the start of a joke, or it could be the start of a description of a guy to which you'd give a wide berth.
Unfortunately for SMU's opponents, this walking wrecking crew is no fictional character. Margus Hunt is the returning senior defensive end for the SMU Mustangs, and he's also the king of blocked kicks in Conference USA.
Last season, Hunt had four blocked kicks or punts, putting him at the top of the C-USA list and tied for second in the entire FBS.
This huge defensive end also had 28 tackles, 7.5 for loss, three sacks and a pass deflection to go along with his four blocks.
With that much weight flying around the offensive backfield, it's no wonder Hunt makes our power-rankings list for fat guy touchdowns.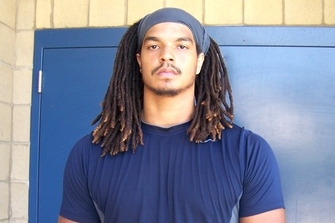 (Photo: The Fresno Bee)
One of the best ways to put the ball on the turf is to block a kick.
Fresno State's Marcel Jensen certainly knows a thing or two about it. Last season, Jensen blocked three kicks by powering his 6'6", 255-pound offensive lineman frame through the line to get a hand on the ball.
On top of his blocking abilities, Jensen has even shown off a little offensive skill, too, when this primarily blocking tight end has the ball come his way. Last season, he caught two passes for 16 yards and a touchdown.
That makes one "fat guy" TD for Jensen. Will there be more his senior season?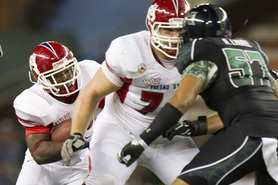 (Photo: California State University, Fresno Athletics)
Let me repeat: One of the best ways to put the ball on the turf is to block a kick.
Last season, Fresno State's Cody Wichmann somehow managed to guide his 310-pound heft through the kicking team's defense to block four kicks or punts—tied for second in the FBS.
And Wichmann is entering his sophomore season for 2012.
He's got the size. He's clearly got the strength and speed. All he needs now is a fortunate bounce, and we could be seeing this guy rumbling down the field en route to his very own highlight reel fat guy touchdown.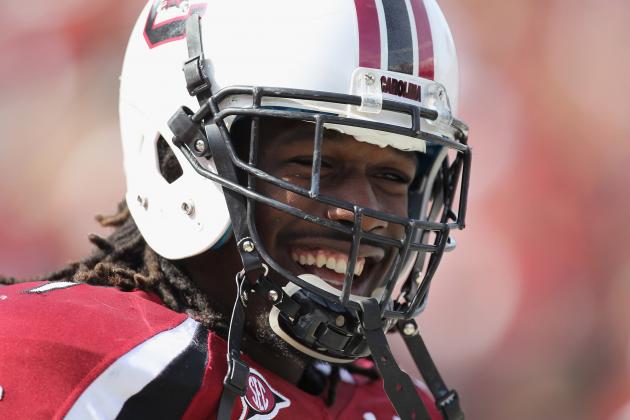 Streeter Lecka/Getty Images

South Carolina is desperately trying to prove to the rest of the SEC and nation that it belongs on any list of top teams in the conference.
If players like Jadeveon Clowney keep up their usual on-field exploits, the Gamecocks will soon get their wish.
Last season, Clowney—as a freshman—had 36 tackles, 12 TFL, eight sacks, six QB hurries, five forced fumbles, one pass deflection and a partridge in a pear tree.
Clowney also has the ability to step up big in big games, as he had five tackles and two sacks against Nebraska in the Capital One Bowl last season.
With the surprising speed and agility Clowney possesses, it's only a matter of time before we see his best moves into the end zone for a 254-pound "slender fat guy" touchdown.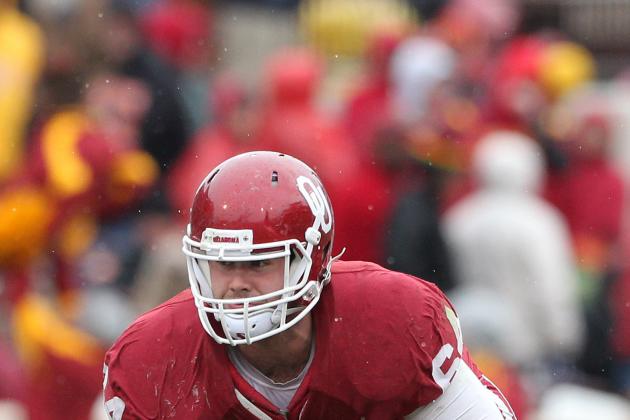 Matthew Emmons-US PRESSWIRE

Gabe Ikard is a typical "new era" offensive lineman.
Gone are the days of simply finding the biggest guy around and sticking him on the offensive line. Nowadays, coaches want strength and speed along with the girth.
Ikard is one of those guys.
He has the ability to gain yards if he managed to pick up a ball off the ground, but he's more likely to see the end zone if Bob Stoops has the idea to use him in a goal-line handoff situation.
Can you imagine what it would take to bring down all 295 pounds of him?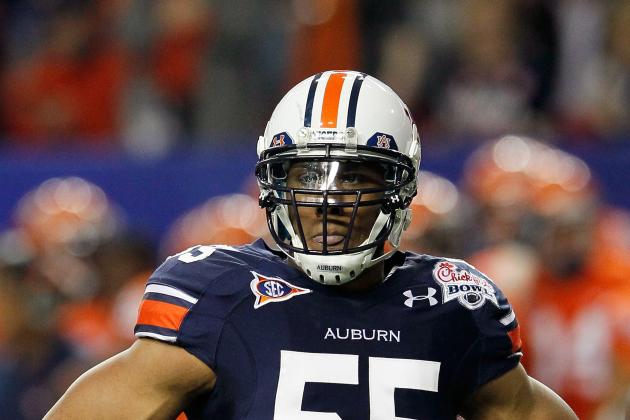 Kevin C. Cox/Getty Images

Corey Lemonier emerged as one of the SEC's best defensive ends in 2011 for the Auburn Tigers.
He also barely qualifies as a "fat guy." He's more accurately described as "frighteningly large."
All 250 pounds of him landed on the backs of 47 ball carriers last season, and 13.5 of those tackles were for a loss (9.5 sacks).
Lemonier also forced opposing quarterbacks into 15 hurry-up passes, five forced fumbles and a punt block; a recipe for offensive disaster—and defensive fat guy glory.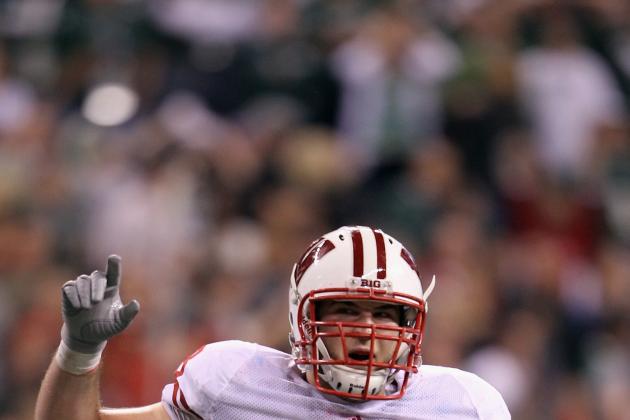 Andy Lyons/Getty Images

Standing at 6'6" and tipping (or maybe breaking) the scales at 320 pounds, Ricky Wagner easily qualifies as a buffet-buster.
But Wisconsin is gaining a reputation for having a pretty mobile offensive line, and Wagner has shown he has some surprising quickness in his feet.
A lot of guys can fall on a fumble. But Wagner has the ability to not only fall on a ball, but he has enough speed and strength to consider picking it up and rumbling down field with it, too.
And if he does, good luck getting him back on the ground.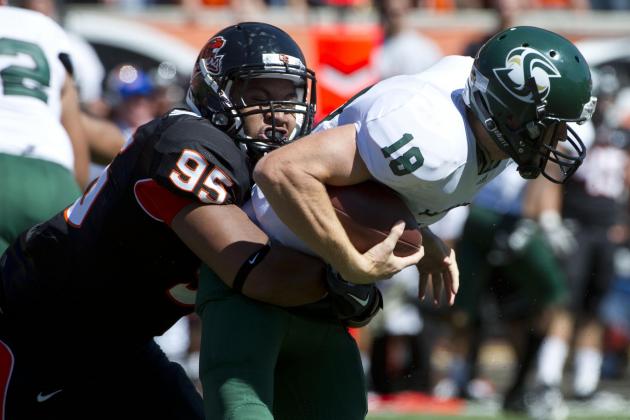 Jim Z. Rider-US PRESSWIRE

He's 6'3", weighs 258 pounds, and he was just a freshman in 2011.
But that didn't stop Scott Crichton from sneaking into the backfield to cause some mayhem.
Crichton led the Pac-12 last season in forced fumbles with six. He also accounted for six sacks, 14.5 tackles for loss and 74 total tackles.
Again, as a freshman.
As he matures, Beavers fans can rest assured that Crichton will become a vital part of a long-awaited Oregon State football resurgence—and maybe he'll score some TDs on behalf of the big boys along the way.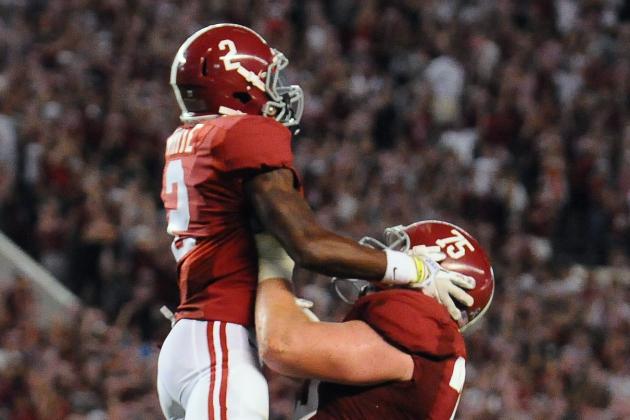 Kelly Lambert-US PRESSWIRE

Barrett Jones is not only one of the biggest guys you'd ever meet in real life, he's surprisingly versatile on the football field for a man so large.
With everything Jones can do and has done for his team, don't be surprised if Nick Saban adds "315-pound short-yardage ball-carrier" to the list of things Jones can do in 2012.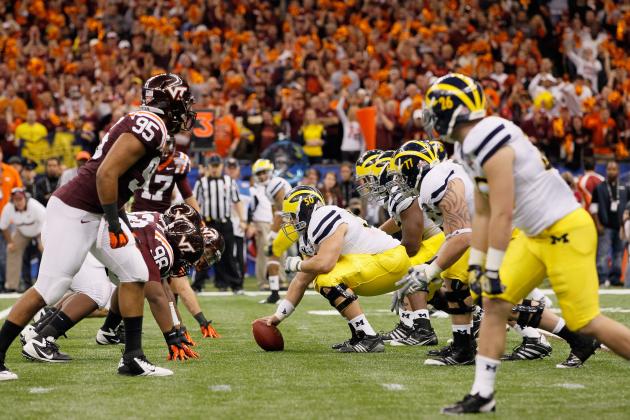 Kevin C. Cox/Getty Images

Our top spot for "fat guy touchdown" power rankings goes to the entire defensive line of the Virginia Tech Hokies.
Why are we including the entire defensive line? Simple: Beamerball.
Head coach Frank Beamer has turned defensive touchdowns into an art form. It's been so prevalent at VA Tech that it inspired the creation of the word we all now use to describe it.
Since Beamer became head coach at Virginia Tech, at least one touchdown has been scored by a player at every defensive position.
With that kind of consistency, it's not a question of if we'll see a "fat guy touchdown" from the Hokies, it's just a question of when.
That's why the Virginia Tech Defensive Line gets the top spot on our power-rankings list of most likely to score a fat guy touchdown in 2012.