College Basketball Preseason: Complete 2012-13 Pac-12 Preview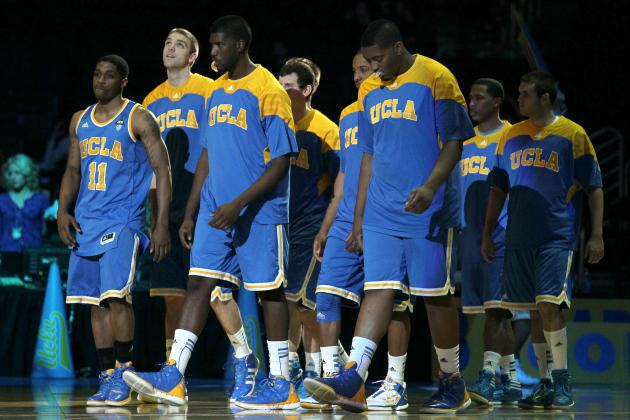 Stephen Dunn/Getty Images

The Pac-12 is back to where it belongs.
UCLA and Arizona will be national powers competing for the 2013 national championship, and Washington and California are not too far behind.
Colorado and Stanford should also produce solid seasons and be either lower seeds in the NCAA Tournament or high seeds in the NIT.
After years of being by far the worst of the "Big Six" conferences, the Pac-12 is back to being among the best.
Here is a 2012-13 season preview for the Pac-12, with team-by-team breakdowns, a preseason all-conference team and predictions for how the final standings will shape up.
Begin Slideshow

»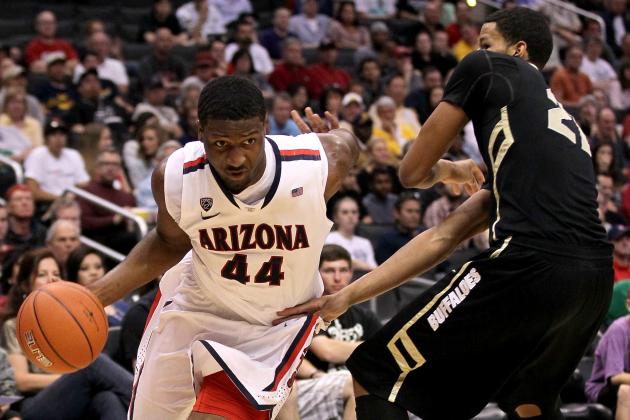 Stephen Dunn/Getty Images

Lost: Jesse Perry, Josiah Turner, Dondre Wise, Brendon Lavender, Alex Jacobson, Kyle Fogg, Kyryl Natyazkho
Found: Mark Lyons, Kaleb Tarczewski, Grant Jerrett, Brandon Ashley, Gabe York, Matt Korchek, Jacob Hazzard
Arizona's 2011-12 season was ultimately a disappointment as the Wildcats fell short of the NCAA Tournament and were then upset by Bucknell in the first round of the NIT. The Wildcats graduated leading scorer Kyle Fogg and second-leading rebounder Jesse Perry. Josiah Turner left the program, and Sean Miller brought in a monster recruiting class, making Arizona a potential championship contender for the 2012-13 season.
Arizona's recruiting class is headed by 7-foot center Kaleb Tarczewski, who was ranked No. 4 overall in the class of 2012 by ESPN. Tarczewski is a big who can run the floor and play as a true center. If he can add a midrange or outside shot to his game, he will be one of the best players in the conference.
Grant Jerrett and Brandon Ashley, the No. 2 and No. 3 power forwards in the class of 2012, according to ESPN, will also contribute immediately.
Gabe York, another top-100 recruit, is reputed to be a pure scorer with a great jump shot.
Miller also added Mark Lyons, a Xavier transfer who is eligible immediately. Lyons averaged 15.1 points and 2.8 assists while shooting 39.2 percent from three-point range for the Sweet 16 Musketeers.
Lost in the hype surrounding the recruiting class are returning players Solomon Hill, Nick Johnson and Kevin Parrom. These three, in addition to being talented, will provide invaluable experience for a team with a lot of youngsters.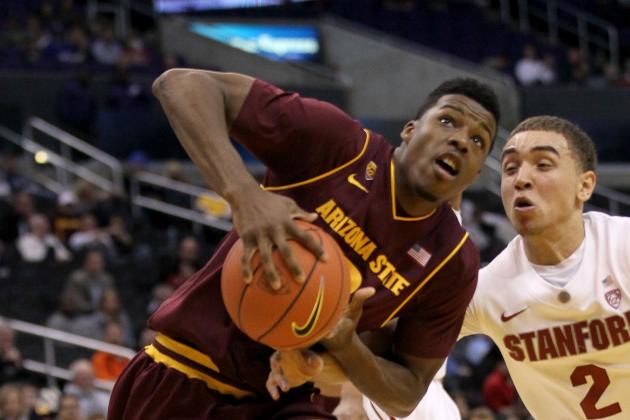 Stephen Dunn/Getty Images

Lost: Trent Lockett, Keala King, Kyle Cain, Chanse Creekmur
Found: Kenny Martin, Calaen Robinson, Eric Jacobsen, Jahill Carson, Evan Gordon, Bo Barnes
Arizona State is headed for one more rough season.
The Sun Devils lost leading scorer Keala King midway through last season, then Trent Lockett, who led the team in scoring after King's departure, transferred at the conclusion of the season.
The Sun Devils have a pair of incoming transfers with the potential to make an immediate impact. Bo Barnes, who played one season at Hawaii and averaged 6.6 points per game, had a few huge games with the Rainbow Warriors, and Evan Gordon scored 14.4 points per game during his sophomore season with the Liberty Flames.
Herb Sendek also returns Carrick Felix, who had a breakout season last year with Arizona State, averaging 10.5 points and four rebounds.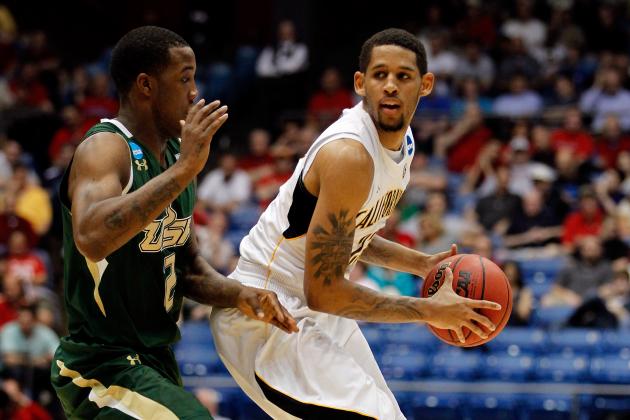 Gregory Shamus/Getty Images

Lost: Harper Kamp, Jorge Gutierrez, Emerson Murray, Alex Rossi
Found: Ricky Kreklow, Tyrone Wallace, Kaileb Rodriguez, Kahill Johnson, Sami Eleraky
California should make the NCAA Tournament this year, but the Golden Bears are a noticeable step behind Arizona and UCLA when it comes to winning a conference title.
Cal returns three starters from last season, when it lost in the First Four of the NCAA Tournament. Allen Crabbe, the Golden Bears' leading scorer, is back for his junior year. In each of his first two seasons, he made his name as a scorer. As a freshman, he averaged 13.4 points and last year 15.2 per game. During his sophomore year, he made 83 three-pointers and shot a hair under 40 percent from beyond the arc.
Also returning in the backcourt is Justin Cobbs, who will help fill the void left by Jorge Gutierrez's departure. Cobbs averaged 12.6 points, 3.1 rebounds and a team-best five assists last year. He was also a 41.3-percent three-point shooter. Cobbs could lead the Pac-12 in assists this season.
Also look for Missouri transfer Ricky Kreklow to compete for a starting position. He averaged 2.1 points and 1.3 rebounds as a Tiger freshman.
In the frontcourt, the Golden Bears lost Harper Kamp's 11.6 points and 5.2 rebounds per game, but they return David Kravish and Richard Solomon. Kravish started 24 games last season, and Solomon averaged 5.6 points and 5.9 rebounds in a season that was shortened due to a foot injury.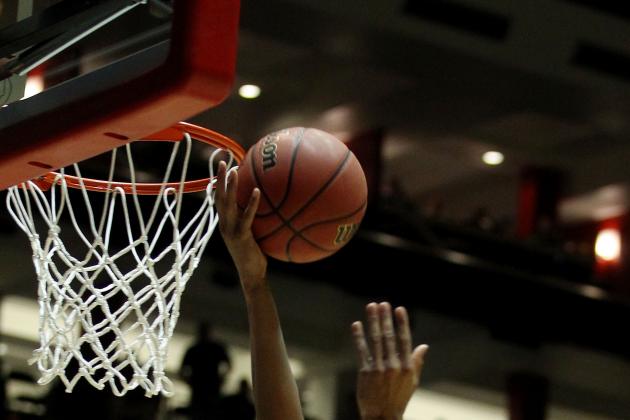 Christian Petersen/Getty Images

Lost: Shannon Sharpe, Ben Mills, Nate Tomlinson, Carlon Brown, Austin Dufault, Trey Eckloff, Beau Webb
Found: Josh Scott, Xavier Johnson, Wesley Gordon, Xavier Talton, Eli Stalzer, Chris Jenkins, Kevin Nelson
Colorado lost three key players from last year's NCAA Tournament team: Carlon Brown, Austin Dufault and Nate Tomlinson. Brown led the team in scoring, Dufault was No. 3 in scoring and No. 2 in rebounding, and Tomlinson led the team with three assists per game.
Andre Roberson, a returning forward, is a potential Pac-12 Player of the Year. As a sophomore last year, Roberson averaged 11.6 points and 11.1 rebounds. He also had 1.9 blocks per game.
The Buffaloes have a pair of top-100 recruits in center Josh Scott and forward Xavier Johnson. They also have transfer Kevin Nelson, who was the 4A Player of the Year in New Mexico in 2009.
With Roberson gaining another year of experience and a solid recruiting class, Colorado will do a pretty good job replacing its departed players. If the newcomers jell quickly with the returning players, the Buffaloes are headed for a top-five finish in the conference.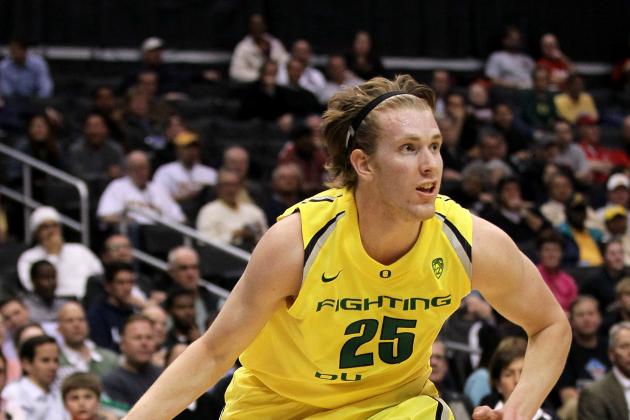 Stephen Dunn/Getty Images

Lost: Brett Kingma, Garrett Sim, Olu Ashaolu, Jeremy Jacob, Tyrone Nared, Devoe Joseph, Chris Larson
Found: Waverly Austin, Arik Armstead, Dominic Artis, Fred Richardson III, Damyean Dotson, Willie Moore, Ben Carter, Coleton Baker, Devon Branch
Oregon lost three of its top four scorers, but E.J. Singler, brother of former Duke star Kyle Singler, returns to lead the Ducks.
Singler averaged 13.6 points and 5.6 rebounds while shooting 36.8 percent on three-pointers and 90.9 percent from the charity stripe, making the All-Pac-12 second team. This year, he has a good chance at moving up to the first team.
The Ducks also return Johnathan Loyd, who could be ready for a breakout junior season as the Ducks' point guard. Loyd averaged 3.3 points and 2.9 assists in 17.3 minutes as a sophomore.
To share time at point guard, Oregon has Dominic Artis, a top-100 recruit. He was possibly the best West Coast point guard in the class of 2012.
The Ducks also have a trio of incoming junior college transfers in Waverly Austin, Coleton Baker and Devon Branch.
Austin, who initially committed to South Florida but did not qualify academically, was a first-team JUCO All-American last year. Baker and Branch both proved themselves as scorers, averaging 24 and 20.4 points, respectively.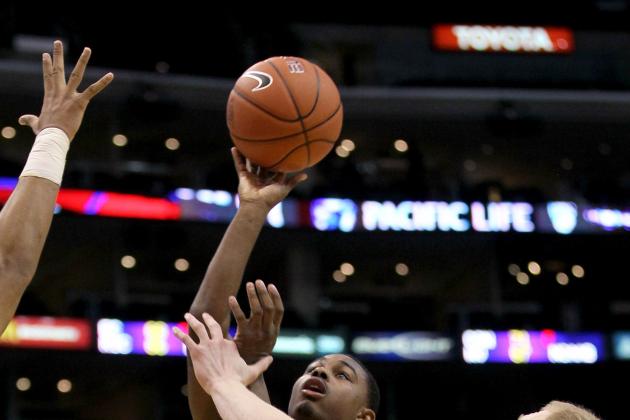 Stephen Dunn/Getty Images

Lost: Jared Cunningham, Kevin McShane, Rhys Murphy
Found: Jarmal Reid, Victor Robbins, Langston Morris-Walker, Michael Moyer
Oregon State had a relatively successful 2011-12 season when compared to other recent years. The Beavers went 21-15, 7-11 in the Pac-12, and advanced to the CBI semifinals, where they lost to conference foe Washington State.
The Beavers lost Jared Cunningham, who was clearly their best player with 17.9 points, 2.8 assists per game and 2.5 steals per game. He was also a 33.8 percent three-point shooter.
Aside from Cunningham, Oregon State returns the other pieces necessary to improve on last year's success.
The Beavers will have an experienced frontcourt with junior Devon Collier, the team's top returning scorer at 13.1 points per game, and seniors Angus Brandt and Joe Burton. They will also have sophomore Eric Moreland.
In the backcourt, Oregon State will have Ahmad Starks and Roberto Nelson. Starks averaged 12.1 points and 1.7 steals last year while also dishing out 2.7 assists per game and shooting 37.1 from beyond the arc. Nelson averaged 9.3 points and 2.2 assists.
Oregon State is an improving club, but unfortunately for the Beavers, the Pac-12 is also improving. So, expect a similar or slightly better finish than last season.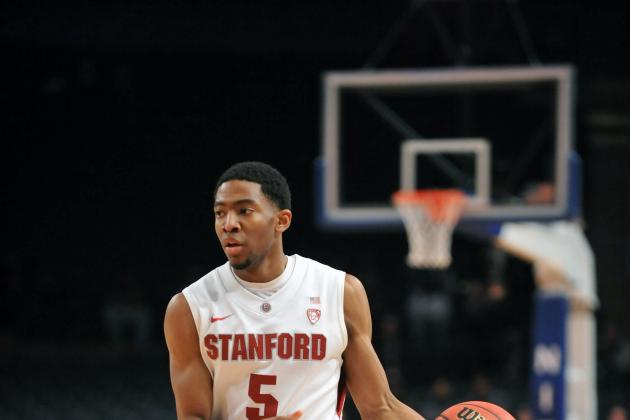 Jason Szenes/Getty Images

Lost: Andrew Zimmerman, Josh Owens, Jarrett Mann, Jack Trotter
Found: Rosco Allen, Grant Verhoeven, Christian Sanders
Fresh off an NIT championship season, Stanford lost three important players but still kept its core group. The loss of Josh Owens, who averaged 11.6 points and 5.8 rebounds last year, will hurt, but the Cardinal can deal with the other three losses.
That is because they have Chasson Randle and Aaron Bright, who make up a strong backcourt. Randle led the team in scoring last year with 13.8 points per game, and Bright was the main distributor with 3.7 assists along with 11.7 points per game.
Both cemented their reputations as sharpshooters, as well. Randle shot 43.8 percent from deep, and Bright shot 43.6 percent.
In the frontcourt, the Cardinal can use Anthony Brown, Dwight Powell and Josh Huestis, all of whom received significant playing time last year. Brown is yet another solid shooter at 35.3 percent from beyond the arc.
Stanford also has a pair of top-100 recruits joining the frontcourt in Rosco Allen and Grant Verhoeven.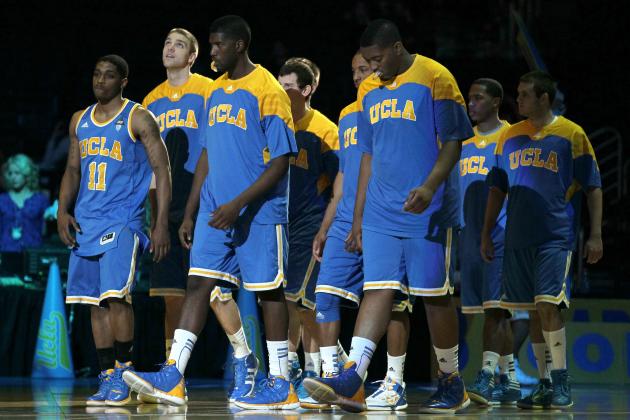 Stephen Dunn/Getty Images

Lost: Lazeric Jones, Brandan Lane, D'End Parker, Jerime Anderson, Matt DeMarcus, Tyler Trapani, Anthony Stover, Kenny Jones
Found: Shabazz Muhammad, Kyle Anderson, Tony Parker, Jordan Adams, Larry Drew II
UCLA's success this season depends on whether its core group of freshman will deliver.
The Bruins will start at least two and as many as four freshmen. (Jordan Adams was a top-50 recruit, too, although he got lost in the hype surrounding Shabazz Muhammad, Kyle Anderson and Tony Parker.)
Aside from the group of freshman, head coach Ben Howland also brought in UNC transfer Larry Drew II. Drew had a strong sophomore season with 8.5 points and 5.9 assists per game while shooting 35.2 percent from deep, but his production fell, as did his minutes, during his junior season, prompting his transfer.
UCLA will use a combination of him and the 6'8" Anderson at point guard.
Add junior Tyler Lamb, Adams and Muhammad to the wings and you easily have the best backcourt in the Pac-12.
In the frontcourt, the Bruins will have the Wear twins, David and Travis, and Joshua Smith, in addition to Parker.
Both Wears had scoring averages in double figures last year, Travis at 11.5 and David at 10.2. Smith had a disappointing sophomore season with only 9.9 points and 4.9 rebounds, but he reconditioned his body and is prepared for a breakout junior year.
No matter what, UCLA is a top-two team in the conference. If the freshmen live up to the hype, the Bruins are the clear favorite for the title.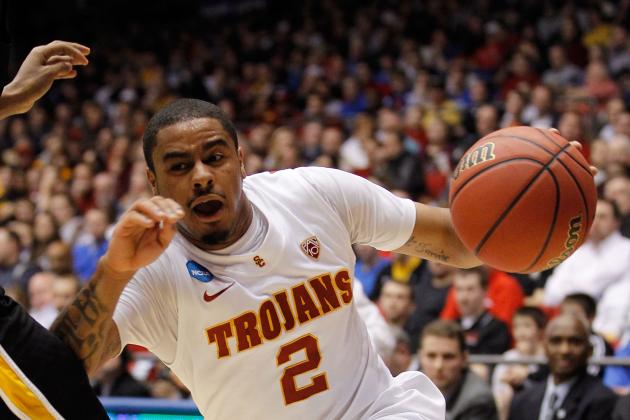 Gregory Shamus/Getty Images

Lost: Maurice Jones, Garrett Jackson, Curtis Washington, Alexis Moore, Eric Stangis, Danilo Dragovic
Found: Renaldo Woolridge, Ari Stewart, Eric Wise, Strahinja Gavrilovic, Brendyn Taylor, J.T. Terrell
USC was simply awful last year, but the 2012-13 season is filled with much more promise.
The Trojans have four incoming transfers who will make immediate impacts: Renaldo Woolridge, Ari Stewart, Eric Wise and J.T. Terrell.
Woolridge played his first three seasons at Tennessee. During his final year, he averaged 4.3 points and 3.3 rebounds.
Stewart was a top-100 recruit in the class of 2009, and as a sophomore at Wake Forest, he averaged 8.5 points and 4.4 rebounds.
Wise was a star in his three seasons at UC-Irvine, scoring 1,280 points. As a junior, he scored 16.3 points and 8.1 rebounds per game.
Lastly, Terrell, who hails from Peninsula Junior College, was ranked the No. 1 junior college player in America by Swanny's Roundball Review.
USC also returns its top four scorers from last year, plus Jio Fontan, who missed last season with an injury, will rejoin the team. Fontan averaged 10.5 points and 3.9 assists for the Trojans in 2010-11.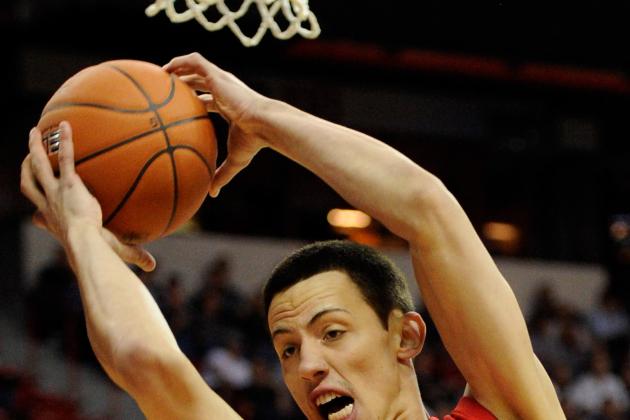 Ethan Miller/Getty Images

Lost: Chris Hines, Kareem Storey, Javon Dawson, George Matthews, Dijon Farr, Anthony Odunsi, Kyle Perkins, Blake Wilkinson, Corbin Green, Josh Watkins
Found: Justin Seymour, Brandon Taylor, Jarred DuBois, Renan Lenz, Dakarai Tucker, Jordan Loveridge, Dallin Bachynski
Utah won only six games last season, and things aren't looking much brighter for the Utes this season.
The Utes return only two main players from last year's team: Jason Washburn and Cedric Martin. Washburn led the team in rebounding, averaging 6.2, and scored 11.4 points per game. Martin scored 7.4 points per game and shot 37.1 percent on three-pointers.
They also have a pair of incoming transfers who could have an immediate impact.
Jarred DuBois, who played at Loyola Marymount, is eligible immediately. The 6'3" guard averaged 10.1 points for the Lions last season.
The other transfer is Dallin Bachynski, a 7-footer who averaged 3.6 points and 2.6 rebounds for Southern Utah as a freshman.
Among the Utes' freshmen, Jordan Loveridge might be the only one ready to contribute immediately. Loveridge was ranked No. 97 overall on ESPN in the class of 2012.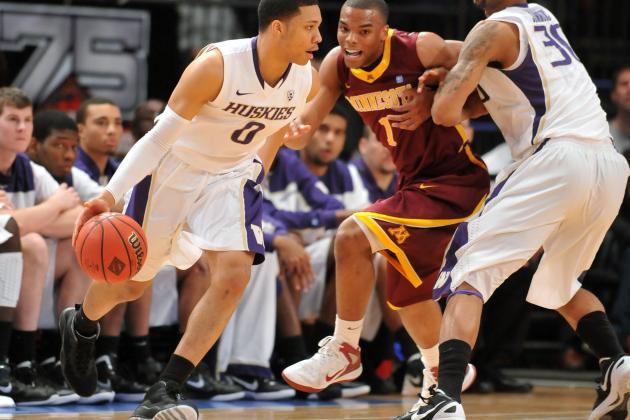 Jason Szenes/Getty Images

Lost: Terrence Ross, Tony Wroten, Brendan Sherrer, Darnell Gant, Alex Wegner
Found: Scott Suggs, Andrew Andrews, Jernard Jarreau, Mark McLaughlin, Quinn Sterling
Washington lost its two leading scorers, and although another regular season championship is farfetched, the Huskies could still have a solid year.
A combination of C.J. Wilcox and Abdul Gaddy in the backcourt plus 7-footer Aziz N'Diaye in the frontcourt provides the Huskies with a solid core.
Wilcox is the team's best returning scorer at 14.2 points per game. He shot 40.3 percent from beyond the arc last season.
Gaddy put together a strong junior season as the Huskies' point guard, averaging 8.1 points and 5.2 assists per game.
N'Diaye averaged a block and 7.3 rebounds in 23.3 minutes per game. His offensive production also improved to 7.8 points per game.
Sophomore Desmond Simmons, a 6'7" forward, could be ready for a breakout season. He averaged 4.2 points and 4.8 rebounds in just 17.8 minutes per game. This year, he will be asked to do much more with the departure of Darnell Gant.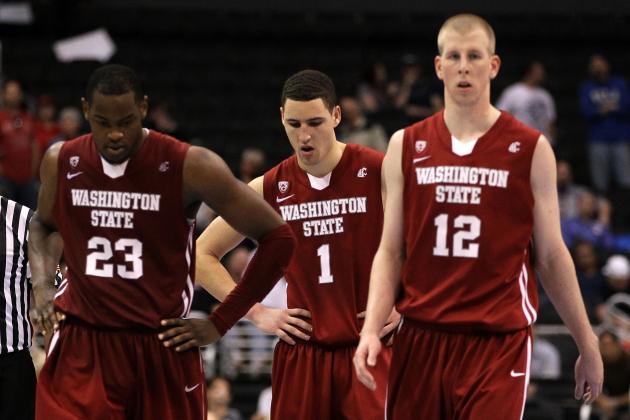 Jeff Gross/Getty Images

Lost: Reggie Moore, Patrick Simon, Marcus Capers, Faisal Aden, Abe Lodwick, Charlie Enquist, Chuks Iroegbu, Dave Wink
Found: Royce Woolridge, Demarquise Johnson, Richard Longrus, Brett Boese, James Hunter, Bryce Leavitt
Washington State fell short of 20 wins last season, but the Cougars did have mild success by making it to the championship round of the 2012 CBI.
The Cougars lost a number of role players in addition to Faisal Aden, their second-leading scorer with 14.5 points per game. But they are used to playing without Aden. Due to a knee injury, Aden stopped playing in late January last season.
Washington State does return Brock Motum, a potential Pac-12 Player of the Year. Motum averaged 18 points and 6.4 rebounds while shooting 55.4 percent from the field and 39.7 percent from three-point range.
Late in the offseason, the Cougars were hit with rough news when point guard Reggie Moore was dismissed from the team. Moore, who averaged 10.2 points and 5.2 assists last year, could be tough to replace as no other returning player averaged more than two assists in 2011-12.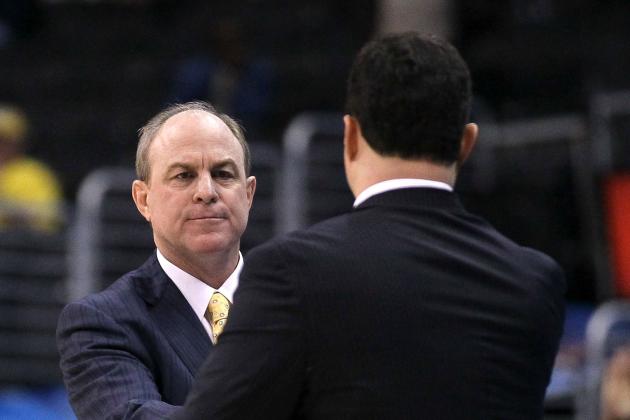 Stephen Dunn/Getty Images

1. Arizona
2. UCLA
3. California
4. Washington
5. Stanford
6. Colorado
7. USC
8. Oregon State
9. Oregon
10. Washington State
11. Arizona State
12. Utah
Jonathan Daniel/Getty Images

All-Conference Team
Allen Crabbe, California
Shabazz Muhammad, UCLA
E.J. Singler, Oregon
Andre Roberson, Colorado
Brock Motum, Washington State
Preseason Pac-12 Player of the Year—Shabazz Muhammad, UCLA
Defensive Player of the Year—Aziz N'Diaye, Washington
Newcomer of the Year—Shabazz Muhammad, UCLA