Could Oregon Cheerleader Be Next Erin Andrews?
Use your ← → (arrow) keys to browse more stories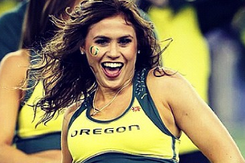 Here's an Oregon cheerleader you need to know in 2012: Bridget Case. A Ducks cheerleader in the class of 2014, Case steps up in the long tradition of UO ladies with aspirations of becoming the next Erin Andrews...