NFL: How Teams with First-Year Starters at QB Will Fare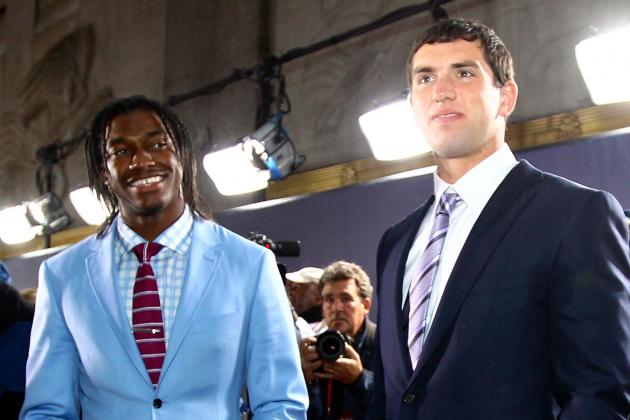 Al Bello/Getty Images

Every year, there are at least a handful of teams with new faces at quarterback. Whether it's a rookie or a veteran getting his first opportunity in the spotlight, changes at quarterback are bound to happen with struggling teams.
This year, that will be the case with Miami, Tennessee, Seattle, Washington, Indianapolis, and Cleveland.
The line of rookie quarterbacks starting this season are Andrew Luck, Robert Griffin III, Ryan Tannehill, Brandon Weeden and perhaps Russell Wilson. Jake Locker is in his second year, but it will be his first year as the starter. Matt Flynn is still wondering whether he'll be the man in Seattle.
Playing with a rookie quarterback has yielded mixed results across the league, with more positive outcomes in recent memory. Last year we saw Andy Dalton lead the Bengals to the playoffs and Cam Newton breathed new life into the Carolina Panthers.
Both the Ravens and Jets made it to the AFC championship with rookie quarterbacks Joe Flacco and Mark Sanchez a few years back. It's nearly impossible to predict what will happen when starting a rookie, but let's try to predict anyway.
Begin Slideshow

»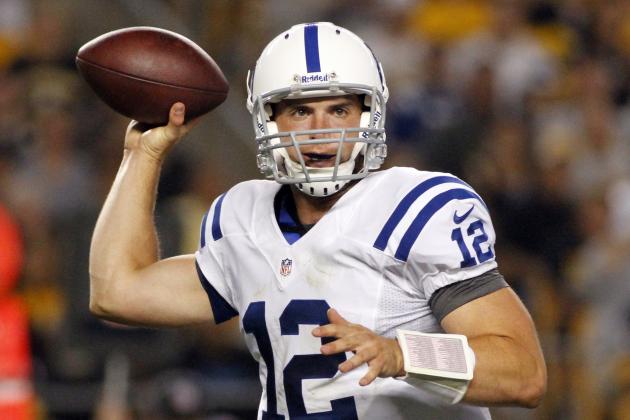 Justin K. Aller/Getty Images

Andrew Luck looks the part in Indianapolis. He's come by just as advertised. He will be a great player in the NFL and may be a great rookie, but it's not going to pay immediate dividends for the Colts.
The team still has gaping holes on defense, Donald Brown can't be relied on to stay healthy on offense and there are question marks surrounding the offensive line. He has Reggie Wayne at receiver and his old Stanford teammate Coby Fleener at tight end, but overall it's not a situation in which he can immediately turn the franchise around.
The Colts really can't be any worse than they were last year, so Luck is going to help them improve. The Colts should be able to move out of the cellar in the league, and maybe move up a spot in the division, but overall, it will be a sub-par season, but one that provides hope for Indy's future.
Luck can only do so much. Despite Cam Newton's brilliant rookie season, the Panthers were just 6-10. The Colts will be competitive in games, but expect about a five or six-win season.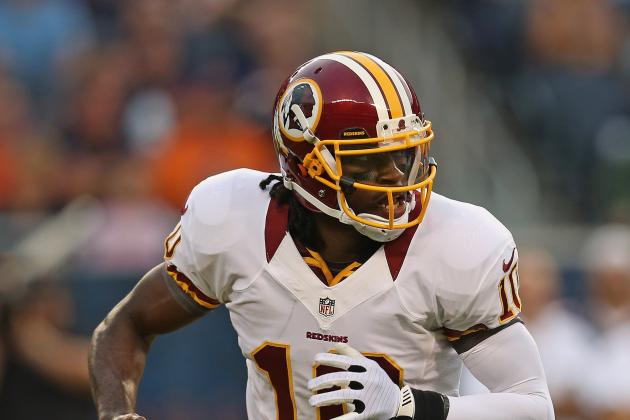 Jonathan Daniel/Getty Images

The Washington Redskins have new-found hope thanks to finally addressing the need for a franchise quarterback. They paid a steep price to trade up to No. 2 in the draft to pick Robert Griffin III. Three first-round picks and a second round pick have to be worth it.
The Redskins acquired Pierre Garcon this offseason, but will that be enough for RG3 to succeed? A big part of rookie quarterbacks being successful is their supporting cast. The Redskins still aren't quite there yet in terms of being a playoff team.
One quarterback change won't make all the difference, but expect a spark in the nation's capital. The Redskins have the chance to be much more competitive. The defense was 13th overall last year, which isn't all that bad and an improved offense can help tremendously.
The Redskins went 5-11 with Rex Grossman and John Beck alternatively starting at quarterback. I feel confident in saying RG3 can lead Washington to seven wins. It's just a question of being patient for Redskins fans, and while there have been many tough seasons, at least they can take solace in the fact that the organization finally addressed a glaring need.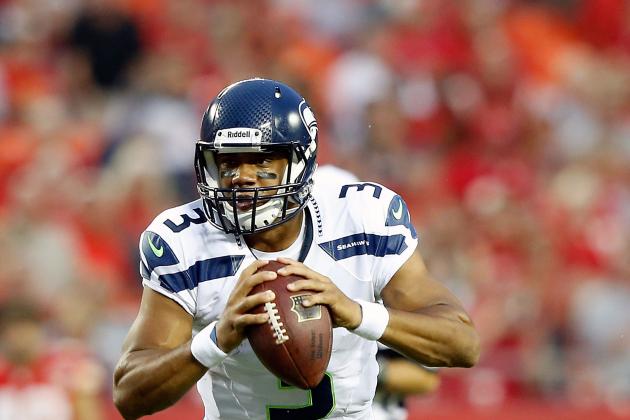 Jamie Squire/Getty Images

Russell Wilson was a third-round pick in this year's draft, expected to sit behind incoming free agent Matt Flynn. However Wilson has impressed coach Pete Carroll tremendously and got to start the crucial third preseason game. He took the opportunity and ran with it, completing 13-of-19 passes for 185 yards and two touchdowns. He also added two runs for 58 yards.
Seattle is a better team than they're given credit for, as the defense is solid and Marshawn Lynch is coming off a good season. They were just missing explosive plays on offense last season, and given their quarterback situation last season, that's not surprising.
Wilson may provide that spark this season, but of course he will have his setbacks as a rookie. The Seahawks will take the bad with the good, as Wilson seems primed to officially be named the starter.
Seattle was 7-9 last season despite the lack of play-makers on offense. Seattle will reverse those numbers for a 9-7 season and compete for a wild card spot. They don't have the toughest of schedules and they're built well in many areas.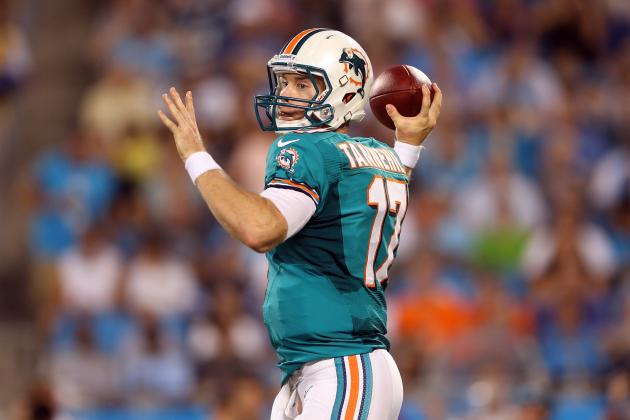 Streeter Lecka/Getty Images

Next! That seems to be the catchphrase when addressing the long line of quarterbacks that have gone through Miami since Dan Marino's retirement. We've seen the list. Ryan Tannehill takes the reigns this season after coming out on top in the Dolphins' QB competition in training camp.
Tannehill has impressed and seems to be progressing more quickly than most projected. He was familiar with the team's offense, having been coached by offensive coordinator Mike Sherman at Texas A&M. Nonetheless, he deserves credit for where he's gotten.
The Dolphins though, are not ready to make the leap. Tannehill does not have the necessary surroundings to lead his team to a playoff spot. Not to mention Miami shares a division with New England. Reggie Bush is a good weapon out of the backfield and he has a premier left tackle in Jake Long, but he has no threats at wide receiver or at tight end.
The defense underwent a change to a 4-3, so making adjustments will be tough in the early part of the season. This is a write-off season for Miami and part of the learning curve for Tannehill. Miami is no pushover, but they just don't have enough talent to get it done every Sunday.
The Dolphins will finish with about five wins, with many close losses.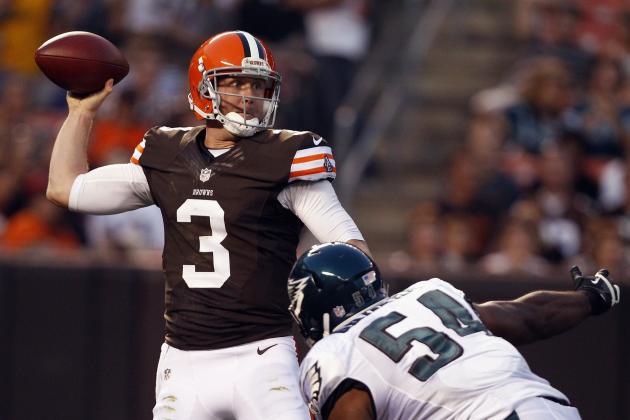 Matt Sullivan/Getty Images

The Cleveland Browns almost look like they're starting over again. Brandon Weeden comes in as the 28-year-old rookie looking to help change the losing culture in Cleveland. He had a great collegiate career at Oklahoma State, ending it with a win over a Stanford team led by Andrew Luck in the Fiesta Bowl.
Weeden has Trent Richardson in the backfield and the Browns have a decent defense, but the problem is the same that it's been for years—not enough play-makers on offense. Weeden has Greg Little at receiver, who showed good signs last season, with 61 catches for 709 yards and two touchdowns.
Weeden has a tall task ahead of him and unfortunately for Browns fans, it looks like another last-place finish in the AFC North. Cleveland will be around 6-10. Maybe they can score an upset or two over their division rivals, but they just don't have enough to stay in the hunt over the course of 16 games, and when you share a division with Baltimore and Pittsburgh, it's that much more difficult.
Cleveland's time may very well come soon, but it won't be this year.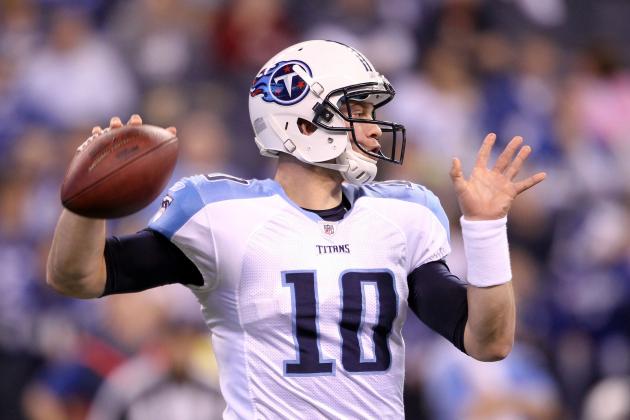 Andy Lyons/Getty Images

The Tennessee Titans awarded Jake Locker the starting job after a close training camp battle with veteran Matt Hasselbeck. Hasselbeck performed admirably last season, leading Tennessee to a 9-7 season, but faded down the stretch and was replaced by Locker several times in mid-game action.
Locker constantly provided a spark coming off the bench. His accuracy is still inconsistent, but with him under center, the Titans have a better chance of fielding an explosive offense. When Kenny Britt returns to the lineup, suddenly they'll have a great arsenal for Locker.
With Britt, rookie Kendall Wright, tight end Jared Cook and Chris Johnson at running back, plus some solid veterans on the o-line, Locker goes into a good situation.
The Titans also are in a division that has a rebuilding Colts team and the Jaguars may not get its best player (Maurice Jones-Drew) back this season due to a holdout. The Houston Texans will undoubtedly be their stiffest competition in the AFC South and a run to a division title goes through them.
The defense is very young, and will have some off-days but the team has enough to compete for a playoff spot. Expect them to hover around a 10-win season, which may or may not mean a wildcard spot. Houston is the team to beat for a first-place finish in the division.
The Titans will likely have teams like Baltimore, Pittsburgh, San Diego and Buffalo competing for the same spot, which makes things cloudy when determining the playoff picture.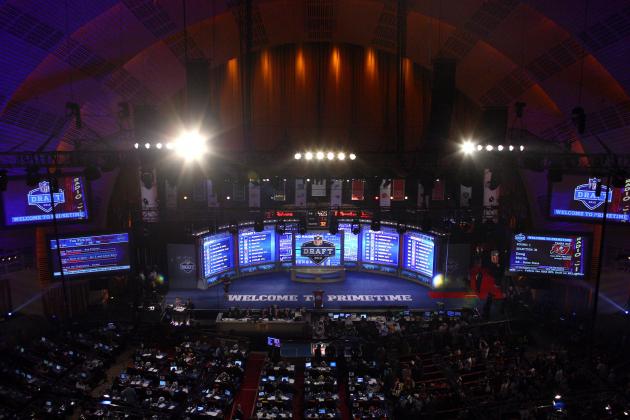 Chris Chambers/Getty Images

Going into a season with a rookie quarterback is a toss-up. For it to be a successful run, it not only depends on the quarterback. The o-line has to be strong and the defense has to be rock-solid. That's what will determine the fates of these teams more than anything.
Patience is required with quarterbacks, which many fans forget. How teams fare with a rookie really shows how strong the roster really is. That's why any team that makes the playoffs with a rookie under center deserves a ton of credit. We only have to wait a couple of weeks now to begin to figure it out.