The 25 Biggest Hold-Your-Breath Moments in Sports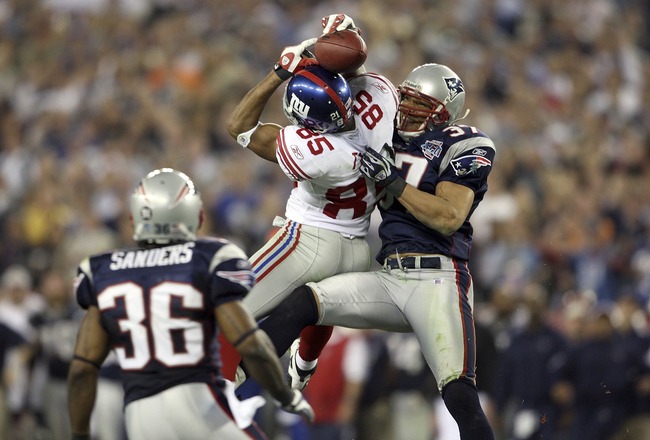 Andy Lyons/Getty Images
The sports world will entice you with gravity-defying leaps of faith and drool-worthy knockouts. It will show you a side of human greatness you've never seen. It will, in the end, inspire you.
But forget the routine acts of brilliance seen on a daily basis. We're ready to digest the moments that had us gasping for breath and truly clinging to life. These moments had us sweating and bleeding like our favorite heroes, clenching fists in anticipation of a historic conclusion.
These are the acts of athletic greatness that had us pleading for more.
We prefer to call them the perfectly-written scripts.
25. Marshawn Lynch Releases the Beast
Once known for his Paul Wall grills and stringy dreadlocks, Seahawks running back Marshawn Lynch finally garnered the attention he deserved when he broke off a 67-yard game-clinching touchdown against the Saints in the 2011 NFC Wild Card game.
Before the 'Hawks could finish the epic upset with a 41–36 victory, Lynch had us clinging to our seats and gasping for air as he trucked through seven useless defenders and tossed an eighth (Tracy Porter) to the ground with no regard for human life. Never question the lime-green shoes.
24. Nebraska Goes for Two
Only a conversion on 4th-and-8 could possibly convince legendary coach Tom Osborne to go for two instead of the game-tying extra point, which would've secured Nebraska as National Champions. Going for gold, the champion route.
The glorious comeback would come to a screeching halt moments later, with an accurate dart being swatted away by Miami defenders. Great courage, heartbreaking results.
23. Final Play of the 2003 Fiesta Bowl
Miami was ready to tie the Ohio State "Luckeyes" in the '03 Fiesta Bowl on a last-second, fourth-down, second-overtime touchdown. And for U fans around the world, this was oxygen-tank time.
But the last play didn't go as expected. The right tackle was nowhere to be seen, and the ball came fluttering out of Ken Dorsey's hand in desperation. Incomplete. Ohio State wins.
22. Joe Carter Ends It All
Tying run on second, winning run on first, electricity permeating throughout Toronto. Even knowing the result, we're still left forcefully inhaling a brown paper bag.
After a flat-footed swing that offered little optimism the pitch before, Joe Carter crushed the four-bagger of his career to win the 1993 World Series. Carter officially joined Bill Mazeroski's elite club.
21. Japan Faces United States in Final Shootout
Over five minutes of pure stress.
After a miraculous comeback against Brazil, the U.S. squad came into the World Cup Final against Japan reeking of confidence. But a 2-2, nail-biting draw would lead these two ferocious clubs into a penalty shootout, where Hope Solo was set to thrive as usual.
Japan had other ideas, and finished in epic fashion.
20. Jim McMahon's Holiday Spark
Having never won a bowl game in the entire history of the school, BYU was ferocious in its 1980 pursuit.
But with four minutes left in the 1980 Holiday Bowl, and the SMU Mustangs leading 45-25 over the Cougars, the future looked bleak.
Forget the comeback, including an onside kick recovery and a blocked punt, we're drooling over the final play. The miraculous chuck from BYU's Jim McMahon. His last-second heave to tight end Clay Brown tied the game at 45, and an extra point won it. 21 points in the last two minutes and 33 seconds.
19. The Catch Heard 'round the World
Feet off the ground and a crowd eruption. That was all Joe Montana remembers about his historic pass to Dwight Clark, considering he had just been crunched by Too Tall Jones. He'd just beaten America's team.
The 1981 NFC Championship Game saw the end of a Cowboys dynasty and the start of a Niners'.
18. Christian Laettner's Defining Moment
Despite never becoming the superstar NBA big man many expected, Christian Laettner remained an immortal figure following his turn-around game-winner in the 104–103 victory over Kentucky in the East regional final.
Some have called it the greatest shot in college ball history.
17. Bobby Orr Cements His Spot
The historic image of hockey legend Bobby Orr soaring horizontally over the ice after scoring the 1970 Stanley Cup-clinching goal against Glenn Hall has become a fixture in NHL minds.
That brief moment keeps us clawing for air. Airborne arms raised in victory, epic.
16. Bobby Thomson Clings to Greatness
When the '51 Giants overcame a 13.5-game deficit in the standings to reach a National League tie-breaker series with the Dodgers, it seemed like this was their year. Both teams finishing the regular season 96-58, both hungry for promise.
And Bobby Thomson would secure his spot in history when he clubbed the series-clinching home run to advance the fueled Giants.
15. 2001 World Series Miracle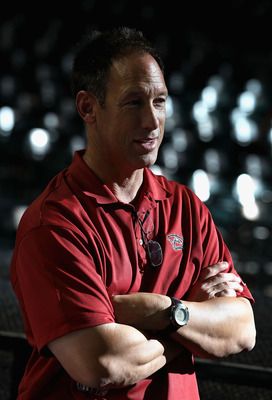 Christian Petersen/Getty Images
It was a World Series that was written in epic fashion, one that was close the whole way through. With a 2-1 lead in the bottom of the eighth of Game 7, Pinstripes manager Joe Torre decided to give lights-out closer Mariano Rivera a two-inning save.
After Rivera struck out the side in the eighth, the window seemed almost shut on the comeback-kid Diamondbacks.
But in the bottom of the ninth, a new chapter was written. Mark Grace single, Rivera error, Jay Bell bunt (first out), Tony Womack double...tie game. After hitting Craig Counsell in the following at-bat, Rivera saw slugger Luis Gonzalez prance to the plate.
A soft single to center would secure the title for Arizona. Breathtaking.
14. Doug Flutie's Prayer
Forget that he's wearing No. 22 as a quarterback, forget that he doesn't even have to run half the field to celebrate. Doug Flutie's miracle in Miami remains a fixture in college football lore.
His last-second prayer to Gerard Phelan secured a 47-45 win against the defending champion Hurricanes, and left a lasting impression on the BC football program. Epic stuff from the 5'9" signal caller.
13. Landon Donovan Puts in the Rebound
With the only goal in a 1–0 defeat of Algeria, Landon Donovan gave his U.S. squad their first World Cup group title since 1930.
Minutes remaining, both teams clawing for offense, the highest scorer in U.S. history came through in the clutch. As that rebound sat there stoically, we all sat stunned.
"Goooooooooal!"
12. The Music City Miracle
With every "He's got it" uttered, we began to regurgitate last night's lasagna. Breathtaking footage of the 2000 Wild Card playoffs between the Bills and Titans.
On the winning end of yet another nail-chewing finish, Tennessee single-lateraled their way to the end zone and held on to win 22-16 as the clock expired on the ensuing kickoff.
11. Australian Rugby League Grand Finale of 1997
As the Super Bowl of Rugby, the ARL Grand Final is expected to be grandly dramatic. It was surely most intense in 1997, and don't call me Shirley.
With the powerhouse Manley Sea Eagles and the underdog Newcastle Knights tied at 16, with 19 seconds remaining, Darren Albert took matters into his own hands.
A last-second try would secure the Final victory in magical fashion for the surprise Knights. Tears began streaming.
10. Joe Theismann Meets Lawrence Taylor
The pocket began to dwindle and we began to wince in preparation.
It was only fitting that the greatest linebacker in history, Lawrence Taylor, the most ferocious dude to ever rep the Big Blue, laid the crunching blow on quarterback Joe Theismann that ended his career.
Even LT himself was gasping for some sort of comfort.
9. Champions League Final Comeback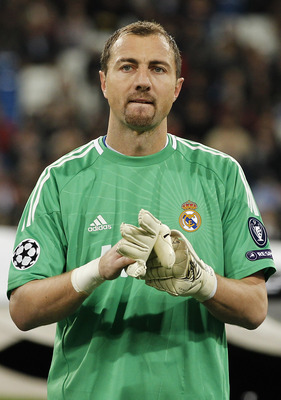 Angel Martinez/Getty Images
With a victory already in the bag for heavily-favored Milan (as far as analysts were concerned), the '05 Champions League Final would become one for the ages.
Down 3-0 at half, things looked even bleaker for the perhaps intimidated Liverpool squad. Until they secured three goals in a six-minute spell to tie the score, that is. The two teams would then stay knotted at three through overtime, and finally reach a shootout.
With Liverpool up 3-2 in penalties, Milan's Andriy Shevchenko had one last shot to tie it. Liverpool goalkeeper Jerzy Dudek would have none of it. Liverpool wins their fifth European Cup.
Enjoy the magic at 5:50 of this video.
8. Derek Redmond Defines Perseverance
Either someone's chopping onions or that's the most inspirational performance of all time.
Despite tearing his hamstring in the 400 meter semis at the '92 Olympics, British sprinter Derek Redmond broke through the pain and finished the race. Father of the Year candidate Jim Redmond had us clapping the whole way.
7. Vince Young's Rosy Finish
4th-and-5, the national championship on the line right here. Such simple words echoed so loudly before Vince Young pranced his way into the end zone to give his Longhorns a lead with 19 seconds remaining in the 2006 Rose Bowl against USC.
Pure brilliance from the Texas icon, once a blossoming legend. Longhorns win 41-38.
6. Reggie Miller's Clutch Gene
A 105-99 lead with 18.7 seconds left in Game 1 of the 1995 Eastern Conference semifinals against the Pacers gave Knicks fans a feeling of confidence. Discussions began to shift toward Game 2, with Game 1 seemingly in hand.
But notorious Knick-killer Reggie Miller received a different script. One three, a stolen inbound pass, another three, two free throws. Indiana wins 107-105. New York is left stunned. Spike Lee left speechless.
5. Bill Mazeroski's Historic Slug
As far as pundits were concerned, this was a series already won by the Yanks. Let's be real, that's been the usual consensus for the past 150 years. But today would offer something different, a change of scenery if you will.
A seismic crowd eruption couldn't detail the heroics behind Bill Mazeroski's World Series-clinching bomb in the bottom of the ninth inning.
As Matt Stairs once stated, "When you get that nice celebration coming into the dugout and you're getting your ass hammered by guys—there's no better feeling than to have that done."
4. Final Play of Super Bowl XXXIV
One yard will forever haunt Kevin Dyson and his Titans. Mere inches separated them from tying the game with under two minutes remaining in Super Bowl XXXIV.
Thanks to linebacker Mike Jones, the Rams held on. St. Louis coach Dick Vermeil seemed unsure of how to react.
3. Jordan's Last Chi-Town Shot
With fewer than 10 seconds on the clock, a focused Michael Jordan took one crossover to the left and released the defining shot of his career. He'd done it so many times before, yet this was the pinnacle. His final shot as a Bull.
As Jazz guard Bryon Russell attempted to readjust his ankles, Jordan finished his shot. Good! Chi-town with its sixth NBA championship, and secures its second three-peat.
2. The Greatest Gridiron Upset
The country (excluding Patriots fans) dropped their heads in unison when Eli Manning was restrained behind the line. It seemed like another New England Super Bowl was imminent. Until, wait...
Oh yes, good old Eli escapes the grasp of his Patriot opponents and chucks the pigskin to an eager David Tyree deep down the field. Short, wobbly, whatever you want to call it. Didn't matter. It was caught over superstar safety Rodney Harrison.
Plaxico Burress would soon catch the game-winning fade in the left corner of the end zone. The 18-1 Patriots walk off the field in bewilderment.
1. 1980 Miracle on Ice
As 60 seconds ticked off the clock, the most miraculous upset in sports history edged closer. A bunch of college amateurs with the unlikely victory over the established and groomed Soviets.
True sports fans might as well have been under water for the final minute of the 1980 Miracle on Ice. Now, we believe in miracles.
Follow me for more epic moments.
Keep Reading