Revisiting the Houston Texans' Super Bowl Hopes: Staying on Target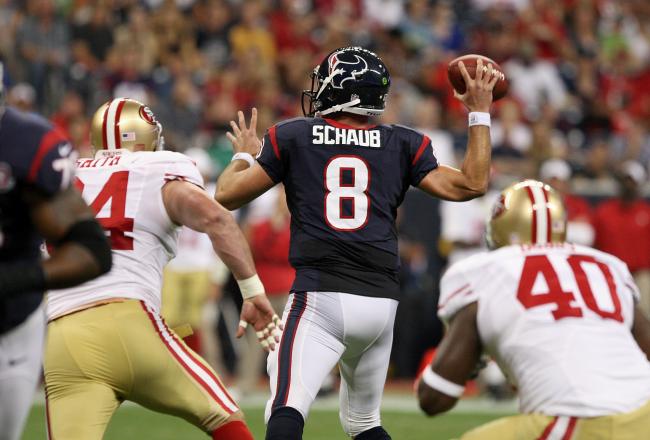 If this guy stands tall, Houston could win it all.
Troy Taormina-US PRESSWIRE
When it comes to the Houston Texans, the preseason hasn't taught us very much.
Matt Schaub 49ers" class="prosp-pl-affrep37">is healthy, the defense can rush the passer, and Trindon Holliday is crazy fast.
The problem is that we already knew those things a few weeks ago. Sure, it's been nice to get some tape down on Keshawn Martin and Lestar Jean, but there's a huge difference between a few catches in the preseason and making plays consistently in the regular season.
The Texans have had their share of minor camp injuries, and everyone has bounced back nicely. Having said that, the long term injury concerns obviously can't be answered any time soon.
The Texans place among the AFC elite seems secure. The Colts and Jaguars have been frisky in the preseason and the Titans are still mostly an unknown, more so than ever since elevating Jake Locker to the roll of starter.
No, even after three weeks of training camp and preseason games, there's no indication that anyone but Houston will come out of the AFC South. The Texans walk like champions waiting to be crowned. They've had the kind of worry-free camp that comes from anticipating an unencumbered march to the playoffs.
This, like the Texans, is awesome. Stay on target, indeed.
They don't seem concerned with anything but becoming the best team in the conference, and then in the entire NFL.
That's as it should be.
Houston will have to overcome the Patriots, Steelers and Ravens to make it to New Orleans, not to mention the utter random nature of the NFL playoffs in which the best team rarely wins it all. In this instance however, that works to the Texans' advantage.
They aren't the best team in the NFL. The NFC is the superior conference right now, and most of the best teams are there. Houston likely isn't the best team in the AFC, though they certainly have a case to make for it.
In these unpredictable times, randomness is the Texans' best friend. They have as much certainty as any team in football of making the playoffs, and making the playoffs is all a team can really do to prepare for the post-season.
They are healthy, the defense is leading the way, and if they get the breaks, they'll win it all.
There's still two weeks to go until the regular season and 17 long-grinding ones after that, but at this stage, the Texans have done everything they can to make a run at a championship.
That's all you can ask.
This article is
What is the duplicate article?
Why is this article offensive?
Where is this article plagiarized from?
Why is this article poorly edited?