College Football 2012: 10 Coaches All Eyes Need to Be on This Season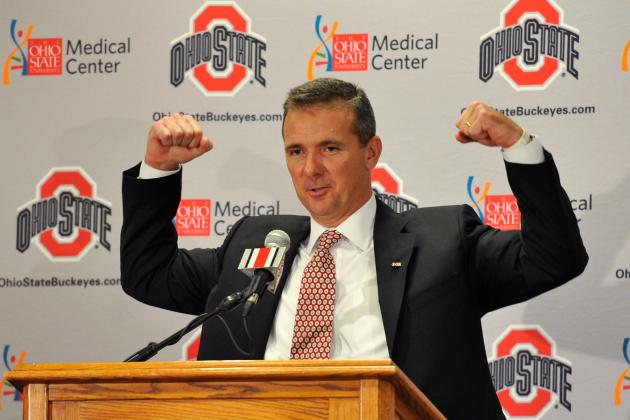 Jamie Sabau/Getty Images

There is nothing more exciting in college football than the talented players who make our jaws drop every Saturday with their remarkable plays. But sometimes the head coaches can bring a little bit of excitement to the game as well.
With the 2012 season set to begin in a week, there are many coaches we should keep an eye on this year. These can be guys who are trying to get off the hot seat, new coaches who are seeking another challenge or coaches you just know are going to do something crazy on the sidelines eventually, and you don't want to miss it when it goes down.
We know all about the big-time players this year, but here are some of the coaches you should pay extra attention to when the season kicks off.
Begin Slideshow

»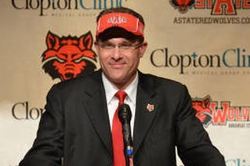 Photo Credit: al.com
Last season was the first time Arkansas State won double-digit games since 1975 when they were in the Southland Conference. Now with Gus Malzahn taking over as head coach, the Red Wolves have a chance to really take this program to another level.
Malzahn is considered an offensive genius who has done terrific work at places such as Arkansas, Tulsa and Auburn. It was expected that he could have nearly any job in the country, but he decided to return home to Arkansas and coach a team in the Sun Belt.
Nobody is expecting the Red Wolves to reach a BCS bowl, but it is always nice to see the little guys have their moment in the spotlight. The longer Malzahn stays with this program, the better off it will be moving forward.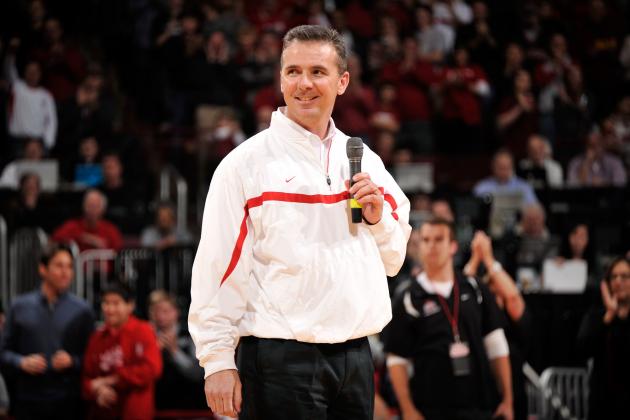 Jamie Sabau/Getty Images

Urban Meyer could have taken a coaching job at your local high school, and you would show up just to see how he does. He is just one of those coaches who is exciting, knows how to get the most out of his players and is brilliant at what he does.
He has had tremendous success everywhere he goes, and there is no reason to believe that will stop now with him taking over Ohio State.
The Buckeyes are banned from the postseason in 2012, but that does not mean this season is meaningless to those in Columbus. Meyer still wants to win and quickly make a statement across the Big Ten and the rest of the college football world. It will also be interesting to see how well quarterback Braxton Miller can adapt to the spread offense.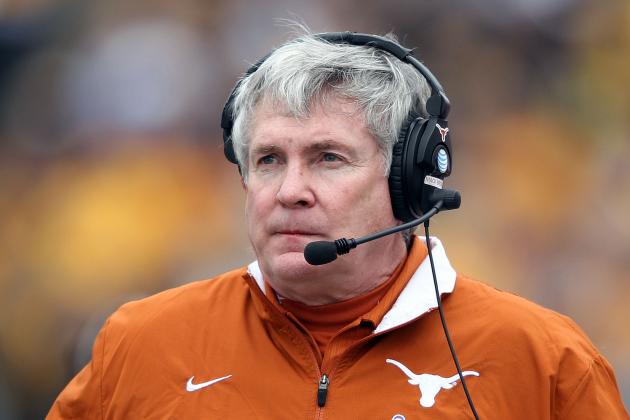 Jamie Squire/Getty Images

Is Mack Brown on the hot seat or not?
A 13-12 combined record in the last two seasons is not what those in Austin expect from Brown, which has certainly created some chatter about his job security. Although with many starters returning from a year ago, many expect the Longhorns to turn things around this season.
Texas has opened up at No. 15 in the AP Poll, which isn't going to make things any easier if Brown can't live up to those expectations again.
It is going to be real interesting to see if Texas can turn things around, because no matter how great Brown has been throughout his career, this is one program that will not accept mediocrity from anyone.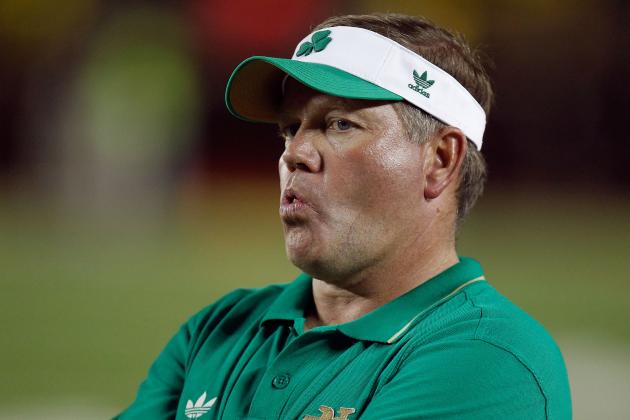 Gregory Shamus/Getty Images

When Brian Kelly was hired at Notre Dame, a complete turnaround was expected. The Irish were supposed to reach BCS bowl games, get back into the national title conversation and find the pot of gold at the end of the rainbow.
Two consecutive 8-5 seasons is the last thing that anyone expected from Kelly.
His teams have played extremely sloppy, turned the ball over an inexcusable amount of times, lost to teams they should not have lost to and are quickly losing that edge they had over many other college football teams.
The Irish have one of the tougher schedules in the country this season, but if Kelly can't show some signs of progress, he may be one of the coaches looking for a job at the end of the season.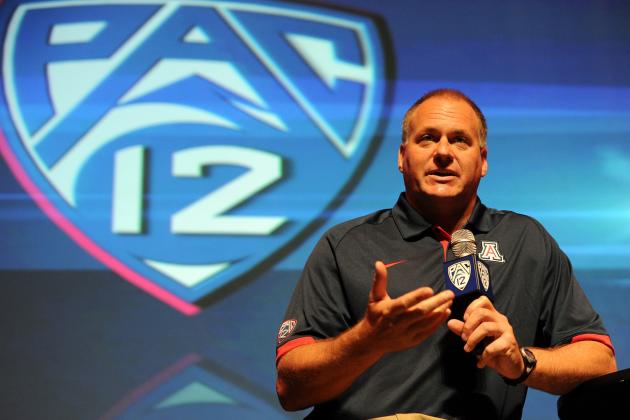 Jayne Kamin-Oncea-US PRESSWIRE

Rich Rodriguez has had a couple of seasons to put his Michigan days in the back of his mind. The offensive genius now takes over the Arizona Wildcats, who have lost many key players from last season, but Rodriguez usually figures things out on the offensive side of the ball.
Just a few years ago, we all saw Rodriguez win 70 percent of his games coaching West Virginia and produce top-10 offenses left and right. But his days coaching the Wolverines were just absolutely brutal.
We all know what Rodriguez is capable of, and coaching in the Pac-12 (offensive conference) should really fit his style. It should be fun to see if he can get the Wildcats back in a bowl game.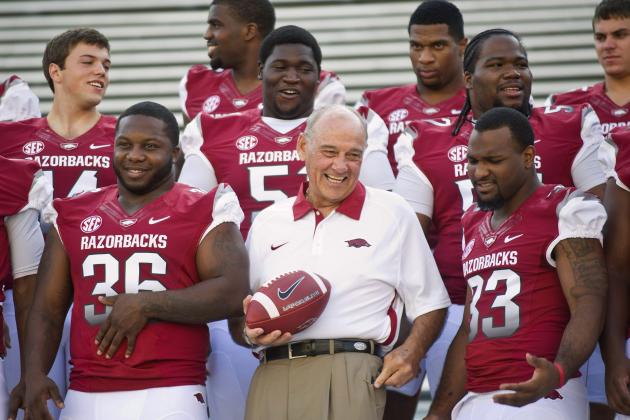 US PRESSWIRE

Arkansas was going to enter the season as SEC contenders and a dark horse for a national championship. Many still consider the Razorbacks just that, but they have a new coach who will have to lead the way.
Bobby Petrino was fired during the offseason after a motorcycle accident revealed so much more than a damaged bike. That now makes John L. Smith the coach, who had coached the special teams unit the last couple of seasons for the Razorbacks. Smith has been the head coach for other programs in the past and has an 132–86 overall coaching record.
Will there be much of a difference from Petrino and Smith, or will it even matter? That is what many folks in the SEC will be watching for.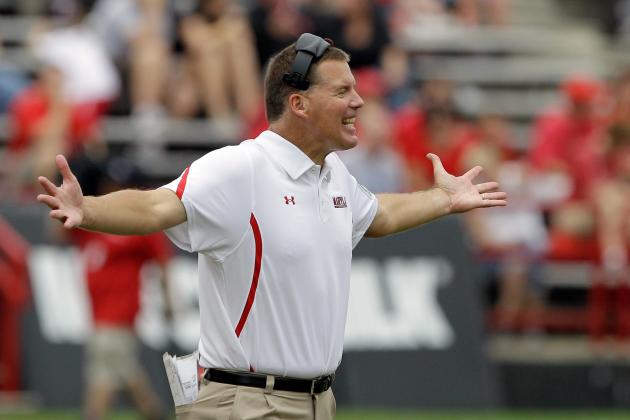 Rob Carr/Getty Images

What in the world has happened to Randy Edsall?
This is a guy who won 52 percent of his games with Connecticut and even led the Huskies to a BCS bowl in 2010. Read that again: He helped lead Connecticut to a BCS bowl!
Maryland saw this and fired current coach Ralph Friedgen just so they could hire one of the top up-and-coming coaches in the country. After a 2-10 record his first season, there is probably not a hotter seat in the country than the one Edsall is sitting on.
Friedgen is somewhere laughing at the Terrapins, and we are all going to watch the disaster continue to unfold in College Park.
Kevin C. Cox/Getty Images

Many have been calling for Derek Dooley's head since last season when Tennessee finished with a 5-7 record, including a brutal 1-7 in SEC play. Dooley is a combined 11-14 in his first two seasons, which is making Phillip Fulmer look great right about now. I think I even hear a few Volunteers fans willing to forgive Lane Kiffin and are hoping he left a few belongings in Knoxville.
Despite the hot-seat rumors, there may be light at the end of the tunnel for Tennessee, as this team does return 18 starters from last year. The offense has oodles of potential, and when you have 10 starters on defense coming back, the unit should be improved.
I think this will be a successful season for the Volunteers—if it isn't, look out.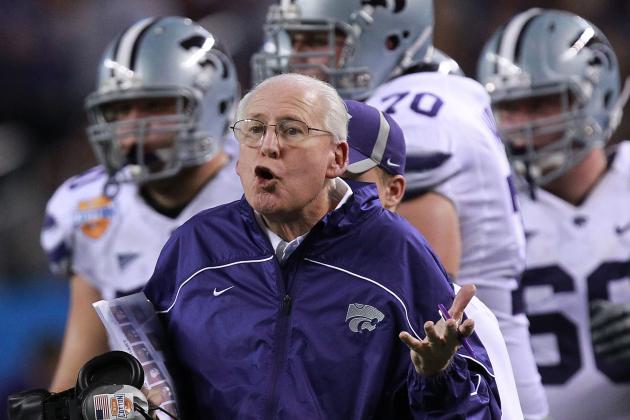 Ronald Martinez/Getty Images

The Big 12 has so many great coaches—from Mack Brown to Bob Stoops—and now Dana Holgorsen is added in the mix. But can Bill Snyder get some love already?
This is a guy who led the Kansas State Wildcats—a team nobody expected to do anything last season—to 10 victories last year. Now, everyone has this squad as a possible BCS bowl team and a contender for a Big 12 title.
If it wasn't for Snyder, this Kansas State program would be nowhere close to what it is now. It is about time he receives a little bit of respect as one of the better coaches in the country, and it will be interesting to see what this Wildcat team does for an encore.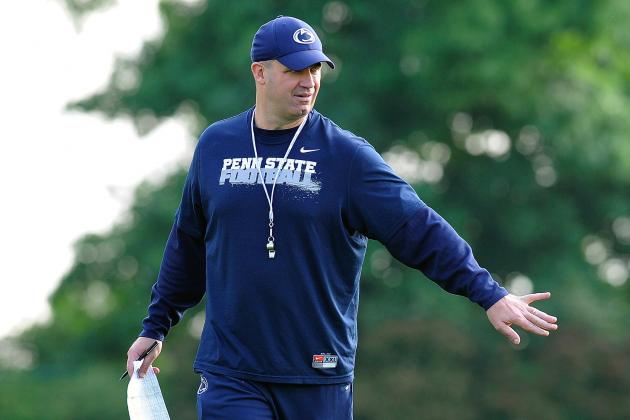 Rich Barnes-US PRESSWIRE

Bill O'Brien is the name that you will hear the most about this season. He left a great job as offensive coordinator with the New England Patriots to become the head coach of the Penn State Nittany Lions.
Not only has he never been a head coach before in his life and will have the task of replacing a coaching legend in Joe Paterno, but he is going to have to coach a team that is dealing with unrepresented sanctions handed down by the NCAA. This will not only bring unwanted attention to the team for many years, but it really limits his team, as there are scholarship reductions and transfer possibilities for current players.
The Penn State scandal has taken over the college football world for the entire offseason, and everybody will be watching O'Brien to see how he plans on getting this program out of this mess.