Ranking the 10 Best Fantasy Football Options on the Denver Broncos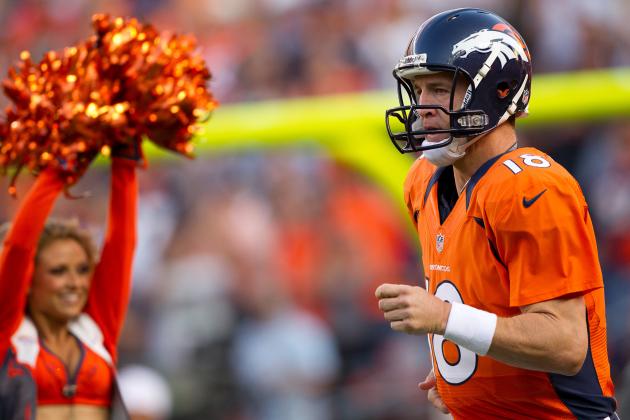 Justin Edmonds/Getty Images

It's that time of year that fantasy football drafts are taking place all over the country.
As you assemble your draft order, you undoubtedly will look at which Bronco players are the most beneficial for you to select.
There is something even more satisfying about players from your own team performing well on your fantasy team. It's a win-win situation.
But who should you select? It's easy to just go down the roster and select the big names, but who actually has fantasy value?
Because as great as it is to have someone on your own team earning you big points, it can also be painful to be the player who is no threat to win the league because you only take players from your own team that don't produce.
Keep in mind these are based on the more traditional scoring.
Now let's look at the best options if you are selecting Denver Broncos for your team.
Begin Slideshow

»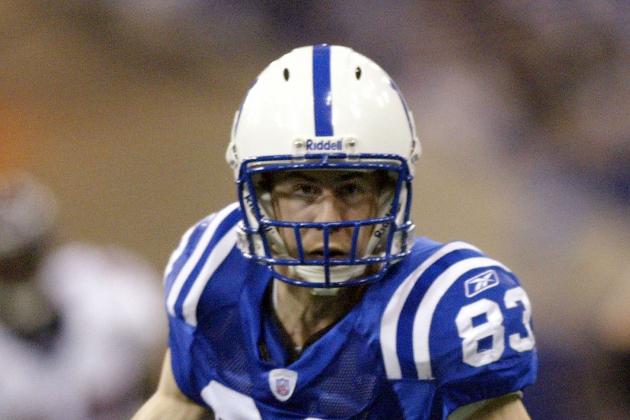 Donald Miralle/Getty Images

I will admit right up front that this one is a little bit of a stretch. This guy was all but out of football a year ago.
And who knows if he will make the team this year, although right now he definitely is in the thick of a roster spot chase.
Stokely might be a guy you keep an eye on to fill a spot down the road. Just keep in mind that Peyton Manning knows him and trusts him.
Stokely is very good in the slot and we know how Manning utilizes that position in his game.
Brandon Stokely could give you a boost later in the year just when you need it.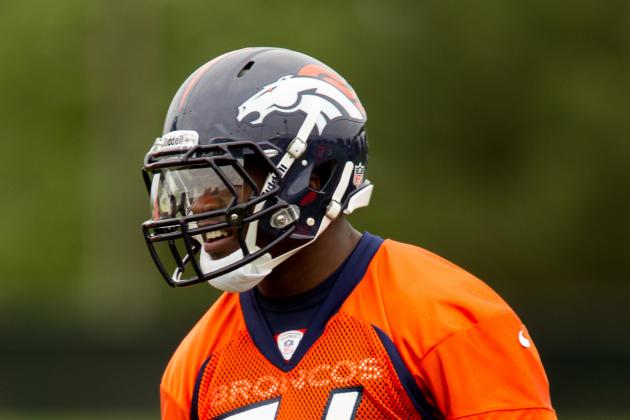 Justin Edmonds/Getty Images

Another late pickup who could pay solid dividends is the rookie running back Ronnie Hillman.
Hillman has yet to see the field due to a hamstring injury but they may keep him from getting much attention.
Hillman is a change of pace back who is shifty and has very good hands out of the backfield.
He is capable of earning you some points as a rusher and receiver.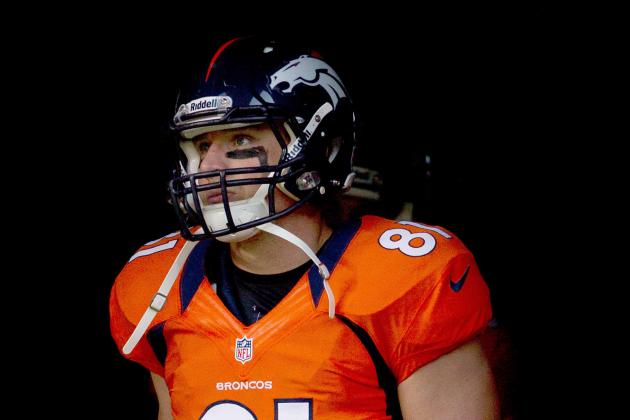 Justin Edmonds/Getty Images

Joel Dreessen may be more well known for his blocking than his pass catching, and as a result, many fantasy players will shy away from him.
Dreessen caught just 28 passes last year for 353 yards.
But keep in mind that Dreessen was playing in a run first system in Houston.
And also keep in mind that while his catches were limited he did manage to still catch six touchdowns.
Dreessen will be a solid backup tight end for your team.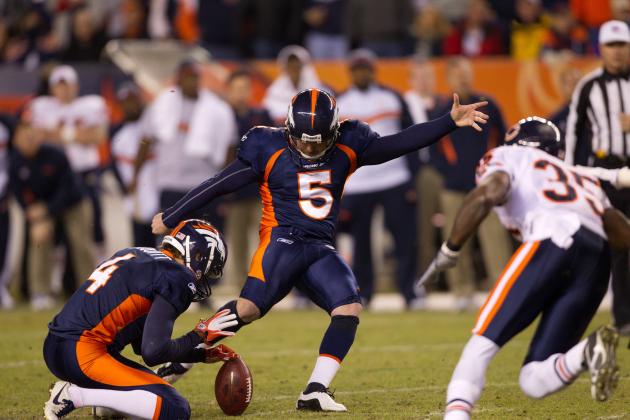 Justin Edmonds/Getty Images

Matt Prater didn't put up huge fantasy points last season, as the Broncos offense struggled to manufacture points.
But Prater was excellent when he got his chances and he will produce even more this year.
With the revamped offense, Prater should be looking at a career high in scoring. Prater managed to put up 87 points last year. He may double that this season.
He will be a solid starter for you and definitely worth the pick.
It is just a matter of how much value kickers in your league carry as to when you choose Prater.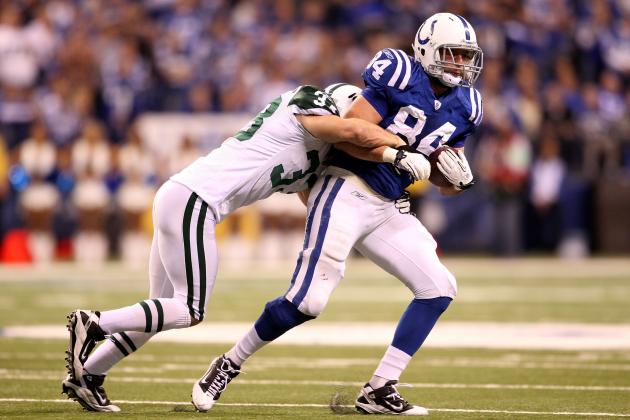 Andy Lyons/Getty Images

Jacob Tamme has quietly put together a solid preseason.
Moving over to join Peyton in Denver from Indianapolis, Tamme has a chance to have a productive season.
He already seems to be an early favorite target and Manning does use the tight end position very well.
Tamme caught 67 passes last year with a struggling Colts team and he was a consistent eight or nine fantasy points per week.
He could be a solid backup or even a marginal starter on your team.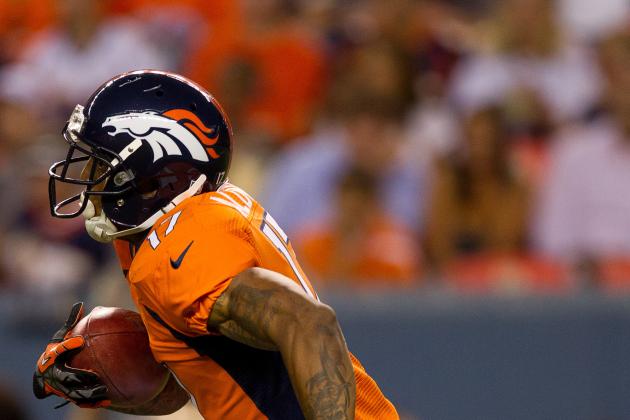 Justin Edmonds/Getty Images

Andre Caldwell could be poised for a breakout season as he comes from a Cincinnati Bengals team that never fully appreciated his skill set.
Caldwell caught 37 passes last year and averaged nearly nine yards per catch. This with a rookie quarterback and playing in a division with very tough defenses.
Now in a more potent offense Caldwell could be far better.
An added benefit is if your league allows for kick returner points. Caldwell has looked solid returning kick when he has had the opportunity.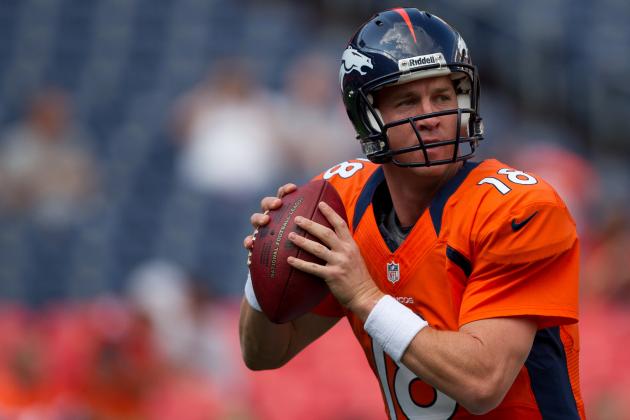 Justin Edmonds/Getty Images

This one all comes down to health. If he is healthy, no one is more productive. Manning is capable of putting up huge numbers.
Take 2010 for instance, when he threw for 33 touchdowns; he was good for over 30 fantasy points per game.
It is going to be a big temptation to take him on the chance he can replicate those types of numbers.
If you believe he is healthy, why not? He has looked very strong in training camp.
It might be worth the risk.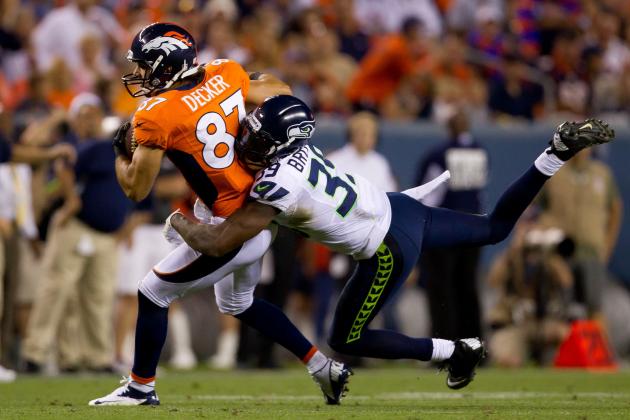 Justin Edmonds/Getty Images

Eric Decker was a favorite of former Bronco quarterback Tim Tebow.
Decker has that effect on quarterbacks. He gets open and he catches the ball. What more can a quarterback ask for?
Now it seems that he and Peyton Manning are developing a solid relationship as well. Decker can be a very solid third wide receiver on your roster.
He had 44 catches last year with eight touchdowns, and those numbers should just get better.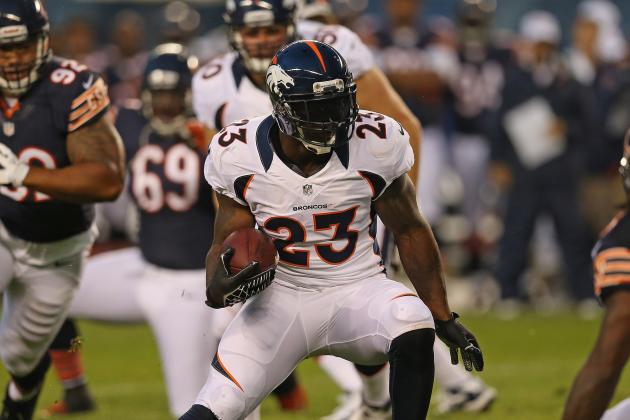 Jonathan Daniel/Getty Images

Remember when Willis McGahee was brought in to back up Knowshon Moreno?
Seems like a long time ago, doesn't it?
McGahee came in took Moreno's job and hasn't turned back. He finished last year with nearly 1,200 yards and five touchdowns. That's about 10 fantasy points per game.
He looks even better so far this year. McGahee devoted his offseason to the weightroom—adding muscle but maintaining his speed.
He may be a steal as your second running back.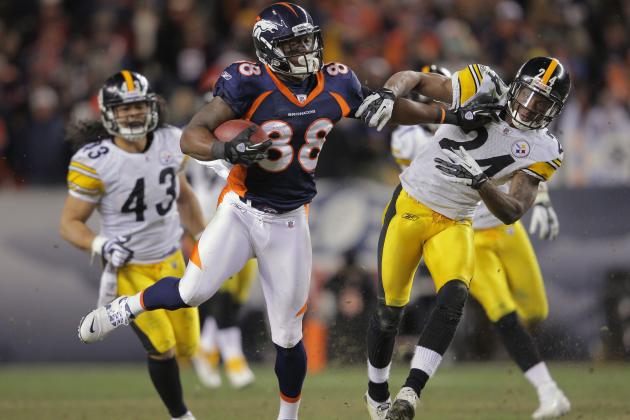 Doug Pensinger/Getty Images

Demaryius Thomas has all the physical gifts you could want in a wide receiver.
Standing 6'3" and weighing 230 pounds, he has great hands, very good speed and as he showed against Pittsburgh's Ike Taylor last season in the playoffs, he can be a load to bring down.
Now can Thomas take the next step, run precise routes and become the No.1 receiver that we have envisioned?
If so, he could be ready to have a huge season in Denver. Last year he caught 32 passes and scored five touchdowns.
Can he double those numbers with Peyton Manning?
If so he is a great pick as one of your starting wide receivers.