10 College Basketball Players Who Need to Hit the Weight Room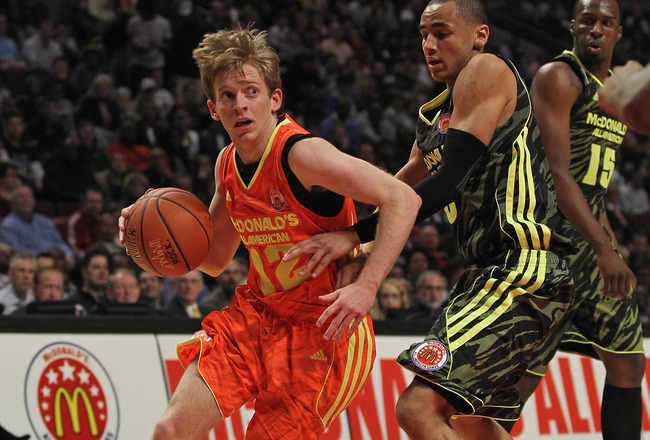 Incoming NC State freshman, Tyler Lewis
Jonathan Daniel/Getty Images
Success in the weight room is critical to success on the court. Professional athletes are bigger and stronger now than ever before. Well, this transformation into a superhuman begins while still in college.
When somebody is first learning a sport, the weight room is an afterthought. Nobody is going to tell a 14-year-old who can't post-up a defender that he needs to bench-press 40 more pounds. At a certain point, though, the focus shifts.
While it is true that any self-respecting, skilled professional still spends hours upon hours working on technique, the primary purpose of this type of individual practice is to make slight adjustments and avoid regressions. However, at a certain level, success becomes near impossible if a player is unable to match up strength-wise. A strict gym regiment becomes anything but extraneous.
Some make this transition sooner than others.
Here are 10 college basketball players who need to hit the weight room.
1. Isaiah Austin: 7'0'', 210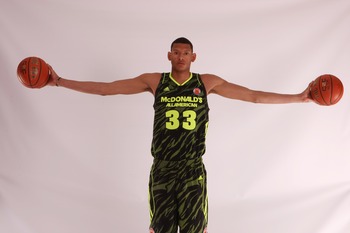 Isaiah Austin of Baylor could use 10 more pounds
Brian Spurlock-US PRESSWIRE
By now, everyone has heard about Nerlens Noel, Anthony Davis 2.0. Baylor's Isaiah Austin is not far behind him.
Austin appears to be a cross between Kareem Abdul-Jabbar and Kevin Durant. He has the skills of a small forward and the height of a center.
According to his ESPN scouting report, "Austin must put adding strength at the top of his list, but it's difficult to see where he can put more muscle. He has nothing to chisel on his body."
But come on—210 pounds? At seven feet?
Let's take a second to look at Durant's pre-draft scouting report (via nbadraft.net).
Still needs to bulk up.…May always be skinny and adding too much weight could slow his foot speed some.…Adding weight will make him more aggressive inside, as he tends to shy away from contact and can be pushed around and affected when played physical.
Ditto for Austin.
2. Will Yeguete: 6'7", 222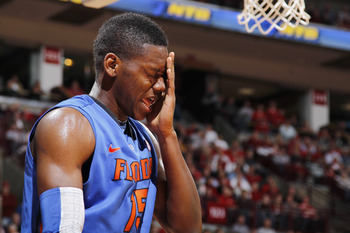 Will Yeguete is not a little guy, but would benefit from some more confidence in the paint
Joe Robbins/Getty Images
It is never a good thing when a 6'3" freshman guard leads his team in rebounding. Then again, maybe Bradley Beal was just that good. With Beal playing in the pro game, Florida will rely on junior forward Will Yeguete to be its leader on defense and on the boards.
Yeguete played an average of just 22 minutes a game last season, but still managed to finish third on the team in rebounding with 6.3 per game. A dedicated offseason of workouts will bring that number up even more. More importantly, such an effort will allow Yeguete to raise his measly .4 blocks per game.
Yeguete is obviously a defensive specialist who loses minutes whenever Florida is behind, but some extra nasty down low will limit the number of times this situation arises.
3. Dominic Artis: 5'11'', 165
Dominic Artis has some growing left to do
Mark L. Baer-US PRESSWIRE
Dominic Artis is Oregon's best incoming freshman. The Pac-12 was so weak last year that Oregon missed the NCAA Tournament despite having the second-best conference record. They will need big things out of Artis to earn a tournament berth in 2013.
Artis, like many high school seniors, may still have some natural growth left in him. Look no further than the rather significant discrepancy in weight and size reported by leading national scouts. ESPN lists him at the above height and weight, while Rivals has tacked-on an extra two inches and 10 pounds.
In either case, Artis still has a long way to go before he will be able to compete with college basketball's larger point guards—especially for someone playing at a nationally competitive, big conference program like Oregon.
4. Marcus Paige: 6'1", 160

Marcus Paige has the handle, but could use some extra bulk

UNC will rely on Marcus Paige to help replace Kendall Marshall. ESPN Scouts list him as the best pure point guard in the Class of 2012, noting, "He can create his own shot, including making excellent decisions when working off on-ball screens."
Upper body strength is essential to attack the hoop and fight off screens. If Paige wants to continue to thrive in those two departments (and make it through a full season), he simply cannot remain under the 175-pound threshold.
5. Jordan Morgan: 6'8", 250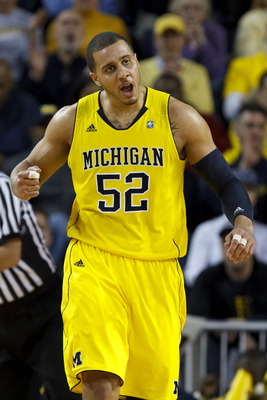 Jordan Morgan is BIG. Now he needs to show Michigan why
Rick Osentoski-US PRESSWIRE
Here's a different take on why someone must go hard in the weight room. Jordan Morgan is already big and has shown an ability to be effective in the paint. His 5.5 rebounds per game were tops on Michigan and good for ninth in the Big Ten.
So why is he on this list?
Despite earning a share of the conference title last year, Michigan was the third-worst rebounding team in the Big Ten. As a rising junior, it will fall on Morgan to set an example for a team that needs to get stronger collectively.
This is particularly critical when you consider that (A) Michigan's second-best rebounder, Evan Smotrycz, transferred to Maryland and (B) Michigan is bringing in an impressionable group of talented forwards. Morgan must be a beast on the practice court, on game-day and in the gym.
Michigan will get plenty of great guard play, but it will fall on Morgan to make rebounding a top priority.
6. Evan Smotrycz: 6'9", 235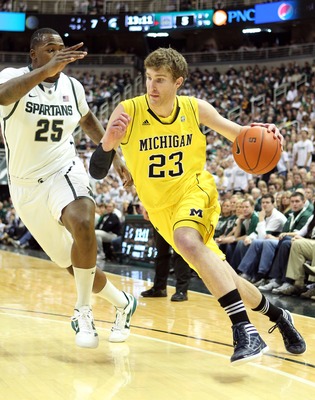 Smotrycz's decision to transfer will be questioned if he underperforms in 2014
Mike Carter-US PRESSWIRE
Why not hit the weight room? As a transfer from Michigan, it's not like Evan Smotrycz is going to see any in-game action with Maryland in 2012.
Smotrycz is a superb three-point shooter. The fact that he was second on his team last year in rebounds probably speaks more to Michigan's inadequacy than his talents. Adding a few pounds of muscle could go a long way for Smotrycz.
Last year, 50 percent of his field-goal attempts were from long range. That number is actually down from the nearly 2-1 ratio during the 2010-2011 season.
Everybody loves having someone who shoots 44 percent from long range, but Smotrycz also shoots nearly 80 percent from the line. Some extra physicality under the basket would allow him to take advantage of another one of his existing strengths.
7. Desmond Simmons: 6'7", 220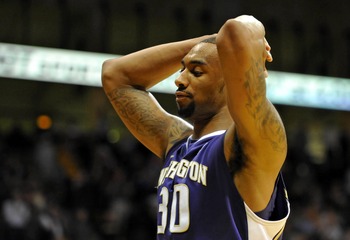 Desmond Simmons must become more dominant for Washington
Ron Chenoy-US PRESSWIRE
The Washington Huskies were the No. 6 team in rebounding last year. The reason for that was simple: Five different players ranked in the top 25 in the Pac-12 in rebounds per game.
Desmond Simmons was one such player. Much like Will Yeguete, he was an effective rebounder (4.8 per game) despite limited playing time (17.8 minutes per game).
Simmons explained in this interview with The Daily of the University of Washington that he is a natural rebounder who relies more on his athleticism than his technique. It should be noted that these remarks were shared during his redshirt season and that he has probably developed better overall form since then.
Overall, Simmons had a nice freshman season. However, he recorded a block only once every 10 games. Simmons should be able to pack on a few more pounds, and doing so will give him increased confidence in his ability to challenge shots.
The bottom line is that Simmons is a gifted athlete, and if he can do anything to increase his "gifts," his performance will only improve.
8. DeShaun Thomas: 6'7", 225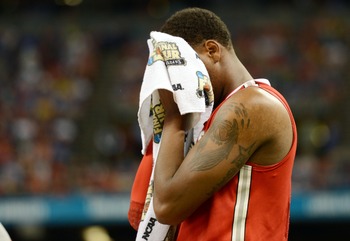 Thomas is good already, but he can be better
Bob Donnan-US PRESSWIRE
DeShaun Thomas is a great talent who, with the departure of Jared Sullinger (who does not need to add on weight), looks destined to be Ohio State's big-time scorer in 2012.
Up until now, I have looked primarily at two factors in making this list. One has been something resembling a height-to-weight ratio. The other has been rebounding and shot-blocking ability. This makes sense considering changes in core strength can alter both.
I chose a different approach in selecting Thomas.
I first took a look at the top-40 scorers in the Big Ten last season. From there, I got each player's per game, two-point field-goal attempts. I divided this number by his average number of free throws.
The results?
Thomas had the highest shots-to-free-throw value among players eligible for the 2012-2013 season. In other words, he was the worst at getting to the line among top Big Ten scorers.
Does that one statistic tell the whole story? Of course not—but do any? Using this system, jump shooters were more penalized than pure slashers.
Regardless, Thomas needs to work harder to draw contact and get to the line. This starts in the weight room.
9. Tyler Lewis: 5'11'', 165

Tyler Lewis knows how to dish, but can he bench 100 pounds?

This one almost feels like cheating. Described in his ESPN scouting report as looking like, "an altar boy," Tyler Lewis is one of the top point guards in this year's incoming freshman class. He is one of three top-50 recruits brought in by N.C. State, the trendy pick to win the ACC.

Lewis plays the point and will need to drink his double-scooped, whole-milk protein shake for different reasons than most guys on this list. While added mass will help him offensively, his primary concern needs to be keeping opposing guards out of the paint.
10. Marshall Plumlee: 6'11", 225

Marshall has the pedigree to be an NBA talent

The redshirt freshman is the third installment of M. Plumlee at Duke. The Indiana Pacers' selection of his oldest brother Miles was, for many, a big surprise. Head coach Frank Vogel defended his selection to ESPN saying, "He has great size and athleticism." While this is hardly a revelation, the fact is Miles' NBA-ready body earned him millions of dollars.
A similar fate awaits Mason, who was unquestionably better than Miles last year at Duke.
Marshall actually has an extra inch on both of them. However, he lags behind in strength, as Miles and Mason both exceed 235 pounds.
Marshall will most likely stay at Duke for a full career, so he has time. Nonetheless, he will need to do some bulking up if he wishes to join his siblings in the Association.
Keep Reading