After a three-way battle that turned into a two-way war, Ryan Tannehill is your Miami Dolphins starting quarterback for the 2012 season.
Tannehill's performance this preseason wasn't impressive statistically, however he made good decisions and showed great poise and leadership.
But that's in the preseason. The question is, what's he going to do in the regular season? What will the Dolphins do if (actually when) he struggles?
The answer is simple: Tannehill must start at least the first 14 games of the season. The only exception is if he gets hurt.
By naming Tannehill the starter, Miami has committed to the future. While you could bench an ineffective David Garrard or Matt Moore after the first eight games, you can't do that with Tannehill.
The original plan for Miami was likely to start Garrard and see where it went. If Garrard did well and Miami was in contention, they would keep riding his wave. Once they were eliminated (or Garrard proved to be ineffective), then Tannehill would come in.
This can't be the case with Tannehill. You can't yank a rookie quarterback in and out of the lineup if you feel he's ineffective.
This is a team that on the offensive side of the ball lacks talent. While there's trust that the running game will be effective, there are questions that linger with the passing game. Because of this Tannehill will struggle. He will have bad games.
While a lot of fans will knee-jerk and proclaim Tannehill as a bust, this won't be the case—just look at the rookie seasons of Peyton Manning, Troy Aikman, John Elway and Steve Young.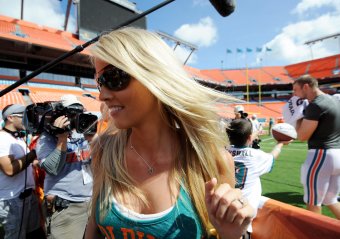 Steve Mitchell-US PRESSWIRE
Not only do each of those quarterbacks have Super Bowl rings and busts in Canton (Peyton obviously doesn't have one yet but will), but they struggled during their first season. They each threw more interceptions than touchdowns, missed out on the playoffs and had to go through some tough growing pains. Injuries were the only reasons any of those quarterbacks missed games that initial season.
Tannehill needs that same treatment. Will it be rough for him? Yes, but the only way for Miami to know what they have at the position in the long-term is to let him ride out those rough patches and gauge how he's able to bounce back from them.