Projecting the Dallas Cowboys' Final 53-Man Roster After Preseason Week 2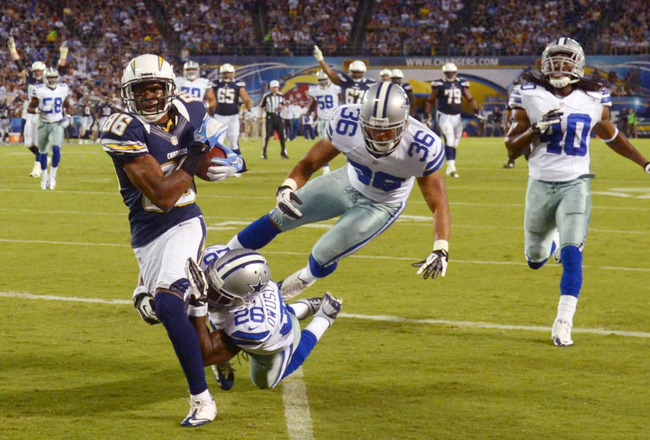 Kirby Lee-US PRESSWIRE
The Cowboys are required to get down to 88 players by Monday, August 27th. Wednesday marks the 22nd, and with the recent release of safety Justin Taplin-Ross, the Cowboys are already at that number.
There are still a number of players looking to make the final roster, including quarterback Stephen McGee and defensive end Marcus Spears.
So where do we stand after the Cowboys' performance against the Chargers this past Saturday night?
Here is my latest roster projection after Week 2.
Quarterbacks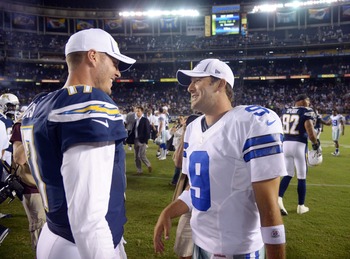 Kirby Lee-US PRESSWIRE
Kyle Orton
Rudy Carpenter
Romo is a no-brainer here as he is the team's starter. After tossing over 30 touchdowns last season, he is in the prime of his career.
Kyle Orton is the backup quarterback the team has been waiting on. He is a former starter and a player with a very high football I.Q. If Romo goes down with an injury the offense shouldn't have many missteps with Orton.
He has looked good in training camp and the preseason and has a solid hold on the No. 2 quarterback position.
I'm sticking with Carpenter as the third quarterback. Dallas may not keep three quarterbacks on the roster but injuries should keep them away from that option.
There is no reason to hold on to McGee. He hasn't shown the team much during his tenure with Dallas and while Carpenter may not be much of an upgrade, he's not McGee.
Running Backs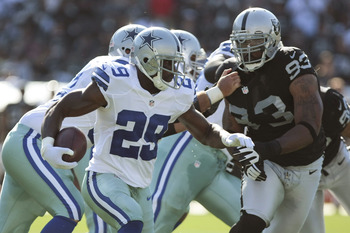 Kelley L Cox-US PRESSWIRE
DeMarco Murray
Felix Jones
Phillip Tanner
Murray is the starter because he's the best running back on the roster and he performed very well last season. He has looked strong in training camp and gives the team no pause in giving the starting role to him in 2012.
Felix Jones is an entirely different case. He will make the team and remain as the backup to Murray, but for how long?
Jones failed his conditioning test and looked timid and lacked burst against the Chargers. I'll just say it is the preseason and judge Jones off of what he does in the regular season. Bottom line for him is that he has to stay healthy.
Phillip Tanner has earned his spot with the team. He is a hard worker and when he gets time to play on the field he shows coaches why he should make the final roster. He's injured now but no running back below him on the roster has shown enough to seriously challenge for his spot.
Fullback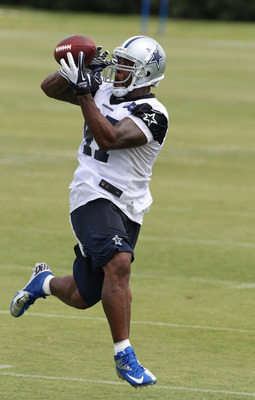 Matthew Emmons-US PRESSWIRE
Lawrence Vickers
Shaun Chapas will not make the team as he's too inconsistent and Vickers was signed to replace the departed Tony Fiammetta.
Wide Receivers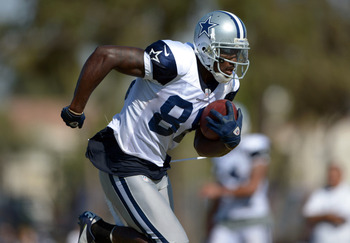 Kirby Lee-US PRESSWIRE
Miles Austin
Dez Bryant
Cole Beasley
Kevin Ogletree
Danny Coale
DeWayne Harris
Austin will not be the team's No. 1 receiver by season's end. At least that is my prediction. He is a very good wide receiver but Dez Bryant is just too talented to stay at the No. 2 position.
Speaking of Dez Bryant, did anyone see his touchdown catch against the Chargers that didn't count? I would say that this catch alone qualifies him for the No. 1 receiver spot, but that would be reckless.
He's good and there is no reason why he shouldn't explode in 2012.
Kevin Ogletree was in danger of not making the team until we saw the rest of the Cowboys receivers. He will make the team and start in the slot but this should be his last season in that position.
I am really starting to like this Cole Beasley kid. He did his thing against the Chargers with 104 receiving yards. He's proving why he should be kept around for awhile.
If only my man Danny Coale could just get on the field, we would see just how good he can be. He's injured right now and we haven't gotten a good look at him but he should be on the team anyway. At least I hope.
DeWayne Harris is a kid out of ECU the Cowboys drafted last season. He still has some edges that need to be ironed out but he's fighting for the slot position as well.
Its all about consistency with these young guys and so far no receiver has shown that he can be trusted.
Tight Ends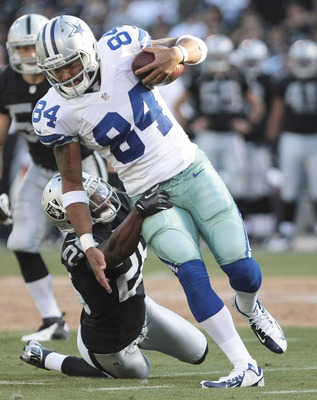 Kelley L Cox-US PRESSWIRE
Jason Witten
John Phillips
James Hanna
Jason Witten has an injured spleen and his return to the field is unclear. By unclear I mean that his season may be over. No worries about him making the team, but will we see him play in 2012?
Remember how excited Cowboys fans were before John Phillips tore his ACL a couple of seasons ago? Maybe that excitement will return if Witten does not see the field this season.
Phillips is still growing and he may get his opportunity to show why the Cowboys let the underachieving Martellus Bennett go.
I love James Hanna and truly believe that he'll turn into the Cowboys' starting tight end one day. But until that day comes he will remain the third tight end, unless Witten is out for the year, and try to form some sort of bond with Tony Romo.
Offensive Line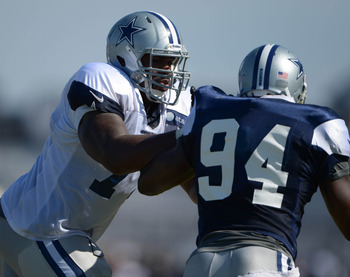 Kirby Lee-US PRESSWIRE
Tyron Smith
Doug Free
Mackenzy Bernadeau
Nate Livings
Derrick Dockery
Jermey Parnell
Phil Costa
Ronald Leary
David Arkin
The first two men listed are no-brainers. Tyron Smith made the switch from right tackle to left in the offseason and Doug Free went to the right side. Smith is more athletic than Free and a better tackle.
Smith has looked good this preseason but still has room to grow. DeMarcus Ware said that Smith is a "very aggressive" tackle and the first player to ever lock him up. That is pretty high praise for a second-year player.
Free concerns me a little because he hasn't been the same since signing a new deal with the Cowboys worth $32 million.
The hope is that he's able to hold down the right side of the line because he slipped a lot protecting Romo's blind side in 2011.
Center Phil Costa should be a backup but the Cowboys are limited in their center options. Dallas has tried different players at the position but none have worked. Let's just hope Costa works out any kinks with Romo before the season gets going.
Leary is an interesting case because the Cowboys signed him as an undrafted free agent after targeting him in the draft. The reason the team passed on him is because he basically has a decaying knee. But it hasn't bothered him much in training camp and he's performed well enough to make the final roster.
Parnell is there for depth reasons and should give the Cowboys just that, depth. My thought is that the Cowboys will go through a few changes on their line for maybe the next year or so before everything gels together. Parnell is one of those players who may just be passing through.
In the interim, he isn't a bad option.
Mackenzy Bernadeau and Nate Livings were signed in the offseason to compete for the starting guard positions. Bernadeau will more than likely start and Livings should have a few starts under his belt before the season is out.
The guard position is one of concern because there is still a great amount of uncertainty as to who will fill both roles.
I thought that Derrick Dockery would be a casualty this offseason but he was kept around for depth and because Dallas is having issues finding good linemen. No diss to Dockery.
David Arkin is an interesting case because he's a guard that the Cowboys are trying out at center. If he can interchange and not miss a beat at either position, why not try it out?
Defensive Line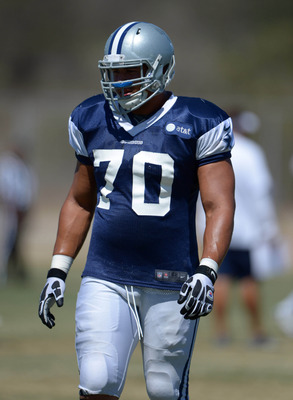 Kirby Lee-US PRESSWIRE
Tyrone Crawford
Josh Brent
Jay Ratliff
Sean Lissemore
Clifton Geathers
Jason Hatcher
Marcus Spears
Tyrone Crawford is coming along nicely and impressing the coaches on his journey. As long as he continues to progress there is no reason to believe that he will not be a starter in the near future.
Josh Brent is the anti Jay Ratliff. He's a full 20-plus pounds heavier than Ratliff. Brent plays the zero technique role and plugs the middle when Ratliff is on the sideline. He's also a nice change-up.
Jay Ratliff is the Pro Bowl nose tackle who sets the tone on the line. He's not as big as Brent but can take on his fair share of blockers and completely dominate an opposing offensive line with his quickness and strength.
Before training camp started, there was talk of Sean Lissemore having a breakout season. Not sure where that talk went but Lissemore should have a larger role this season and a much bigger impact.
Clifton Geathers is sort of a project for the Cowboys. A young player with a lot of potential and huge size, Geathers has been with Dallas the past couple of seasons and has played in about six games. His year to break out could be 2012.
Marcus Spears is fighting for a roster spot and it showed with his performance against the Raiders. He better keep it up or he may find himself looking for a job soon.
Jason Hatcher has been struggling with a hamstring strain and is looking to get back on the field soon. The good news is that he went through pre-game warm-ups before the Chargers game and may suit up against the Rams on Saturday.
Inside Linebackers
Jayne Kamin-Oncea-US PRESSWIRE
Sean Lee
Dan Connor
Bruce Carter
Orie Lemon
I could wax poetic about Sean Lee all day because he is quickly turning into one of the NFC's best linebackers.
Bruce Carter is challenging newly signed Dan Connor for his position and both should see plenty of time this season. Connor has acclimated nicely to Ryan's system and Carter is still playing catch-up.
Orie Lemon has made his share of plays during training camp and with the injury to Caleb McSurdy he'll provide depth for the Cowboys in the middle.
Outside Linebackers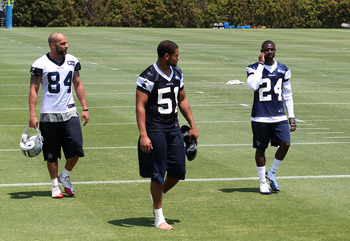 Matthew Emmons-US PRESSWIRE
DeMarcus Ware
Victor Butler
Kyle Wilber
Anthony Spencer
Alex Albright
One of my favorite Cowboys rookies this offseason has been Kyle Wilber. He has a lot of potential and could be a dangerous pass-rusher. He just needs to keep his hands healthy.
DeMarcus Ware is the standard and the best pass-rusher in the league. Let's just hope his prime continues for at least another two seasons.
This should be make it or break it for Anthony Spencer. He is a pretty good run-stopper but his pass-rushing skills leave a lot to be desired.
Victor Butler and Alex Albright have shown a lot during training camp and it's time for Butler to show his flashes in the regular season and not just during camp.
Cornerbacks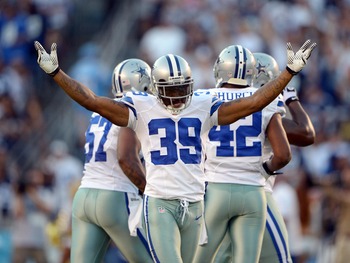 Kirby Lee-US PRESSWIRE
Mike Jenkins
Brandon Carr
Morris Claiborne
Orlando Scandrick
Open Spot
Brandon Carr did his thing on Saturday against the Chargers on Saturday with two interceptions. Its just the preseason but this should be a sign of things to come for the Cowboys secondary. $50 million should get you that much, right?
I'm starting to feel concerned that Mike Jenkins may have a bad year. He's always injured and I'm not sure if his heart is into playing hard for Dallas this season. I hope that I'm wrong and if I'm correct Dallas may run into some issues.
Orlando Scandrick may see more snaps than Jenkins if he can stay on the field longer than Mike. He's progressing and growing, which is a good thing. Hopefully we won't see the Scandrick from 2010 who rated as one of the worst cornerbacks in the league.
The rookie with all eyes on him is Morris Claiborne. He'll play a bigger role in this Saturday's game against the Rams so fans will have a better look as to how far he's come since being drafted.
Safeties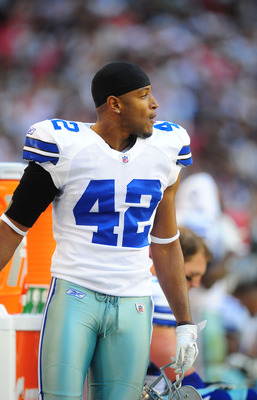 Mark J. Rebilas-US PRESSWIRE
Barry Church
Gerald Sensabaugh
Danny McCray
Matt Johnson
Well, looks like I was wrong about Matt Johnson. Since returning from injury he's been thrown into the fire and is taking snaps with the second-team defense.
Barry Church kind of claimed the starting free safety position after the team decided to cut Brodney Pool. I didn't think he was ready but that is why I'm not a team executive.
Gerald Sensabaugh may be on his last leg for the Cowboys in 2012. Dallas has to make plans to replace him but he's still one of the team's best defensive backs.
Danny McCray played in 14 games last season with a sack and 18 tackles. He's in his third year and should have a greater opportunity to show if he's a reliable backup for the team.
Special Teams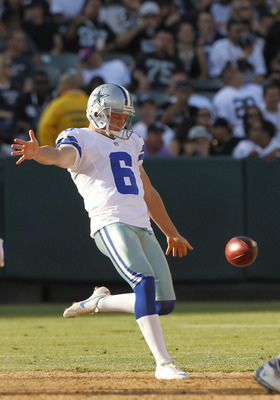 Cary Emondson-US PRESSWIRE
Dan Bailey
Chris Jones
L.P. Ladouceur
Bailey is just about money when he's on the field and Chris Jones has a large pair of punting shoes to fill.
As long as Ladouceur keeps snapping the ball well there is no reason to believe he should go.
Keep Reading

Dallas Cowboys: Like this team?