How Oregon Makes It to the National Title Game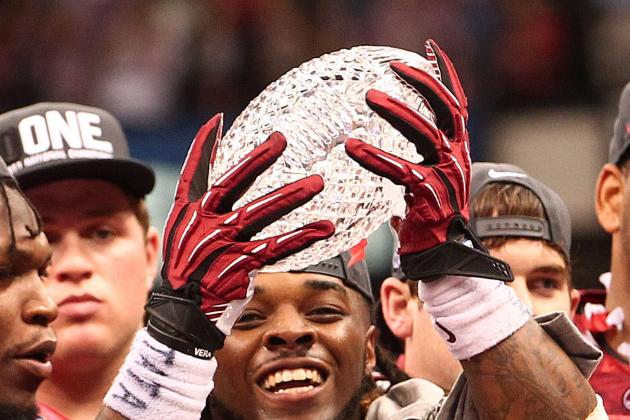 Marvin Gentry-US PRESSWIRE

The college football preseason rankings are out, and the Oregon Ducks start at a lofty No. 5 (No. 4 on B/R's own poll).
There is the feeling for Duck fans everywhere that this year's BCS National Championship game is there for the taking. That this is THE YEAR. That even the Rose Bowl, the granddaddy of them all, would be a slight disappointment this season.
But what will it really take for Oregon to be one of the top two teams standing at the end of the year?
Here are some possible—perhaps, dare I say, likely?—scenarios that would clear the path for the Ducks to go all the way.
Begin Slideshow

»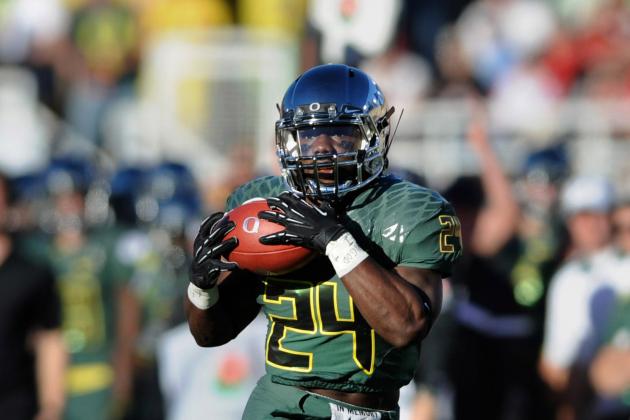 Kirby Lee-US PRESSWIRE

First things first: the Ducks must win all their games.
While a one-loss team can, and often does, back into the National Championship game, with today's biases built in, you almost have to have SEC in your conference category to get in with a loss.
To be safe, take care of business. Beat the Red Wolves, beat the Bulldogs, beat the Golden Eagles, beat the Wildcats, beat the Cougars, beat the Huskies, beat the Sun Devils, beat the Buffaloes, most certainly beat the Trojans, beat the Golden Bears, beat down that Tree and, finally, beat the Beavers and then we'll talk.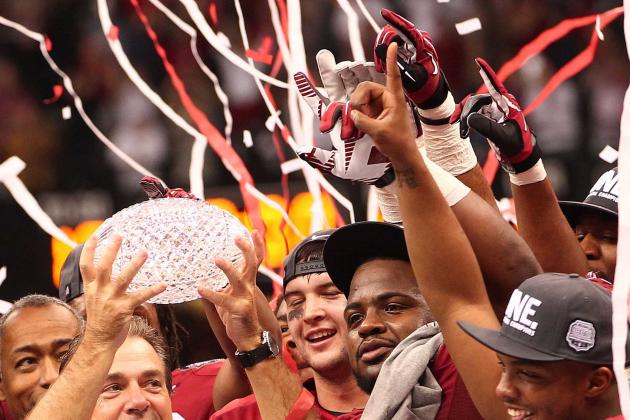 Marvin Gentry-US PRESSWIRE

In 2012, unlike in 2011, the Ducks will be undefeated after the first game. Say what you will about the preseason schedule at Autzen, but aren't you looking forward to being undefeated after Week 1 instead of clawing out of the LSU hole?
One other highly-ranked team won't be so lucky after Week 1: Alabama.
Playing Michigan at the Cowboy Classic in Arlington, TX, on Sept. 1, look for Denard Robinson in the snazzy, new Michigan uniforms to take it to the Tide. With Alabama returning only four starters on defense, Robinson will light it up.
The other ranked teams, including Oregon, will all win in Week 1. So, using the AP Top 10 as our guide for the sake of this article, here's how the standings at the top will look following Week 1:
1 - USC
2 - LSU
3 - Oklahoma
4 - Oregon
5 - Michigan
6 - Georgia
7 - Alabama
8 - Florida State
On to Week 2.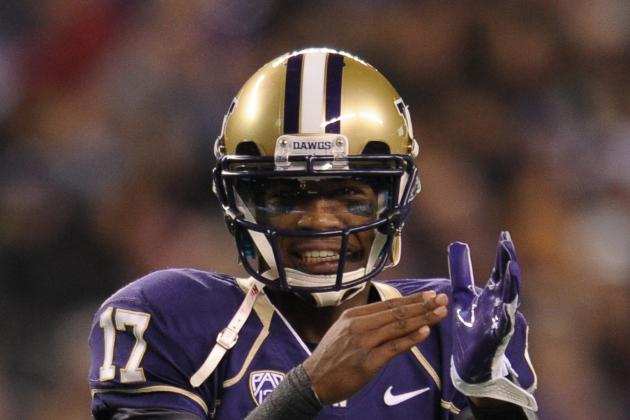 Steven Bisig-US PRESSWIRE
Keith Price - Washington Huskies
Who is this guy and why is he on the Week 2 slide?
He is Keith Price, quarterback for the Washington Huskies. He's on this slide because he will be part of one of the biggest upsets in recent history when Price and his team take down the LSU Tigers in Baton Rouge in Week 2.
Tall order, you say? Sure. But it's games like this one that give us the reason they make us play the game. The Huskies will be greatly improved this year, Price is now a seasoned veteran and Washington coach Steve Sarkisian knows all about big games.
If you can't swallow this upset, don't worry; there is at least one other game later in the season that LSU loses. Yes, it's a tough year for the Mad Hatter.
Everyone else wins, including Alabama, who has taken their anger and grief out on poor Western Kentucky, winning 63-3. Standings after Week 2:
1 - USC
2 - Oklahoma
3 - Oregon
4 - Michigan
5 - Georgia
6 - Alabama
7 - LSU
8 - Florida State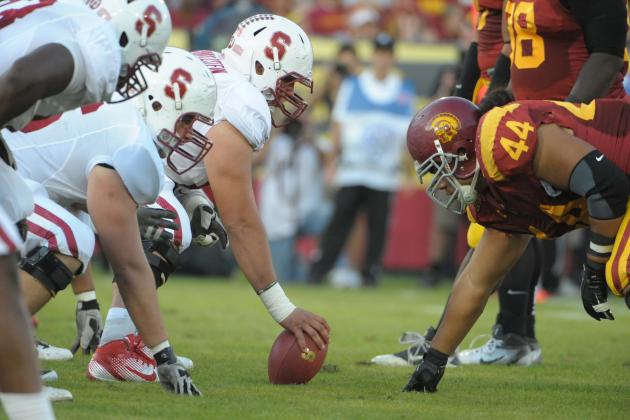 Kirby Lee-US PRESSWIRE

The USC Trojans are chomping at the bit to have a real opponent and get started on their conquest of the Pac-12 Conference. Can they beat Stanford on the farm after losing to the Cardinal what feels like the past, oh, bazillion years (3)?
This one will be close, but you have to bet that Surfer Dude & Co. will be more than ready for this game after demolishing Hawaii and Syracuse in Weeks 1 and 2.
There are no upsets in Week 3, although Arkansas takes Alabama to the wire before losing a close one. LSU bounces back and defeats Idaho so bad at Tiger Stadium that the Vandals consider giving up football.
Oklahoma has a bye week this week, but doesn't lose any ground because, well, Bob Stoops wouldn't like that and no one wants to listen to his whining for an entire week.
Standings after Week 3 are unchanged from Week 2.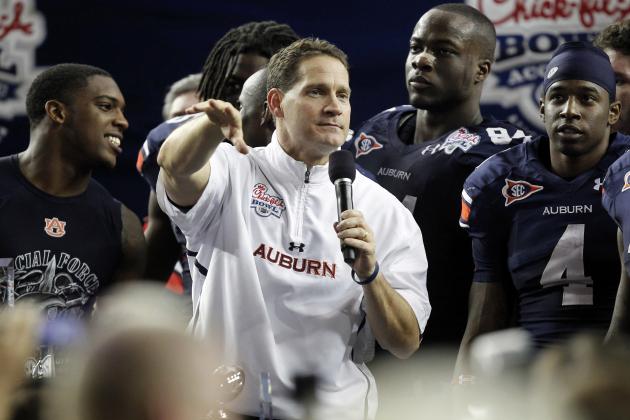 Josh D. Weiss-US PRESSWIRE

Why is no one talking about Auburn? Sure, they have a tough schedule, but they also have a very decent football team this year. And, if the rest of you don't know it now, you will after Week 4.
Remember when I told you to not worry if you didn't buy my prediction of Washington upsetting LSU in Week 2? Here's why: they lose again in Week 4 when they play Auburn in Jordan-Hare Stadium.
Mass drunkenness and arrests in Baton Rouge ensue.
In other games this weekend, Florida State squeaks by Clemson in Tallahassee, and Michigan puts an exclamation point on why Notre Dame is not ranked, winning 35-10 at Notre Dame. Can we please stop talking about the Irish now?
Here are your Week 4 standings:
1 - USC
2 - Oklahoma
3 - Oregon
4 - Michigan
5 - Georgia
6 - Florida State
7 - Alabama
8 - Wisconsin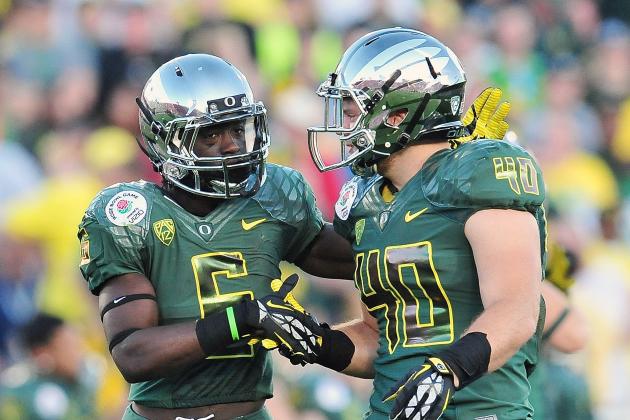 Gary A. Vasquez-US PRESSWIRE

Everyone in the Top 10 has an easy game this week except...your Oregon Ducks, who play Washington State at CenturyLink Field in Seattle, a semi-neutral site.
The Cougs are the current darling of ESPN, having knocked off BYU in Provo in Week 1, thereby igniting the Mike Leach Era bandwagon. When WSU meets the Ducks on September 29, they are 4-0 with a head of steam.
Oregon wins this game, but not before a few anxious moments. The close score won't hurt the Ducks in the rankings, however, because Michigan, USC and Oklahoma (huh?) have open dates this week. And, because Wazzu might have snuck into the Top 25 by now.
The only change in the standings this week is Florida State moves ahead of Georgia after a solid beat down of USF in Tampa.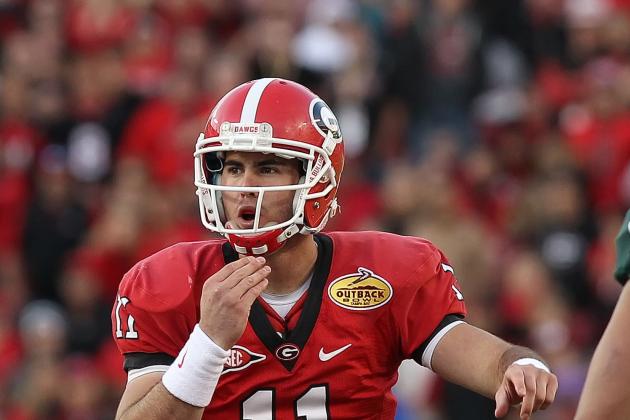 Kim Klement-US PRESSWIRE

There are three games that might impact the rankings this week.
Georgia has a tough road game at South Carolina, but I like the Bulldogs to pull this one out.
USC has a Thursday night TV game at Utah. Folks, this one is a toss-up. I'm going to pick USC to win it on a late-game field goal, but, honestly, I won't be at all surprised if the Utes find a way.
Oregon returns to the friendly confines of Autzen Stadium to meet the Huskies. After much taunting from the Washington sidelines ("We beat LSU and you didn't nah nah nah nah nah"), the Ducks win going away.
On a side note, LSU reappears after a solid win at Florida, but they still can't crack the Top 10.
Standings after Week 6:
1 - USC
2 - Oklahoma
3 - Oregon
4 - Michigan
5 - Florida State
6 - Georgia
7 - Alabama
8 - Wisconsin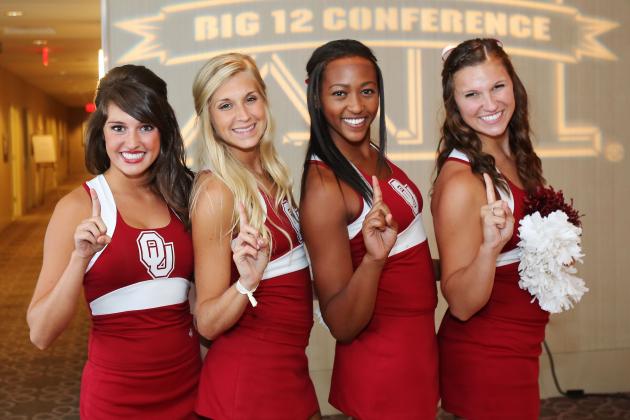 Kevin Jairaj-US PRESSWIRE

Week 7 is the first week that Oklahoma actually has to play some football. You may count the Sooners victory over Kansas State in Week 4 as a tough game, but, c'mon man, they had an open date both before and after that game.
But this week Oklahoma plays Texas at the Cotton Bowl in Dallas. ABC will televise the game, and it will probably be the site of College GameDay. But that's silly, really, because Texas sucks.
Oklahoma kills Texas and moves to No. 1 because USC barely beats Washington in Seattle. The following week could see an epic whine-off between Lane Kiffin and Bob Stoops.
The Ducks are off this week, but stay ahead of Michigan by a hair. Michigan is still undefeated, by the way, as is Wisconsin (don't lose sight of the Badgers just yet.) Alabama moves ahead of Georgia, as the Bulldogs take a week off, and 'Bama kills SEC newcomer Missouri at their place.
Standings after Week 7:
1 - Oklahoma
2 - USC
3 - Oregon
4 - Michigan
5 - Florida State
6 - Alabama
7 - Georgia
8 - Wisconsin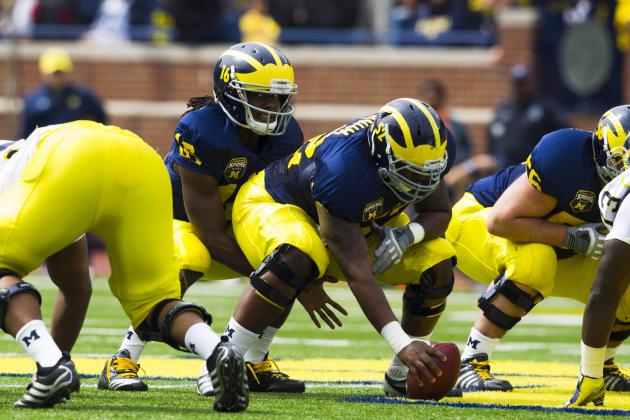 Rick Osentoski-US PRESSWIRE

The Ducks take care of Arizona State in Tempe in a Thursday night game this week, and now Todd Graham understands what he's up against in the Pac-12.
Poor Colorado has to travel to L.A. for Trojan Family Weekend, which sounds like a swell party.
All the ranked teams have it easy this week with the exception of Michigan. The Wolverines get Michigan State this Saturday in Ann Arbor. I haven't mentioned the Spartans because I really don't believe they will be in the conversation this year after they get spanked by Boise State on opening weekend.
However, this game is always fun and this year will be no exception. Michigan ekes out a victory, but I hope no one gets hurt.
No changes in the rankings this week. Kind of a boring week, really; a good weekend to get your household chores done.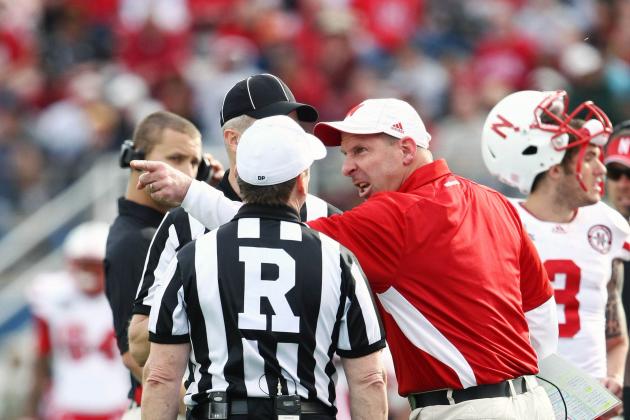 Douglas Jones-US PRESSWIRE

Nebraska has been quietly maintaining their spot in the Top 20, hovering all season between No. 16-19. Outside the state of Nebraska, absolutely no one is talking about the Cornhuskers.
That all changes today. Nebraska beats Michigan at Memorial Stadium in Lincoln, and because it's a big TV game on ABC and ESPN, the entire world—and every single poll voter—sees it. Michigan sinks like a stone in the rankings. (Sorry, J.E.)
The only other tough game in the Top 10 is Georgia at Florida, but the Bulldogs won't be stopped quite yet. Everyone else has easy games this week, including Oklahoma, who play Notre Dame in Norman.
Standings after Week 9:
1 - Oklahoma
2 - USC
3 - Oregon
4 - Florida State
5 - Georgia (nice win at Florida)
6 - Alabama
7 - Wisconsin
8 - West Virginia (who had a nice win at Texas three weeks ago and has been lurking around)
9 - Michigan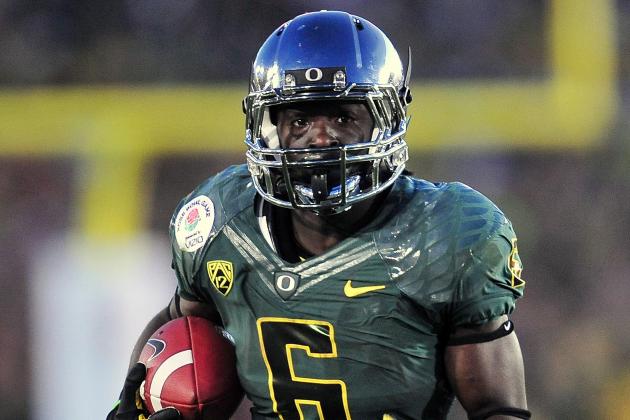 Gary A. Vasquez-US PRESSWIRE

The single most important moment in college football in the nation this week is the moment when ESPN announces where College GameDay will be.
If they choose the USC vs. Oregon game in the L.A. Coliseum, the SEC is done for the year. If they choose the LSU vs. Alabama game in Baton Rouge, the Pac-12 gets screwed again.
Yes, people, that's how the rankings happen, and it's a very large reason why we ended up with two SEC teams in the National Championship game. You simply cannot ignore the hype and the power that ESPN generates in college football.
My guess is that the pooh-bahs at ESPN recognize this fact and that they take action this year to rectify it. Look for the GameDay crew in sunny southern California on Nov. 3.
The game? Oregon wins it rather handily. That other game? LSU gets payback.
Here are your standings after this crucial Week 10:
1 - Oklahoma
2 - Oregon
3 - Florida State
4 - Georgia
5 - USC
6 - Wisconsin
7 - West Virginia
8 - LSU
9 - Michigan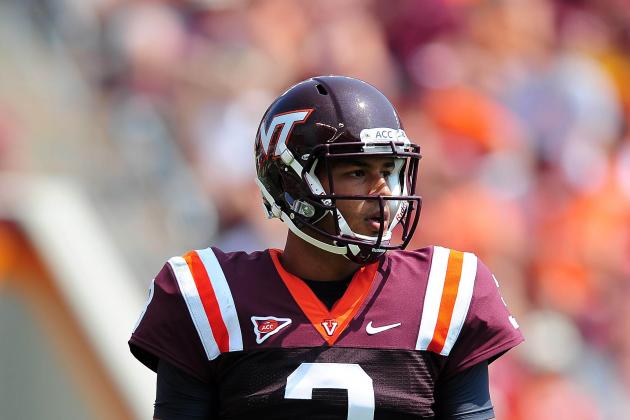 Andrew Weber-US PRESSWIRE

While it's a quiet week in the Pac-12 (Oregon beats Cal like always, and USC kills the hapless Sun Devils), Big 12 and B1G, all hell is breaking loose in the SEC and ACC.
Georgia, so close they can taste it, loses to Auburn at Auburn. UGA IX pees on Gene Chizik's foot, but it doesn't change the outcome of the game.
And, as if Auburn spoiling Georgia's sweet year wasn't enough excitement for the weekend, the Hokies of Virginia Tech take down Florida State. Deep in your heart, you knew the Seminoles weren't that good, didn't you?
Major shakeup in the standings this week:
1 - Oklahoma
2 - Oregon
3 - USC
4 - Wisconsin
5 - West Virginia
6 - Michigan
7 - LSU
8 - Auburn
9 -TCU
Ezra Shaw/Getty Images

See these sad Stanford fans' faces? They will be even more glum on November 17. If the Ducks get by the Cardinal in this game at Autzen, they will be in the driver's seat for The Natty. Why? Because...
Mighty Oklahoma gets the snot beat out of them this weekend on Mountaineer Field in Morgantown, West Virginia. Finally, the Sooners' easy schedule catches up with them and the Mountaineers win it in a hard fought game.
Stanford, ranked in the Top 20 with only the one loss to USC in Week 3, goes down to Oregon 49-14, and Oklahoma steps in it, losing 24-10.
So, Duck fans, breathe it in; here are the new rankings:
1 - Oregon
2 - USC
3 - Wisconsin
4 - West Virginia
5 - Michigan
6 - LSU
7 - Oklahoma
8 - Auburn
9 - TCU
10 - Alabama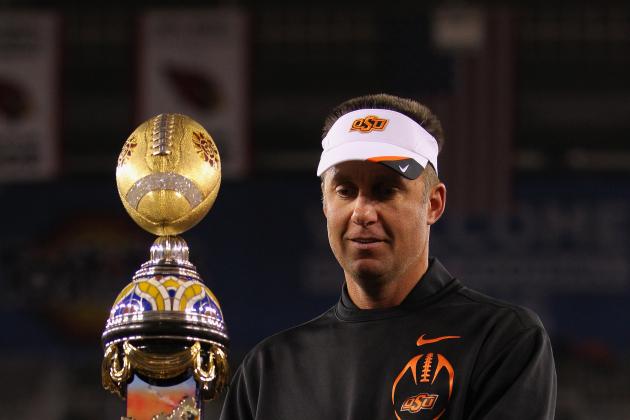 Doug Pensinger/Getty Images

Lots of big rivalry games this weekend.
Oregon beats the Beavers—although it's closer than it should be—and goes through the regular season undefeated, winning the Pac-12 North and awaiting their opponent in the South, USC, for the Pac-12 Championship Game next week.
Things aren't quite so smooth in Norman, OK. The Sooners, devastated from last weekend's meltdown in West Virginia, continue their slide by losing, badly, to Oklahoma State. Sooner fans boo all the way out of the stadium.
Wisconsin and Oregon are the only two undefeated teams going into conference championship weekend, but the voters still like USC, with just the one loss to No. 1-ranked Oregon.
Your standings:
1 - Oregon
2 - USC
3 - Wisconsin
4 - West Virginia
5 - Michigan (beats Ohio State)
6 - LSU (beats Arkansas)
7 - Auburn (beats Alabama, good night 'Tide)
8 - TCU
9 - Boise State
10 - Georgia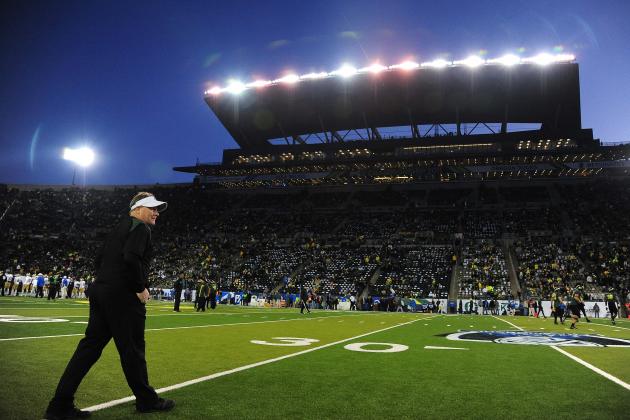 Kyle Terada-US PRESSWIRE

LSU wins the SEC game over Georgia, leaving the Tigers with two losses: Washington and Auburn.
Oregon wins the Pac-12 game over USC in Eugene.
Michigan beats Wisconsin in the B1G.
But the BIG surprise is that TCU finishes strong, beating both Texas and Oklahoma in the last two weeks. The Horned Frogs only loss is to Oklahoma State in Stillwater back in October. Obviously, TCU rockets up the rankings.
So, what are we left with? Oregon is still No. 1 and they start packing for Miami.
But who the heck is No. 2? Does Michigan's strong finish make voters forget their loss to Nebraska?
Is LSU in even with two losses because someone from the SEC has to be there, right? This is America, after all.
Does USC get credit for losing only to the nation's No. 1 team? An All-Pac-12 National Championship game? Cool!
My guess? Go Ducks, and Fear the Frog.
Please follow me on Twitter: https://twitter.com/KayJenningsPDX.