WWE Night of Champions 2012: Prematurely Bold Predictions for the Event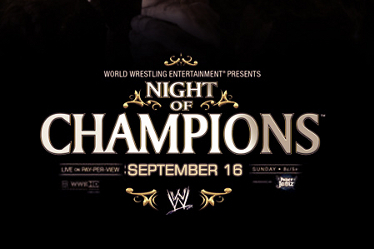 Well, the biggest event of the summer is now behind us and SummerSlam proved that you can please some of the people some of the time, but quite a lot of the time, WWE just seems to want to smite everybody (particularly the IWC) instead.
Anyway, we now look ahead to September 16th at the TD Garden in Boston (John Cena's hometown for those of you who don't know) where ALL seven of WWE's existing titles will be defended in some capacity.
Now, I know it's early, but the following slideshow will look to predict, analyse and muse over the potential card for this year's Night Of Champions.
Thanks for reading!
Begin Slideshow

»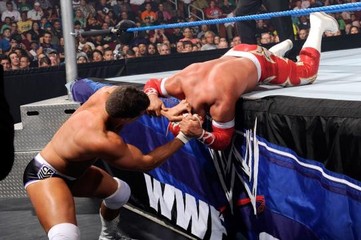 Oh yes, these pre-show matches are a thing now, and it looks like they're well and truly here to stay.
I don't think that WWE will make the error of having another championship decided during the pre-show this time around (despite the theme of the show), but instead will opt for a more well-rounded warm-up match to get the Garden rocking.
My thought is that it should be Cody Rhodes and Damian Sandow vs. Sin Cara and Rey Mysterio.
Justification
Now, I understand that this setup may appear a bit far-fetched, but please hear me out.
None of these four guys have anything really substantive going on right now, with the closest thing any of them having to a real feud being Cody Rhodes' strange obsession with masks.
So, instead of four very talented members of the roster missing out on yet another PPV event, let's get Booker T/Teddy Long doing what they do best and setting up a tag team match.
We then get to see a re-hashing of Mysterio-Rhodes and Rhodes-Sin Cara addressed, and Damien Sandow continue to bash anything and everything while staying relevant in matches with high-profile faces.
Verdict
Eight to 10 minutes of entertaining action. Faces win via pinfall over Sandow.
How It Could Be Better
A fully-fledged build and feud centering around masks. The stipulation then gets brought in of a rarely seen, double Mask vs. Hair match (just imagine a bald Rhodes and Sandow).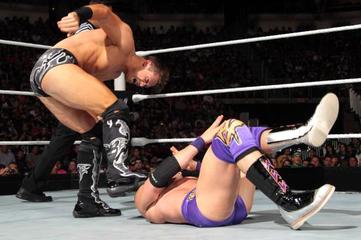 While it may not whet the appetite of everyone, after seeing this past Monday's Raw, I just have a gut feeling this feud is happening.
Justification
The two men were added, at the spur of the moment, to the Kane-Daniel Bryan shtick on Raw. Despite there being very little significant action between the two, I could see this being a fairly entertaining and theatrical match.
Verdict
Lots of facial expressions and pandering to the crowd. Miz wins via Skull Crushing finale.
How It Could Be Better
For starters Miz HAS to use the bubble AWESOME during his entrance. Otherwise, it would be nice to see the former WWE Champion involved in a more threatening and less predictable feud and matchup with the likes of Brodus Clay or Ryback.
I don't think it can really be argued that, right now, the WWE tag team division is nowhere near where it needs to be. Nevertheless, I'm a big fan of the Prime Time Players and have been relatively interested in the rivalry these three have had in recent months.
Justification
Let's face it, they're the only three real tag teams in the WWE (sorry, Usos). They also have an interesting three-way dynamic.
Verdict
10 to 12 minutes of solid, high-flying action. Titus pins Epico or Primo for the win and the Prime Time Players become new tag team champions.
How It Could Be Better
I was tempted to say TLC just for all the crazy spots these men could, and would, produce. With the TLC pay-per-view on the horizon though, I'm thinking this may be a tad optimistic.
I think this match would sell itself provided the Prime Time Players were finally rewarded with their first title reign, but any finish involving a returning A.W., or even Evan Bourne (especially atop a ladder), would do the trick for me.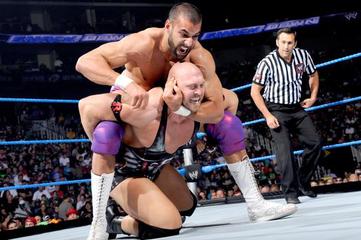 I'd be lying if I said I was into this feud. I'm really not.
In fact, I'm getting bored of the man formerly known as Skip Sheffield already. The pink eye is the most interesting part about his character (thank you, Curt Hawkins).
Therefore, let's just get this feud over with so the big man can tackle someone a bit tastier.
Justification
This is happening.
Verdict
Three to five minutes of absolute domination. Mahal wins via Cobra Clutch.... just kidding. Ryback wins, no questions asked.
How It Could Be Better
Ryback gets a legitimate challenger in the coming weeks. I'd personally love to see him take out Big Show.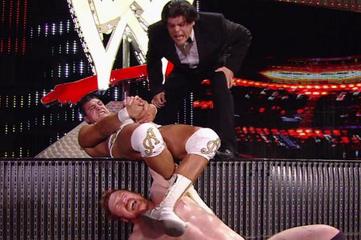 Here's another example of a feud everyone seems to have just given up on.
Sheamus-Del Rio should have ended before it started, but WWE continues to flog the proverbial dead horse by ramming down the throats of the WWE Universe a convoluted storyline about class struggle.
p.s. If your'e wondering about card placement and this being fourth on, I refer you to SummerSlam where we've now seen that the WHC means absolutely nothing in terms of prestige or significance, so can literally be placed anywhere on the card.
Justification
The peculiar ending to their SummerSlam encounter left a lot to be desired, but clearly left the door open for a number of unwanted sequels.
They're making a lot of this whole foot on rope malarkey, so I'm thinking we have to get a match (in theory) that addresses this. My first thoughts were possibly an "I Quit" or "Last Man Standing" match, but Sheamus has no submission finisher (per se) and the latter is too predictable.
A cage match in this situation makes the most sense as it ends the feud decisively (hopefully) and gives that extra brutal dimension that these two men need.
Verdict
16 to 18 minutes of hard-hitting brutality. Sheamus wins via Brogue Kick.
How It Could Be Better
Sheamus wins but is attacked post-match by a returning Wade Barrett as he exits the cage. Ziggler runs down and cashes in, opting to face an unconscious Celtic Warrior in a Steel Cage match.
Dolph strolls out of the cage nonchalantly, making history by becoming the first man to cash in via a stipulation match AND without touching his opponent.
We go forward with Barrett vs. Sheamus and Ziggler vs. Orton in the near future.
"Goat Face" Daniel Bryan is very quickly becoming one of my favourite superstars.
His gimmick since turning heel has been brilliant, and the development of the character has been an all-round success.
When it comes to this whole Kane/anger management stuff, though, I'm not as sold. It's time D-Bry went fully over the Big Red Machine and went onto bigger and better things.
Justification
Daniel Bryan slapping Kane two nights running has kicked this feud into a new gear, so we're assured to see an angrier and more aggressive rematch coming very soon.
Verdict
10 to 12 minutes of cat-and-mouse action. Bryan rolls Kane up again for the win.
How It Could Be Better
Bryan snaps during the course of the match and takes Kane out with the No Lock (overpowering him in the process). The American Dragon carries this attitude forward and begins to seriously hurt opponents while moving to the top of the WWE mountain. Kane never speaks again.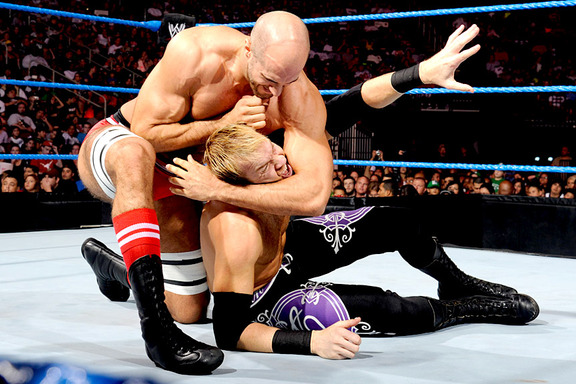 I'd just like to take the time to say a big thank you to WWE for FINALLY taking the United States Championship from Santino—that in itself was literally in my top five moments of my life I think.
I couldn't have cared less who took over the U.S. title mantle (which is probably a bad thing) but Cesaro is the lesser of many evils that creative could have theoretically put the strap on (my heart sank when I saw David Arquette in the crowd on Sunday).
Justification
Cesaro vs. Santino was horrible, and by all accounts the Swiss man isn't the most charismatic superstar on the mic. Therefore, let's welcome Captain Charisma into the fray to carry a feud and really push the young champion over the top.
These two have also had good chemistry when working together in recent weeks.
Verdict
Six to eight minutes of back and forth action. After a couple of false finishes, Cesaro wins via the Neutralizer.
How It Could Be Better
Aksana never appears on WWE programming again. Instead, Cesaro replaces her with Kassius Ohno (the FCW talent formerly known as Chris Hero) and the pair reform the Kings of Wrestling, bolstering the tag team division whilst making Cesaro a dominant mid-card champion.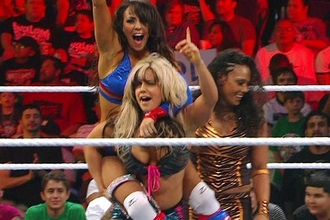 Wow, so this is the match WWE has chosen to hang their division around in the coming weeks.
In case you missed it (or dozed off), Kaitlin "won" the worst excuse for a No. 1 contenders Battle Royal you will ever see on Monday, to be established as next in line for a shot at Layla's Divas Championship.
Justification
Who cares?
No, in all seriousness, Kaitlin did technically "win" whatever that thing was with the seven Divas on Raw (I can't, in good conscious, refer to it as a Battle Royal I'm afraid).
Quick question though, where were Kelly Kelly and Beth Phoenix?
Verdict
Two to three minutes of typical Diva-ish stuff. Layla wins by a first in the Diva's division—a roll up. As a slight twist, I do see Ms. El turning in this match (maybe grabbing the tights or something along those lines), after her demi-evil looking scowl post-match on Raw.
How It Could Be Better
Replace every "Diva" (bar Beth Phoenix and Eve) with TNA Knockouts and bring back Vince Russo to solely write the new WWE Women's Division—it would be off the chain!
By this point, fans in attendance have had chance for their bathroom break (sorry girls), and should be psyched for Punk's first main event slotting in nearly a full calendar year as WWE Champion.
Hometown boy John Cena should really be thanked by Punk, as his inclusion in this match which secures Punk's place at the top of the card for Night Of Champions.
Justification
Let's face facts, Punk isn't picking Jerry 'The King' Lawler as his next opponent no matter how much they tease it—remember Miz vs. Lawler for the WWE Championship anyone?
Punk needs to heed the words of Cena from Monday night and really immortalise himself by tackling the biggest star in the company in front of his home fans.
Verdict
25 to 30 minutes of great in-ring work from both men. Punk retains through getting himself disqualified.
How It Could Be Better
Yes, I know my projected finish is weak, but can anyone really see either of these men going over clean in three weeks time?
Punk has to continue his turn to the dark side, and further foul play is the only real way to retain the momentum he has going forward into his almost inevitable clash with the Rock in January.
I'd love to see Punk really try and earn his stripes by challenging Cena to a submission match in Boston, thereby fully earning the respect of everyone—I suspect his victory will be a far less clear-cut one though.
Please WWE, can we just have a one-on-one match with no interference?