Florida Football: Breaking Down the Gators Wide Receivers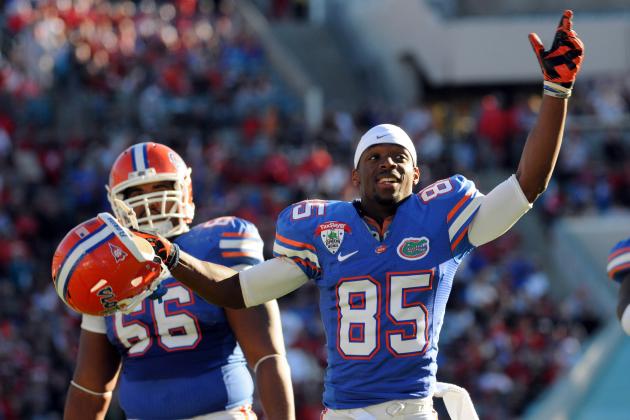 US PRESSWIRE

Since 2007 the Gators have signed 16 receivers but haven't had a receiver named to an All-SEC team since Percy Harvin in 2008.
The unit has underperformed since that 2008 season and 2011 was no different. Not all of the blame can be put solely on the receivers, though. Last season the Gators dealt with two inexperienced quarterbacks after John Brantley went down with an injury, and when he returned, Brantley just wasn't the same. The offensive line can take some of the blame for not being able to hold a block long enough to develop a down-field passing game and leaving the quarterbacks running for their lives most of the season.
Although Will Muschamp believes the group is improved, he has acknowledged their shortcomings and challenged someone in the group to "step up."
Let's take a look at the receivers that the Gators will be counting on this season and breakdown what the opening day depth chart should look like.
Begin Slideshow

»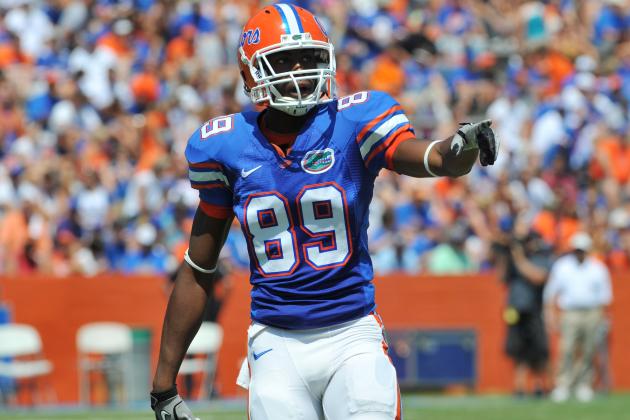 Al Messerschmidt/Getty Images

Standing at 6'6'', Alli is the tallest of the Gators receivers. Unfortunately for Alli, he hasn't been able to translate that size to performance on the field.
As a redshirt junior Alli has just three catches for 17 yards in his career at Florida. He has spent most of his time at Florida on special teams, where he caught the game-sealing onside kick attempt against Ohio State last season.
Alli hasn't found his place as a Gator yet but could be used more in Brent Pease's offense.
Photo Credit: 247sports.com
Andrades was one of the biggest surprises for the Gators 2012 recruiting class. He wasn't on the Gators' radar until late in the recruiting process and didn't announce his decision until National Signing Day.
Andrades has had some moments during camp where he looks ready to contribute but also has had his share of freshman mistakes. Andrades will likely play a role on special teams and could see limited time at receiver.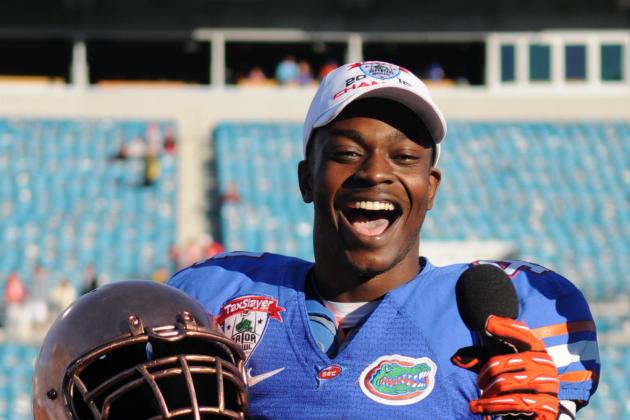 US PRESSWIRE

Touted as "the next Percy Harvin" when he committed to Florida, Debose has yet to live up to that hype. In all fairness, it was unfair to lay those kind of expectations on an incoming freshman.
Debose led the Gators in receiving last year with 16 receptions for 432 yards and scored four touchdowns.
Debose has big play ability but disappears too often on the field. He needs to show that he can be a consistent pass catcher and not just an occasional home run hitter. The report out of fall camp is that Debose is the most explosive receiver on the roster and is proving to be more reliable than in the past.
Sam Greenwood/Getty Images

Quinton Dunbar is becoming some sort of camp stud.
Before the 2011 season Charlie Weis and Muschamp raved about the strides he had made during the offseason. Dunbar is once again receiving high praise this offseason.
Despite the hype prior to the 2011 season, Dunbar only caught 14 passes for 216 yards and two touchdowns.
Dunbar will play a big role this season and could be one of the Gators leading receivers by the end of the season. Dunbar has the speed, route running and size to be a star for the Gators and 2012 will be his breakout season.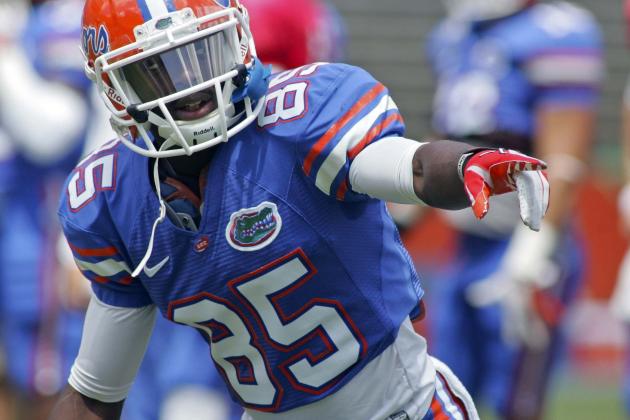 Phil Sears-US PRESSWIRE

The biggest surprise out of fall camp has to be the praise that Frankie Hammond is getting. Hammond has been praised for being the most consistent receiver in camp and that is something that will be rewarded.
Hammond is in his final season as a Gator and has yet to make a lasting impact on offense. Hammond caught just 15 passes last season and has just 41 receptions for his career. With just one season left Hammond is looking to have his most productive season as a Gator and by being consistent he will certainly earn the opportunity.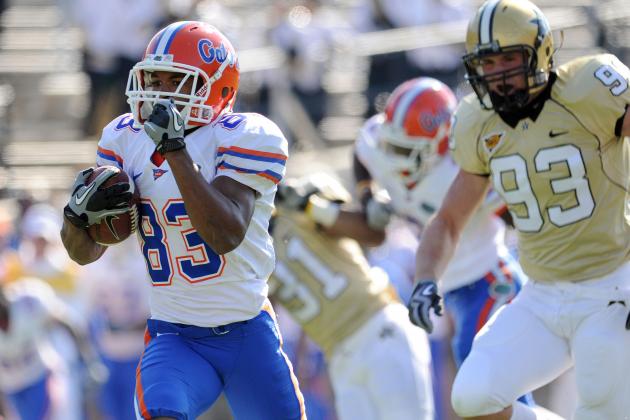 Don McPeak-US PRESSWIRE

Going into his junior season Patton has just seven receptions for 62 yards. Althought he has not been a standout offensively, he has stood out in a big way on special teams, blocking three punts. Standing at 5'9'' he is a little shorter than your prototypical receiver but that doesn't seem to bother Brent Pease.
Pease is running things a little different than Charlie Weis did a season ago. Rather than bringing in a system and trying to make players with a certain skill set fit your system, like Weis did, Pease is tweaking his offense to better suit his players strengths.
So while Patton is only 5'9'' that won't matter if he uses his speed and can catch the ball consistently.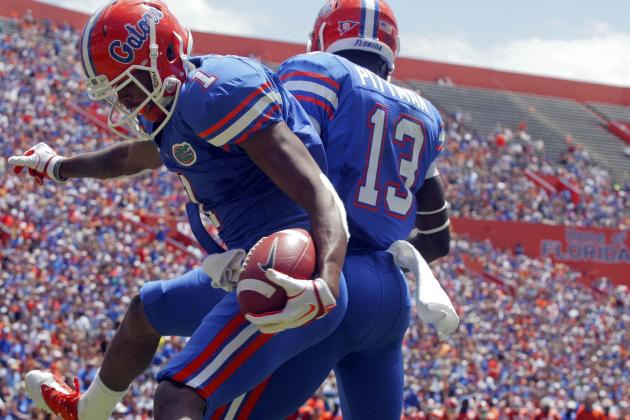 Phil Sears-US PRESSWIRE

If you've been on the Florida Gators page on Bleacher Report you probably know that I have been high on Latroy Pittman.
Pittman came in as an early enrollee and impressed the coaching staff immediately. While he doesn't have speed that will make your head spin he consistently gets behind the defense and is a big play waiting to happen. Pittman caught a 43-yard pass in the spring game and had an opportunity for another big play if the ball wasn't overthrown.
On top of being a big play threat, Pittman is a solid route runner and a load to bring down, according to Loucheiz Purifoy. Pittman is competing for playing time this season and should make an impact in what will be a productive freshman campaign.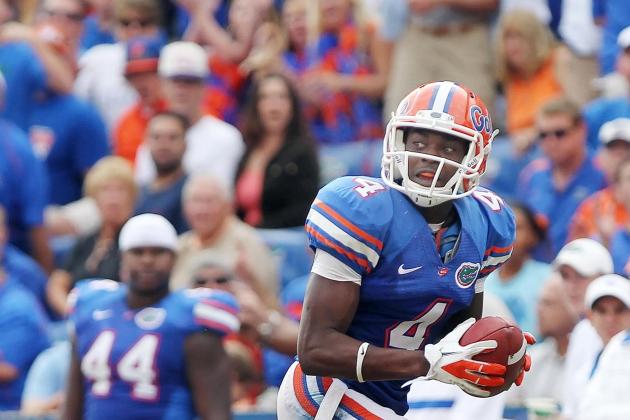 Kim Klement-US PRESSWIRE

WR (X)
Andre Debose
Latroy Pittman
WR (Z)
Quinton Dunbar
Stephen Alli
WR (Y)
Frankie Hammond Jr.
Solomon Patton
Raphael Andrades