Minnesota Twins: Carl Pavano's Shutdown Should Be Last Straw for Medical Staff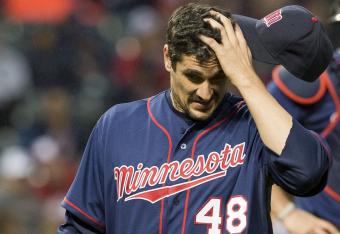 After rehabbing for several months, the Twins decided that Carl Pavano needed to be shut down for the season. Will this force a change in Minnesota?
Jason Miller/Getty Images
The past two seasons have not been kind to the Minnesota Twins medical staff.
After spending much of the 2011 season trying to figure out exactly what was wrong with Joe Mauer, the 2012 season has been filled with baffling stints on the disabled list and more misdiagnosis that have crippled all levels of the organization.
The latest chapter in a lack of medical vision that would make Mister Magoo proud is the case of Carl Pavano.
Pavano has been shut down since June 1 with what the Twins initially thought was a strain in his shoulder capsule, but after he was scratched from a rehab start he visited a shoulder specialist who revealed that the problem was a bruise on his humerus bone that requires rest.
According to the St. Paul Pioneer Press, Pavano found nothing funny about the sudden shutdown.
It's too bad it took three months diagnose that, I could have been resting....I was pitching through pain and discomfort for so long, and it was driving me crazy, and this was all it took? It's irritating. It's no one's fault. I'll take the blame, but I don't understand why.
Pavano is not the first Twin in the past couple of seasons to question the team's medical staff.
At the major league level, the Twins have repeatedly given the dreaded "day-to-day" diagnosis only to see them land on the disabled list after clogging up a roster spot for a week.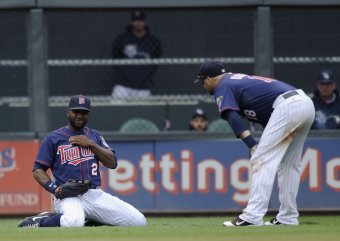 Hannah Foslien/Getty Images
Matt Capps, Trevor Plouffe and (most recently) Denard Span have all experienced this over the course of the season.
In fact, as this article is being written, the Minneapolis Star-Tribune is reporting that Span is traveling back to the Twin Cities to get a MRI on his injured clavicle after an initial day-to-day diagnosis.
However, the scary part is the frequency that Twins doctors have misdiagnosed a player's injury.
Just a year removed from Joe Mauer's "bi-lateral leg weakness" diagnosis that sidelined him for a majority of the 2011 season, the Twins have screwed up on several players with Pavano being the latest victim.
After getting in a spitting contest with fellow pitcher Scott Baker over his tender elbow, the Twins finally relented in allowing him to have flexor tendon surgery in April that would cause him to miss the 2012 season, but supposedly have him ready for 2013 after a six-month recovery.
Instead, Baker woke up after surgery to find out that he actually needed Tommy John surgery. A year long (or more) recovery is needed for Tommy John, and for the Twins not to realize it after an entire offseason is a laughable matter.
Alarmingly, the problems haven't just surfaced at the major league level. They've been creeping their way into the minors in the case of former Twins prospect Dan Osterbrock.
According to HardballTalk.com, Osterbrock had two shoulder surgeries after the Twins allegedly ignored a more serious matter when he struggled at Double-A New Britain in 2011. Osterbrock was released last spring, and took to Twitter to vent his frustration with the medical staff.
surgery went well. should be throwing soon. special thanks to the Twins for completely neglecting the obvious injury i had.
All of this needs to lead to a change in the medical staff of the Minnesota Twins. The Twins can no longer afford for the medical staff to hold the major league club back by misdiagnosing injuries and having players miss more time than they should.
Usually, complaining about the medical staff of any professional sports team is nit-picking. However, the Twins' medical staff has had too many swings and misses to get another chance at the plate.
This article is
What is the duplicate article?
Why is this article offensive?
Where is this article plagiarized from?
Why is this article poorly edited?

Minnesota Twins: Like this team?