10 Under-the-Radar NBA Rookies Fans Shouldn't Be Sleeping On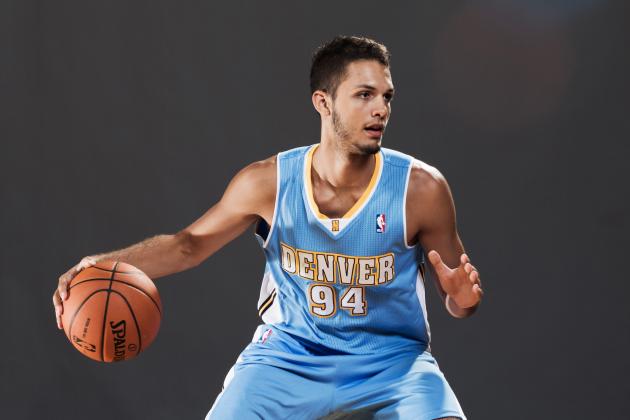 Nick Laham/Getty Images

We hear about Anthony Davis making the 2012 Olympic men's basketball roster, how Bradley Beal is one of the best playmakers collegiate basketball has ever seen and that Kentucky has the most dominant list of NBA-ready talent.
Who we don't hear about are the rookies ready to make an impact right away, the ones who may have been overlooked due to health or height or athleticism concerns, and the ones that didn't shake hands with David Stern on draft night to a thousand flashing camera lights.
Two schools of thought seem to be in effect as we enter this 2012-2013 season: Either find a myriad of stars via free agency or through trades (MIA, LAL, LAC, BKN) or figure out a way to use the draft as a tool to equip your team with a nice mix of veteran and young talent (OKC, SA, MEM).
Of the latter thought process, some of the best names you never heard of on draft night are going to be impact guys sooner than later. Sure, Davis, Beal and Michael Kidd-Gilchrist are going to have the hype, but these 10 guys are going to be productive sooner than you think.
Begin Slideshow

»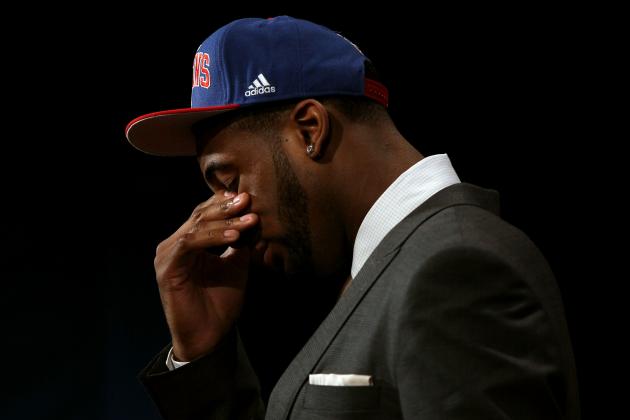 Elsa/Getty Images

Is Andre Drummond a true under-the-radar guy? Talent would suggest no, but he was a potential top-five pick who fell to the Detroit Pistons at No. 9 in the draft.
Detroit scooped him up with open arms and plans to pair him with Greg Monroe in anticipation of one of the East's best frontcourt duos in a few short seasons. Right now, he might not have the experience to push Jonas Jerebko out of playing time, but the upside is there for improvement.
Drummond is in the mold of Dwight Howard and to me is a cross between Roy Hibbert and Howard in terms of potential. He could turn into another Hasheem Thabeet, sure, but his offensive skills are already better than that of the fellow former Connecticut center.
Don't count on huge numbers, either on offense or protecting the rim, but at the end of this rookie season, I think Drummond will enter the starting lineup, push Monroe to power forward and create an interesting situation when Monroe is due to be a restricted free agent in the summer of 2014.
Whether this is related or not is up to the imagination, but it seems like Drummond's presence is also making it hard for Detroit to even consider bringing back fan favorite Ben Wallace, as he has reportedly received interest from the Greek team Panathinaikos (per gazzetta.gr, via MLive.com).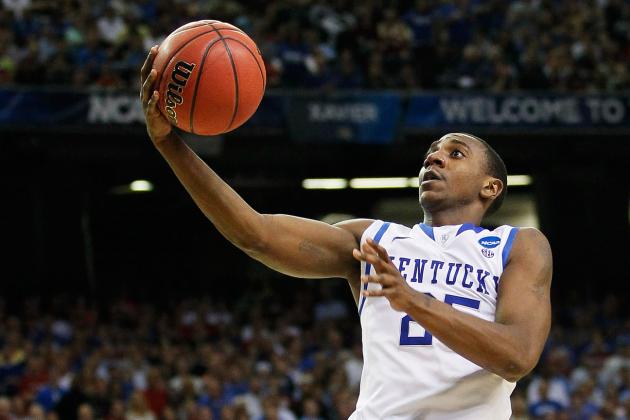 Kevin C. Cox/Getty Images

I'll be honest—when Chicago selected Marquis Teague in lieu of more pressing needs at shooting guard, I was scratching my head. John Lucas III and C.J. Watson seemed like above-average replacements for Derrick Rose, and Teague would just be another practice body.
Boy, I was wrong.
Lucas and Watson are gone, Rose is still out and suddenly Teague will compete with Kirk Hinrich for the starting role in Chicago, at least until Rose is fully healthy.
Many believe Marquis has more upside than his brother Jeff, who competed with Hinrich last year in Atlanta. I think Teague can play valuable, defensive-minded, low-turnover minutes for coach Tom Thibodeau and staff, who will be leaning on Luol Deng and Carlos Boozer to carry the load.
If that's the case, then when Rose returns from injury, Chicago has another three-point-guard dilemma to sort out. Or, Heaven forbid, should Rose re-aggravate another injury, Chicago would at least be able to compete in his absence.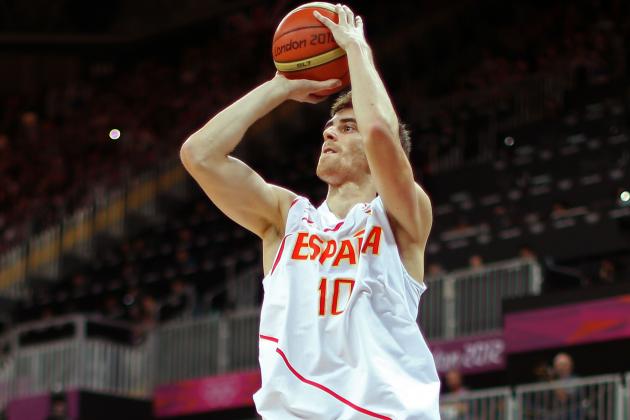 Christian Petersen/Getty Images

Portland is doing a great job of bringing international talent to the NBA, and that doesn't stop with Spain's Victor Claver, who will be in town this season.
Although he's behind Nicolas Batum and will have to compete with Luke Babbitt, newly acquired Jared Jeffries and fellow rookie Will Barton for playing time, he wouldn't be coming to the U.S. if there wasn't a chance he could contribute to the rebuilding Blazers roster.
A 6'10" SF/PF combo who was on Spain's silver-medal team at the 2012 Summer Olympics, Claver didn't get any extensive action against the United States in the gold-medal game but was a contributor on the world's second-best team.
Given Portland's current roster, which has two rookies penciled in as starters and Claver and Barton both as role players, Claver could be a weapon by midseason, especially if Babbitt doesn't start showing more than he has in his NBA tenure.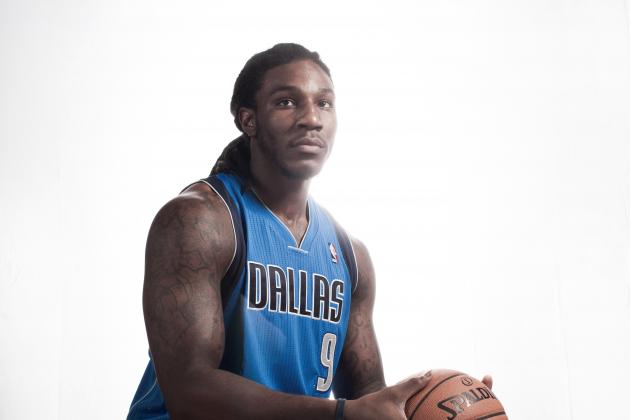 Nick Laham/Getty Images

Dallas traded its No. 17 overall selection (Tyler Zeller) to Cleveland for Nos. 24, 33 and 34, which turned into Jared Cunningham, Bernard James and Jae Crowder.
That trade could go down as one of the best in recent memory for the suddenly youth-laden Mavericks, who boast an entire backcourt of six guys under 25 years old.
Elsewhere, the rookie survey conducted recently by NBA.com identifies Crowder and fellow Maverick rookie Jared Cunningham (who you'll hear about later in the slideshow) as some of the most underrated to come out of this year's draft class.
Toughness, a winning mentality and versatility are all traits that the "undersized" Crowder brings to a team looking to return to the team-first culture that won Dallas its first-ever championship in 2011. He could end up being a valuable rotation player that no one is talking about.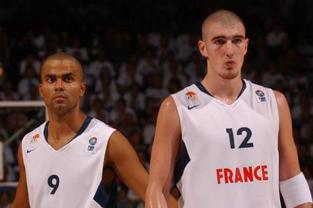 Photo credit: ballineurope.com
For those that don't know the name around the league, don't worry. It's one of the things the San Antonio Spurs do best. Obscure names may not drive the fanbase up outside of Bexar County, Texas, but it certainly breeds one of the winningest cultures in professional sports.
If you never seen Nando de Colo play, check out this Spurs Nation blog, complete with a scouting report and multiple videos chronicling his time for the French national team and on various clubs in Europe.
Personally, I feel he is a bigger combo-guard version of San Antonio's current underrated point guard Tony Parker. He runs the pick-and-roll smoothly and crisply and makes smart decisions when given the opportunity to make a choice.
He's certainly a candidate to replace Parker and/or Manu Ginobili one day, but for now he'll compete with Olympic star Patty Mills for time in a crowded Spurs backcourt. In true Gregg Popovich style, you never really know who could be a rotation contributor (see Kawhi Leonard), so De Colo could be on his way to helping the Spurs put some youth behind a proven front line.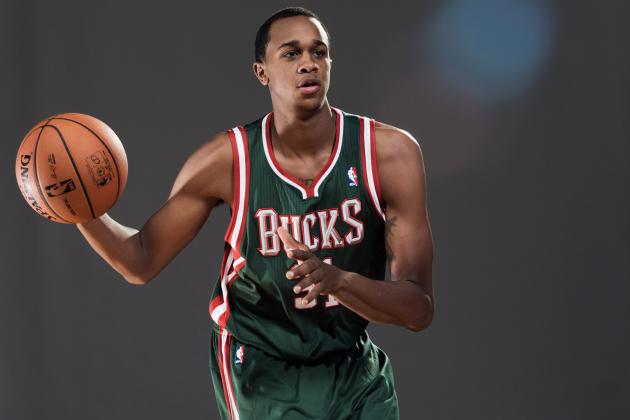 Nick Laham/Getty Images

Overshadowed by freshman phenom Anthony Davis, Henson fell to No. 14 after having productive seasons while being a defensive force and offensive option under Roy Williams at North Carolina.
Now, with the NBA's "All Lanky" team put together up in Wisconsin, Henson will compete with Samuel Dalembert, Ekpe Udoh and Larry Sanders for time.
That may seem like a challenge, but I like his odds.
With an underrated post game and face-up jump shot, he should carve out a nice role as a sixth man early on. He averaged 18.3 points in his four-game Las Vegas Summer League stint, shooting 53 percent from the floor.
Sure, shots are going to be hard to come by with Monta Ellis and Brandon Jennings in year two of their marriage, but he is also a good shot-blocker and is considered by some even more polished than Davis at this point in their careers.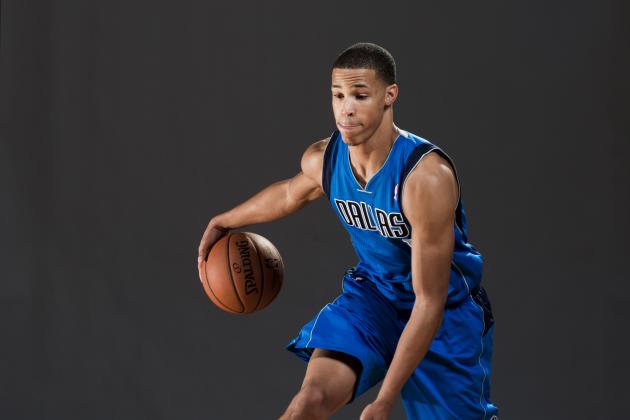 Nick Laham/Getty Images

The Oregon State combo guard faces an uphill climb for playing time at his position. Dominique Jones came from South Florida three years ago and hasn't carved out a role. Rodrigue Beaubois has immense potential—but nothing else substantial in his fourth year.
Aside from that, newcomers O.J. Mayo and Darren Collison are the starters. Delonte West and Vince Carter figure to be around. After those six guys, should we still pay attention to Jared Cunningham?
I say yes, and I'll point to one stat to drive my case: 2.5. That's the number of steals per game Cunningham averaged in his final year as a Beaver. After getting torched by younger, more athletic guards in all of 2012, Dallas has finally had enough and added players who can defend on the wing.
He's part of that movement, and although there might not be a defined role for his services in 2012-13, this is a first-round draft pick who could make some major noise when Dallas rebuilds once again in the summer of 2013.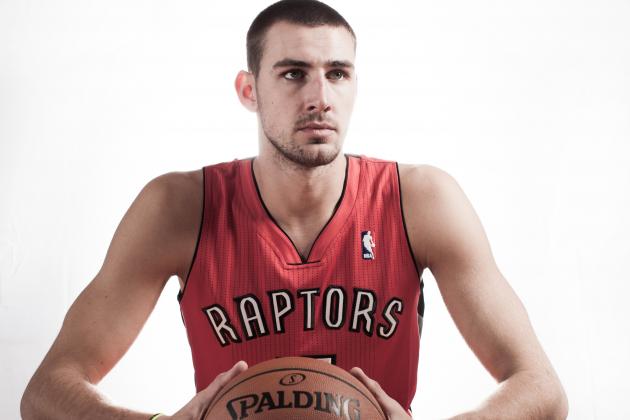 Nick Laham/Getty Images

He'll wear No. 17 in Toronto, but Valanciunas seems to be a forgotten man in the minds of other NBA teams. Maybe it's because he was a 2011 draft pick, or possibly because he's going to Canada in the first place.
Whatever the reason, don't sleep on Jonas. I repeat: Don't do it, folks.
He's got a real Blake Griffin-like chance to come in and sweep away the Rookie of the Year award, and it wouldn't surprise me if he's better than Anthony Davis.
Maybe that's too much praise for an unproven foreign talent. Remember, he's in an Andre Drummond-type situation with Andrea Bargnani, but those two could become the same kind of twin-tower attack Detroit might have.
While he didn't overly impress at the Olympics, he still played well in limited minutes and is only 20 years old. He's an exciting young talent on a suddenly interesting Toronto team.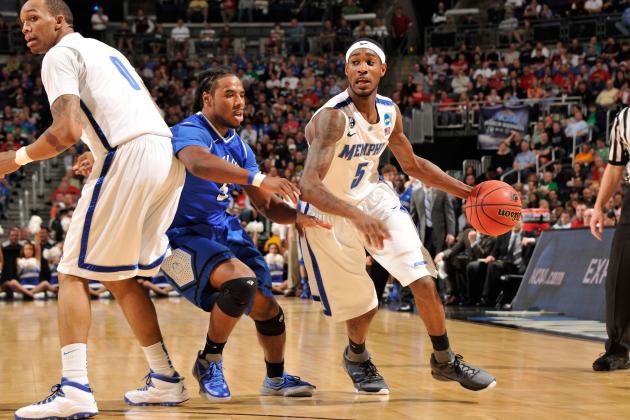 Jamie Sabau/Getty Images

Yes, he's competing for time with both Nic Batum and Victor Claver, the man from earlier on this list, but anyone who drops 72 points in a game deserves a little love.
Barton is an interesting talent. Memphis has had a real 50-50 chance of creating proven stars over the past few years. Derrick Rose and Tyreke Evans are standouts. Joey Dorsey, Chris Douglas-Roberts and Earl Barron are guys who haven't been able to take the next step when given the opportunity.
Which kind of player is Barton? I think he falls somewhere in the middle. He's got the athleticism to do the job and looks to be a blossoming one-on-one player.
In Portland, where they'll be looking for a new identity by starting two rookies in Meyers Leonard and Damian Lillard, look for Barton to make a case for some time by season's end.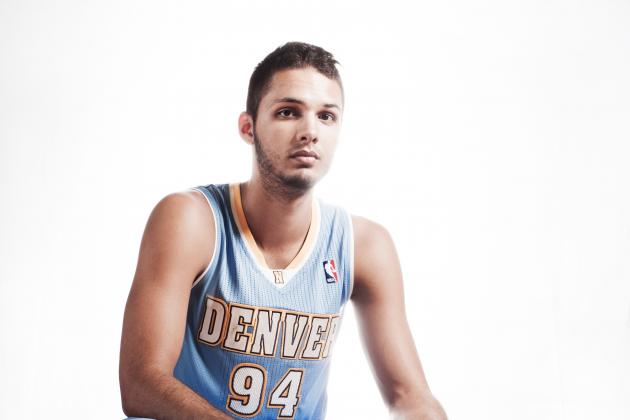 Nick Laham/Getty Images

No. 94 is an interesting choice for the French shooting guard, but it won't matter what number he's wearing if he performs well for coach George Karl this season.
With Rudy Fernandez gone, Arron Afflalo traded to Orlando in the Dwight Howard deal and some rotation time opening up if Andre Iguodala is more suited as a small forward, Evan Fournier's playmaking and ability to finish at the rim should mesh well with Denver's second unit.
Another Frenchman in the long line of solid prospects over the last five years, Fournier's true weakness is the ability to consistently shoot the jumper, which can be taught in today's NBA.
He's a guy you probably haven't heard of, but he's hoping fans are chanting his name and singing his praises by the end of the regular season, when Denver hopes to have a real shot at challenging in the crowded Western Conference.