Tottenham Hotspur: 8 Bold Predictions for Emmanuel Adebayor This Season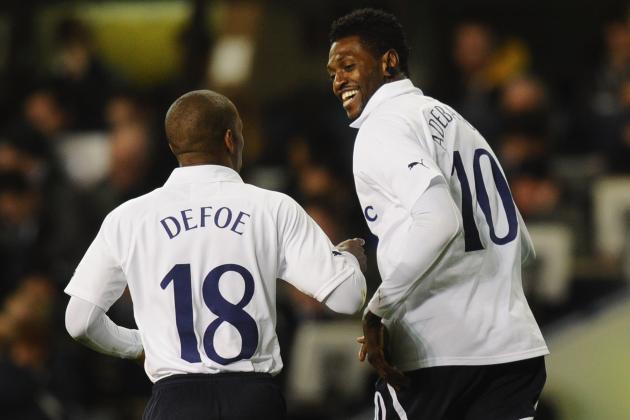 Mike Hewitt/Getty Images

He's back, he's excited and he's hungry for goals!
The news couldn't have been better for an attack-starved Tottenham Hotspur team—Emmanuel Adebayor has announced via his personal Twitter account on Tuesday afternoon: "I'm back!!!! Tottenham here I come!! I'm hungry for goals...Get ready."
That's exactly what fans in North London wanted to hear.
As a permanent member of new manager Andre Villas-Boas' squad, Adebayor will most likely be called upon immediately to fill the gap he created when he was summoned back to Manchester City after his loan spell was up this summer.
Can Adebayor be as effective as he was last season, when he scored 17 goals with 11 assists?
Join me as I examine Spurs' latest signing, and make eight bold predictions in the wake of the 28-year-old's permanent arrival at Tottenham Hotspur.
Begin Slideshow

»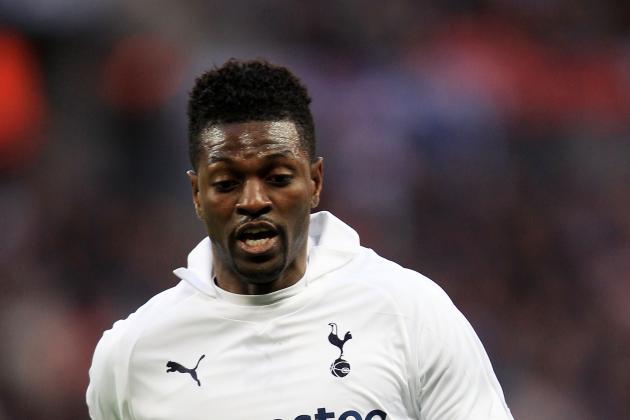 Michael Steele/Getty Images

Tottenham is starved for strikers, and Adebayor is hungry for goals.
It sounds like a no-brainer, right?
Wrong.
Andre Villas-Boas has been hesitant to start new players. Jan Vertonghen didn't see a minute of action against Newcastle United last week, and was instead benched in favor of 35-year-old centre-back William Gallas.
Having said that, I think Villas-Boas will get over his cautious approach and slot Adebayor in at centre-forward. He knows the system, he knows his strike partner and he'll repay his manager's faith in him.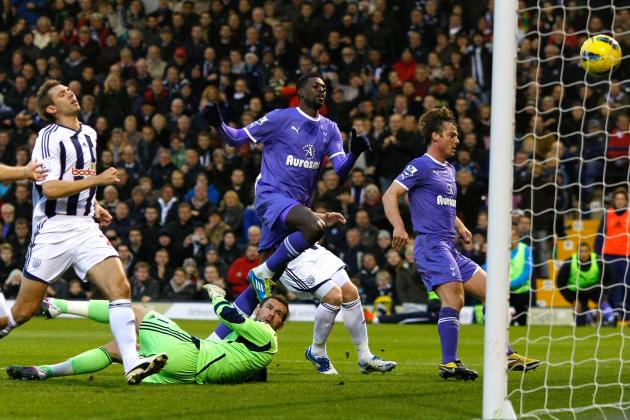 Tom Dulat/Getty Images

That's right, he's going to score, and I believe he's going to score early on in the game
Adebayor will find the back of the net within the first half-hour, by my predictions, with a headed goal from a Gylfi Sigurdsson corner kick.
Tottenham is stacked in the midfield, especially at the attacking midfield position. In the first game of the season, the club created four legitimate chances to score against Newcastle United. Gareth Bale, Gylfi Sigurdsson and Rafael van der Vaart all did their part to feed the ball to Jermain Defoe, the only striker on the pitch for Spurs.
Defoe didn't finish well for most of the match, but Adebayor is a gifted finisher. He was last season for Tottenham and there's nothing to say he won't surprise West Bromwich Albion with a quick score between the posts.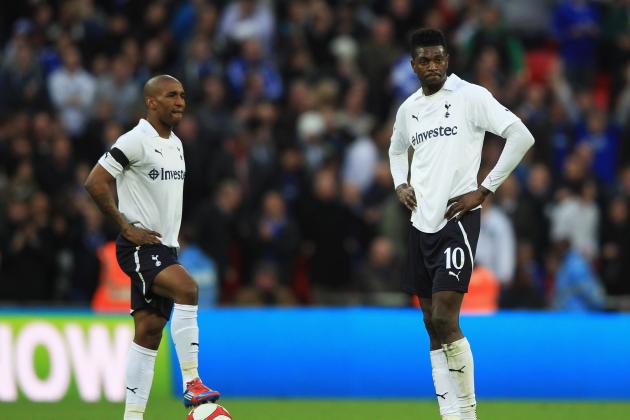 Michael Steele/Getty Images

With the Baggies behind by a goal and on the road, they'll shift their focus toward attack in the last 30 minutes of the match.
This is when players like Defoe absolutely thrive.
Defoe is a natural super-sub. He takes full advantage of opponents that inch up and leave huge gaps in defense. He and Adebayor will lead a late counter-attack, Adebayor will fake a shot and dump off to a wide-open Defoe.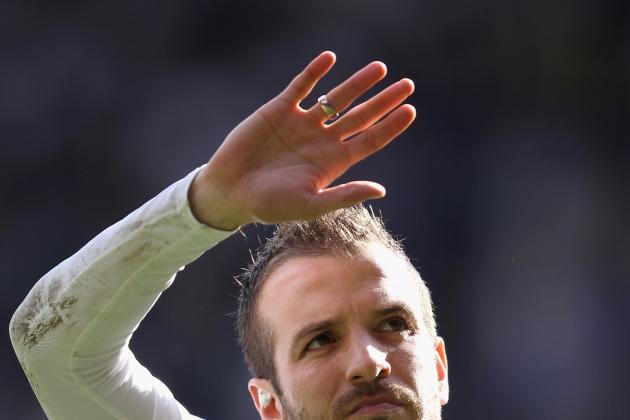 Clive Rose/Getty Images

Rafael van der Vaart has two years left on his €11 million contract. However, I think the play of Adebayor at centre-forward and Sigurdsson's success in attacking midfield over the first half of this season will make the Netherlands international expendable.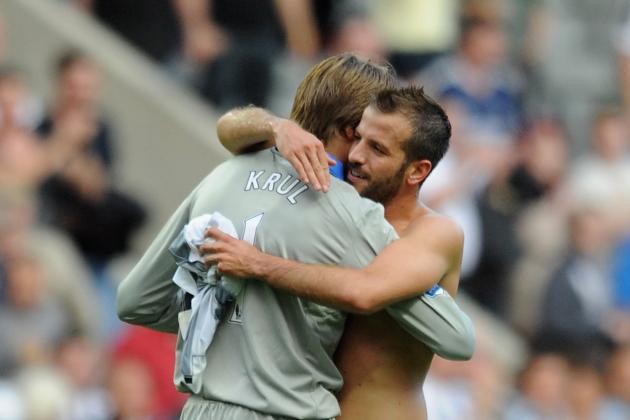 Chris Brunskill/Getty Images

After their mini shopping spree this summer, Spurs will need some cash to plug the gaps in their roster this winter. Injuries, decline in play—whatever it is—there are always holes that need filling during the winter transfer window, and Rafael van der Vaart is the man to help out.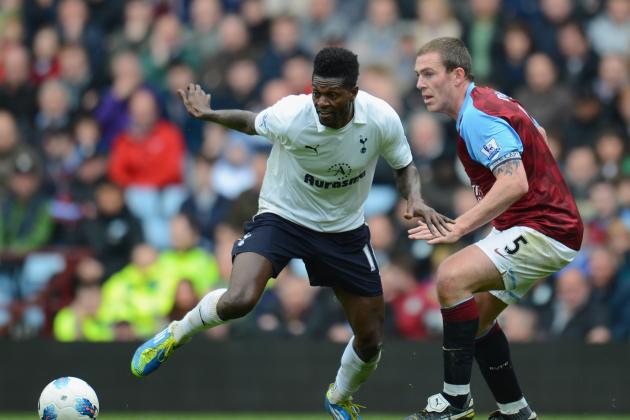 Shaun Botterill/Getty Images

This is less about how good Adebayor will be, and more about how improved Defoe is.
Since last spring, Defoe has clamored to be the first-choice striker at Tottenham.
"Fine," Villas-Boas thinks to himself. "We've got no strikers and Defoe's worked hard. The man's earned it."
Defoe has been everything that North London fans were hoping since the preseason started. He has scored a handful of goals this summer in friendlies and knocked one in against Newcastle United last week.
Adebayor will have improved players to pass to in the box. That means more assists.
Will it mean more goals?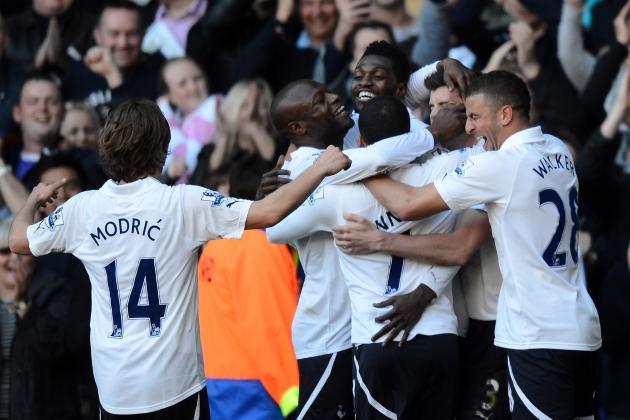 Mike Hewitt/Getty Images

Yup.
In my opinion, Spurs were mismanaged by Harry Redknapp, who was never one for tactics. Redknapp instead put his best 11 players out on the pitch and told them to win one for the gipper.
Villas-Boas is a much more technical manager, who puts an emphasis on tactics that will suit new arrivals such as Sigurdsson, who is a highly technical player as well.
The tactics Villas-Boas brings will make life easier for a gifted supporting cast including Sigurdsson and Defoe. Adebayor, who uses his physical advantage rather than technique to beat opponents, will reap the rewards of technical players playing better under Villas-Boas.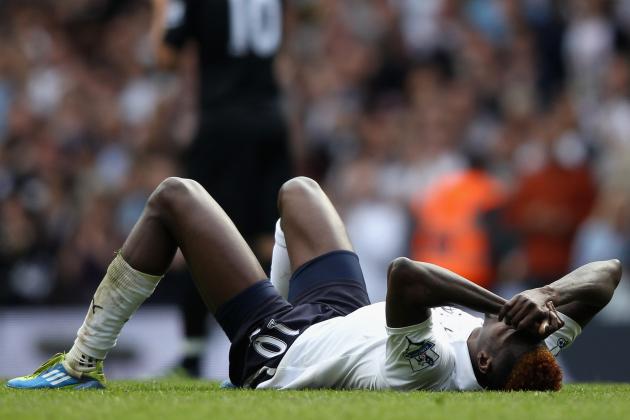 Clive Rose/Getty Images

I'm bold, but I'm not stupid.
Adebayor, in the year he scored 29 goals in all competitions for Arsenal, was a big reason why the London club finished the season in fourth place.
He accounted for nearly half of the Gunners' offensive output, and it's a single-season record that's probably going to hold for the rest of his career.
The truth is, Adebayor will be turning 29 soon and has 12 years worth of football on his legs. He'll be effective for the next few seasons, but he's past the point of challenging for a 30-goal season.
On the other hand, 20-22 goals is a little more in his range and still a bold prediction.