6 Reasons Why Dynasty Is the Best Fantasy Football Format
Justin K. Aller/Getty Images
Indianapolis Colts rookie quarterback Andrew Luck gives the thumbs up to switching your fantasy football league to a dynasty format.
It's April of 2011 and your team is one player away from a championship.
In your mind, adding a stud wideout will elevate your stacked roster from contender to favorite. Do you sacrifice your team's future by trading away a package of premium draft picks for Julio Jones?
The Atlanta Falcons faced this exact decision, but the thought process has no place in fantasy football—unless you play in a dynasty league.
Dynasty formats take fantasy football to the next level. They are more realistic and thus more challenging.
Dynasty leagues play just like your standard re-draft or keeper league, except you keep every player on your roster from year to year. Expanded rosters allow teams to stash away young, developing talent without hurting starting lineups.
Don't worry if drafting is your favorite part of the game. With the best talent already rostered, dynasty owners mimic their real-life counterparts by drafting rookies each spring.
Isn't simulating the job of a NFL general manager what fantasy football is all about?
Here are six reasons why serious fantasy football players should make the switch.
Begin Slideshow

»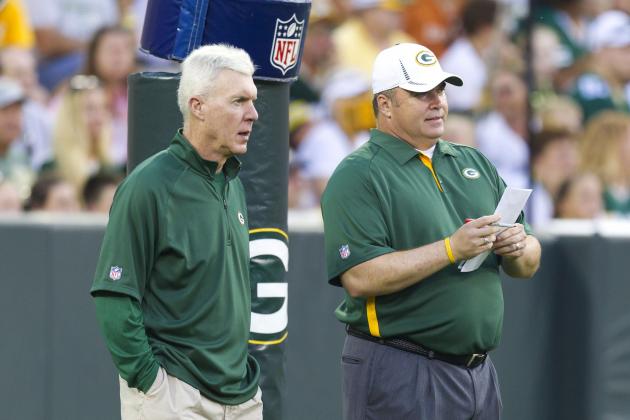 Jeff Hanisch-US PRESSWIRE
It's far from a true simulation, but Dyntasy players come much closer to performing the glamorous aspects of jobs held by Green Bay Packers general manager Ted Thompson and coach Mike McCarthy.
Fantasy football exists to let fans play general manager.
The game is much more than assembling an all-star roster of your favorite players. Fantasy football facilitates all of the basic—and most glamorous—duties of a real-life GM.
Assess player values, draft those players, make roster cuts, set your starting lineup and negotiate the next blockbuster trade. Fantasy football managers get to do all the fun stuff without any of the stress or tedious work facing their NFL counterparts.
The best fantasy football formats thus provide the best simulations of the job.
No, dynasty formats still don't come anywhere close to turning fans into actual general managers. They are by nature, however, much more realistic than any re-draft or keeper fantasy format.
Never starting over from scratch forces dynasty players to think more like a NFL executive.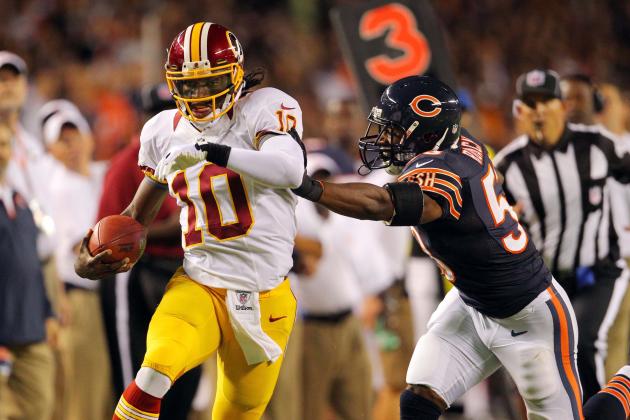 Dennis Wierzbicki-US PRESSWIRE
Washington Redskins rookie quarterback Robert Griffin makes a nice upside pick in re-draft leagues, but he is fantasy gold in dynasty formats.
Keeping your entire roster from year to year makes every decision much more significant.
Now, a player's value is not limited to how he helps your team in the coming weeks or months. Adds, drops and trades affect your team's long-term future as well.
Kendall Hunter is no longer just a speculative handcuff for Frank Gore, but a potential stud several years from now.
Do you trade a 30-year-old back like Michael Turner while he still has value or ride him out until the end?
Valuing draft picks for trades becomes quite difficult when a first rounder could end up as dominant as Calvin Johnson or as broken as Jahvid Best.
And you better do your homework, because those draft picks will be on your team for a long time. You may even grow personally attached to these investments. Trading away an injury-prone Michael Vick is much harder to swallow after you drafted him out of Virginia Tech, kept him on your roster through jail time and were rewarded for your savvy with a breakout season in 2010.
There are so many more variables in play with a dynasty format. Any experienced player growing tired of the straight-forward strategy required in standard leagues will love the many added challenges.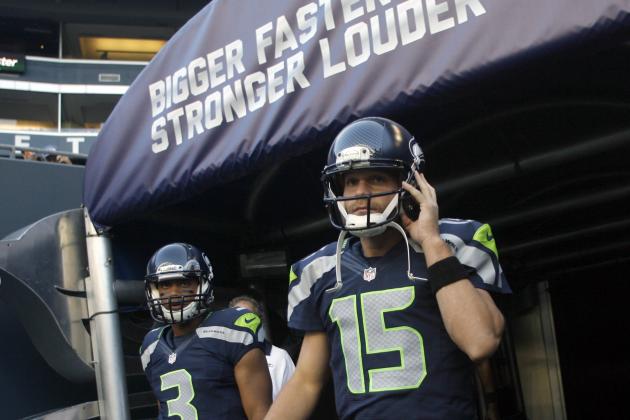 Joe Nicholson-US PRESSWIRE
Russell Wilson (3) and Matt Flynn (15) are locked in a battle to start for the Seattle Seahawks. Do standard league players even care?
Declaring the winners and losers of position battles is one of the most important decisions NFL coaches make during August, yet most of these decisions don't affect re-draft leagues at all.
Ryan Tannehill beat out Matt Moore for the starting quarterback gig in Miami. Jake Locker won his battle in Tennessee. The same war rages on in Seattle and Arizona for the likes of Russell Wilson, Matt Flynn, Kevin Kolb and John Skelton.
Quarterback is by far the most crucial position to an NFL team. The outcome of these battles significantly affects the future of their respective teams. Yet none of these players will likely be drafted in standard fantasy leagues.
Dynasty formats, however, force managers to pay close attention to these developing situations. The best already placed their bets long ago and are now eagerly awaiting the outcome.
This is just one basic example of how the dynasty format requires football knowledge vastly deeper and wider than any standard format. Familiarity with updated depth charts is imperative. So is the ability to evaluate the talent of players who do not yet have major roles.
Any average NFL fan can debate the 2012 production of Jimmy Graham and Rob Gronkowski. It takes real football knowledge to make a long-term production call on prospects like Ronnie Hillman and Lamar Miller.
If you're ready to move beyond a surface-level understanding of America's favorite league, play dynasty and give yourself a real test.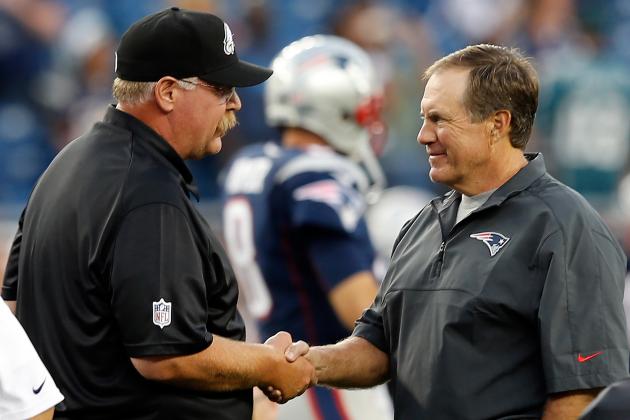 Jim Rogash/Getty Images
Dynasty leaguers have a lot more to think about before shaking hands on a deal.
The competitiveness of your dynasty league team significantly alters your goals when making moves.This creates a prime market for trades.
Top teams look for developed talent to make a championship run, even if it costs them a handful of prospects or draft picks. Under-performing teams will part with one of those better but older players if it means investing in the future.
Standard league trades only make sense when two teams have different needs or different opinions of a player's value. You can also be recklessly aggressive. Any risk only affects a single season, not several years.
It all goes back to whether or not you as a fantasy player want to face decisions that simulate those of a real-life executive.
Dynasty players don't have to answer to the media like Atlanta Falcons coach Mike Smith does, but they can still have owners meetings just like the NFL. Photo Credit: AP / SA
You always have a full, active roster in dynasty. Players and draft picks can be traded at any time.
This creates a much more engaging spring and summer.
While those in re-draft leagues are limited to re-ranking the player pool, dynasty leaguers can still negotiate deals. Trying to land that key acquisition is far more entertaining than wondering if Aaron Rodgers should be the first overall pick.
The NFL draft becomes significantly more interesting as you will be drafting those same players. Any dynasty owner of Steven Jackson suddenly became interested in Isaiah Pead as an important piece of their future.
Real-life offseason moves instantly impact your own team. Standard leaguers have the luxury of deciding whether a move from San Diego to Tampa Bay will hurt or help Vincent Jackson. His dynasty owners must take it in stride.
If you would rather be managing a team during spring and summer instead of burying yourself in cheat sheets, dynasty is the format for you.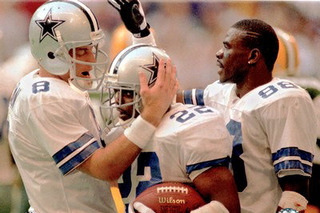 Troy Aikman (8), Emmitt Smith (22) and Michael Irvin (88) turned the Dallas Cowboys into a dynasty. Imagine if that had to end after just one year.
Giving up an entire championship roster is a cruel punishment for the better re-draft fantasy football players. Allowing basement dwellers to completely reset each year is a similarly unjust bailout for a series of unfortunate events.
It's a bizarre circumstance that completely wipes away an entire season of work. The scenario is not found anywhere in professional sports, but is widely accepted in the fantasy community.
Dynasty leagues make you live with the consequences of your decisions, for better or worse. It also forces you to figure out how to maintain a dynasty or rebuild a disaster. These are challenges never faced in standard leagues where one or two waiver wire picks can bring you back into contention.
No accomplishment in fantasy football is more rewarding than rebuilding a perennial loser into a champion through several years of smart drafting and savvy trading. It's an experience only available in dynasty leagues.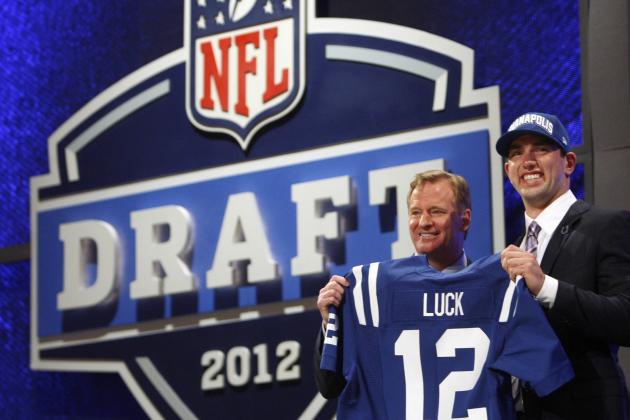 Jerry Lai-US PRESSWIRE
Luck is required for success in any fantasy format, but that's where a Dynasty rookie draft starts in 2012.
So you want to start a dynasty league but don't know how. Here's some help:
Where to Play
Myfantasyleague.com is the best site I know for the dynasty format. It gives you complete control of every league setting imaginable.
Who to Play With
Make sure you chose your league members carefully. This is not for casual fantasy players. Find other people who are equally as committed as you.
Roster Settings
The total number of teams in your league will determine the number of roster spots and starting positions. I play in an eight-team league that uses 35 roster spots. We start two quarterbacks, three running backs, five wide receivers, two tight ends, one kicker and one team defense.
A bigger league should have less starting positions. The main goal is to go deep into the player pool so there is not much talent left on the waiver wire and starters aren't all Pro Bowlers. NFL teams can't grab Sam Bradford as a free agent if their starting quarterback goes down. Dynasty teams shouldn't have that luxury either.
Drafting
Your initial draft will be very long and cover the entire player pool. You only draft rookies in the following years. We go six rounds, but that will again depend on the number of teams in your league.
We do not snake like standard fantasy leagues, but use the same draft order every round just like the NFL draft. The draft order is also determined just like the NFL. Be sure to give plenty of time for each pick to allow the negotiation of trades.
Other Settings
A nice feature of the eight-team format is that you play every team twice before a four-team playoff that ends prior to the dreaded Week 17.
A good 12-team schedule has you play every team once before a six-team playoff in which each round lasts two weeks. This format rewards regular-season success with byes for the top two teams while still letting half of the league into the postseason. If you don't want half of the championship played in Week 17, make the Wild Card round last only one week.