Philadelphia Flyers: How Scott Hartnell Just Changed Hockey Forever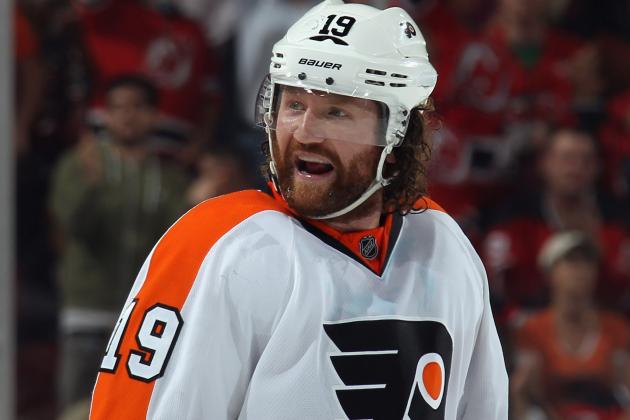 Bruce Bennett/Getty Images
Scott Hartnell's new six-year extension could have a lasting imprint on the NHL.
Scott Hartnell is one of the most dangerous power-play specialists in the NHL for the Philadelphia Flyers.
Tuesday, Hartnell signed a six-year extension, reportedly worth $28.5 million and, in doing so, could have just changed hockey forever.
Hartnell has been a consistent scorer since he joined the league with the Nashville Predators in 2000-01. In 11 seasons, he averages nearly 44 points per season.
In 2011-12, the left winger set career-highs in goals (37) and points (67). His 16 power-play goals were second in the NHL, behind only James Neal of Pittsburgh (18).
The Regina, Saskatchewan native had one year left on the six-year deal worth $25.2 million that brought him to Philly. At 30 years old, Hartnell is under contract with the Flyers through the 2018-19 season.
This isn't the biggest contract given out this offseason. The guy wasn't even really on the market. But Hartnell just changed the game of hockey forever, and here's why.
Begin Slideshow

»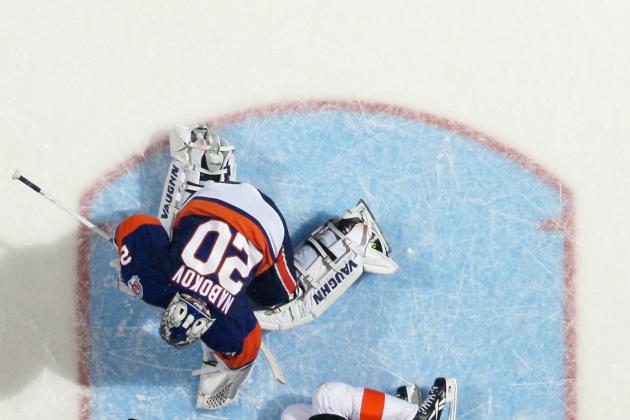 Bruce Bennett/Getty Images
Changes in the CBA may make Hartnell's contract terms the norm, not the exception.
The biggest issue surrounding the collective bargaining agreement is money.
In basics, the NHL Players' Association feels the players deserve a percentage of the league revenue. The owners have a different number in mind.
Without making this another CBA, lockout-blasting article, there are some things to consider with the monetary details.
NHL owners want to limit contracts to five years. Assuming there is some negotiating done, term limits could fall on seven years.
Hartnell's contract is a six-year deal.
He beat the owners' five-year proposal, but he has also given the owners a significant amount of leverage.
If a talented player like Hartnell will adhere to most of the owners' demands, why won't everybody else?
There is no way the guy, with arguably the best hair in the league, did this on purpose. However, his contract could inevitably lead to the owners' demands on contract limits coming sooner rather than later.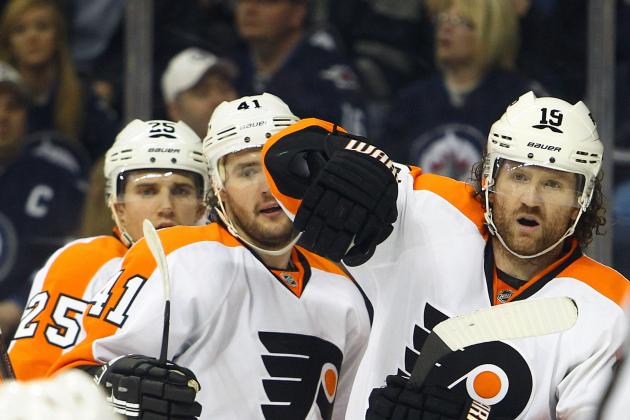 Tom Szczerbowski/Getty Images
Hartnell is one of the best power-play scorers in the NHL.
Narrowing down Hartnell's body of work to one statistic is tough, especially with everything he brings to the Flyers, but his power-play production is top-notch.
Quick Look at the Numbers:
74 regular season power-play goals
Sixteen in 2011-12
Three seasons with double-digit power-play goals
Six power-play goals in the last three postseasons
Twenty-three of his 67 points last season came on the power play
Hartnell developed a knack for scoring with the man advantage. He is one of the better power-play scorers in the NHL.
He just got rewarded by the Flyers, or did he?
One of the best special teams producers in the game today is worth just less than $5 million per season?
That's a pretty nice bargain for such a crucial part of the Flyers.
The fifth-best PP unit in the NHL locked up one of its top producers for the rest of the decade. Tip of the cap to general manager Paul Holmgren.
The 30-year-old isn't just a great specialty producer. Hartnell is also a very talented, complete player on both ends of the ice.
His skating ability is called into question occasionally, but even he has embraced those challenges with his charity, "Hartnell Down."
He is a great forechecker and an infectious personality.
Just watch the video above. The best part comes at the 2:08 mark after his assist in the 2012 All-Star Game, his first ASG.
Hartnell didn't win many friends in the playoff series with Pittsburgh last season. As much as some fanbases can dislike him, he's still a great advocate for the game.
As a forechecker, he notched 188 hits last season and tallied 136 penalty minutes. He has a physical aspect to his game that has endeared him to the Flyers faithful.
Last season, Harnell finished plus-19 and has a career plus-59 rating.
Hartnell, minus his occasional skating snafu, is a complete player.
A salary below $5 million per season provides general managers with a blueprint to follow. It appears to be a successful one.
The Los Angeles Kings just won a Stanley cup, and they only have four players that make over $4 million per season.
Hartnell proves that big numbers on the ice don't require big numbers in the bank.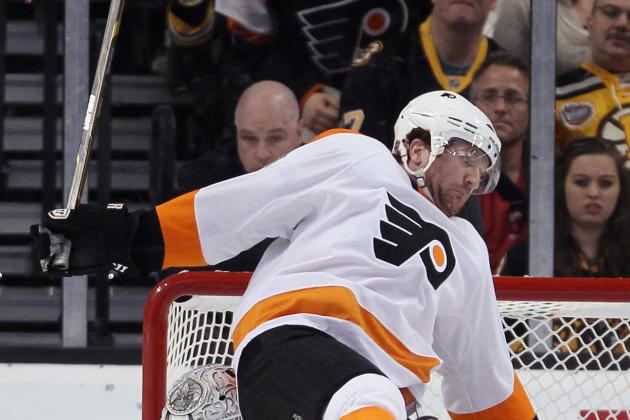 Elsa/Getty Images
Hartnell's impact may be felt long after his skating abilities leave the game.
The NHL is full of young talent, with even more coming up in an absolutely loaded 2013 NHL draft class.
The 2013 class is said to have as much, if not more, talent than the 2003 class that produced Mike Richards, Zach Parise, Ryan Kesler, Corey Perry and Ryan Getzlaf, among others.
The future of hockey will have two paths to choose, depending on what the CBA does. They can sign as big of money as possible for as long as possible (i.e. Zach Parise, Ryan Suter, Sidney Crosby), or they can take the Hartnell route.
The Hartnell contract has opened the door to a rewarding "road less traveled." He and the Flyers are excited about it (via NHL.com).
"We are pleased to announce that we have agreed with Scott on a multi-year extension," Flyers general manager Paul Holmgren said. "Scott has been a very good player for us over the last five seasons and we look forward to many more good years to come."

"I'm pleased to stay in Philadelphia," Hartnell said. "Mr. [Flyers chairman Ed] Snider and Mr. Holmgren made a commitment to me five years ago to be a Flyer and I've absolutely loved every second of it. We've got a great team, a great bunch of guys and a great future chance to win a Stanley Cup. That was a big part of it. I want to win, I play hockey to win and I think we've got a good thing going."
Whether it's through the CBA or as an example for other players, the Flyers' No. 19 may have just changed the NHL forever.
His contract for his talent level may not be the norm now, but in three years, it could be.
His deal has caused shockwaves through the hockey world and even led some agents to question "Everyone is asking what the (bleep) he just did."
Some believe Hartnell is overpaid. Some believe he is underpaid.
That's subject to debate, but it could be a groundbreaking deal.
The deal also reportedly includes a no-movement clause.
Love him or hate him, Hartnell is staying in Philadelphia, and his contract will leave an imprint on the NHL.
What the CBA is calling contract terms now, we may soon know them as the "Hartnell clause".
Until then, we'll just call him "Hartnell Down."